Top 15 Sensational Real Life Pictures of Sunny Leone Without Makeup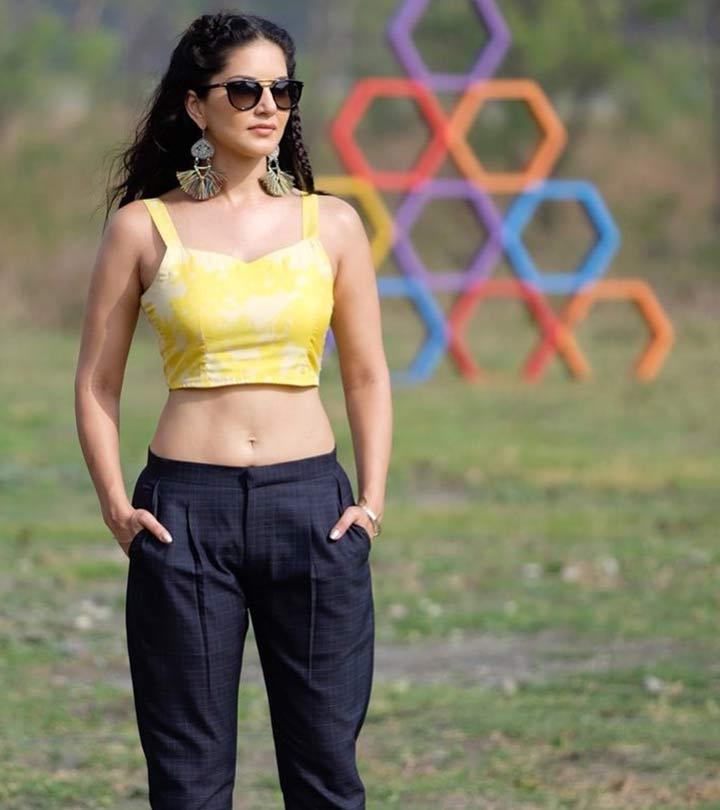 Bollywood actresses are naturally stunning, and Sunny Leone without makeup is an instance. This widely famous personality found fame in Bollywood through her first movie Jism 2 released in 2012. Previously in 2008, she launched her studio 'SunLust Pictures' and ran the business successfully. She also created 'Lust', her signature brand perfume rolled out in 2016. She is not only a popular actress and businesswoman but also a human with empathy. Sunny, along with her husband, adopted a girl named Nisha from Latur Village in Mumbai. Various news sources stated that the little girl was not being adopted as she did conform to the stereotypical ideas of 'cuteness'. Thanks to Sunny, the sweet infant found a home and is living a great life.
The actress has also been an ambassador for PETA and spread awareness for saving dogs. She also stood up for the Strivastava's case against cyber crime. Sunny's real name was Karenjit Kaur Vohra, born on May 13, 1981. Her Sikh parents lived in Canada but were originally from Himachal Pradesh. She has always been a sensation in the entertainment industry ever since her debut.
The actress is blessed with flawless skin that she flaunts every now and then. Her natural beauty is proof that one does not always need makeup to sport an appealing look. In this article, we have listed some famous pictures of the Diva flaunting her makeup-less skin. Swipe up!
Sunny Leone Without Makeup Pictures
1. Sunny Leone At The Gym
Slaying it in some cool workout wear and a badass smirk, makeup is the last thing that Sunny needs. Her skin is positively radiating. How does one look so elegant at a gym? I don't know about you guys, but I'm going to throw away half of my cosmetics now.
2. Sunny Leone In A Selfie
Sometimes a 'no makeup' inspired minimalistic deck up is the key. I love how she keeps surprising us with these no makeup selfies from time to time! She is clearly drawing attention to the fact that makeup and beauty are not synonymous.
3. Sunny Leone Post Workout
Who needs makeup when you're cute as a button? Everything about this picture is fresh and pleasant. Sunny's skin and body are a result of hard work. She hits the gym thrice a week. Her fitness routine is extremely strict, and she confesses that being a Punjabi and naturally on the curvier side, she cannot eat anything she wants and get away with it.
4. Sunny Leone In Swimwear
Here is our popular actress spotted sans makeup at an exotic beach. Her white swimsuit with a light shirt thrown on top is the perfect balance to the color tone of her surroundings. Her skin is nothing but the hues of delicate waves and golden sand. Appearing relaxed and at peace, Sunny seems lovelier than the sea.
5. Sunny Leone At The Beach
Sure, a smile is the best thing you can wear. What's the kinkiest thing? A pout. What's even kinkier? That hell of a tan that she's sporting! It is of no surprise that she has many awards to her credit. She was also named Penthouse's 'Pet of the month' for the March issue. Now, who wouldn't buy a magazine with this babe on the cover?
6. Sunny Leone At A Lounge
A hint of lip gloss teamed with a plaid shirt can never go wrong. Especially not with a face like that. Sunny Leone said she maintains her beautiful skin by downing a glass of lime water or coconut water on an empty stomach first thing in the morning. An age-old beauty secret that we are all aware of but never follow.
7. Sunny Leone, The Campaigner
Who's even looking at that stuffed animal there? With some pink lip balm on, Sunny is keeping the rest of her pretty face free from makeup. This goddess has a humane side that will amaze you. She was named PETA's person of the year in 2016.
8. Sunny Leone, The Animal Lover
It's impossible to pick who is the cuter one in this picture. Sunny's keeping her look simple with just eyeliner. Why does she need to do anything else when her skin is as luminous as ever? Both Sunny and the puppy are dazzling in each other's glow.
9. Sunny Leone With Her Pets
Seen walking her two rescue babies here, can this woman please stop making us all feel inadequate? No, please, give the rest of us a chance. Do you even know what most of us look like without makeup? It is no wonder that apart from Bollywood, the Telugu and Kannada filmmakers too are making a beeline to rope her in their movies too. Not to forget, she is also a total favorite in reality shows.
10. Sunny Leone, The Yoga Guru
You know why everyone is not convinced about enrolling in yoga yet? Because we lack yoga instructors like these! Sorry, but Baba Ramdev isn't exactly inspiring me to stretch. Sunny has mentioned that she does Yoga or Pilates when she's traveling and cannot hit the gym. A great workout results in a great skin. And our pretty thing here, does not need makeup.
11. Sunny Leone At The Stadium
Sunny is keeping it simple while cheering for her team, OPM Sultans, at the Super Boxing League.We all know that sporty chicks are irresistible. A ponytail and subtle makeup do the trick at sports events. Note that, ladies. Also, when you cheer your team, you wear your team. Smells like team spirit?
12. Sunny Leone, The Foodie
Sometimes the only things that need frosting are doughnuts, not faces. We still know which one is more delicious. Though Sunny's diet mostly comprises juice and raw vegetables, she does cheat on it sometimes! Oh, and this lady's favorite cuisine is Italian!
13. Sunny Leone's Travel Attire
Travelling with the husband! I'm envious of everyone on that plane. It's not every day Sunny Leone and her gorgeous husband are your co-passengers. After a few brief boyfriends and a broken engagement, she is married to Daniel Weber, actor, former porn star, guitarist of the rock band 'The Disparrows', and a producer. Observe how she rocks her casual travel look without wearing makeup and without seeming the least bit exhausted!
14. Sunny Leone With A Starfish
Who needs makeup when you have a Batman hat on your head and a starfish in your hand? What kind of a DC-Disney take is this? Not to forget, even Sunny digs Batman! She seems so happy here that makeup is absolutely unnecessary!
15. Sunny Leone At Home
I personally saved this for the end so you all collapse looking at the amount of cuteness in this picture. Go ahead. Collapse now. Punch a wall to feel manly again. A person who is always watching out for his wife-cum-best friend is a good looking rock star who is passionate about cooking, well, Sunny knows how to pick a man for herself. These guys are a happy family!
Aren't Sunny's workout looks always on point? They sure are. And one can never disagree when we say that Sunny Leone without makeup is still flawless. Her personality, gorgeous hair, the beautiful smile she carries, and the confidence she wears are all that she needs to win people's hearts right away. The actress carries herself so well that she can mesmerize her fans without wearing any makeup. She embraces her inner beauty and flaunts her natural skin without any hesitation, and that is what makes all the difference.
Banner Image Credits: Instagram
The following two tabs change content below.