Taylor Swift Without Makeup – You Can't Imagine?
Taylor Swift is a country singer who, in a short span of time, has gained millions of followers. Her popularity continues to rise as she writes songs about her own experiences – about love, betrayal and anticipation – all of which teenagers and young adults can relate to.
Taylor Swift Pictures without Makeup
Unlike other celebrities, Swift looks gorgeous even without makeup. Here are some of Taylor Swift no makeup pictures to prove our point.
1. Music Doesn't Need Makeup
Taylor Swift was photographed carrying a guitar case in her hand, wearing very casual but classy clothes. The 'You Belong With Me' singer wore a semi-striped red and white top and teamed it with a pair of maroon quarters. Her hair was braided and she was carrying a sling bag. Her face looked angelic even without makeup.
[ Read: Taylor Swift Beauty and Fitness Secrets ]
2. A Bowl Of Ice Cream
A smile is the best makeup one can wear. And that is all Taylor Swift needs. She doesn't need to hide behind makeup. A picture of her wearing a blue oversized shirt and carrying a bowl of vanilla and chocolate chipped ice cream shows that she is naturally beautiful and does not require touch-ups.
3. A Makeup-Less Photo Shoot
Taylor Swift chose to go makeup free for People Magazine's 100 Most Beautiful People issue in 2008. The photograph showed her sitting in a garden with a white summer dress on. Her golden curls were untied and fell on her shoulders. She looked simply amazing in the pictures and radiated an innocent glow.
4. Taylor Swift Casual Look
Taylor Swift was photographed in an oversized tee shirt in a field. Her hair – which is naturally curly – was flowing down her shoulder. The sporty avatar made her look magnificent, even without makeup.
5. Taylor Swift at Beach
Taylor Swift was pictured on a beach wading into the water. She had a sling bag and wore a pretty floral patterned summer dress. She carried her shoes in one hand and wore a pair of sunglasses, which framed her face perfectly. The sea water was up to her knees and she looked like she was having a blast!
[ See: Top 10 Hollywood Actresses Without Makeup ]
6. Taylor Swift Winter Style
Taylor Swift was spotted wearing a polka dotted shirt with brown pants. She had on a red beanie and a navy blue blazer. She was carrying a sling bag. Her hair fell in golden locks from under the beanie. Taylor hardly had any makeup on her face but looked absolutely fabulous.
7. A Day Without Sun
Taylor Swift was clicked without makeup in a red coat and blue jeans. She was carrying a leather sling bag and was wearing oxfords. She had her earplugs on and her hair was down, giving her casual and lovely look. It was evident that her face was sans makeup, yet she looked extremely charming and cute.
8. Off Screen
This country singer looks as good on screen as she does off it. She makes an adorable celebrity on the red carpet but when she's off it and not wearing makeup she looks even better! A picture of her wearing a black blazer with her wonderful curly hair flowing down on her shoulder is a perfect example of her natural beauty.
9. Taylor Swift Teenage Years
A picture of a younger Taylor Swift with no makeup shows how adorable she was, and of course, still is.
10. Taylor Swift Signing Autographs
A close up of Taylor Swift signing autographs shows how beautiful her face looks without makeup. Not many celebrities would be as comfortable as she is with someone taking a picture at such a close range when there is no makeup on.
Aren't these pics of Taylor Swift without makeup a living proof that natural beauty still counts over makeup? What do you say?
Image Source: 1 , 2 , 3 , 4 , 5 , 6 , 7 , 8 , 9 , 10
Recommended Articles:
The following two tabs change content below.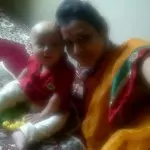 Latest posts by Khushboo Mehta (see all)