10 Pictures Of Rekha Without Makeup
Get glimpses of the elegant, stylish, and evergreen superstar Rekha in her natural beauty.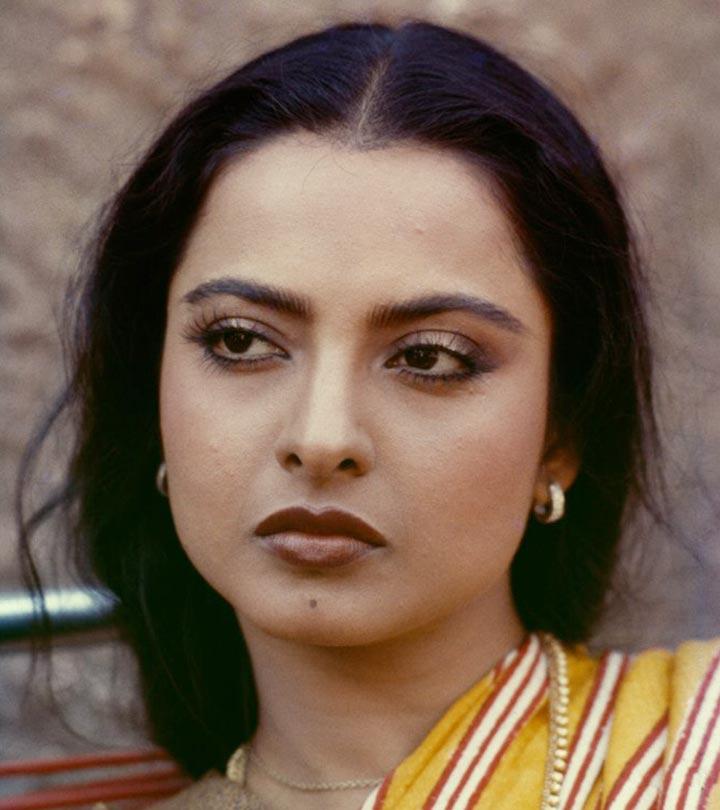 Rekha without makeup is a rare sight. While Bollywood actresses do not often make de-glammed appearances, we have still seen personalities like Alia Bhatt, Dia Mirza, and Kareena Kapoor without any makeup. But when it comes to our all-time favorite Rekha, makeup is a constant.
Bhanurekha Ganesan, famously known as Rekha, is known for her impeccable performances in Silsila, Ijaazat, Khoobsurat, Lajja, Apne Apne, and many more. This legendary actress's elegant personality and striking facial features have won thousands of Indian hearts since the 1970s. She has played diverse roles, but the thing that never changed through the ages was her fashion and makeup – Kanjivaram Saree, thick flowing hair, and rosy lipsticks are her personal style. And one would be lucky to catch her sight without these fashion accessories. Want to watch some rare pictures of the actress? Scroll down!
Rekha Without Makeup Photos
Here are ten photos of actress Rekha without Makeup. Have a glance at them to know how this beauty looks without makeup.
1. Rekha And Vidya Balan
This is her most recent picture with no makeup, except of course her red lipstick. The area around the corners of her eyes is filled with crow's feet. You can also see heavy pigmentation and age spots under her eyes. The once beautiful Rekha is surely ageing, with or without makeup.
2. Rekha On Sets With Sridevi
This is a very old picture of hers taken on the sets. Here she is seen without any trace of makeup. Without the glamorous makeup on her face, Rekha is looking very ordinary, just like any other regular girl. If you notice carefully, you'll see that this picture was taken before Rekha did any skin lightening treatments. This is during her transformation from fat to fit, so a little bit of chubbiness is still there.
3. Rekha In Her Movie Khoon Bhari Maang
The third picture is from the movie Khoon Bhari Maang. This was a movie where, in the first part, her character needed to be shown without any makeup. In this image, you can see how her lips look pigmented without any lipstick.
4. Rekha In Sans Makeup
This image is a still from an old movie. Here, Rekha is again seen sans makeup. She is wearing her hair in a simple loose plait with a parting in the middle. This shot of hers definitely doesn't make her look like a diva.
5. Village Girl Rekha No Makeup Picture
This image of hers is again from an old movie. Here she is playing the role of a village girl and has no makeup on. The only adornment on her face seems to be a simple bindi. Rekha is looking a bit chubby, and her complexion still seems natural (which is good), so it seems this was also taken before the alleged skin lightening treatment.
6. Rekha With Wet Hair In Bathing Scene
An old picture of hers that shows her in a bathing scene from one of her movies. Notice the wet hair. Rekha still looks a bit chubby here. Her skin too seems to be her natural colour. There's a certain innocence and freshness about her that's quite appealing. It won't be wrong to say that Rekha looked more beautiful in her natural avatar than with all the makeup.
7. Rekha In A Black And White Picture
A black and white picture of Rekha from an old photo shoot. Though she has minimal makeup on, she looks quite ravishing in this one.
8. Rekha with Her Trademark Hairstyle
Here Rekha flaunts her trademark hairstyle. Her long wavy hair is swept to one side of her face and she is wearing no makeup.
9. Rekha with Minimal Makeup
This is one of the last pictures of hers that is still around, where she is seen with minimal makeup. Here she's wearing a winged eyeliner and nude gloss. Other than that, she seems to be without any makeup.
10. Rekha With Glowing Face
And finally a picture of Rekha with a fully made up look. Though her skin is covered up in makeup, the acne marks are very visible on her cheeks. Other than that particular area, she has managed to make the rest of her face and neck look quite smooth.
Bhanurekha Ganesan or Rekha is blessed with God-like facial features. With her flawless skin and charming personality, there is barely any need for her to rely on makeup. Makeup or no makeup, she knows her game well and carries herself perfectly on every occasion. These photos of Rekha without makeup clearly bring out her natural beauty and mesmerize us greatly. Talented, hard-working, and accomplished, this Bollywood actress is an idol for us all. She has never failed to amaze her fans with her acting skills and looks.
Frequently Asked Questions
How does Rekha maintain her looks?
Rekha is very particular about good skin and haircare routines along with a clean diet. She makes sure to stay well-hydrated and prefers good-coverage makeup to maintain her beautiful appearance.
Does Rekha do her own makeup?
Yes, she is known to do her makeup on her own. Bold lipcolors with heavy eye makeup seem to be her most preferred look.
Does Rekha have a mole on her face?
No, she doesn't. She recently revealed on a talk show that the beauty spot just above her lips is actually fake.
What does Rekha use on her face?
She is known to use gram flour, turmeric, curd, and natural creams to keep her skin glowing and look youthful.
Why does Rekha dress up so much?
It is her personal preference and her chosen way to look good and age gracefully.
The following two tabs change content below.