14 Best Pigmentation Creams For Flawless Skin in India – Best Of 2023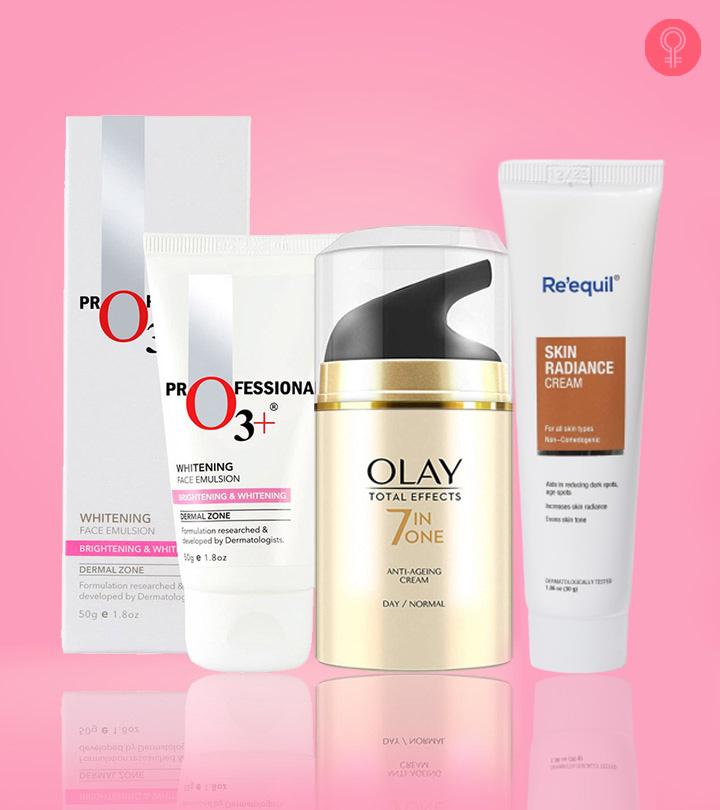 Recently, my friend came back from a beach holiday. Despite her best efforts, the sun and the humid climate ravaged her skin. She came back with large, brown patches of skin pigmentation, and she's been freaking out since then!
Getting rid of skin pigmentation can be a real struggle. Though there are many factors that can cause it, excessive sun exposure is the primary culprit. Luckily, there are creams containing active ingredients that can help you get rid of it. Keep scrolling for our top picks.
14 Best Pigmentation Creams In India
Product Claims
This cream is rich in active ingredients that prevent excessive melanin production. It reduces pigmentation, dark spots, and age spots and evens out your skin tone to make it bright and radiant. It has anti-aging properties that also prevent the signs of aging.
Pros
Non-comedogenic
Suitable for all skin types
Sulfate-free
No mineral oils
Paraben-free
Dermatologically-tested
Cons
None
Product Claims
This is an anti-pigmentation cream with astringent and antibacterial properties that work on the root cause of blemishes. It evens out your skin tone and gives you a clear complexion without any dark patches and spots.
Pros
Natural ingredients
GMP-certified
Not tested on animals
100% chemical-free
Paraben-free
100% certified organic
Cons
None
Price at the time of publication: $9.85
Product Claims
St. Botanica Vitamin C, E & Hyaluronic Acid De-Pigmentation Cream helps in reducing dark spots and pigmentation. The vitamins and natural ingredients in it fight photoaging, and the sunscreen agents protect the skin from further damage. This depigmentation cream restores your natural complexion by removing tan and evening out the skin tone. It is enriched with precious essential oils and botanical extracts with skin-lightening properties.
Pros
● Brightens the skin
● Removes tan
● Lightens pigmentation
● Prevents sun damage
● Paraben-free
● Suitable for all skin types
Cons
● May cause breakouts
Product Claims
This is an Ayurvedic formula that contains saffron extracts. Saffron is known to brighten the skin and reduce pigmentation and dark spots. It also contains aloe vera, Indian madder, licorice, and vetiver extracts that repair your skin, correct uneven skin tone, and reduce fine lines, wrinkles, and age spots – all while you are sleeping.
Pros
Organic ingredients
Paraben-free
SLS-free
No mineral oils
Cruelty-free
Cons
None
[ Read: Kama Ayurveda Night Cream Reviews ]
Product Claims
This night cream is formulated with Swedish natural ingredients. It claims to nourish your skin and reduce the appearance of dark spots. It also claims to prevent the formation of dark spots and give you a radiant complexion.
Pros
Dermatologically-tested
Suitable for all skin types
Hydrating
Consumer-tested
Cons
None
[ Read: Oriflame Optimals Even Out Night Cream Reviews ]
Product Claims
The product claims to reduce pigmentation and blemishes to even out your skin tone. It is effective on acne marks and dark circles. A potent blend of everything natural, this cream from Khadi promises to leave your skin velvety smooth and soft.
Pros
Organic ingredients
Cruelty-free
No harmful chemicals
GMP-certified
ISO- and WHO-certified
Lightweight
Suitable for all skin types
Cons
None
Product Claims 
If you have melasma and hyperpigmentation, this is the cream you need to try out. Himalaya Bleminor reduces excessive melanin synthesis and prevents skin discoloration. It claims to effectively reduce post-inflammation hyperpigmentation and skin discoloration caused by an injury.
Pros
Natural ingredients
Works on acne scars
Removes tan
Suitable for all skin types
Cons
Takes time to show results
Product Claims
This face emulsion contains antioxidants that brighten your skin by minimizing pigmentation. It has skin hydrating properties that keep your skin nourished and make it glow from within. This cream is only recommended for anyone with dry or normal skin.
Pros
Cruelty-free
Paraben-free
Contains natural ingredients
Cons
None
[ Read: O3+ D Tan Pack Review ]
Product Claims
This depigmentation day cream contains active ingredients that protect your skin from environmental pollutants and sun damage. It contains carotenoids, licorice extracts, and chamomile oil that prevents pigmentation and clears your complexion to reveal bright skin.
Pros
Natural ingredients
Paraben-free
No harmful chemicals
Suitable for all skin types
Cons
Strong fragrance
Takes time to show results
Product Claims
This product contains turmeric and lemon extracts that are known for lightening dark spots and removing tan. This cream is best for anyone who has uneven skin tone. It also gets rid of all the impurities and makes your skin glow.
Pros
Natural ingredients
Paraben-free
No artificial preservatives
Cons
May cause a burning sensation
Product Claims
This is a night cream that helps reduce dark spots, tan, age spots, and pigmentation marks. It gets absorbed quickly and prevents further darkening of the skin. This cream claims to give visible results in just two weeks.
Pros
Developed by dermatologists
Hydrating
Suitable for oily and combination skin types
Cons
Not very effective when used alone (gives best results when used with other products from the same range)
Product Claims
This product is a blend of natural ingredients such as lemon peel extracts, apricot kernel, and clove oil that fade away scars, spots, pigmentation, and blemishes. It evens out your skin tone and rejuvenates it.
Pros
Suitable for all skin types
Quick results for minor spots and blemishes
Reduces tan
Cons
Clove oil may not suit some skin types.
Product Claims
Reduce dark spots, discoloration, and pigmentation with the Derma Co 2% Kojic Acid Face Cream. The kojic acid inhibits the production of melanin, thereby diminishing the brown patches, blemishes, and hyperpigmentation. It also effectively reduces sunburn patches, while vitamin C heals skin cells and promotes radiance. Additionally, the glycolic acid buffs away dead skin cells for an illuminated skin tone.
Pros
Suitable for all skin types
Dermatologist-tested
Paraben-free
Mineral-oil-free
Sulfate-free
Cons
None
Product Claims
This day cream claims to fight the seven signs of aging. It promises to even out your skin tone and make your skin visibly bright. It keeps your skin refreshed and can be used under makeup. Apart from fighting dark spots and pigmentation issues, it also claims to fight wrinkles and fine lines.
Pros
Contains SPF 15
Loaded with antioxidants
Non-greasy
Cons
Contains parabens
Contains artificial fragrance
Consider these essential points before purchasing any pigmentation cream to make the ideal choice.
Things To Consider When Buying A Pigmentation Cream
Pigmentation occurs due to the deposition of melanin – a protein manufactured by the skin. Topical creams reduce hyperpigmentation by lightening the skin. Look for topical creams that contain azelaic acid, corticosteroids, hydroquinone, kojic acid, retinoids (tretinoin), or vitamin C.
Natural or organic pigmentation creams are also available. Creams made with natural and healing ingredients like turmeric, mulberry, green tea, and chia seeds supply adequate antioxidants and vitamins to the skin to make it look clean and supple. Avoid creams with harmful additives like parabens and alcohol as they dry out your skin by stripping away its natural oils.
Choose a cream that contains SPF 30 or higher. It will protect the skin from sun damage and prevent the existing pigmentation from getting darker.
Check for valid certifications or approvals to ensure quality. Any product that is clinically tested or dermatologically approved is safe to use. For organic or natural creams, check for the organic certificate of the product.
No one wants highly pigmented and blotchy skin. These products are specially formulated to treat pigmentation issues. So, if you have been dealing with dark spots, it's time you use these creams and say goodbye to them. Don't forget to share your experience with us in the comments section below.

Recommended Articles