7 Reasons To Include Pineapple In Your Diet For Weight Loss (With Recipes)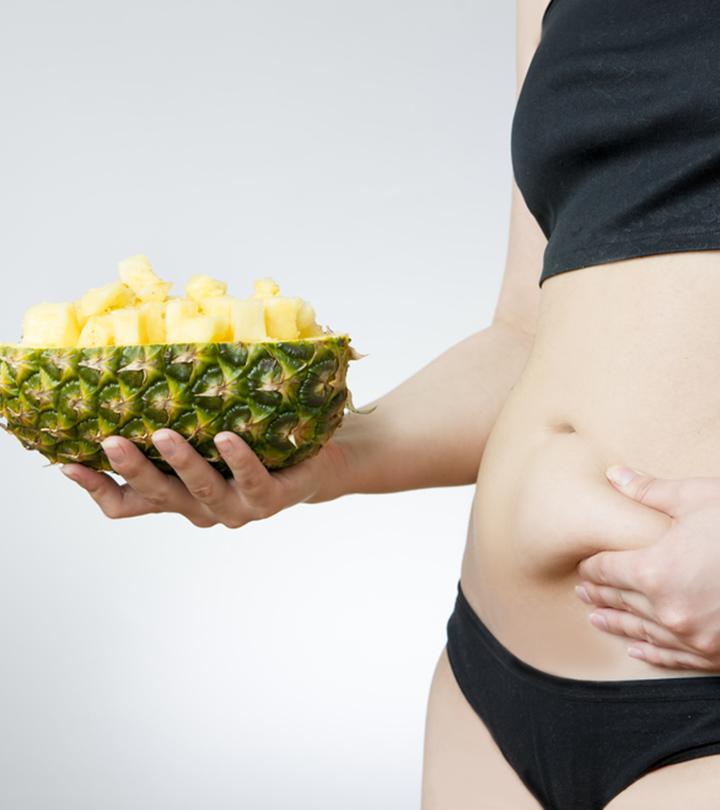 Do you want to lose weight and get a healthy and fit body? Then, it's time to include slices of pineapple in your daily diet to lose weight. 
It is better to eat a couple of pineapple slices than indulge in some sugary, flour-coated delicacy to curb your sugar cravings.
After all, one of the biggest advantages of this fruit is that it has few calories but is loaded with nutrients. 
Check out how to include pineapple into your diet and the benefits you can reap from it in this article. Keep scrolling!
Caution: Pineapple may cause an allergic reaction. Seek medical treatment immediately if you experience any symptoms of allergy.
How Pineapple Helps In Weight Loss
1. Low In Calories
Pineapple is low in calories. One slice (84 g) of pineapple has only 42 calories, which makes this fruit perfect for weight loss.
This juicy and refreshing fruit is loaded with water (1 slice contains 72 g of water), which makes it quite filling and great for curb hunger pangs (1).
2. Low In Carbohydrates
Instead of indulging in refined carbs, it is better to grab a bowl of juicy pineapple slices to fulfil your sugar craving.
Studies have shown that low-carbohydrate foods, along with lifestyle management, help in losing weight (2).
3. Contains Proteolytic Enzymes
Bromelain is a proteolytic enzyme, i.e., an enzyme that helps break down protein molecules. It is found in pineapple and has anti-inflammatory properties (3).
A study conducted on Wister rats fed a high-fat diet found that the bromelain found in pineapple juice aids weight loss by regulating the serum leptin and insulin levels (4).
4. May Help In Digestion
The bromelain in pineapple acts as a digestive aid (5). It breaks down protein molecules to aid digestion and nutrient absorption. Proper digestion helps reduce bloating and shed some weight.
5. Good Source Of Fibre
165 g of pineapple contains 2.3 g of fiber (1). Fiber, both soluble and insoluble, helps you lose weight by adding bulk to your diet and making you feel fuller for longer (6).
6. Curbs Appetite
If you feel the urge to munch on a snack, cut up a pineapple to fill your stomach as it is rich in fiber, juicy, and loaded with water. This will keep your stomach busy for a while.
Fruits rich in fiber help curb appetite, delay gastric emptying and provide satiety (6). This, in turn, helps you cut down on unnecessary calorie intake and aids weight loss.
7. Powerhouse Of Manganese
Pineapple is rich in manganese (7).
A study conducted in China found that dietary intake of manganese is inversely proportional to abdominal fat and metabolic syndrome (8). So, enjoy pineapple juice or chunks of pineapple as your mid-morning drink or snack to lose weight.
Now, let's answer the question that is on everyone's mind.
Does Pineapple Burn Belly Fat?
The enzyme bromelain found in pineapple has lipolytic and proteolytic effects, which helps burn overall body fat (4). It also targets your belly area when combined with diet, lifestyle changes, and exercise routines.
So, let's check out how you can consume pineapple to aid weight loss.
How To Consume Pineapple For Weight Loss 
1. Pineapple Juice
Serves: 2, Preparation Time: 5 minutes
Ingredients
1 cup chopped pineapple
Juice of half a lime
1 tablespoon organic honey
A pinch of Himalayan pink salt
How To Prepare
Toss all the ingredients into a blender.
Blend well, pour in a glass, and refrigerate.
2. Pineapple And Cucumber Juice
Serves: 3-4 cups, Preparation Time: 10 minutes
Ingredients
2 medium-sized cucumbers
½ cup chopped pineapple
5 celery sticks
1-inch fresh, grated ginger
A pinch of black salt
How To Prepare
Add all the ingredients in the juicer and blend well.
Add water to adjust the consistency and sprinkle some salt for taste.
Drink chilled.
3. Pineapple Iced Tea
Serves: 6, Preparation Time: 10 minutes, Cooking Time: 5 minutes, Total Time: 15 minutes
Ingredients
4 cups of water
1 cup freshly prepared pineapple juice
7 tea bags
⅓ cup lemon juice 
How To Prepare
Pour the water in a large saucepan and boil it for 2-3 minutes.
Remove the pan from the flame and dip the tea bags in it.
Let the tea steep for at least 5-7 minutes.
Add the pineapple juice to the tea and stir well.
Refrigerate the decoction to enjoy chilled pineapple tea.
4. Pineapple Smoothie
Serves: 2, Preparation Time: 5 minutes, Cooking Time: 1 minute, Total Time: 6 minutes
Ingredients
1 ½ cup fresh pineapple juice
1 medium-sized banana
1 ½ cups pineapple chunks
¾ cup Greek yogurt
How To Prepare
Put all the ingredients in a blender.
Blend till you achieve a smooth consistency. Add water to adjust the consistency.
Pour the smoothie into glasses and garnish with thinly sliced pineapple wedges. 
Pineapple offers many health benefits besides weight loss. Check them out in the next section.
Other Health Benefits Of Pineapple
Conclusion
Enjoy slices of pineapple or pineapple juice as a part of your weight loss diet. Do not overindulge in this sweet and juicy fruit as too much fructose can increase your blood sugar level.
Keep enjoying juicy pineapple along with a balanced diet and regular exercise to lose weight.
Frequently Asked Questions
Does pineapple make you fat?
Pineapple is a low-calorie and high-water content fruit. So, eating pineapple does not make you fat.
Does boiled pineapple skin aid weight loss?
There is no scientific evidence that pineapple skin helps in weight loss. Relish a cup of juicy pineapple slices as a snack along with other healthy approaches to lose weight.
Is pineapple fattening at night?
Pineapple is rich in fructose. Fruits that are rich in these simple carbs are not advisable to eat night as they may make your blood glucose levels spike.
Is pineapple a keto-friendly food?
No, pineapple is not a keto-friendly fruit.
Sources
Articles on StyleCraze are backed by verified information from peer-reviewed and academic research papers, reputed organizations, research institutions, and medical associations to ensure accuracy and relevance. Check out our
editorial policy
for further details.
Recommended Articles
The following two tabs change content below.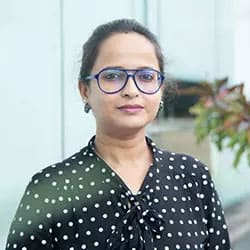 Priyanka is a nutritionist and a Certified Diabetes Educator. She has over 8 years of experience in nutrition and dietetics with a strong research background. She is passionate about science and how it can be applied to one's daily lifestyle. According to her, food is the best medicine, and proper nutrition is key to achieving good health. She has also written a book on PCOS and its management for doctors and patients. When she is not working, she loves spending quality time with family and friends. She loves creating innovative, healthy recipes and endorses healthier alternatives to junk foods to promote good health.