10 Elegant Pisces Tattoo Designs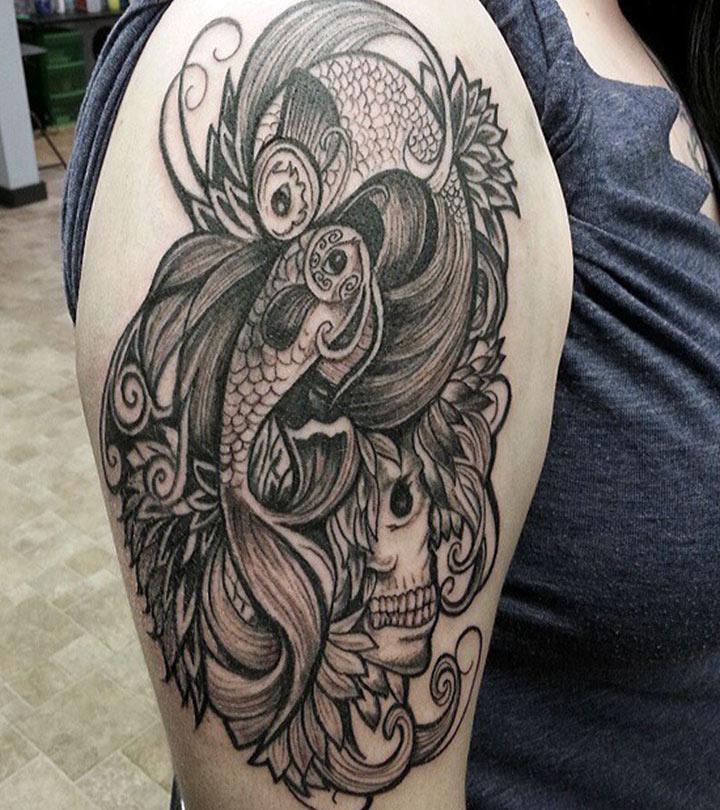 Pisces men and women are known to be compassionate, kind, accepting, devoted and imaginative. These are enough reasons why you should flaunt your Pisces birth sign in the form of tattoo art. The following top ten Pisces tattoo designs will go a long way to inspire you to get creative at your local tattoo parlor.
Top Ten Pisces Tattoo Designs:
1. Koi Pisces Tattoo:
This Pisces Koi fish tattoo stands out for its design and deep symbolism. For those who are unaware, the Koi fish symbolizes perseverance, courage and immense will power. This unique Pisces tattoo should be of great inspiration to many. It also allows those born under the Pisces sun sign to flaunt their Pisces pride.
2. Pisces Colored Tattoo:
This colored Pisces tattoo stands out for its use of psychedelic colors that give this a bright and trendy look. Make a note of the fine details such as the ornate scales and fins, and the green and purple bulging eyes. This is definitely one expressive piece of art.
[ Read: Tattoo designs ]
3. Coral Blue Pisces Tattoo:
This Pisces fish tattoo art has a macabre twist that is hard to ignore. Make a note of the eerie aura this whole work of art has. Don't miss noticing the fact that the fish at the bottom seems entrapped amongst the fins of the fish on the top that looks more dominant and the stronger of the two. This piece of tattoo art could have an inner meaning that is open to varied interpretations.
4. Ying and Yang Pisces Tattoo:
This tattoo effectively combines the Pisces sign and the Chinese Ying Yang sign in one complete circle. Simple and attractive, this tattoo shouldn't be too hard to replicate. However, it's best to have an experienced tattoo artist do this for you.
5. Pisces Mermaid Scales Tattoo:
This Pisces inspired tattoo simply depicts mermaid scales in a shimmering shade of coral blue at strategic points on the thighs. This tattoo has definite sex appeal and loads of feminine charm. Stay true to the concept as depicted here, and you have yourself a winner Pisces tattoo. This is one of the best pisces tattoo designs for women.
[ Read: Popular Mehndi Tattoo Designs ]
6. Tears Pisces Tattoo:
This tattoo should be a tough job to replicate even for the best tattoo artist. However, time and effort by a seasoned tattoo artist could result in this beautiful Pisces tattoo strategically placed somewhere on your body. Make a note of the effective artwork that gives this tattoo an almost photographic quality.
7. Tribal Pisces Tattoo:
This tribal tattoo stands out for its use of perfect symmetry and the dark bold black color. A perfect unisex tattoo, this design should suit both men and women equally. Employ the services of an experienced tattoo artist and stay true to the trendy design as depicted here.
8. Gold Koi Fish Pisces Tattoo:
If you are looking for a tattoo that shines, glitters and is hard to ignore, this gold Koi fish Pisces tattoo is the perfect option. Look closely at the brightly depicted scales, the ornate water lilies and the overall bright and colorful aura to this piece of art.
[ Read: Frog Tattoos ]
9. Miniature Pisces Symbol Tattoo:
This kind of miniature Pisces symbol tattoo designs are perfect for those who want to flaunt their sun sign through tattoo art, yet prefer to keep it simple and subtle. Keep it small and have it inscribed on strategic parts of your body. There's no doubt that you will have a subtle yet effective style statement inscribed on to your skin.
10. Bold Black Pisces Symbol Tattoo:
Here's another example of how you can use the Pisces symbol to flaunt your birth sign through tattoo art. Keep it bold and black, and have it inscribed on the nape of your neck, your inner wrists or ankles.
[ Read: Tattoo Cover Up Ideas ]
Hope you liked these pisces tattoo designs. We shall be back with more!
Image source: 1 , 2 , 3 , 4 , 5 , 6 , 7 , 8 , 9  , 10
The following two tabs change content below.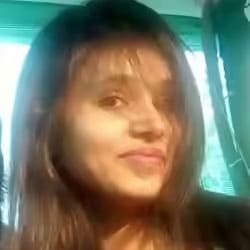 Jyotsana Rao is an engineering graduate from NIT, Nagpur, who discovered her love for writing during her undergraduate days. She is passionate about writing about everything related to beauty - makeup, fashion, hairstyles, skin care, or hair care. When this social media junkie isn't stalking the world of fashion and glamour, she loves spending her time traveling.