40 Fabulous Pixie Hairstyles With Bangs
Chop off your locks and embrace your inner rock-chic pixie with this edgy hairdo!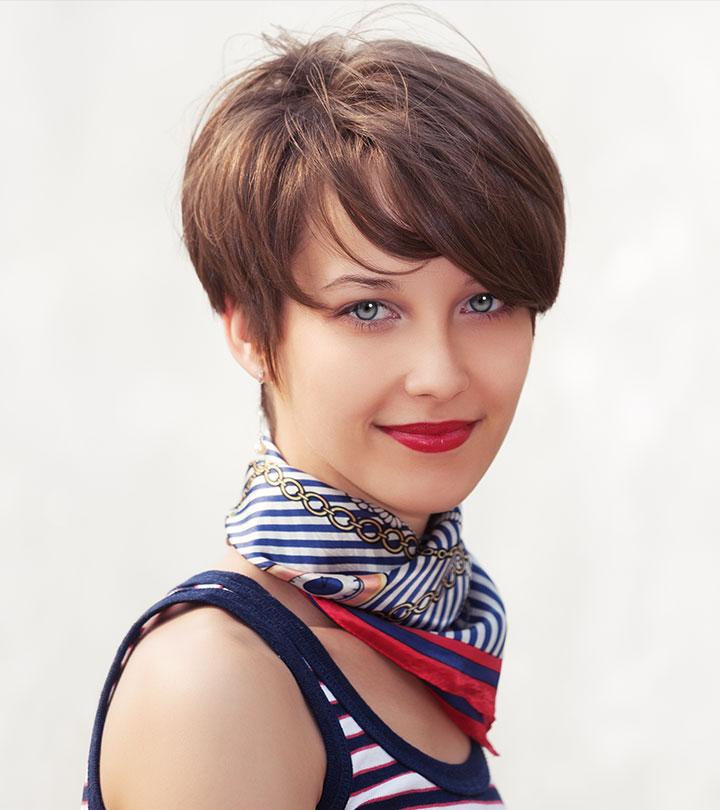 You just broke up or are making big life choices, and like all amazing heroines, you too want to start with changes to your hair.
May we suggest a short pixie cut with bangs?
A pixie hairstyle is cut short with pointy layers. Throw in some bangs, and you can make the pixie cut look ever-so-versatile. Blunt bangs to look edgy, wispy bangs to look French, side-swept bangs to look modern – the options are never-ending. And you do not have to be disturbed by tangles, knots, and styling your hair every day because a pixie cut looks good, even messy.
Celebrity stylist Khamis Maiouf says, "With bangs, you won't look older and the lines and acne scars on your forehead won't be visible. It's a fantastic disguise for a broad forehead."
If this has piqued your interest, keep reading to check out the top 40 stylish pixie hairstyles paired with bands to make you feel like a princess from a fairytale.

Before You Get Started
Pixie cuts need a lot of styling products since they are light and tend to bounce. Use volumizing and texturizing sprays and molding waxes to help style your pixie in a certain way.
Limit heat styling every time your pixie is a mess as it will damage your hair. Instead, invest in heat-protecting products to keep your hair healthy.
Trim your pixie every 6-8 weeks for a neat, modern look.
Pixies are also a complex cut only skilled stylists can achieve. Therefore, research your stylist beforehand. Certainly, avoid giving yourself a pixie if you do not have the expertise.
40 Fabulous Pixie Hairstyles With Bangs
1. Sharp Bangs With A Spiky Pixie
Kaley Cuoco stunned everyone by cutting her long blonde locks and sporting a pixie cut in season eight of The Big Bang Theory. And she looked beautiful! This hairstyle is all about contrast. Her bangs point downward, while her pixie points upward. The pixie adds height while the spiky hair bangs draw attention to her eyes.
2. Flicked-Up Bangs With An Upward Pixie
There's no denying Rihanna has amazing style. This pixie, paired with a side cut, starts off as a mohawk at the back. But once it gets to the front, it almost becomes a quiff. The bangs are styled to match the pixie. They are brushed upward and add some contrast to the quiff.
3. Heavy Pixie And Bangs
Just like her powerful voice, Jennifer Hudson's hair is always slaying. Notice how her bangs are subtly layered to look different from the rest of her pixie? This not only adds a bit of style to her hairdo but also draws attention to her eyes.
4. Sleek Side-Parted Pixie
Even though Millie Bobby Brown was just a child when she debuted on Stranger Things, no one could deny her flawless style. Just look at this sleek pixie. Instead of pulling back her cropped hair like most people would, her bangs have been styled to conceal her forehead partly while drawing attention to her eyes.
5. Messy Pixie
This messy pixie with layered bangs is great for enhancing your face shape, from your eyes to your jawline. The bangs are cut into sharp layers, which brings some structure to the messy pixie and creates an youthful appearance.
6. The Bowl Pixie Cut
Zendaya is so cool she even makes a bowl cut look edgy. Moving away from her natural dark hair, Zendaya flaunts a glossy golden blonde pixie with heavy bangs. The bangs have been brushed to the side so they don't completely cover her forehead. This trendy hairstyle brings out her facial structure super well.
7. Grown-Out Messy Pixie
While most hairstyles lose their freshness when hair grows out, the same is not true for a pixie. A grown-out pixie can look very cute, as Kaley Cuoco shows us here. And the heavy bangs enhance her eyes, nose, and cheekbones.
8. Bangs-Heavy Pixie
Bangs can really elevate a pixie cut. The heavy fringe brings out Zendaya's eyes, nose, mouth, and jawline well. The warm-toned blonde shade perfectly suits her warm skin tone.
9. Long Side-Swept Bangs With A Cute Pixie
Jennifer Lawrence is hilarious, beautiful, smart, and a great actor – basically the whole package. Her short pixie is paired beautifully with long side-swept bangs that draw attention to her eyes.
10. Heavy Pixie With Baby Bangs
If you have really thick hair, this hairstyle is for you. This pixie pairs well with baby bangs to enhance your eyes and jawline. The baby bangs partly conceal the forehead, while the top-heavy pixie adds height to the look.


Trivia
Audrey Hepburn popularized the pixie hairstyle in the 1950s. Her pixie hairstyle in her 1953 movie Roman Holiday received high praise and a lot of attention.
11. Curly Pixie With Quiff Bangs
This is a great way to oomph up straight or wavy hair, especially if you have a growing-out pixie cut. Curl your hair and pin up the sides and the back to make your hair look sleek. Using some mousse, style your curls at the crown and front upwards. And style your bangs in a loose and subtle quiff.
12. Forward Baby Bangs
From long hair to short hair, RiRi has slayed all her looks. But this pixie cut has to be one of our favorites. The bangs are cut really short to cover a large forehead, but they are combed forward to add height to the hairstyle. Brushing your pixie forward is a great way to draw attention to your face.
13. Highlighted Pixie With Feathered Bangs
The brown highlights add dimension to Jennifer Hudson's hair. The feathered bangs add a stylish touch that emphasizes her features. And the pixie is lifted at the crown to add height to her hairstyle and face shape.
14. Top-Heavy Pixie With Light Bangs
Kaley Cuoco's pixie is lifted at the top to add height to her face shape and overall look. The subtle bangs prevent her forehead from looking large. Even the dark roots add height to her look!
15. Loose Finger Wave Bangs
Whoever styles Rihanna's hair needs to be given a raise! Her hairstyles never look boring and always have an edgy touch. The wavy bangs point toward her facial features, partly concealing her forehead. The spiked pixie is a great way to add height while minimizing a large forehead and making a bold statement.
16. Forward Pixie With Side-Swept Bangs
Comb your pixie forward from the crown to your forehead to add height to your look. It also draws attention to your eyes. The side-swept bangs hide a large or wide forehead.
17. Choppy Pixie And Bangs
Looking for a fun hairstyle that mimics your not-too-put-together-right-now life? Try this fun choppy pixie and bangs combo. The bangs immediately draw attention to the eyes, while the messy choppy pixie looks chic and stylish.
18. Forward Bangs With Side Cut Pixie
Katy Perry – bringing us edgy music and hairstyles since forever! The forward-falling layered bangs cover a large forehead, while the side cut emphasizes her bangs and adds a certain edge to her look.
19. The Elegant Pixie
After years of portraying the smart-but-bushy-haired witch Hermoine Granger, Emma Watson cut off her long locks to sport this elegant pixie cut. The back of her pixie is cut a little long to add a feminine touch to her look. The bangs are long but side-swept so they don't hide her forehead.
20. Frontal Mohawk Pixie
This hairstyle looks super cool and is very simple to try out. Apply styling mousse or foam to your hair. Brush down the sides and back. With your fingers, style the top and front of your hair in a forward-pointing mohawk.
21. Pointed Bangs
RiRi always knows what looks good on her, so it comes as no surprise that her hairstyles are always trending. Look at this short pixie with pointed bangs. If you have a large forehead, this hairstyle is perfect to cover it up while flaunting your facial features.
22. Baby Bangs
Let's be honest. Not everyone can pull off baby bangs, let alone really short ones. If you have an oval face, this pixie hairstyle is for you. It shows off those chiseled cheekbones to a T.
23. Messy Pixie
Messy hairstyles are all the rage right now. They look effortless, playful, and so lively! Try this messy pixie with flicked-out ends and scantily scattered front bangs. I have to say, I'm loving that brown dimension hair mix. It jazzes up the textured hair really well.
24. Short Pixie With Flicked Up Bangs
If you already have a pixie haircut, you probably want to change your hairstyle. You can achieve this edgy style with the help of some mousse or foam. Instead of wearing your bangs down, mousse them up.
25. The Domino Cut
Keira Knightley is an amazing actress with stunning hair. For the role of bounty hunter Domino, she had to chop off her locks. The bronde mix really displays the best of this pixie cut, and the bangs help showcase her jawline. The best part of this story is that she filmed the last few scenes of Pride And Prejudice with a wig because she had to get this versatile haircut done. Bet you didn't even notice!


Quick Tip
This pixie hairstyle will look good on people with oblong- or heart-shaped faces as it will help halve the length of one's face.
26. The Full Bangs Pixie
Katie Holmes looks so young with this chic haircut! The bangs draw all the attention to her eyes, nose, and mouth. If you have thick hair, you've probably thought that a short haircut will ruin its volume. But this is one pixie cut that will showcase your hair volume wonderfully.
27. The Shag Pixie
Hilary Swank's features are to die for, and this layered cut puts them on full display. This layered pixie haircut was the IT hairstyle among teens in the 90s. Kelly Clarkson and Mandy Moore have also sported this hairdo.
28. Classic Pixie With A Soft Fringe
Michelle Williams is the queen of short haircuts. She has opted for pixies over long hair for the past few years, and they suit her perfectly. It's almost as if she was made for them! The soft bangs draw the eye sideways and accentuate her cheekbones.
29. Colored Bangs
Everyone wants to try something edgy. The pixie itself is quite an edgy haircut, so how can you dial it up to eleven? By adding some color to the bangs, of course! This slight addition goes a long way in framing your face and flaunting your natural hair color.
30. Uneven Bangs
Uneven bangs are like that one girl in school whose style is so different that it can only be pulled off by her. If you have a slender or long face, this hair look will suit you well. It softens any harsh lines on your face and looks ultra chic.
31. The Neat Pixie
Many friends have told me that they don't think the pixie cut is fit for a red carpet. Ginnifer Goodwin proves them wrong. A neatly combed pixie set in place with some mousse is a brilliant, low-maintenance hairstyle not just for formal events but for work as well. I also like how she blended the bangs with the pixie to show off her baby hair.
32. Feathered Bangs
A feathered pixie with some slightly flicked bangs can soften your jawline, especially if you have a diamond-shaped face. By tapering the bangs to the side, you can draw attention away from any asymmetric facial features.
33. The Deep Auburn Pixie
Auburn is one hair color that can be sported in all seasons. If you're looking for a change from your blonde or brunette roots, consider this color to spice up your pixie. Those auburn bangs show off Carey Mulligan's skin tone and eye color beautifully.
34. Undercut Pixie
Scarlett Johansson has naturally dark hair, but she looks like she was born with blonde hair. I love how she's embraced both these colors in this lovely faux undercut pixie. The blonde bangs contrast her dark tresses really well and suit her skin tone wonderfully.
35. Gradual Bronde Pixie
I love how this pixie starts off with short bangs that gradually get longer and become short at the back again. This gradual pixie is a blend between a bob and a pixie. When you have two popular haircuts, merging them to create a stylish asymmetrical cut is the next best thing to do.
36. Just-Woke-Up Pixie
Every woman wants to wake up looking stunning and her hair perfectly in place. With long hair, it's a task that is rarely achieved. This pixie and bangs combo really outdoes itself. Now, you can wake up every morning with your hair looking perfect!
37. Thick Side Swept Bangs
When in doubt, go for easy to style deep side-swept bangs. They look terrific and frame your face. Moreover, deep side-swept bangs can cover a large forehead without hiding it completely.
38. Bangs From The Top
If you have a receding hairline, this face-framing pixie can be your saving grace. The bangs start from the crown and fall in front, covering the receding hairline and framing your face at the top.
39. Blue Pixie With Side-Swept Bangs
Blue is the color of our earth. It is a calming color and one of the most picked hair colors of all time. When paired with a flicked-out pixie haircut and side-swept bangs, this is a classic emo short hairstyle. Don't forget your eyeliner to complete the look!
40. The Hollywood Curl Pixie
Pixie queen ScarJo sends us reeling with this stunning pixie. It is perfect for any red carpet event. I love how the bangs are lifted. You can achieve that look with some gel and a round brush.
Infographic: Tips To Accessorize Pixie Cut
If you aim to turn heads with your pixie cut, you mustn't stop at chopping your mane. Instead, accessorize your brand new haircut to make it look fun and gorgeous. To assist you with it, we have a few tips in the infographic below that you can follow to steal the show. Check it out now!


Short pixie cuts with bangs are a total must-try. They not only give your look a great spin but are also super convenient to manage. So, if you are done with the mundane routine, get yourself this fashion-forward cut and add bangs to it, and you will never regret it. From everyone's favorite Rihanna to fabulous Katie Holmes, many celebrities have flaunted this cut. And now it is your turn to get it. So, choose from the amazing options above and get ready to look beyond perfect.
Frequently Asked Questions
What is a choppy pixie cut?
It refers to a short pixie cut with cropped razored layers that give you a fun, edgy look.
Is a pixie cut good for older ladies?
Yes, it can highlight your best facial features, and make you look classy and elegant.
What is a messy pixie haircut?
It is a short, cropped, and textured hairstyle with lots of layers that give you a messy, tousled look.
Are pixie cuts high maintenance?
No, they are pretty easy to maintain if you take care of your natural hair.
How do you style a super short pixie?
While you can use waxes or promades to style a super short pixie, you should not overdo it. A change in the parting or bangs can help you style your pixie cut differently.
Learn how to cut and style a pixie with bangs. Get the perfect look with easy-to-follow steps and expert tips in the video. Check it out!
The following two tabs change content below.