20 Fabulous Pixie Hairstyles With Bangs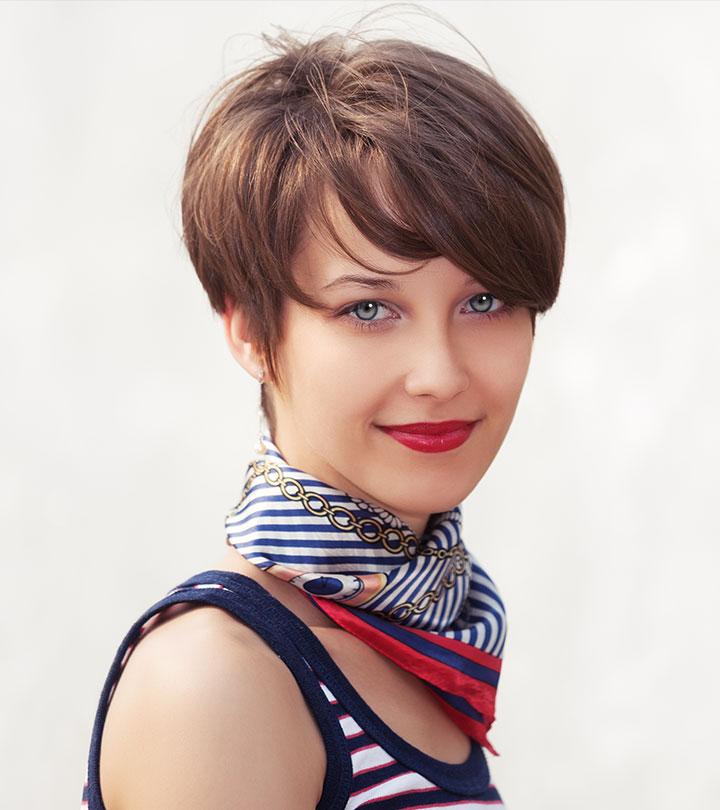 You just broke up or are making big life choices, and like all amazing heroines, you too want to start with changes to your hair.
May we suggest a short pixie cut with bangs?
A pixie hairstyle is cut short with pointy layers. Throw in some bangs, and you can make the pixie cut look ever-so-versatile. Blunt bangs to look edgy, wispy bangs to look French, side-swept bangs to look modern – the options are never-ending. And you do not have to be disturbed by tangles, knots, and styling your hair every day because a pixie cut looks good, even messy.
If this has piqued your interest, keep reading to check out the top 20 stylish pixie hairstyles paired with bands to make you feel like a princess from a fairytale.
20 Fabulous Pixie Hairstyles With Bangs
1. Pointed Bangs
RiRi always knows what looks good on her, so it comes as no surprise that her hairstyles are always trending. Look at this short pixie with pointed bangs. If you have a large forehead, this hairstyle is perfect to cover it up while flaunting your facial features.
2. Baby Bangs
Let's be honest. Not everyone can pull off baby bangs, let alone really short ones. If you have an oval face, this pixie hairstyle is for you. It shows off those chiseled cheekbones to a T.
3. Messy Pixie
Messy hairstyles are all the rage right now. They look effortless, playful, and so lively! Try this messy pixie with flicked-out ends and scantily scattered front bangs. I have to say, I'm loving that brown dimension hair mix. It jazzes up the hairdo really well.
4. Short Pixie With Flicked Up Bangs
If you already have a pixie haircut, you probably want to change your hairstyle. You can achieve this edgy look with the help of some mousse or foam. Instead of wearing your bangs down, mousse them up.
5. The Domino Cut
Keira Knightley is an amazing actress with stunning hair. For the role of bounty hunter Domino, she had to chop off her locks. The bronde mix really displays the best of this pixie cut, and the bangs help showcase her jawline. The best part of this story is that she filmed the last few scenes of Pride And Prejudice with a wig because she had to get this haircut done. Bet you didn't even notice!
6. The Full Bangs Pixie
Katie Holmes looks so young with this haircut! The bangs draw all the attention to her eyes, nose, and mouth. If you have thick hair, you've probably thought that a short haircut will ruin its volume. But this is one pixie cut that will showcase your hair volume wonderfully.
7. The Shag Pixie
Hilary Swank's features are to die for, and this hairstyle puts them on full display. This layered pixie haircut was the IT hairstyle among teens in the 90s. Kelly Clarkson and Mandy Moore have also sported this hairdo.
8. Classic Pixie With A Soft Fringe
Michelle Williams is the queen of short haircuts. She has opted for pixies over long hair for the past few years, and they suit her perfectly. It's almost as if she was made for them! The soft bangs draw the eye sideways and accentuate her cheekbones.
9. Colored Bangs
Everyone wants to try something edgy. The pixie itself is quite an edgy haircut, so how can you dial it up to eleven? By adding some color to the bangs, of course! This slight addition goes a long way in framing your face and flaunting your natural hair color.
10. Uneven Bangs
Uneven bangs are like that one girl in school whose style is so different that it can only be pulled off by her. If you have a slender or long face, this hair look will suit you well. It softens any harsh lines on your face and looks ultra chic.
11. The Neat Pixie
Many friends have told me that they don't think the pixie cut is fit for a red carpet. Ginnifer Goodwin proves them wrong. A neatly combed pixie set in place with some mousse is a brilliant hairstyle not just for formal events but for work as well. I also like how she blended the bangs with the pixie to show off her baby hair.
12. Feathered Bangs
A feathered pixie with some slightly flicked bangs can soften your jawline, especially if you have a diamond-shaped face. By tapering the bangs to the side, you can draw attention away from any asymmetric facial features.
13. The Deep Auburn Pixie
Auburn is one hair color that can be sported in all seasons. If you're looking for a change from your blonde or brunette roots, consider this color to spice up your pixie. Those auburn bangs show off Carey Mulligan's skin tone and eye color beautifully.
14. Undercut Pixie
Scarlett Johansson has naturally dark hair, but she looks like she was born with blonde hair. I love how she's embraced both these colors in this lovely faux undercut pixie. The blonde bangs contrast her dark tresses really well and suit her skin tone wonderfully.
15. Gradual Bronde Pixie
I love how this pixie starts off with short bangs that gradually get longer and become short at the back again. This gradual pixie is a blend between a bob and a pixie. When you have two popular haircuts, merging them to create a stylish hairdo is the next best thing to do.
16. Just-Woke-Up Pixie
Every woman wants to wake up looking stunning and her hair perfectly in place. With long hair, it's a task that is rarely achieved. This pixie and bangs combo really outdoes itself. Now, you can wake up every morning with your hair looking perfect!
17. Thick Side Swept Bangs
When in doubt, go for deep side-swept bangs. They look terrific and frame your face. Moreover, deep side-swept bangs can cover a large forehead without hiding it completely.
18. Bangs From The Top
If you have a receding hairline, this pixie can be your saving grace. The bangs start from the crown and fall in front, covering the receding hairline and framing your face at the top.
19. Blue Pixie With Side-Swept Bangs
Blue is the color of our earth. It is a calming color and one of the most picked hair colors of all time. When paired with a flicked-out pixie haircut and side-swept bangs, this is a classic emo short hairstyle. Don't forget your eyeliner to complete the look!
20. The Hollywood Curl Pixie
Pixie queen ScarJo sends us reeling with this stunning pixie. It is perfect for any red carpet event. I love how the bangs are lifted. You can achieve that look with some gel and a round brush.
Short pixie cuts with bangs are a total must-try. They not only give your look a great spin but are also super convenient to manage. So, if you are done with the mundane routine, get yourself this cut and add bangs to it, and you will never regret it. From everyone's favorite Rihanna to fabulous Katie Holmes, many celebrities have flaunted this cut. And now it is your turn to get it. So, choose from the amazing options above and get ready to look beyond perfect.
The following two tabs change content below.