20 Latest Plain Sarees With Designer Blouses
A plain saree and a designer or embroidered blouse are all you need to look like a million bucks. You don't need over the top full blown couture sarees every time you have a special event. But yes, there's a way to do this, and no, it's not rocket science. You need to get your creative juices flowing, and you will see that there's a world that opens up for you. Since all of us could use some creative inspiration, we have created a lookbook and have come up with a catalog of the best plain saree with designer blouse ideas to help you. Take a look.
20 Best Plain Saree With Designer Blouse Ideas
1. Plain Green Saree With Gold Backless Blouse
A blouse that redefines the idea of backless and shows us how it is done. And these look especially great with plain sarees because they bring out the best in you. Choose standard colors like gold for the body and black fabric for the stripes.
2. Plain Pink Saree With Sequin Blouse
Sequin blouses are great and go with traditional sarees as much as they do with contemporary sarees. Pair one with chiffon or a plain georgette saree. Wear a simple set of pearl studs and neutral makeup, and you would look just perfect.
3. Plain Blue Saree With Kutch Work Blouse
A bright and vibrant blue saree with an equally colorful kutch blouse. You can wear it to a wedding as much as you can to a baby shower – it all depends on how you pair it. Go with chunky jewelry, no earrings, and carry a clutch – look like a diva!
4. Yellow Chiffon Saree With A Sheer Blouse
Sonam Kapoor is a fashionista, giving us all major fashion goals. While we might not be able to replicate everything the diva dips her feet into, we have her to thank her for looks like these. Pair your plain saree with a sheer embroidered blouse (with an illusion boat neckline), and instantly spruce up your saree.
5. Plain Navy Saree With Gold Embroidery Blouse
Not just millennials, we have all become obsessed with deep and broad back neck designs. So, since the saree is plain, bring in the party to your outfit with a heavily embroidered blouse. Keep it broad, deep, and also add a big accessory that lifts it all up.
6. Yellow Georgette Saree With A Brocade Blouse
Brocade or gold blouses go with just about all colors, but when you keep it in the family, they look vibrant and great. Instead of a regular front or back opening, go with a tie-able closure – that's uber chic, we tell you.
7. Plain Olive Green Saree And Big Bow Motif
Keep everything completely plain, but when you do that, choose a color that does it right. Olive green is a color that is catching up with both Western and Indian outfits. Revv this up with a big bow motif at the back – it brings it all together perfectly.
8. Plain Half And Half Saree With Sleeveless Blouse
Half and half pattu sarees have been in high demand, and they are an exciting idea if you are looking for traditional sarees, but like to keep it muted. Go with a Banarasi blouse to keep up the traditional element, and make it sleeveless to balance that off.
9. Plain Pattu Saree With Heavy Work Blouse
Keep your pattu sarees plain, and pair them with heavy work embroidery blouses. You can easily mix and match these with more than one saree, and investing in one good blouse comes a long way.
10. Green Saree And Blue Blouse
Green and blue is a hit combination and a safe bet, trust me. You can either choose to go with a heavily embroidered blouse or keep both the blouse and the saree plain. Amp up with accessories – an easy-peasy formula for all the times you want to show off your traditional side!
11. Plain Mul Mul Saree With V-Neck Blouse
V-neck blouses are impeccably stylish, and are a discerning choice. A pure mul-mul saree and a V-neck printed blouse with 3/4th hands makes for a great option. You can wear this for work, or to a small gathering and spin your accessories around to match the occasion.
12. Plain Chiffon Saree And Black Net Blouse
Net sarees and blouses have been a rage for some time now. But remember to have only one of them in net fabric. Plain saree and a long net sleeves blouse is an exciting combination. Let the sleeves be transparent, and see the world of a difference it makes to your outfit.
13. Plain Green Saree With Ikat Blouse
There is a steep increase in demand for cotton sarees, especially in the younger generations. While some of us pull off the old school high neck blouses, some of us give it the modern touch with blouses like halter neck, backless, etc. This halter neck blouse is a testimony to how you can mix the best of both the worlds.
14. Pink Plain Saree With Designer Blouse
Pink and blue are a regal combination. It is one of those rare combinations that look just as good even when both the saree and blouse are plain. Go with raw silk if you want to amp up the outfit. Add a statement neck piece that brings it all together.
15. Plain Black Saree With A Backless Blouse
When you say backless, it can mean a million things, and it's always deliberately not backless. It all finally depends on how far you are willing to go, and how creative you can be. The zig-zag tie-able blouse is proof enough that if you want to explore, the sky is your only limit. And nothing does justice to blouses like this more than a black saree.
16. Plain Blue Saree With A Boat Neck Blouse
Boat neck and 3/4th sleeves is an ever-green combination. You see actresses from yesteryears and realize that this was a hit combination back then, and it continues to be that. Go with kundan or glass work embroidery for the neckline, and you need no accessories too.
17. Linen Saree With Shirt Style Blouse
Shirt style blouses are increasingly becoming popular. In fact, you don't even need a blouse especially made in this pattern; you can pick up a crop top, an off-shoulder top, a plain black T-shirt, etc., and sport them with a saree. Other details like adding a belt or a satin belt to cinch at the waist lift your look further.
18. Red Georgette Saree And Shirt
Talk about combining shirts with sarees, and then adding a belt. Look at how differently you can style the saree, but in a way that suits your personality. A red georgette saree with a polka dots shirt and a big belt will be great when you are feeling bold and beautiful.
19. Golden Cold Shoulder Blouse With A Designer Saree
Gold partywear sarees are better off plain because you can take the glitter factor up with the blouse – and that's a classy way of balancing outfits instead of going all out. Go for a heavily embroidered cold shoulder blouse with an illusion neckline, and combine it with a partywear saree. Carry a clutch and sport big earrings – that's how you do it.
20. Plain Orange Saree With Floral Embroidered Blouse
Burnt orange, tangerine, coral, etc. are all beautiful shades of orange, and have been a significant hit in the cotton saree segment. But with sarees like this, you need the blouse to have some embroidery at least and not have it completely plain. Floral embroidery blouses are an exciting choice.
That's one hell of a list, isn't it? Trust me, this is only the tip of the iceberg. You can mix and match one blouse with more than one saree, play around with colors, explore fabrics and see what works for you. What is your favorite color combination? Any design that you can never get enough of? Let us know by dropping a text in the comments section below.
Recommended Articles:

The following two tabs change content below.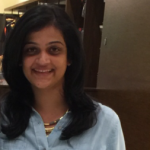 Latest posts by Pratima Ati (see all)