17 Ways To Wear A Pleated Skirt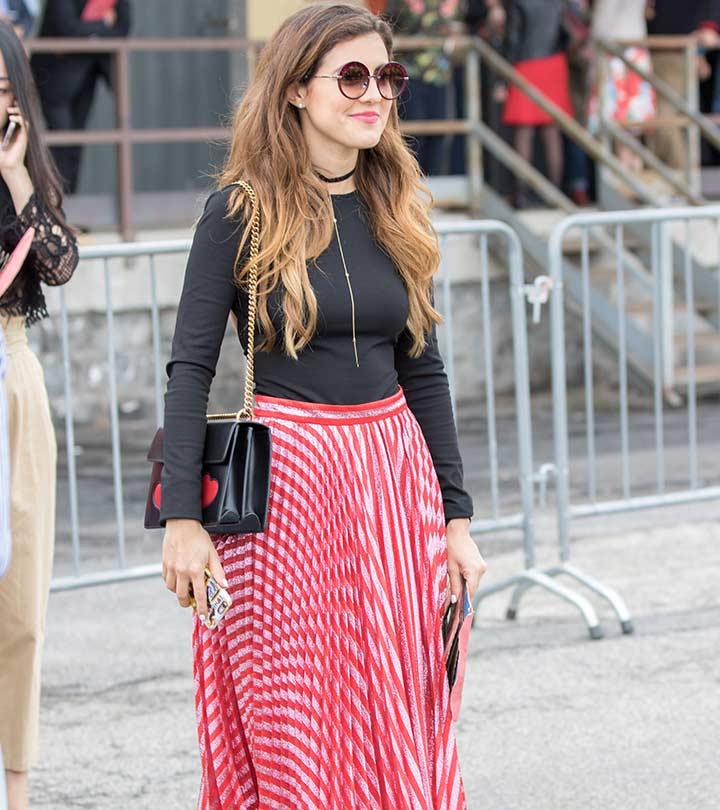 The world has a very mixed opinion about the pleated skirt. It was off the radar for some time and considered dated. Then, it came back and exploded out of proportion. It is a perfect blend of street style and sophistication. You need to know how to deal with it, and we are going to show you just that. Let's take a look at different ways to wear a pleated skirt. Check it out!
Different Ways To Wear A Pleated Skirt
1. Black And White Pleated Skirt
Add a little yin to your yang with this black and white pleated skirt. Pair it with a top in a bold color like red, coral, or yellow to break the monotone look of this outfit. Finish it off with black pumps.
2. Metallic Pleated Skirt
Flaunt your street smart side with a metallic pleated skirt and compensate for your book smart side with a chic white blouse. Tuck it in, put your hair up in a bun, and throw on a leather tote and pointed heels to ace this look.
3. Pleated Skirt And Crop Top
Get ready to party in this pleated peach skirt and sequin crop top with embellishments. If you lean towards minimalist style, this outfit screams just that, without making you look too boring. Give it a spin with a neon colored top and pumps to stand out.
[ Read: Best Pencil Skirt Outfit Ideas ]
4. Red Pleated Skirt
Pair this edgy red pleated skirt with a black noodle strap top. Wedges, beachy waves, hoops, and a crossbody bag create a gorgeous flow in this outfit.
5. Gold Pleated Skirt
On days you wake up thinking, "Let's go all out or nothing," this look comes handy. Get party-ready with these separates and embrace being out of the box. Tuck a turtleneck T-shirt into a gold pleated skirt, throw on an oversized coat or shrug, purple booties, and wear some red lipstick to complete this look.
6. Formal Pleated Skirt
Bored of wearing formal pants and structured skirts all the time? Box-pleated skirts are here to break the monotony. Box pleats add definition to your outfit without making it look overly casual. Pair it with a crisp white or pastel shirt, nude pumps, and a leather bag to rock your workplace look.
7. Pleated Floral Midi Skirt
In the mood for something vintage or old school? A floral pleated skirt matches the mood. Go with a neutral colored top (like black) to keep the skirt in the spotlight. Keep it simple, tuck it in, and finish off with a tight bun. Wear neutral makeup, but use a bronzer to highlight your face. Kitten heels or ankle strap sandals are the ideal choices of shoes here.
[ Read: Cute Denim Skirt Outfit Ideas ]
8. Pleated Maxi Skirt
Fan of maxi skirts? They look easy-breezy in summer and feel as comfortable as they look. You can keep it simple with a white tank or crop top or add layers like a chambray shirt and Converse shoes. Either way, having one of these in your closet is a must.
9. Pleated Mini Skirt
Can it get any more elegant, classy, and suave than this? A pleated mini skirt with an oversized turtleneck sweater, over the knee boots, a large clutch, a low bun, red lipstick, neutral makeup, and no accessories. Please try this!
10. Dramatic Pleated Skirt
Have to attend a fancy party? Pick a ball gown style pleated skirt that balloons out to create a beautiful silhouette and spruce it up further without being too over the top. Choose a halter neck silk blouse, tuck it in, and add a thick waist belt to balance it out. Sport peep-toes and a big clutch to go with the look.
11. Plus Size Pleated Skirt
If you feel conscious wearing long pleated skirts, go for a knee-length box-pleat skirt. Prints like polka dots are evergreen and go great even with plain tops. This is a chic and fun outfit for a lunch date or shopping.
12. Royal Blue Tiered Pleated Skirt
Look regal and elegant in this royal blue tiered pleated skirt. Keep it simple with a simple black tank top, or spruce it up with a pastel sequin top with brown lipstick, oversized tan glasses, hair up in a bun, and sky-high heels.
13. Pleated Skirt And Blazer
When your office dress code is blurry, you can play around in that gray area in a way that no one can say 'no' to. Go for a blazer and pleated skirt combination. Let everything else be simple and muted.
14. Pleated Skirt And Denim Jacket
Denim jacket and pleated skirt? Why not? This outfit blends a dainty pleated polka skirt with a funky denim jacket and throws in Converse shoes too. Style your hair in a half bun and put on some big loops.
15. Pleated Skirt With Hoodie
Opposites attract and rightfully so when it comes to outfits like these. Marry this ultra-feminine blush pleated skirt with an overly casual hoodie. Accessorize the outfit to match your mood.
16. Pleated Skirt Monochrome Look
A monochrome look with a pleated skirt, anyone? Go all out with black if you are not sure about how to deal with other colors. It stands out and is sartorially approved too.
17. Pleated Skirt And White Shoes
Look all cool, composed, and chic by pairing your pleated skirt with a crisp white shirt and chunky sneakers.
A pleated skirt is not like a denim skirt or mini skirt that you can wear every day. But you can make it look like an everyday essential and not feel overdressed. It is something you need in your closet as it comes in handy on days when you are not in a mood to fully doll up but have to be somewhere. Has the pleated skirt been on your mind too? Are you a fan of it already? Let us know if there are more innovative ways to wear a pleated skirt by dropping in a text in the comments section below.
Recommended Articles:
The following two tabs change content below.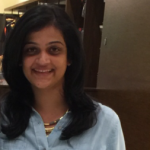 After working in Marketing and Business Development for a few years, Pratima Ati jumped ship to pursue two things she loved – fashion and writing. She's now a full-time Fashion & Lifestyle writer and has never looked back ever since. She sleeps early, reads often, and when she can't, she finally gives a closure to all the characters living in her drafts. Sometimes, they pass off as poetry too! That, and her training in Indian classical music and playing (learning) the veena keep her sane, civil, and bearable.