10 Best Plus-Size Bralettes
Bralettes have taken the fashion world by storm. If you are blessed with a bigger cleavage and are tired of wearing the usual sporty bras, bralettes are your bae. They are wire-free, unlined, and unpadded and offer good coverage. Here are 10 of the best plus-size pretty and lacy bralettes that provide great support to your fuller cups.
10 Best Plus-Size Bralettes
1. Last For 1 Women's Embroidered Lace Racerback Wirefree Thin Cup Plus Size Bralettes

There's nothing as comfortable as a wire-free bra that fits well and is comfortable to wear all day. This one from Last for 1 is a sexy embroidered plus-size lace bralette that is made of polyester and spandex and has thin cups lined for a smooth finish. The fabric is stretchable and has a soft elastic finish. It is anti-odor and anti-sweat that keeps you relaxed all day. This plus-size bralette has a strappy Y-back that offers extra support and comfort for heavy breasts. It has a fancy floral lace along the hemline, which makes it suitable to be worn even as a crop top. It comes in three colors and sizes from small to XL.
2. HDE Women's Plus Size Spaghetti Strap Cami Bralette Bustier Crop Top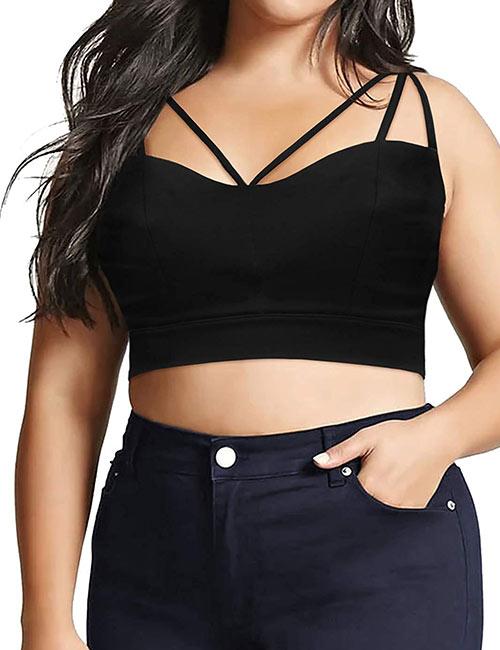 This plus-size bralette is a spaghetti strap cami bralette that can serve as a bra as well as a crop top. It is made of a cotton, nylon, and spandex blend and is well-fitting and comfortable. It is seamless and wire-free and offers great support for everyday wear. The material is lightweight, stretchable, and breathable. You can wear this trendy plus-size bralette below a shrug or a deep neck top. It comes in two solid colors – black and white – and the sizes are 1X, 2X, and 3X.
3. Ted Noah Plus Size Floral Lace Padded Bralette

This plus-size lace bralette in stunning rosy burgundy is perfect if you want to add a sexy and fancy bralette to your collection. It has padded cups for comfort and support and comes without uncomfortable underwire. It has floral lace all over, which is made of stretchable microfiber that adds to the elasticity and stretch of the bralette. The plus point of this padded bra is that the cups can be removed. This racerback bralette is available in 21 vibrant and amazing colors and sizes from small to 4XL.
4. Curve Muse Plus Size Plunge Unlined Bralette With Floral Lace
This plus-size bralette comes in a pack of two in two gorgeous colors. It has beautiful lace detailing that gives you coverage only where you need it. It has no underwire but offers perfect support and comfort for heavier busts. The neck of the bralette is a balconette style with a plunging V neckline. The wide shoulder straps offer excellent support so you can wear your wire-free bra with confidence. The pack is available in many color variants, and the sizes range from small to 3XL.
5. SOLY HUX Women Plus Size Lace Bralette And Panty Set
This gorgeous set of plus-size lace bralette and panty is a perfect bridal lingerie set. The intricate lace bralette set is made of polyester and spandex, which makes it super comfortable and stretchable for relaxed wear. It can be worn every day for casual or office use or party night and even as bridal wear. The plus-size bralette and panty lingerie set comes in eight wonderful colors and plus sizes that start from 1XL and go up to 6XL.
6. BBHOSS Women Strappy Gothic Bralette Harness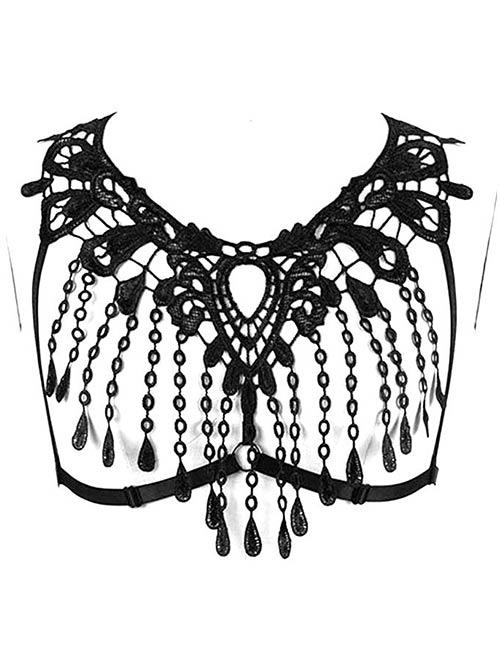 This is to be worn as a see-through bralette for a stylish, chic look. It is a one-size adjustable harness that buckles with your body size and shape. You can wear it as an accessory over your regular bra to add some oomph to your outfit if you want to wear it to a poolside or beach party. Team it up with low cut T-shirts and shirts. It is made of stretchable lace with floral designs that are available in seven other patterns and styles.
7. Ella Lust Crushed Velvet Mesh Lace Up Halter Bralette & High Waist Panty
This gorgeous set comes with a stylish bralette with a crisscross front and strappy open back. The stylish high-waist bikini bottom has mesh gallon lace detailing in the front and is mixed with soft velvet panels. You can wear this set like a bodysuit romper. It comes in four exotic colors – Wine, Black, Green, and Navy Blue and sizes that range from large to 4XL.
8. Blue 55 Women's Plus Size Bralette Sexy
This plus-size bralette is perfect for everyday wear as well as for light workout or activity. It is made of a nylon and spandex blend. The fabric is ultra-soft, smooth, and stretchable. The bralette comes with removable padding and is wirefree. It is a seamless and pull-over style crop top with a scoop neckline. It has a thick elastic band that compensates for no underwire and offers super support for heavy busts. The bralette offers good coverage from the front as well as the back, which makes it suitable for a workout as well as maternity wear. It is available in a single free size and can be worn for plus-size up to 40 DD.
9. Curvy Couture Women's Plus Size Crochet Bralette
This amazing crochet lace plus-size bralette is see-through, airy, sexy, and stylish. It has a special rocker wire that enhances cleavage and offers support as well as a flattering deep plunging V neckline. It is made of nylon and spandex with lycra blend that is super stretchable and comfortable. It has a strappy back with a hook closure and a halter front neck. It is available in four solid colors and sizes that range from 34DD to 46H.
10. VictoryingDay Women's Plus Size Lace Strappy Bralette
This plus-size bralette is made of a polyester and spandex blend that is super soft and comfortable. It doesn't provide much support, but it is great to be worn for special occasions. The front closure and strappy outline along the breasts add to the style and pattern of the bralette. The floral lace coverage is sheer, with eyelash detailing that is intricate and elegant. It is a great pick as bridal lingerie. It comes in eight different styles and patterns with sizes that start from small and go up to 5X.
These plus-size bralettes are perfect for any occasion or outfit – be it work, a casual day out, or a party. Whether you are looking for something lacy and pretty, bold and sexy, or simple and comfortable, your search ends here. Scroll through our list of 10 best plus-size bralettes and take your pick.
The following two tabs change content below.

Latest posts by Harini Natarajan (see all)

Harini Natarajan
Harini has over 12 years of experience in content writing and editing for online media. She specializes in the areas of business, health and wellness, and lifestyle and is proficient in Medical Sciences (Biology, Human Anatomy and Physiology, and Biochemistry). As the Chief Editor, Harini ensures that her team delivers interesting, engaging, and authentic content. Her background in Biomedical Engineering helps her decode and interpret the finer nuances of scientific research for her team. Harini is a certified bibliophile and a closet poet. She also loves dancing and traveling to offbeat destinations.