9 Best Plus-Size Business Suits And Jackets – 2019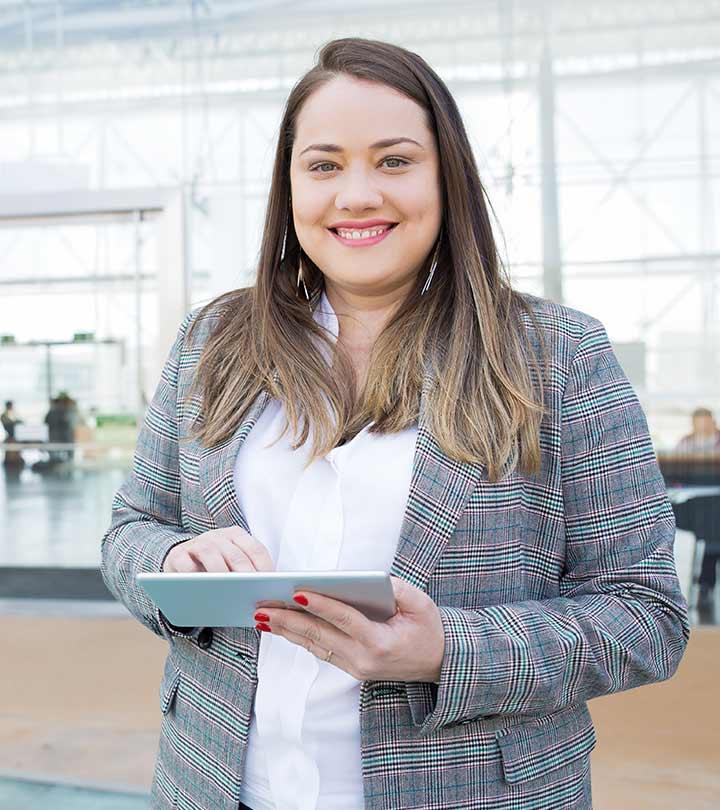 A business suit can be a game-changer. This powerful outfit has undergone a lot of transformation over the years. Today, the market is flooded with sartorial choices. Business suits for the modern woman are not only office-friendly but also stylish, comfortable, and chic and available in different colors, patterns, and silhouettes. In this article, we have listed 9 best plus-size business suits that are sure to impress. Whether you want to ace that interview or own that meeting or presentation, you can take your pick from the options listed below. Check them out!
9 Best Plus-Size Business Suits And Jackets
This plus-size suit jacket looks chic and stylish. The fabric is made of a nylon, viscose, and elastane blend. It is stretchable, breathable, and super-soft. It is designed to be well-fitted and has a single front button. The subtle stretch ensures that you can wear the blazer comfortably all day long. You can wear this blazer to work, a casual party, or while traveling. The sizes go from 1X to 4X, and it is available in two colors – black and blue.
This stunning plus-size business casual jacket is made of polyester, viscose, and elastane. The stretchable and breathable fabric feels comfortable. It comes with welt pockets and two front buttons for closure. It can be worn as a casual jacket and styled in multiple ways. The sizes range from 1X to 4X, and the colors available are black and blue.
This pantsuit is a classic shawl-collar jacket with flat-front pants. The pants have a comfortable side back elastic waist and front hook-and-eye closure. The jacket is fully lined. This outfit is a perfectly polished addition to your workwear and can be worn with stylish tops. It comes in a variety of sizes, ranging from 12 to 32. It is also available in various colors and patterns. Choose one that suits your style, personality, and occasion.
This gorgeous suit skirt set for plus-size women is made of a polyester and spandex blend. This outfit is both stylish and formal. The skirt has a flat front with a contour waistband with a back elastic that ensures comfort. This stunning skirt suit has a classic silhouette that gives you a sophisticated and stylish look. It is available in sizes from 12 to 32 and various color and pattern options.
Nine West plus-size suit jacket is crafted for perfection and comfort. It is made from a fabulous blend of polyester, viscose, and elastane that ensures proper fit and comfort. Pair it with a stylish cami or a blouse, and you can achieve a polished and sophisticated look for work. This suit jacket is available in sizes from 12 to 24 and two colors – black and creek.
This stunning kiss front plus-size jacket is suitable for both casual and formal occasions. The jacket has a contemporary fit that makes you look chic and stylish effortlessly. It is made of polyester, rayon, and spandex. The fabric is breathable and feels comfortable against the skin. The jacket has a hook and eye closure and is available in sizes, ranging from 14 to 24W.
This stunning pantsuit exudes a ready-to-achieve vibe and is a must-have. The jacket is chic and stylish, and the straight leg pull-on pants are crafted from a herringbone knit. The jacket comes with a stylish ruffle trim and stand collar with two faux front pockets. The entire suit set works great as workwear as well as casual wear. It comes in two color variations and sizes from 14W to 36W.
This front open, long-sleeved jacket  is made of polyester and spandex. The fabric is lightweight, soft, and stretchy. You can pair the jacket with pants, dresses, skirts, and jeans. Wear it on a tank top or vest top, black pants, and high heels to look incredibly stylish. It is available in a range of colors to suit casual and formal occasions. You can wear black, gray, and white to work and choose from the other candy colors for casual parties or business trips.
This gray suit is totally subtle and formal. It is comfortable office wear for plus-size women. The jacket is made of a polyester and spandex blend, and you can pair it with any contrast colored top. You can team it up with a chic pair of straight pants or even with a well-fitted skirt. It comes in sizes from 14 to 24.
 Finding a well-fitting plus-size business suit need not be daunting anymore. Take your pick from any of these chic and stylish options, and you are sure to slay at work. Remember to keep it minimal. Style the jackets with the right pair of pants and the right kind of top, and you will ace the suit look. Happy shopping!