21 Best Plus Size Blogs You Can Follow On Instagram
We cannot get enough of these informative and inspiring body-positive fashion blogs.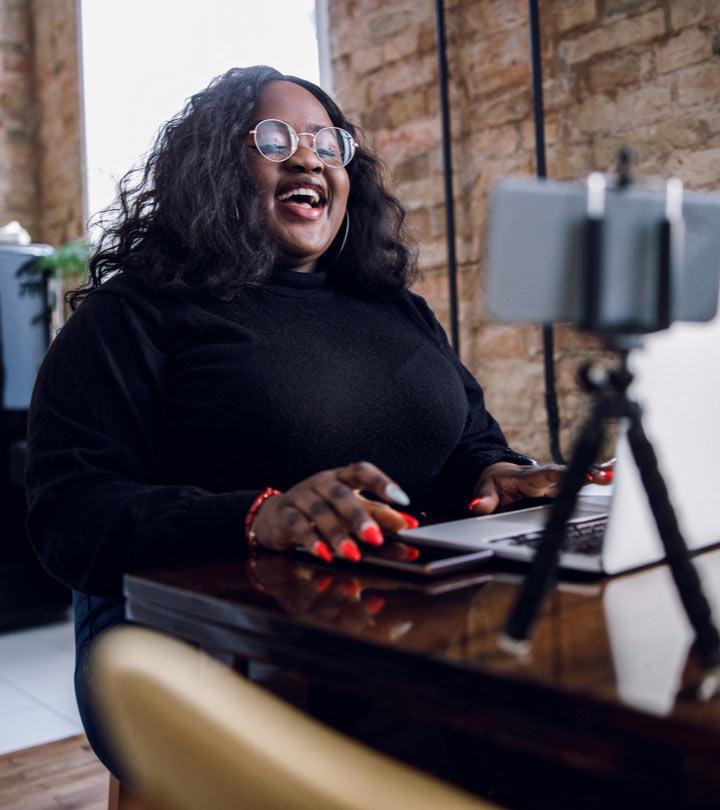 Plus size fashion blogs are an inspiration for many women. They are breaking the conventional beauty standards set for women. These blogs, run by women who are super confident in their own bodies, are a breath of fresh air amid the constant bombarding of social media models with their photoshopped bodies. Listen, it is okay to photoshop sometimes. But, it has a flip side to it as well. Unattainable beauty standards are not good for mental health, regardless of age. So, kudos to the plus size blogs out there for keeping it real. Let's rejoice in our bodies, from one end of the spectrum to the other. Today, we are going to check out a few beautiful plus size blogs you can follow on Instagram. Scroll down!
21 Top Plus Size Fashion Bloggers On Instagram
1. Lauren Nicole
Lauren Nichole is a UK-based fashion blogger. She kills it with her chic style. Her clothes are always out of the box, and she carries them off with confidence and boldness. She has her own blog called Fashion Killer, and she has been signed by IMM as a plus-size model. Before conquering her blogging and modeling dreams, she battled with Body Dysmorphic Disorderi  XA mental condition where an individual obsesses over a minor or imagined flaw in their appearance and tries to fix it by surgery or exercise. .


Did You Know?
Lauren Nicole started her blogging career in 2016 by posting images focused primarily on personal styling.
Check her out here!
2. Jessica Torres
Jessica Torres is an unapologetic plus-size fashion blogger and style influencer on Instagram. She is the creator of the Fat Girls Club podcast and the blog It's Jessica Torres. She is extremely confident, which can clearly be seen through her pictures. She does not shy away from posting pictures in bikinis. You can check out her profile if you are looking for vacation inspiration. Her profile is filled with amazing outfits and styles that you will fall in love with instantly! She does not hesitate when experimenting with gutsy prints, vintage dresses, and eccentric sunglasses.
3. Alysse Dalessandro
Alysse Dalessandro is a plus-size fashion blogger and style icon on Instagram. She pulls off even the simplest looks with panache! Alysse turns classic looks into something sexy and bold with her amazing accessorizing skills. She is bold, confident, and inspirational, and she does not shy away from experimenting with styles. She also runs her own body-positive fashion brand called Ready to Stare.
4. MONA
Mona Seddeek is a curvy fashion blogger with thousands of Instagram followers who love scrolling through her bright and vibrant profile. She is effortlessly chic and loves to style the same clothes in new and interesting ways. She also runs a blog called The Smiling Sweetheart. Mona usually plays around with basics and likes to jazz them up.


Trivia
Mona is considered a guru for styling denim. In fact, her blog comprises numerous outfit choices inspired by denim.
Check her out here!
5. Ragini R
Ragini Nag Rao is one of the cutest plus-size fashion bloggers and influencers out there. She excels at styling autumn-inspired looks. She serves her followers on Instagram with the most stunning fashion looks that can brighten up your dull day. She has a plus-size fashion blog named A Curious Fancy and is known to create and share vintage-inspired looks. She also shares crafty DIY ideas that you can try at home.
6. Molly Clutts
Molly Clutts is a Dallas-based Instagram blogger who was born and raised in California. Her style is super feminine, and she is not afraid of exploring bold prints, off-beat patterns, and experimental color combinations. She does not believe that bold prints and patterns are not meant for plus-size women and calls it all a myth! Molly is usually spotted sporting florals and oozing happy vibes through her style.
7. Stefani Nicole
Stefani Nichole rocks her Instagram profile with sheer confidence and panache! Her jolly vibe and body-positive approach are captured perfectly by her camera lens. She is usually seen wearing bold and bright prints, and she slays in those outfits. This plus-size fashion blogger and owns a blog called Hello Stefani Nichole, which is filled with short fashion stories, outfit ideas, and inspiration for curvy beauties.
8. Chloe Elliott
Chloe Elliott was named 'Fashion Influencer of the Year' by Blogosphere magazine in 2018. She loves creating fashion content for the BBC. She is also Insta-famous for as a stylist and a speaker. Her fierce sense of style and super-confident personality help her pull off literally anything she wears. She also runs a famous plus-size fashion blog called Chloe in Curve where she posts pictures in stunningly assembled outfits, bikinis, swimwear, and anything that is bold and chic.
9. Danielle Vanier
Danielle Vanier is known to be a pro at styling and creating stunning looks for plus-size women. She pulls off a wide variety of looks with the help of her expert styling and accessorizing skills. If you are looking for a stylist who can inspire you to dress up like you are about to step onto a runway, follow Danielle Vanier on Instagram. You can get inspired from her and steal her look. She also owns a fabulous plus-size clothing brand named after herself and is usually spotted wearing clothes from it.
10. Callie Thorpe
Callie Thorpe is a plus-size fashion influencer, blogger, and model on Instagram. She has been featured in Vogue, Cosmopolitan, and Elle. She owns a blog called Like To Know It where she posts stunning pictures of her fashion, style, travel, and everything that plus-size women need to get motivated. Her captivating smile and fresh persona are worth checking out.
11. Caralyn Mirand Koch
Caralyn Mirand Koch is one of the chicest plus-size models and confidence crusaders. Her style is filled with floral prints, fashionable maxi skirts, cocktail dresses, and edgy casuals. Her blog Caralyn Mirand is full of fashion tips, DIY hacks to trying new styles, and ideas to experiment with looks.
12. Sierra Holmes
Sierra Holmes is a plus-size fashion blogger who runs a blog called Eclectic Kurves. She usually posts quirky and fun outfit ideas for curvy women. She does not hesitate to experiment with prints, patterns, and body-hugging silhouettes. Sierra and her body positivity are engaging a loyal online audience through her blogs and Instagram stories. Her blogs will educate you about plus-size fashion, body confidence, and body positivity.
13. Kellie Brown
The plus point of scrolling through Kellie Brown's Instagram profile is that she shows you exactly how to slay in a look that has been trending for the longest time. She is known to pull off trendy looks with oodles of confidence and sophistication. She makes sure that every look you try out as a plus-size woman looks effortless, eccentric, and edgy. She runs a blog called And I Get Dressed where she covers a wide variety of topics ranging from plus-size fashion and beauty to lifestyle and travel tips.
14. Raeann Langas
Raeann Lamgas not only endorses body positivity but also shows us how to grow with it. This plus-size fashion blogger and influencer has an impeccable fashion sense. Her self-titled fashion blog focuses on how to style basic outfits, DIY styling tricks, and creating chic plus size looks. She believes in the mantra "Loving yourself is the greatest revolution."
15. Hayet Rida
Hayet Rida's Instagram feed can be dangerous for your pocket because you will get tempted to buy everything she wears! She is extremely honest and inspiring, and she dresses like she is walking down a runway every second. This Chicago-based plus-size influencer with runs a self-titled blog that focuses on fashion as well as millennial-centered topics such as the side hustle and self-care. Her outfits look effortless, and you can rest assured that you can pull them off too! From workwear to casuals to pulling off vibrant dresses and maxis, there is lots to check out on her blog. Apart from that, she talks about body confidence, beauty, and travel.
16. Leah Vernon
Leah Vernon is a style blogger, content creator, plus-size model, public speaker, feminist, and body-positive activist from Detroit. From bold print on bold print to black on black, there is no style that Leah Vernon can't rock. On her self-titled blog, she writes about being true to yourself, not being afraid to express yourself through your clothes, and to forgive the mistakes you have made in the past. She even posted a video on YouTube titled 'Body Project' that shows her dancing through the streets to spread a powerful message.
17. Alex Michael May
Alex Michael May has a stunning personality and impeccable style. Her profile is full of pleasantly soothing pastels and autumn colors. Alex is not afraid of bright colors, bold prints, and breaking the fashion rules that plus-sized are told to follow. She also runs a self-titled blog and a YouTube channel where she posts plus-size fashion and lifestyle videos.
18. Rochelle Johnson
Rochelle Johnson inspires women of all sizes to feel confident and look stylish in bold and fun looks. This plus-size fashion blogger and style expert runs a blog called Beauticurve. This fashion influencer has partnered with brands like Macy's and Express. Rochelle is a new mom maternity and post-pregnancy looks can be an inspiration to many. The pictures she posts on her profile are beautiful and worth checking out!
19. Lucija Lugomer
Lucija Lugomer is a plus-size model, blogger, and influencer who is known for her honest take on body positivity on Instagram. She stunned her Insta-followers when she posted a picture of her stretch marks. She said in an interview that she wears the dress size 14 and urges women to accept their body and refuse to lose weight because of the oppressive beauty standards.
20. Bethany Rutter
Bethany Rutter is famous for her basic and minimalistic style. She is a writer, social media expert, and fashionista. She is also the co-host of the podcast What Page Are You On?. She is known for her brand Navabi, which she is often seen flaunting. On her self-titled blog, she posts inventive ways of styling clothes like basic tops, monochromatic trousers, pencil skirts, and mom jeans.
21. Hollie Burgess
Hollie Burgess is an award-winning plus-size blogger. She runs the blogs Pretty Big Butterflies and Hollie Plus. Her Instagram followers love her off-beat style and the choice of colors she wears. Hollie Burgess knows how to style any color during any season and how to enhance the color in contrast or in sync with the skies. Her photographs enhance the backdrop as much as her stunning outfits. She is someone you should totally follow if you are a new plus-size mom as she keeps posting about parenting and mommy styling tips.
Gone are those days when you had to worry about your increasing weight, the muffin tops, and whatnot. Today, we live in a much more inclusive world where plus-size fashion is a thing. Thanks to plus-size fashion blogs, it is time to embrace ourselves just as we are and give our bodies the love they deserve. We should be grateful to the bloggers Lauren Nicole, Caralyn Mirand Koch, Alex Michael May, and more. They have given considerable attention to breaking stereotypes and showing the downside of unattainable beauty standards.
Frequently Asked Questions
What are the latest trends in plus-size fashion?
Latest fashion trends in plus size fashion are grunge with lacy details, sheer fabrics, pocket
cargo pants, costume dresses, jumpsuits, flared pants, halter neck, and floral maxis or mini dresses.
What are the most flattering styles for plus-size women?
Most flattering styles for plus-size women include mini dresses, maxis with an empire waistline, A-line skirts and dresses, wrap dresses, dark wash jeans, pencil skirts, and V-neckline tops.
What are the latest trends in plus-size fashion for spring and summer?
For summer, you can sport a crocheted midi skirt and crop top, monochromatic polka dot dress, slip dress, corset top, long-sleeved shirt, halter jumpsuit, denim mini skirt, cargo pants, high rise skinny jeans, and bralette. For spring, high-waisted wide-leg trousers, side cut-out midi dress, gingham cami, long-knit sweater, cropped shirt, balloon pants, pilot pants, one-shoulder knit sweater, V-neck romper, and smocked skirt.
How to style plus-size clothing for a casual day out?
You can dress for a casual day out by pairing high-rise skinny jeans with a long-sleeved shirt or cropped shirt; a shirt dress or sweater dress; or a V-neck romper or halter neck jumpsuit.
What are the common misconceptions about plus-size fashion?
Common misconceptions about plus size fashion:
• Boycott whites and wear black color outfits and vertical striped attires as they appear slimmer.
• Trends are limited.
• Not much skin should be on display and they should avoid form-fitting clothes and crop tops.
• They do not have bikini bodies.
How has the plus-size fashion industry evolved over the years?
Plus-size fashion history began in the 1920s. However, there were not many options available for plus-size people, and the fashion was restricted to a few specialty stores and boutiques only. In 2010, the plus-size fashion industry entered the mainstream and started garnering attention due to the voices on social media.
What are the challenges faced by plus-size individuals in finding the right clothing?
Some challenges plus-size individuals face to find the right clothing:
• Plus-size is available but not for different body shapes.
• Structure and stretch of the fabric of the clothing may not be comfortable.
What are the best fabrics and materials to look for when shopping for plus-size clothing?
The best fabrics for plus-sized clothing are viscose, polyester, satin, chiffon, and velvet.
How can plus-size fashion bloggers use social media to reach a wider audience?
Plus-size fashion bloggers can promote a healthy body image without making plus-size individuals feel that they need to be 'accepted' in society. They should empower individuals to feel that they are beautiful as they are, period.
The following two tabs change content below.