10 Best Plus-Size Tankinis That Flatter Your Figure
Get ready to become the center of attraction in these snug and fabulous swimwear.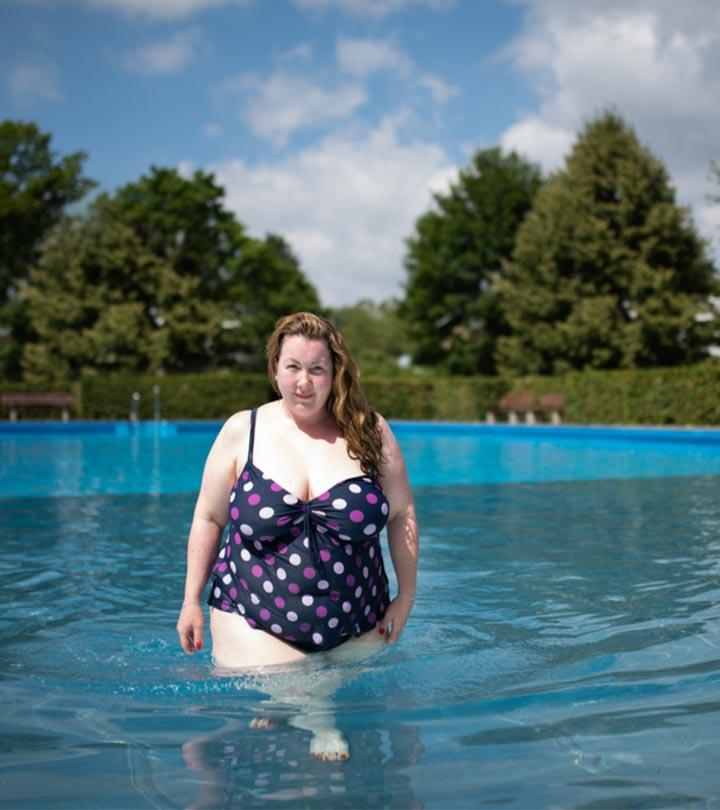 Have you ever felt that a two-piece bathing suit is not an inclusive garment? It is primarily designed for slim women who can fit into it perfectly, flaunt their figure, and look amazing. Fortunately, the swimming industry has become sensitive to the needs of women on the heavier side and have come up with the best plus-size tankinis that are modest, sexy, and comfortable.
They come in various designs, colors, and prints to provide support, style, and a slimming effect, flattering your curves and boosting confidence. Check out our curated list of the 10 tankinis, and we are sure will look gorgeous on you.
10 Best Plus-Size Tankinis That Flatter Your Figure
Pros
 Flowy material
 Non-clingy in the belly
 Soft and stretchy material
 Good coverage
 Adjustable straps
 In-built bra cups
 Quick-drying fabric
Cons
 No support for heavier bust
 Shorts roll down eventually
Bsasb's 2-piece tankini swimsuit offers tummy control to flatter your figure. The top is crafted from nylon and spandex blend and comes with underwire-free soft cups and wide shoulder straps for support. And its tie-up detail on the side gives the swimsuit a flattering look. This tankini best fits pear-shaped body types.
Pros
 Adjustable side tie-up
 Soft bra cups
 Comfortable wide straps
 Covers the belly
 Snug fit
 In-built bra
 Slimming effect
 Breathable fabric
 Skin-friendly
Cons
Price at the time of publication: $29.99
Give your swimsuit wardrobe a colorful makeover with this ruffled tankini from Esprlia. The two-piece swimsuit comes with a ruffled top in tie and dye print and a high-waisted boy short. Its fixed shoulder straps and underwire-free soft bra cups support your busts and enhance your silhouette. The high-waisted boy shorts offer mild compression that tucks in your tummy inside, making you look slimmer. This ruffled tankini looks great on pear-shaped body types.
Pros
 Flowy fabric
 Great coverage
 Stretchy material
 Wire-free cups
 Support heavier bust
 Wide, comfortable straps
 Non-sheer fabric
 Offers tummy control
 Enhances the curves
Cons
 Straps are not adjustable
Jinxueer Plus Size Swimsuit Tankini Set is 82% polyester and 18% spandex with a drawstring closure system. The premium fabric makes this stylish swimwear breathable and lightweight. Its U neckline with adjustable shoulder straps and a soft padded bra provides unmatched comfort and support underwater. It comes with a pair of boy shorts that offer mild compression for tummy control.
Pros
 Soft bra cups
 No digging wires
 Great coverage
 Lightweight fabric
 Breathable material
 Adjustable straps
 Enhance curves
 Budget-friendly
Cons
Price at the time of publication: $38.99
The cute 3-layered ruffled top tankini from Yonique is perfect for beach holidays with the family. Its layered-ruffle design covers the flab, while the high-waist boy shorts endure restriction-free movement. The round neck pattern, adjustable shoulder straps, and soft wire-free bra provide maximum support.
Pros
 Adjustable straps
 Covers belly
 Flattering ruffles
 In-built padded bra
 Great coverage
 Provides bust support
 Soft and breathable fabric
Cons
Price at the time of publication: $38.99
Fullfitall's tankini swimsuit provides unbeatable comfort and coverage. This two-piece bathing suit is made from quick-drying nylon and spandex blend fabric. Its flowy, A-line top offers a relaxed fit. Plus, the adjustable straps and in-built, wire-free bra cups attached to the top provide unbeatable support and accentuate your curves, giving you an hourglass figure.
Pros
 Flattering cups
 Quick-dry material
 Hides belly
 Provides support
 Great coverage
 Adjustable straps
 Durable fabric
Cons
None
Price at the time of publication: $36.99
The retro-style peplum top tankini from Daci is perfect for heavily endowed beauties. It is crafted from 85% polyester and 15% spandex and comes with a pull-on closure system. The adjustable straps on the underwire-free top support and lift to the bust. Due to its detachable padded push-up bra and removable shoulder straps, you can wear this swimsuit as a bandeau. This tankini comes with a tummy tucking bottom that covers your stomach to cover the flab and love handles. Made of breathable, elastic, and quick-dry fabric, they are comfortable and durable.
Pros
 Great coverage
 Slimming effect
 Covers belly
 Adjustable straps
 Good support
 In-built push-up bra
 Quick-dry fabric
 Durable
Cons
None
Price at the time of publication: $37.99
The vintage-style tankini from Zando is crafted from skin-friendly polyamide and spandex. It comes with a tank top upper with adjustable straps and regular bottoms that flatters your hips and elongate your legs. The sexy top is certainly a head-turner, suits women of all age groups, and is a must-have in your wardrobe.
Pros
 Adjustable straps
 Subtle padding
 Durable material
 Full-coverage
 No-sheer fabric
 Detachable pads
 Skin-friendly
Cons
 Pads keep moving around
 Straps dig into the skin
Price at the time of publication: $32.99
FULLFITALL's two-piece tankini is soft, quick-drying, and durable. It has a padded push-up bra offers unmatched support to the breasts while accentuating your curves. The fabric is chlorine resistant and contains UPF 50+ that keeps you safe from the harmful UV rays of the sun. The back open halter neck is the most attractive feature of this tankini, making it a hot favorite amongst women. For washing, hand wash gently with mild soap, roll it in a towel, and squeeze out the extra water.
Pros
 Adjustable straps
 Flowy material
 Tummy control
 Offers support
 Chlorine resistant fabric
 Contains UPF 50+
Cons
Price at the time of publication: $26.99
This sexy swimsuit from Fullfitall is a must-have. Its layered ruffled top comes with built-in underwire, molded cups with adjustable straps and a double keyhole back to support heavy breasts. They come in gorgeous colors and prints and are perfect for swimming, beach parties, tropical vacations, honeymoon, and water sports. For washing, hand wash gently with mild soap and roll it in a towel and squeeze out the extra water; avoid machines and dryers.
Pros
 Wide straps
 Pretty colors and prints
 Great support
 Soft and quick-drying fabric
 Durable
 Good elasticity
 Adjustable straps
 Molded cups
Cons
Price at the time of publication: $36.99
Plus size tankinis offer you full coverage and keeps you comfortable and confident during your swimming sessions. They also flatter your curves to give you a sultry look. Here are a few factors you need to consider before you in one of these products.
Buying Guide For Choosing The Best Plus Size Tankini Swimsuit
 Material: Make sure you go for lightweight, quick-drying, breathable material which will keep you comfortable during your water activities and won't weigh you down.
 Tummy control: As a plus-size woman, no doubt, tummy is a problem area; hence you need a swim top that flattens it and gives you a slimmer figure.
 In-Built Bra: These offer support and comfort; a wireless padded push-up bra that will accentuate your curves would be ideal.
 UPF 50: Since you are going to be out in the sun during your swimming activity, it makes sense to wear a bathing suit that protects you from the harmful ultraviolet rays of the sun.
 Adjustable straps: These give you a perfect fit and great support. Make sure the straps are wide and don't dig into the skin.
 Coverage: It should be long enough to cover your tummy and ensure modesty and security so that you don't feel conscious in a swimsuit.
 Design and Print: There are so many pretty colors, prints, and designs to choose from; go for the tankini that gives you maximum confidence.
These best plus size tankinis are a savior for chubby women who want to swim or wear a swimsuit but feel conscious about their size. They offer proper coverage and support to keep you confident during your beach vacations and pool parties. The products mentioned in our list offer a snug fit and are made of stretchy material for extra comfort. Some of them come with adjustable straps and in-built padded bra. However, stay away from swim suits made of sheer material.
Why Trust Stylecraze
The author, Srijani Roy Chowdhury, is a fashion connoisseur and loves reviewing various trending and useful products for her readers. She sifted various trusted e-commerce sites and product review pages to curate this list of the best plus size tankinis. These swimsuits are made of comfortable fabric and are available in many sizes and shapes. Their adjustable straps and padded bras offer you proper support during the pool parties.
What swimsuits look best on plus size?
A modest tummy control swimsuit with good coverage that can hide all the belly flab and help you look confident and gorgeous.