Unique Pool Party Ideas For The Perfect Celebration
Soak in the sun and have a blast with the incredibly cool and fun ideas for a pool party.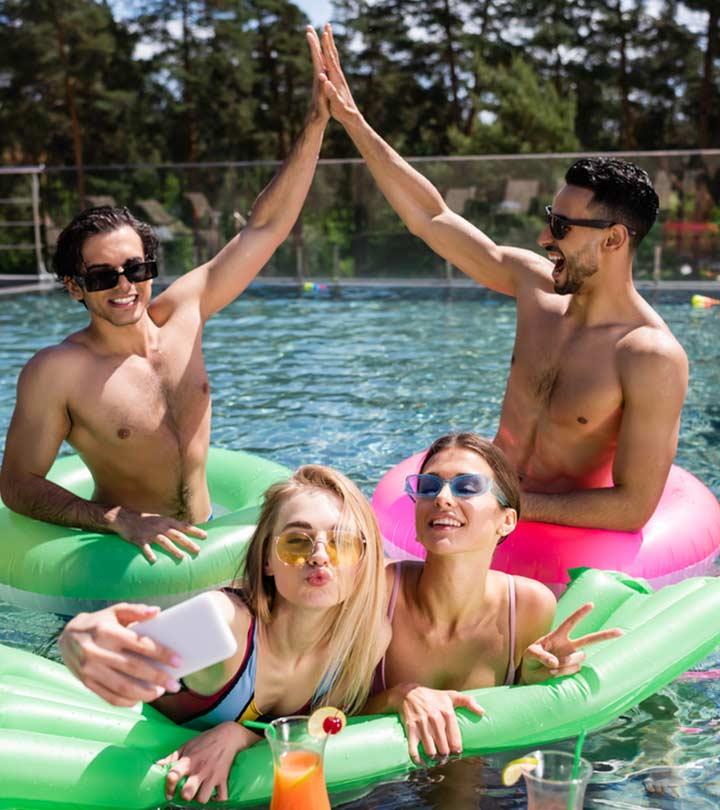 Pool parties are an excellent way to celebrate birthdays and bachelorette parties or just chill casually. These parties can be spectacular if you devote some of your time to planning. Whether it is a small gathering with your close friends or a full-fledged blowout with friends and family, you can customize the pool party according to the budget and planning.
Organizing pool parties should always be simple, no matter the time or occasion. Utilize this pleasant weather to have a gala time with your family and friends. You can even soak in some Vitamin D while enjoying the time of your life.
If the idea of a laidback day or a happening party by the pool entices you, dive into the pool party ideas listed in the article to get some cool and unique ideas for your party! Keep scrolling!

Fun Fact
Socializing and ritualistic celebration around a pool dates back to 3000 BC! The Great Bath at Mohenjo Daro is one of the earliest public baths said to have been used for the purpose.
How To Throw A Perfect Pool Party
Below is a list of pool-party basics that you need to throw a successful bash:
Envision the party before sending invitations to your guests. Decide when you want the party, who should be invited, what food will be served, and what kind of music theme it will have. You can keep your party low-key or make it a glam affair, depending on your backyard area.
Know that decorations can make your party look grand, even if it is not! Go crazy on decorations but keep the budget in mind. Remember, even a little transformation can make your party look incredible.
Arrange Drinks And Snacks
Keep your guests hydrated and fed with cool summer drinks and appetizers. Put thought into finalizing this element of the party. Food can either make or break an event.
Last but not least — pool floats are necessary at your pool party. Arrange for some innovative pool floats, and you are all set to throw the most awaiting pool party of the season!
Decoration plays a vital role, especially when it is an open-air party. Whether it is a birthday party or bachelorette, decorations need to catch the eye of all your guests. Head to the next section for some interesting decoration ideas.
Pool Party Decoration Ideas
Create a Boho atmosphere. Arrange a long table with pillows and cushions around. This vibe will surely sit well with your summer pool party. A super-relaxed setup added with a glass of wine is perfect for the night.
Though a pool doesn't even come close to an original beach, it can be cute and attractive. Try to make some waves at the pool for a beach-like experience and back it up with a party playlist. You can also cover the chairs with beach towels and spread some seashells to give it a beach look.
Ask your guests to dress up in formals and enjoy a fusion vibe. You can either sip wine by the poolside or dive into the water with your formals on. We agree, it sounds crazy, but this unique idea is a hit for working professionals. They can hit the party straight from their workplaces.
Soft drink punches and lemonades are great for the scorching summer. Mingle it with some tarts and ice creams for a flawless accompaniment to your party. Decorate the table aesthetically with fresh flowers.
Chalk out a beautiful booth with loads of sunscreen to protect your guests from the sun. You can also add some hydrating sprays or body mists to take care of your guests
A pool party is incomplete without an ice cream station. Bring in some cool, unique flavors and use waffle cones to serve them with hot chocolate sauce. You can have walnut- and almond-filled cones if your guests prefer nuts.
Pool parties are good for all occasions. You can enjoy a birthday bash with a splash or two with your friends and family. Read on to know how you can make a birthday pool party all the more special.
Pool Birthday Party Ideas
Toss some colorful balloons and inflatables in the pool to make it look vivid during the party. It will surely attract adults as well as kids to scramble in the water. Decorate the swimming pool with plastic balls and balloons to make your birthday party more exciting.
If you are throwing a night pool party, you can add glow sticks to the venue. Put them at the bottom of the swimming pool or hang them in the bushes. It will create a cool vibe and is a great way to decorate your birthday party.
You would really not like your guests to leave the party unsatisfied, would you? Arrange for a range of snacks. You can serve your guests with a platter of fresh fruits and salads. Add dips and corn chips or chips to the menu. You can always add variety.
Just like birthdays, bachelorette parties by the pool can be fun. They can give a relaxing vibe to the bride. All you need to do is grab your girl gang, and you are all set for a cool bachelorette party!
Bachelorette Pool Party Ideas
Get your hands on some unique inflatables for your bachelorette party. Choose the accessories strategically. Floats like pool rings or unicorns can enhance the theme of your party. You can also arrange for some glow float and inflatable drink coolers.
You can choose to customize swimsuits for your girlfriends to make this party unique. Embroidering or printing tags like 'bride squad' or 'bride tribe' will be real fun. This idea is also good for clicking great pictures and framing them later.
As this is your bachelorette party, make sure the drinks are suitable for the occasion; don't go too harsh on them. Serve the drinks in cute cups. You can also add on some cocktails for the party.
Hire a masseuse and a beautician. If it fits your budget, assemble pedicure, manicure, facial, and hot body massage packages for the whole gang. Otherwise, they can avail one service of their choice on the house. Arrange lounge chairs and benches for your guests to keep their drinks and snacks. Later, arrange a swim session to relax.


Quick Tip
A classic theme for pool parties is the Greek baths. As your guests to dress up as ancient Greeks, stock up on food, and keep the wine flowing!
Everything else aside, finger foods and appetizers are of prime importance at a pool party. You can arrange an array of dishes according to the guests' choice and even experiment with a few options. Head to the next section for some extraordinary food ideas for your pool party.
Pool Party Food Ideas
Cover a long table with different appetizers for your guests. You can include a variety of fresh fruits, corn salad, or lemon chicken skewers. Grilled zucchini, chicken roasts, salsas, or chips are other good options. Go ahead with these lip-smacking appetizers that your guests will definitely love.
Organize a variety of desserts to bring in a refreshing mood. Blackcurrant ice cream or homemade mixed berry dessert with hot chocolate sauce can be tasty and appetizing at the same time. You can also serve the table with popsicles, cupcakes, and jelly.
Infographic: 5 Unique Ideas For Planning The Best Pool Party
Pool parties are one of the best ways to enjoy the summer vacation. You can cool off in the water, bond with your friends, and soak up some essential vitamin D. If you are planning a birthday bash or making arrangements for a bachelorette party, do it by the pool with these super cool party ideas. Check out the infographic below to know more!


Pool parties are a great way to celebrate important occasions like birthdays, anniversaries, and upcoming nuptials. They help you to spend some quality time with your near and dear ones. The pool party ideas listed above may help you to organize your next party with great aplomb! Invite your dear ones by sending out themed invitations, arrange fun games, and decorate your pool to make it fun. Also, make plush seat arrangements and prepare some delicious food items to make sure your pool party makes a splash!
Frequently Asked Questions
How do you throw a pool party on a budget?
Plan a budget you are comfortable with. You can get affordable beach balls and floaties from Amazon. You can also make sandwiches and set up a snack table with chips, juices, pizza, etc.
Should you bring your own towel to a pool party?
Yes. Always take your own towel to a pool party.
How long should a pool party be?
A pool party can be as long as you want it to be. But it is best to conduct it in the daytime.
How do you throw a pool party if you don't have a pool?
You can book a hotel or party venue that has a pool to host a pool party.
Key Takeaways
Make arrangements for drinks and food and send out invites before you throw a pool party.
You can consider a theme party or a simple beach vibe when it comes to decor.
Pool parties are great for birthdays where you can throw balloons in the pool, decorate the venue with glow sticks, and serve fresh fruits, salads, dips, and corn chips to your guests.
Celebrate your bachelorette party at the pool with cool ideas like customized decor and outfits.

Let the party begin! Take a look at these fantastic ideas for pool party decor to make your celebration unforgettable. Check the video below!