Postpartum Hair Loss: Causes, How To Prevent, And Treatments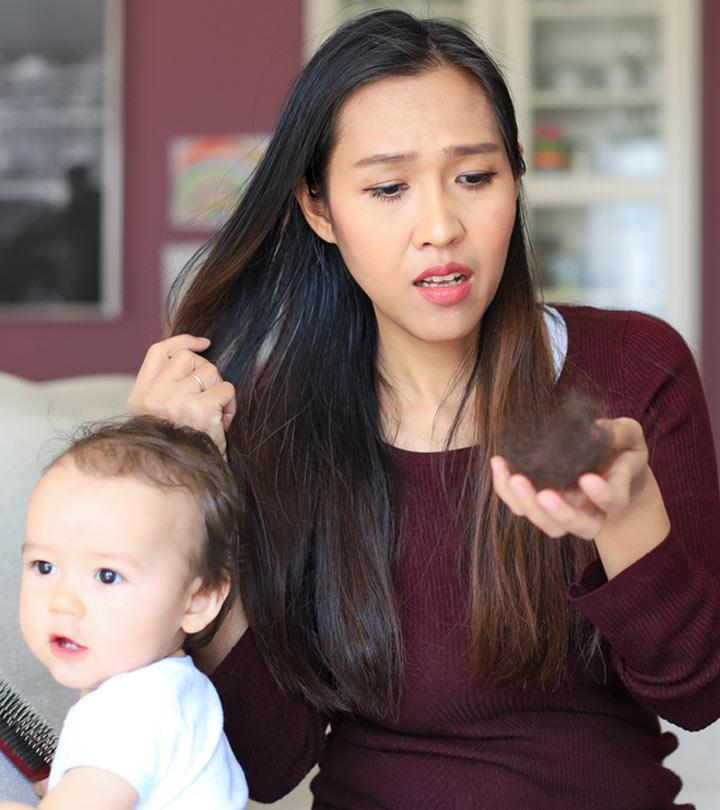 Postpartum hair loss is common, and most women experience it after giving birth. Your body changes after pregnancy. Having a child can alter your appearance, causing you to lose the extra weight and the luxurious hair you had during pregnancy.
You may also notice your hair becoming thinner and shedding more often. This is neither alarming nor concerning as this post-pregnancy hair loss is temporary. This article explains what postpartum hair loss is, treatment options, and how to reduce it. Read on to learn more.
What Is Postpartum Hair Loss?
New mothers experience hair loss within a few months of childbirth. For some, the shedding may start immediately after delivery or within a month. This is called postpartum hair loss, postpartum effluvium, or postpartum alopecia, and is caused due to the decreasing estrogen levels in the body.
This is not true hair loss as once the estrogen levels are normal, the hair fall stops. Postpartum hair loss continues for 6-24 weeks and rarely extends for 15 months (1). If you are wondering what causes this condition, find out in the next section.
What Causes Postpartum Hair Loss?
However, postpartum shedding is absolutely normal.
Is Postpartum Hair Loss Normal?
Yes, it is. In a study involving 98 patients, 88.7% experienced hair loss within 8 to 16 weeks after delivery (5). It continued for 4-6 months, and later, the hair growth became normal.
Although hormonal changes mainly affect the scalp's frontal area, there is no evidence that it is the primary affected area in postpartum hair loss. The study also found that out of 98 patients, 59.1% experienced hair loss at the back of the scalp, 20.4% throughout the scalp, and only 11.2% had frontal hair loss (5). Now, the question is, how long does it last?
How Long Does Postpartum Hair Loss Last?
Hair growth normalizes within a few months of delivery in most cases. However, in some cases, postpartum effluvium is prolonged and may even become permanent (6). Psychological stress and other hair disorders can affect postpartum alopecia (2), (5). If you are experiencing hair loss even after a year of childbirth or have any underlying hair condition, consult a doctor for better treatment.
Treatment For Postpartum Hair Loss
Postpartum hair loss mostly resolves on its own. However, for cases of prolonged hair loss, there are several treatment options like:
Thyroid supplementation (if there is only thyroid hormone disturbance)
Topical progesterone and estradiol lotions
Oral contraceptives (6)
However, there is not enough evidence to support these treatments.
A study showed that shampoo and tonic containing horse placenta growth factor, pumpkin extract, panthenol, and niacinamide improved hair density and thickness (7). The horse placenta is similar to the human placenta and contains many nutrients like growth factors, amino acids, lipids, vitamins, and enzymes. The horse placenta growth factor stimulates the dermal cells to promote hair growth and blood flow and reduces the recovery period for postpartum hair loss. However, a few patients complained of mild pain and itchiness.
Note: Although minoxidil is used in hair loss treatments, it should not be used by pregnant women or nursing mothers to avoid any chances of fetal deformities (8).
Here are a few things you may do to prevent postpartum hair loss.
How To Prevent Postpartum Hair Loss
1. Take Prenatal Vitamins And Nutrient Supplements
Prenatal vitamins are essential during pregnancy, as increased metabolism may cause nutrient deficiencies. The NHS recommends taking folic acid (vitamin B9) and vitamins C and D in prescribed dosages during pregnancy (9). It is also recommended to take calcium and iron supplements.
2. Eating Habits
Your eating habits influence your overall health. Deficiency of vitamins like folate, biotin, riboflavin, and vitamins B12, C, and D can cause hair loss (10). Research shows that zinc, iron, and folic acid deficiencies can cause telogen effluvium in pregnant women (4). On the other hand, a deficit or an excess of vitamin A can cause hair loss. Hence, consult a doctor for the right dosage.
The NHS recommends eating as per their "eat well plate" that shows how much of each food type comprises a balanced diet (9).
Note: Foods like unpasteurized milk, cheese, undercooked/raw egg, and shellfish, liver products, and vitamin A supplementation might adversely affect a pregnant woman and fetus (9).
Postpartum hair loss is one of the common issues faced by most people. Though it is a normal part of childbirth, people often stress about the hair loss and other changes faced during this period. However, the hair will start growing back in a few months. But, if the hair loss lasts long, there are treatment options like oral contraceptives, thyroid supplementation, and topical progesterone and estradiol lotions. You may also follow the tips mentioned above to prevent postpartum hair loss. However, consult a doctor before starting any medication.
Frequently Asked Questions
When should I be concerned about postpartum hair loss?
Postpartum hair loss is completely normal, and many women experience it for up to 6 – 8 months after giving birth. However, if you are experiencing hair loss even after a year, you should consult your doctor.
How much is too much hair loss after pregnancy?
Losing 80 – 100 strands of hair a day is normal, and new moms may lose up to 400 – 500 strands. Anything more, even after 6 – 8 months from childbirth, should be addressed.
Key Takeaways
Postpartum hair loss is majorly due to the depletion of estrogen levels in the body.
Nutritional deficiencies, stress, and disturbed sleep cycle can also trigger postpartum hair loss.
Topical progesterone and estradiol lotions are used to manage postpartum hair loss.
Taking prenatal vitamins, supplements, a balanced diet can manage postpartum hair loss.
References:
Articles on StyleCraze are backed by verified information from peer-reviewed and academic research papers, reputed organizations, research institutions, and medical associations to ensure accuracy and relevance. Read our editorial policy to learn more.
The following two tabs change content below.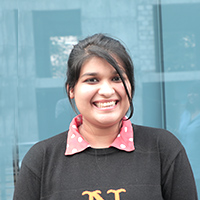 Anjali specializes in hairstyles and hair and skin care and has written over 200 articles in these domains. Her philosophy...
more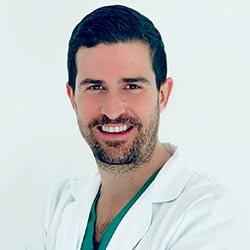 Dr. Sergio Vañó Galván
(PhD)
Dr. Sergio Vañó Galván is a dermatologist, trichologist, and hair surgeon. He is an Associate Professor of Dermatology and Director...
more