16 Funny And Cute Pranks To Play On Your Boyfriend
Getting back at your partner for eating the last cookie? We have the best pranks to pull.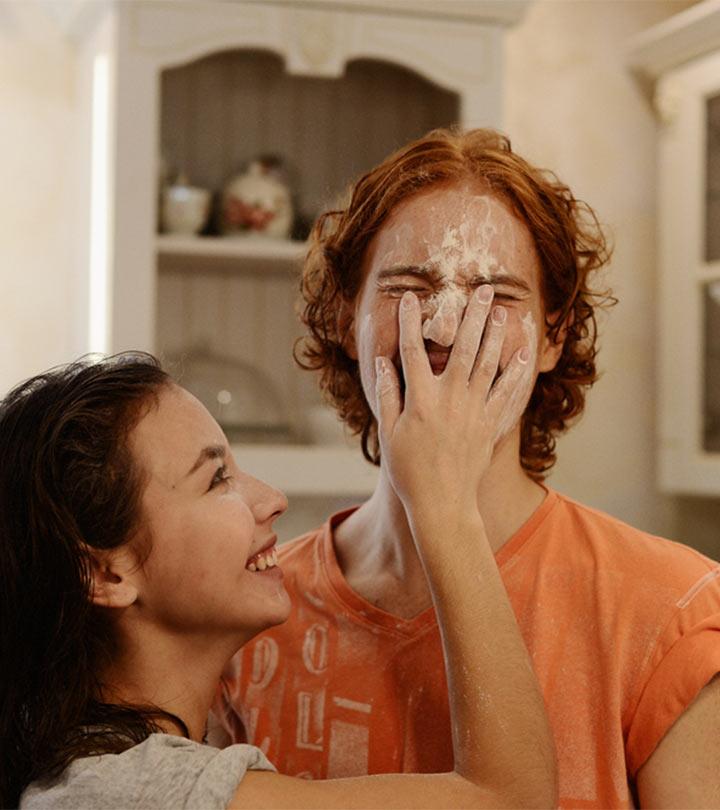 Messing with your BAE every now and then is a healthy habit. There's a reason why the list of pranks you can play on your boyfriend is long. They keep the spark in your relationship alive. But you also need to remember that pranks should be harmless and not hurt anybody's feelings. You have to respect the line between unadulterated fun and rudeness. So, if you want to have some fun with your man, we have some naughty, cheesy ideas.
This article will give you a whole lot of amazing and mischievous prank ideas you can pull off easily. Because "Love is patient, love is kind. Prank your boyfriend all the time." Swipe up!
Good Pranks To Play On Your Boyfriend In Person
Turn your boyfriend on by sending some naughty messages. When he is on fire, ask him if he would like to see some sexy nude pictures. If he says yes, send pictures of "nude" lipstick shades. This is one of the funniest ways to prank your boyfriend over text.
A good prank to play on your boyfriend is to sew the leg holes of his boxers shut. When he tries to get dressed the next morning, watch him struggle to put on his underwear! A bit of advice – don't do this with his favorite pair of boxers. Otherwise, this silly fun can turn into a massive fight. You don't want that, right?
Fill up a pair of his shoes with shaving foam, shower gel, or anything squishy (and that will not hurt your boyfriend's feet). Watch his reaction as he puts on a shoe and freaks out when he finds something squishy in it! Just make sure you do it with an old, inexpensive pair of shoes that he does not particularly care for.
Best Pranks To Pull On Your Boyfriend Over Text
Turn on your boyfriend by sending some naughty messages. When he is on fire, ask him if he would like to see some sexy nude pictures. If he says yes, send pictures of "nude" lipsticks shades. This is a funny little prank you can play on your boyfriend over text.
Text him that his parents called you to discuss marriage. This will confuse him, and he will wonder why they approached you without informing him. Simply cook more and more stories, but don't answer the phone if he calls you. This will automatically make him nervous, especially if he hasn't informed his parents about your relationship. However, make sure he does not actually call up his parents and confront them as this has the potential to cause some problems.
A funny prank to pull on your boyfriend over text is to send him texts from an unknown number pretending to be your mother. Ask him about his future plans with her daughter and if he is serious about this relationship. Keep asking the uncomfortable questions and behave like a curious mother to freak him out.

Quick Tip
Ensure to be ready to accept his reactions to the pranks with an open mind. He may enjoy it or get super annoyed after the final revelation.
Pranks to Do on Your Boyfriend over a Phone Call
Use any voice-changing app to modify your voice and call him. Pretend to be a famous celebrity, an alien, a robot, or even try a quirky animal sound.
Call him and drop some ultra-cheesy or ridiculous pickup lines. For instance, "Are you Wi-Fi? Because I feel there's a connection!" You can tell your man such humorous pick-up lines to make his day after work.
Call him and pretend to be an employee from a restaurant or food delivery service. Ask him for his order and provide him with funny and absurd menu items. Carry on until he figures out it's you.
Cute Pranks To Pull On Your Boyfriend
Are you a fashionista who loves trying out different outfits? If yes, this is a cute prank to pull on your boyfriend. Change your attire every 30 minutes and act totally normal. Continue doing this until he starts noticing the same. Make your outfits as outlandish as possible to grab his attention and have fun!
Borrow your boyfriend's car to run some errands, then park it in its usual place. Then, text him to apologize for denting it. Let him go crazy inspecting his car and trying to find a dent that doesn't exist. But before using this funny prank idea, make sure there are no actual dents on his car. Otherwise, you'll get blamed for it.
Storm into your boyfriend's room and start yelling at him, "Who gave you the right?!" When he tries to ask you what's going on, just keep yelling vague things at him like, "You have no right!" and "How dare you?!" Keep doing this for a couple of minutes, until he finally asks, "The right to what?!" Give him a cute smile and say, "The right to look this cute."
Food Pranks To Play On Your Boyfriend
Who doesn't love a chilled glass of Coke after a long day? If your boyfriend loves the same, it's time to play a prank on him. Just fill a glass with 7-Up or Sprite and add soy sauce to make it look like Coke. This is the perfect drink to serve your guy to wake him up after a long, tiring day.
One of the best April Fools jokes for boyfriends is to get a filled doughnut from the store and replace the filling with mayonnaise. Watch him take a bite and spit it out in disgust!
Here's a good April Fools prank for boyfriends. Coat a hard-boiled egg with chocolate and wrap it in a Kinder Joy wrapper. He will gladly take a bite expecting the rich taste of chocolate but will get the runny egg gooeyness. To balance out the situation, keep his favorite chocolate handy.

Quick Tip
Ensure to run a mood check on him to avoid any unnecessary arguments. Pranks should be enjoyable and not spoil his mood or hurt his feelings.
The "Serious Discussion" Prank
This is one of the best April fool ideas for boyfriends! Tell him that you need his advice on some very serious issue. Convince him that whatever you are going to discuss is very important, and you cannot do anything without his suggestion. Build up the drama by acting like it is a life-changing decision. When he agrees to help you out, ask which lipstick shade you should apply or which heels you should wear to an upcoming party.
Infographic: 3 Cutest Pranks To Make Your Boyfriend Feel Mad Yet Crazy About You
Playing pranks on your boyfriend can honestly become an entertaining pastime! While there are plenty of ideas and ways to pull one on your partner and split your sides laughing, here are the cutest ones handpicked for you!
Checkout the infographic for the most adorable pranks that will get your boyfriend not only totally mad at you, but also mad about you!



Are you feeling mischievous and playful? Do you want to pull some teasing tricks on your boyfriend? If you're a natural humorist and enjoy humorously getting a rise out of your significant other, then follow the above-listed pranks that are light-hearted and have a funny and cheesy touch that your boyfriend will surely enjoy. They can make your relationship stronger, more exciting, and fun-filled. April Fool's pranks on boyfriends or any day can be super fun if he has a good sense of humor. However, you should only go with the pranks that leave your partner in splits and create memorable moments to treasure for the rest of their life. Do not cross the line — stay away from pranks that may hurt their feelings.
Frequently Asked Questions
What is a funny couple's prank?
A funny prank to play on your boyfriend is to hide in his closet and jump out when he opens it to scare him.
What are some good April Fools jokes for a boyfriend?
One of the best April Fools pranks for a boyfriend is to put shaving cream on his hand while he is sleeping and wake him up by tickling his face with a feather. When he rubs his face to stop the tickling, he will end up with shaving cream all over it!
What's a good April Fools Day prank for your long-distance boyfriend?
While it may sound challenging, you can try playing practical jokes on your long distance boyfriend over the phone or through video calls, like pretending to be someone else or making a fake emergency call. If you have friends who live in the same place as him, you can use their help as well.
How to do emotional pranks on your boyfriend?
To pull off an emotional prank, you need to make your partner believe that you are sad or upset about something. It's not advisable to play emotional pranks on your partner as they can be damaging to a relationship. If you do try any emotional pranks, make sure you don't go over the top, get too dramatic, or say something too harsh.
Is it ever okay to prank my boyfriend in public?
It depends on your partner's nature. If they tend to play pranks in public on others, they mostly will be fine with it. However, remember not to go overboard with the prank or embarrass and humiliate him.
Key Takeaways
Harmless and funny April fools pranks on boyfriends can help keep the spark in your relationship alive.
You can choose if you want pranks to do over text on your boyfriend or something in person.
Pranking your boyfriend is the best way to create some memories and show the mischievous side of your personality.
Want to prank your boyfriend but out of ideas? Then check out this hilarious video compilation and start taking notes!