Best Pranks To Play On Your Friends To Make The Bond Stronger
Here are some funny ways to create memories and strengthen the bond you have with your friends.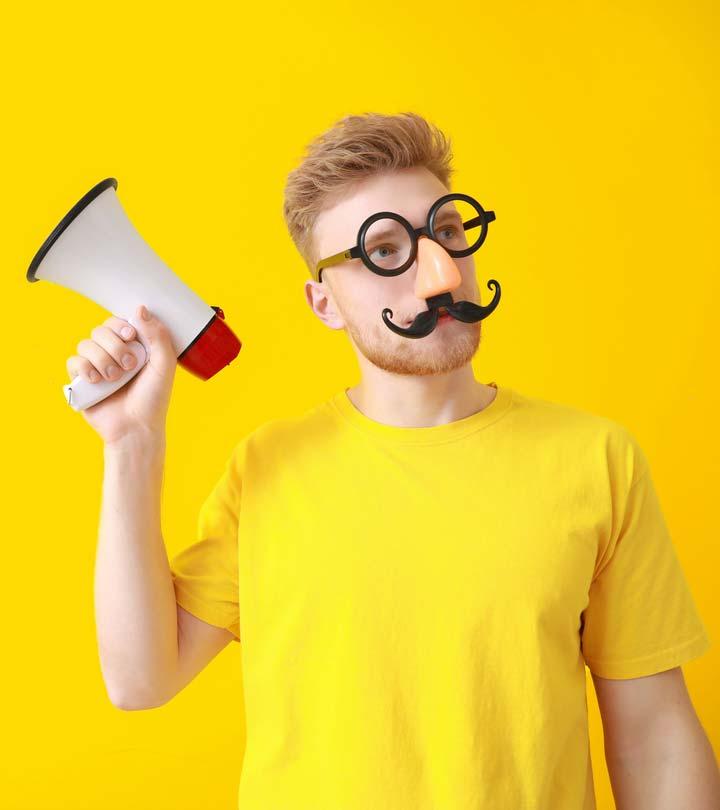 Jim Halpert is not the only one who can pull pranks. We can also give you some interesting ideas for the pranks to do on friends. So if you are feeling particularly naughty and want to have a good laugh, you have landed on the right page. A successful prank will help you create great memories, something you can always reminisce about during get-togethers and parties. But it is necessary to ensure that these pranks do not hurt your friend's feelings or get diabolical. That's why we have compiled a list of harmless pranks that will in no way affect your relationship. Swipe up to find some amazing ideas!

Trivia
It is believed that the term "practical jokes" was first used in 1802.
Pranks To Do On Your Friends
You can plan these pranks at school, try some over the phone or text, and of course, yes, we have some of the best April Fool's pranks for you. Okay, now read on to find the right inspo!
Funny Pranks To Do On Your Pals
The toilet paper prank is the most simple prank that you can try. You can tie the paper roll to your friend's bag and let them walk around a bit! Also, here is another idea! If you have an empty chip can, you can put a balloon filled with water. Make sure you close the lid airtight. You can give this to your friend, and the moment they open it, the water will burst out of the can! You may have to watch it from a distance as you don't want to get drenched in that water, do you?!
Note: It is crucial to make sure that your pranks don't offend anyone. Pulling practical jokes on your friends should be a fun and enjoyable way to add some mischief and humor to your day and that of others.
Pranks To Try On Friends At Home
Now, let us plan some easy pranks to do at home with your friends. Cool? Great! See, a home is a place where you have access to numerous things and where you can have the most fun without worrying the least. There are several classic tricks, gags and hoaxes you may play on someone, but be careful not to offend your friend by being overly sarcastic, and avoid going too far with your shenanigans. Some of the basic pranks can be more effective if you have some origami skills actually. Cut out papers to make some shapes, let's say, insects or worms, or to be easier, you can just soak the paper in water to make it look like dirt or rotten waste. This art of yours can be placed on the prized possessions of your friends like their favorite bag, or a pair of sneakers, and the like.
Another fun prank that can be pulled out at home is by putting some plastic forks on the bed or couch in a pointing manner so when your friends sit on it, you can watch them flip for a moment! Also, make sure you do not use steel or metal forks because you do not wanna hurt them too badly, right?


Quick Tip
You can add a few drops of food coloring in the water to make it look like kool-aid. Keep it in the refrigerator and wait until your friend drinks it! It will be fun to watch how they react.
Good Pranks To Do On Friends While Sleeping
Want some easy pranks to do on friends? That time when these folks are sleeping is the best. Now, classic old-time pranks like blowing a horn and the like are much outdated, and it's high time for us to move past it. We have some updated ideas on how to prank your friends while they are sleeping. How about a hidden alarm? Get a new clock so that your friend is not familiar with the sound. Ensure the time is set to any odd hours so that the sound will give them a good scare. Hide it somewhere out of reach, and they won't be able to locate the alarm or grab it soon enough to go back to sleep.
And if you want some simple prank ideas for friends who are asleep, put some whipped cream or colors in their hands. As a general tendency, we all scratch and rub our faces while we sleep. This prank can come as a shock when they wake up and see themselves in the mirror in the morning.


Fun Fact
Rihanna once pranked show host Jimmy Kimmel. She went to his house at 1 AM, threw dollar bills and confetti, and played some of her hit songs while he was sleeping. She even danced and jumped around his bed to wake him up!
Pranks To Do On Friends At School
Your school is a place where most of your fun happens, and all of your mischievous ideas can be planned with your gang. One prank that can easily freak out your friend is pretending that they missed a deadline for an assignment. This would work better if you could pick up the name of the strictest teacher's subject.
Here's one more idea that you can try at the start of your new semester or a year! Tell your friends a few days prior to the reopening that you are going to switch schools. Come up with enough explanation to validate the statement. This is where you can even blame it on your parents! Your acting skills can come in handy for this scene! Tell them how hard it is for you to move away from them and pick your favorite moments at school to create a nostalgic mood and make them believe. Now, we know who will be surprised to see you on your first day. Your friend is not gonna forget this first day for sure!
What is more, for an easy prank to do on your friends at school, you can use clear nail polish on a pencil and lend it to your friends when they are in need. You will see that it does not work when covered in polish. To regain the use, you can sharpen it. This is another opportunity for you to annoy your friends. You can spread some hot glue or nail polish between the blade of the sharpener so that it becomes blunt. Lending this sharpener soon after the pencil incident is more than enough to keep your friends frustrated for some time.
Texting Pranks To Do On Your Mate
Pranks to do on your friends over text are the easiest yet fun-filled! Simply text your friends saying that you got back with your ex! In case you are in a relationship, you can choose to say that you broke up! This is certainly gonna give them a minor shock! Be ready with a story to substantiate your news too! They are definitely gonna try and call you upon hearing this. If you are going with the getting back with your ex story, you can tell them that you are with your ex now and cannot talk, which will annoy them even more. You can even prolong this prank for a couple of days for added effect if you are not gonna meet them soon.
April Fools Pranks To Try On Friends
April Fool's Day pranks are the toughest, as your friends would be expecting them anyways. But we can still try, can't we?
How about sending them a surprise parcel? The point to note here is to have the packaging of something popular or something your friend mentioned before and fill it with anything that weighs like what they expect. It can be even some fruits or veggies. This way, they will get easily excited at the parcel but get pranked when they open it! It gets much more fun if you leave the parcel without a trace of the address from which it is sent.
Oh, and you can also try printing some fake currency that isn't very recognizable at first and leave it on your friend's desk or car or even on the floor. Leave three or four notes in a scattered manner to make it look like the notes accidentally fell off your wallet. You can print funny messages on the other side of the notes and fold them. See your friend getting over-excited for nothing!
Pranks To Try On Friends On The Phone
One good easy prank to do on friends through the phone is switching your phone itself. If you and your friend have got a similar model, swap your phone with them. Make sure you replace your wallpaper with that friend's so that you don't throw yourselves under the bus right away. Let's see how long it takes for them to figure out what's happening. Keeping a calm face while they are trying to get to the bottom of the issue is totally on you.
And then a very less wicked prank is to change the victim's ringtone into something embarrassing. This can be super fun in public, especially in places like a theater or a cinema hall where people are generally silent. You can pull the trigger by giving these friends a call when there is an opportunity to mortify them the most. So, whether you prefer tomfoolery or just some lighthearted funny business, keep it pleasant for everyone.
Key Takeaways
Playing a harmless prank on friends can create a great memory that you can reminisce about during get-togethers and parties.
You can try the toilet paper prank or maybe a texting prank saying that you got back with your ex. This will certainly give them a minor shock!
However, ensure that these pranks do not hurt your friend's feelings or get diabolical.
Is April Fools' Day approaching? Maybe it is a friend's birthday? Are you itching to play some practical jokes this week? Then try one of the pranks discussed in the article. These are low-effort, high-reward, and don't entail anything nefarious. We have covered every form of prank you could think of. So have fun with these suggestions, and kindly make sure you don't do anything wicked that would insult your friend or do them physical or emotional harm. Aside from that, you are free to have some fun!
Frequently Asked Questions
How can I ensure that my pranks are safe and not offensive?
Knowing your audience, staying away from touchy subjects like race, religion, sexual orientation, or politics, and being respectful when pulling practical jokes are all ways to make sure your pranks are appropriate and not disrespectful.
Are there any prank ideas for friends online or over the phone?
Pulling prank ideas on friends online, where you alter photographs, videos, or social media posts for hilarious effect, are quite prevalent. Phone pranks are another, in which you call or message someone pretending to be someone else.
Are there any pranks that are only suitable for certain age groups?
Yes, some jokes may only be appropriate for particular age groups and not for others. For instance, some practical jokes could be inappropriate or too sophisticated for kids, while others might be too childish or immature for adults.
Are there any pranks that require knowledge of specific topics or skills?
Yes, some practical jokes do call for expertise in some areas. Technical pranks, for instance, require technical understanding, subject-specific pranks demand subject knowledge, and some other practical jokes demand physical setup abilities.
Laugh out loud with these nine awesome ways to prank your friends! Get ready to learn some hilarious pranks shared in the following video.