Best Preppy Clothing Brands For Women
Nail that polished and sophisticated look while still looking trendy and chic!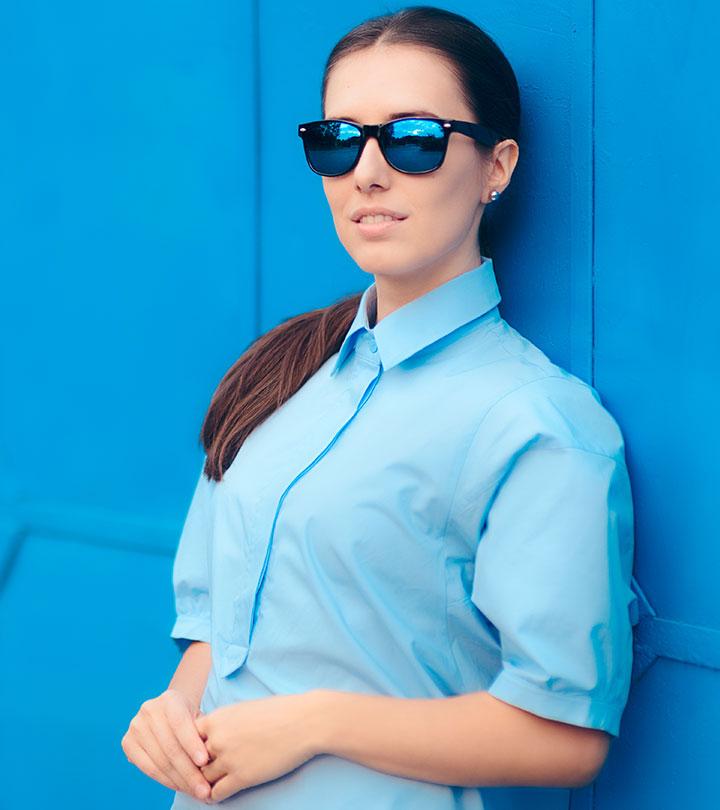 Began as a trend at the Ivy League schools, this preppy style has made sure to find a significant position outside those institutions in the world of fashion too. Thanks to the preppy clothing brands that have made it possible. From well-known brands such as Tommy Hilfiger and Crocodile to Lacoste, many brands have used their creative juices to bless the world with preppy clothes. To this end, today, in this article, we are going to give you all the essential deets about this style and the brands that make preppy clothes. All you need to do is scroll down and find out!

Ace The Look
Color: Pick neutral colors like black, brown, gray, or beige as they go well with every skin tone.
Pattern: Pair stripes, tweeds, or nautical prints with solid colors like black or white to create a casual yet chic summer outfit.
Hair: Go for the simple high ponytail for a neat and sleek look or a loose Dutch or French braid for an elegant look.
Accessories: Experiment with metallic headbands or polka-dotted bows to keep your hair in place all day.
Popular Preppy Clothing Brands
1. Lilly Pulitzer
Lilly started Lilly Pulitzer not realizing that it will be a thing and will blow up into something like this one day. She is from a resort town and created a dress that matched her insights – simply because no one else was doing it. And before we realized it, the world had a preppy brand to die for. You know how some brands resonate with you? You know it when you are wearing a Lilly – one, because of the quality, and two, because of the hidden signature Lilly leaves in every single piece. There are underlying colors, prints, and cut patterns to Lilly Pulitzer, with pink being the defining element. It is a luxury brand, but nothing about it is stereotypical, and that's what sets it apart. Tote bags, dresses, phone cases, accessories, shoes, bags, or anything else – we all need at least one Lilly Pulitzer in our closet.


Trivia
Working at a juice stand, Lilly Pulitzer discovered that squeezing juice often stained her clothes. She got her dressmaker to make a dress to hide the stains, and so many people loved it that she made more.
2. Vineyard Vines
Who knew growing up in Martha's Vineyard every year will resonate so much with these brothers, that they will walk out of their desk job one day, and a couple of drinks later, they will get a big idea?! Today, the brand is the official style partner of the Kentucky Derby Polo team. Vineyard Vines makes fashionable and preppy clothing for men, women, and kids, in addition to accessories. If you love the sea, sand, sailing, or water, this style would define you – you should own at least a piece from VVs, a preppy dress perhaps, and you will probably never look back.
3. Ralph Lauren
Ralph Lauren was the original preppy brand that sort of got lost on its way during the ride, but the company's new CEO is hell-bent on regaling that. It also got confusing for its customers because of all the sub-brands – however, Polo by Ralph Lauren has a vast customer base, and the actual preppy fans know that this collection is going to add value to their wardrobe – which is why you will invariably find them sporting RL like a boss. In fact, Ralph Lauren's Polo collection was sued by Brooks Brothers, where the former once worked as a salesman. So, if you are headed in the preppy direction, get hold of Ralph Lauren, and you will be one happy soul.


Trivia
The iconic Polo player emblem was first featured on the cuff of the custom shirts for women in 1971.
4. Lacoste
If you are into preppy style or want to get started with this, you need to start with a classic Lacoste Polo T-shirt, and that means you've done it right. Lacoste began its preppy journey in 1929 on the tennis court when all of this was not even a thing. But a crocodile logo on a polo T-shirt took the lead, and even before we know, it started resonating with preppy like nothing else ever did. Lacoste redefined, or rather defined the idea of women wearing polo-neck T-shirts and dresses, and introduced the bright idea of how preppy style should be done. We are forever grateful!


Trivia
Founder René Lacoste claimed his nickname "the Alligator" as a result of his bet with his team captain. He bet an alligator-skin case that he would triumph in his tournament.
5. J. Crew
If you didn't know already, J. Crew is into preppy, but is quite unassuming for a lot of reasons. While we don't have to get into those details, we know for a fact that it is preppy, and good at it. Just like a lot of brands, it has seen the lion's share of good and not-so-good times, but every time it fell, it got back on track with all its might. With muted undertones, chambray, and stripes as its design focal point, J. Crew has a huge loyal customer base.
6. Marley Lilly
Marley Lilly is a one of its kind online preppy and monogram store for anyone who is into customized gifts. But unlike the other big names, its price point is what sets ML apart. Preppy style has just gotten so much more affordable and fun.
7. Escapada Living
'Escapada' just means escape in Spanish, which describes its story and clothes too. Escapada clothing is a beautiful blend of tropical and sunkissed clothing pieces. With timeless silhouettes and classic charm, it slowly went on to become a global brand while keeping its Southern (Charleston) roots intact. Preppy, fun, colorful, and elegant – Escapada Living will rope it all in your closet.
8. The Lucky Knot
You know how amazing it would be to have clothes that can transport you from the beach, to dinner, and to the bar? The Lucky Knot makes and caters to just that. It houses a range of preppy brands that predominantly have a nautical feel to them, which is a big part of preppy clothing – and which is why some of us can never get enough of these. Even though it has a small offline presence in Virginia, it is growing strong online. But if you are in the area, drop in, or check the collection online.
9. Lauren James
Be it preppy pastels for a wedding, an everyday essential or an elegant party dress, Lauren James has it all for you with a classic touch. The brand was launched a few years ago by Lauren, who was a registered nurse. From being a nurse to creating a giant when it comes preppy brands that make clothes of exceptional quality – Lauren James has come a long way and is here to stay. If you are exploring preppy brands, check out Lauren James.
10. Drake's
Do you want to dress in tailored suits from Italy or traditional Scottish knitwear? Or probably wear a preppy jersey, denim, and some accessories? If the answer is yes, then Drake's is for you. Michael Drake founded the company in London in 1977 under the tagline "Relaxed Elegance." Starting from scarves and handkerchiefs, and expanding into high-end outfits for men, Drake's has gained a reputation for quality construction in Paris, Tokyo, New York, and Milan.
11. Kate Spade
Kate Spade took root when its founder, Kate Brosnahan Spade, could not find the perfect utilitarian bag for her use. She set out to design her own bag and voila, a preppy brand was born. Expanding from handbags to clothes, jewelry, shoes, home decor, and other tech accessories, the brand has spread worldwide. They use sophisticated and modern colors and produce chic items. So, get ready to create some fashionable looks with Kate Spade.
Aside from these brands, Personal Stylist, Paola Farina, suggests a few brands that are into preppy style. She says, "On my side, I can suggest MAX&Co and also Pinko. Both have a preppy style."
Infographic: Top 5 Preppy Clothing Brands For Women
The preppy style is now a well-known fashion statement numerous women love to follow. What began as a trend for Ivy Leagues is now a raging trend worldwide. Multiple brands have dedicated preppy-style collections for their customers. Check out the infographic below to explore five of these brands for your next preppy clothing spree.



When it comes to listing preppy clothing brands, there are only a few who make their mark above the rest. Not only is their quality top-notch, but their unique designs make for a statement in themselves. Ralph Lauren, Tommy Hilfiger, Lacoste, and the others listed above make for a good gifting idea for yourself or your special someone. If you are keen on adding more statement outfits to your collection, browse through the above recommendations and you are sure to find the best match for your comfort, style, and preference.
Frequently Asked Questions
Is Burberry a preppy?
Yes. Burberry's signature plaid designs make a comeback every season, making for stylish, preppy fall and winter fits.
What are other high-quality non-luxurious preppy brands?
Sperry, Patagonia, and L.L. Beans are some of high-quality non-luxurious preppy brands to try out.
What clothing is preppy?
The term "preppy" is derived from schools in the Northeastern US. Preppy fashion is based on clothing trends from these schools and their alumni in the early and mid-twentieth centuries. Prep schools are Ivy league and hence, sporting this look is a symbol of status.
Is preppy still in style?
Yes, preppy fashion is in style. However, as there is very little that can be done with patterns and fabrics, the creative focus is on experimenting with different cuts of Ivy League outfits.
What is the VSCO preppy aesthetic?
The VSCO preppy aesthetic, popular among Gen Z on social media platforms, includes bright pinks and blues, pastel accents, ruffles, and animal patterns. It also has a bit of retro vibe.
Are stripes preppy?
Yes. Stripes are one of the commonly spotted patterns on preppy fashion outfits.
Step into the world of preppy fashion with this ultimate guide on the best preppy brands, and explore the timeless sophistication that these brands offer. Check out the video now!
The following two tabs change content below.