What Is A Makeup Primer? How To Apply It?
Once you get the hang of this step, your finished makeup look will surely be a masterpiece.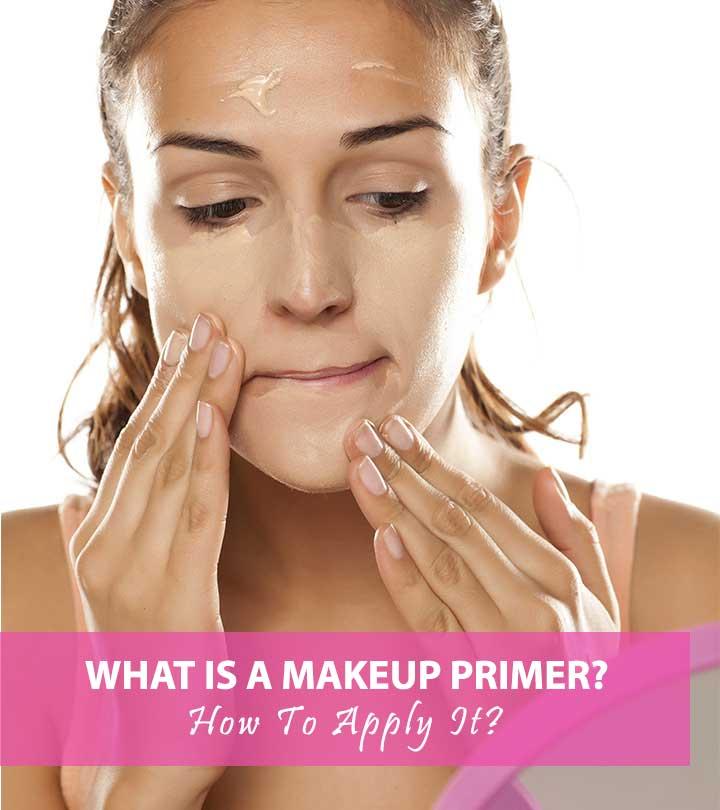 Ending up with smudged makeup after spending hours on it can be a huge disappointment. That is why we are sharing some preparation tips and tricks on how to apply primer to ensure long-lasting results. Your makeup won't last without a good primer, no matter how luxurious your foundation is. It is recommended by every makeup expert, and for a good reason. A primer works as a second skin to create the perfect base where your makeup will stay put. It also protects your skin from the harsh chemicals present in the foundation or other makeup items. Swipe up for more information!

Keep In Mind
Formulas: Primers come in varying formulas, such as mattifying, gel, tinted, anti-aging, color-correcting, pore-minimizing, illuminating, and hydrating primers.
Skin Type: For oily skin, use mattifying primers. For dry skin, use hydrating gel primers. Use a non-comedogenic formula for sensitive skin.
Pacing The Application: Apply primer a few minutes after moisturizing the skin. Then, wait for a minute to allow it to settle and smoothen out your face.
Application: Apply a thin layer of primer using your fingers or a makeup sponge.
No-Makeup Look: You can go for a primer-only look for a minimal, airbrushed effect.
What Is Makeup Primer?
What is face primer? A primer helps to create an extra layer between your skin and makeup. When you're spending your time and effort to do your makeup, it's important to keep it insured, and primer, my friends, is that insurance. Whether you want to smoothen your skin's surface, even out your skin tone, or cover large pores and fine lines, a primer takes care of all these jobs for you.
Is A Primer Really That Important?
YES! If you've seen primers at makeup counters, but never really thought that this extra step makes any difference, then think again. You do need the extra expense of a primer and adding this tiny step to your makeup routine makes a world of a difference. You'll never fully understand this until you've tried it (I was a primer skeptic, but once I gave it a shot, I don't think I can do without one. Ever.) What attracted me was the fact that it combines the benefits of both cosmetics and skin care. It does indeed, and my skin has never looked or felt healthier. You may wonder, how? The answer lies in its ingredients. No matter what skin struggles you're experiencing, there's a primer made for it, and it helps treat them while holding your look together.


Quick Tip
There are different primers for the face, lips, eyelids, and lashes. Some formulations come with SPF, antioxidants, and moisturizing ingredients for added skin protection.
How To Apply Makeup Primer?
If you're willing to incorporate a makeup primer into your makeup routine, I'll tell you how to use face primer to make the most of it. But before that, here are some great primers that you can try –
Benefit POREfessional Face Primer, Smashbox Photo Finish Foundation Primer, Maybelline Baby Skin Instant Pore Eraser, e.l.f Cosmetics Blemish Control Primer.
How To Apply Primer – A Step-By-Step Tutorial With Pictures
Follow these simple steps to learn how to apply makeup primer and help your makeup last all day long.
What You Need
A primer
Clean fingertips
1. Prep Your Skin
Prepping is crucial if you want your makeup to look flawless. Use a gentle cleanser to wash your face, exfoliate and apply a lightweight moisturizer before anything else. Let it sink into your skin.
2. Applying Primer
How to apply foundation primer to even out. Take a small amount of your primer and simply apply it with your fingers, blending from the nose outwards. You can also use a brush or sponge to apply a primer. Once it's fully blended, your skin will look more even-toned and luminous, and your foundation will sit better. Wait a few minutes after application, before you go in with your foundation, to allow the primer to sink in and create a smooth surface. You can also use the primer alone without any foundation if you want to keep it simple.
This is how your skin will look after application. You'll see that the appearance of your pores and fine lines has visibly reduced. Also, it helps tackle redness and smooth out the texture of your skin.
Tips: Making The Best Of Your Primer
If you've come this far, I'm sure you're keen on actually trying out a primer now. Here are a bunch of tips and tricks that will come in handy when you're applying your primer.
When it comes to primer, less is more. A small nickel-sized drop will suffice. Rub this into the skin well for even coverage.
Always apply moisturizer BEFORE you apply the primer.
If your skin is dull, try a tinted primer to help add some glow and life back into your skin.
Always make sure your primer is compatible with your foundation. You want to use water-based primers with water-based foundation, and silicone-based primers with the same foundations. This will prevent your base from separating.
Apply primer around the eyes but only use an eye primer on the lids. This helps prevent makeup from smudging or creasing by absorbing oils. It also softens crow's feet.
How To Choose A Primer For My Skin Type?
Make sure you understand your skin type before heading out to buy a primer or any beauty product because you don't want to pick out the wrong one for your skin. Here's how you can do that.
If you have dry or flaky skin, choose a hydrating primer. Look for words like "soothing," "hydrating," and "replenishing."
If your skin is oily, use a mattifying primer to reduce your skin's oil production and minimize shine.
If you have acne-prone or very sensitive skin, opt for water-based primers because silicone-based ones may clog pores and cause breakouts or irritation.
Use a primer with nourishing ingredients and one that's infused with antioxidants for mature or aging skin.

Quick Tip
Look for hyaluronic acid and antioxidants like Vitamins E and C in hydrating primers for dry skin. Silicone-based primers are best for a mattifying effect for oily skin.
Infographic: The Best Way To Apply Primer On Your Face: Steps & Tips
Primer is a base makeup product that helps prep your skin and create a smooth canvas for your makeup to stay put for longer. It can also hydrate your skin, absorb excess oil, and even out your skin texture, depending on your chosen formula. For long-lasting makeup results, refrain from skipping primer, as it is an essential step in your makeup routine.
Check out the infographic below to learn how to apply a primer in three easy steps and some useful tips.

With this article on "how to apply primer," your days of worries are over. All you have to do is, say "hello" to that primer and bless yourself with a fresh look that will be on-point throughout the day. So, follow our tips, tricks, and techniques and steal the show. But do not forget to clean your face before applying the primer. You would not want any impurities to be stuck between your skin and the makeup products, would you? Also, make sure your face is moisturized well.
Frequently Asked Questions
How long will the makeup last if I use a primer?
A good primer will lock your foundation in place and extend its staying power by 8 hours or more. Some long staying primers promise an impressive 15 hours of makeup wear.
Should I apply primer before or after moisturizer?
Always apply your primer after you moisturize your face. It will create a barrier between your hydrated skin and your foundation.
Is it better to use a primer without silicone?
Silicone-based primers can blur out the appearance of large pores and fine lines. But if you have acne-prone or sensitive skin, it's better to steer clear of a primer with silicone and opt for water-based options.
Are there separate primers available for eyes and lips?
Yes. An eyelid primer generally has a thicker consistency than a face primer. These help products apply more vividly and prevent eyeshadow fallout. You can try the Benefit Stay Don't Stray eye primer. A lip primer ensures smoother and even application of your lip color and prevents the color from bleeding out. Try the Becca Lip Priming Perfector.
Do you let primer dry before applying foundation?
Yes. You must wait a minute for the primer to dry before applying the foundation.
Can we use primer daily?
Yes. In fact, if you do not have pigmentationi  XPatches of skin that are darker than the surrounding area of skin and commonly develop on the face. issues, you can simply use a primer and skip the foundation. It will give an even texture and minimize the appearance of minor imperfections.
Do primers clog pores?
Primers are designed to fill in the pores so that you can have an even base to apply makeup on. Silicone-based primers can easily clog pores if not removed at the end of the day, leading to breakouts. However, primers these days contain active ingredients like salicylic acid, zinc, and niacinamide to prevent breakouts. These primers do not contain comedogenici  XA substance or product that tends to clog skin pores, which encourages the formation of blackheads or acne. ingredients.
Is concealer and primer the same thing?
No. While tinted and blurring primers can conceal minor blemishes and pigmentation, they are not the same as concealers. Both have different functions. Primers form a smooth, glowy, and airbrushed base for makeup application and hold it in place. Concealer blends with the base to cover heavy pigmentation and skin imperfections.
Key Takeaways
Clean, exfoliate and moisturize your skin before applying a primer.
Apply the primer to provide a smooth base for the makeup.
You can skip the foundation and only apply primer if you want to keep things simple.
Use a tinted primer to add some radiance to your skin.
Make sure to select a primer according to your age and skin type.