How To Pick The Best Prom Dress That Suits Your Body Type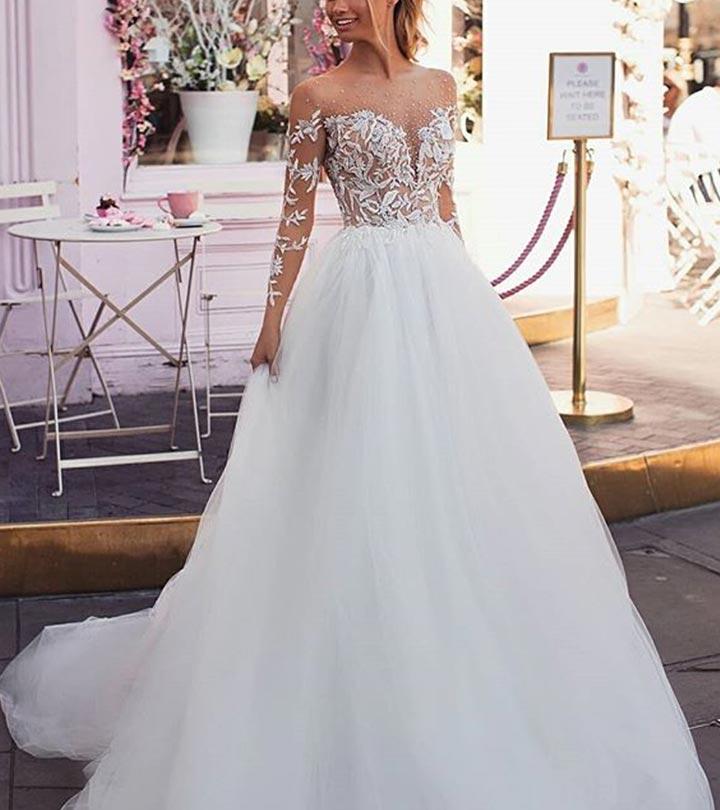 Prom is one of the most happening events in your social life. Everything about it is filled with spark and excitement. From who you go to prom with to the dress you wear, everything is geared towards making lifelong memories. At such a beautiful event, you cannot wear something that makes you look lesser than your best. After all, you'll be remembering this day for the rest of your life!
But don't worry, we've got your back. We have put together a guide to picking the best prom dress for your body type – because honestly, there is nothing better than a figure-flattering dress!
(If you don't know what's your body type, check out this article to figure it out.)
If you have a rectangular body type, a closed neck dress will look stunning on you. This black, body-hugging, closed neck gown looks simple yet elegant and super classy. A closed neck gown accentuates your shoulders and to create an intense silhouette. You can accessorize this gown with a bracelet and a pair of silver-studded earrings to glam it up. Put on a pair of black stilettos, and get ready to set your prom on fire!
What To Avoid
Avoid wearing deep and scooped necks as they can make your neck and shoulders look broad.
If you have curves, flaunt them! Put on a body-hugging gown in a light color like silver or white. It will accentuate your curves and make them look heavenly. A deep neck will look stunning on a gown like this. Style your hair in some soft curls and leave it down. Put on long pearl earrings and a pair of silver stilettos. Now, this is an outfit that is worthy of a Prom Queen!
What To Avoid
Avoid wearing loose gowns or poofy skirts. They will hide your figure and make you look sloppy.
A one-shoulder dress is just what you need if you have a triangle body type. It creates a modern silhouette that accentuates your neck and shoulders. The one-shoulder sleeve is the highlight of this gown. Keep the accessories minimal. Opt for a pair of studded earrings and a small clutch. Tie your hair up in a bun, and your outfit is a total 10 on 10!
What To Avoid
Avoid wearing full-sleeved gowns as they will make your shoulders look broader. Don't wear long earrings or a statement neckpiece as they can draw attention away from the beauty of this gown.
Inverted Triangle Body Type
A gown like this with a back cut-out is perfect for anyone with an inverted triangle body type. The back cut-out neck enhances your figure and adds charisma to the gown. Opt for slightly long earrings to add a touch of glamor. Tie your hair up to flaunt the sexy back. You can wear a bracelet or some bangles with this gown. Put on a pair of silver strappy heels and get ready to have the best prom night ever!
What To Avoid
Avoid wearing baggy or loose-fitting gowns and chunky accessories.
For a petite body, nothing works better than a skin-tight, closed neck gown. Opt for dark colors like black, gray, or deep crimson. This gown is a bit on the heavier side with its rhinestone design. It adds character and charisma to your look. You can style your hair in beachy waves or a messy bun to finish off this look.
What To Avoid
Avoid floor-length gowns as they will make you look shorter.
Your tall body is truly a blessing in disguise. Gowns of all styles will look gorgeous on you. Compared to other body types, it is especially easy to find the perfect gown for a tall woman. This red V-neck gown will make you look like a dream on prom night. The color red is romantic and oozes the perfect prom night vibe. The V-neck amplifies your bust area, and the thigh-high slit adds sex appeal to this look. Wear a pair of studded earrings along with a bracelet. You can wear either silver or black strappy stilettos. Both will look gorgeous with this gown.
What To Avoid
Avoid wearing a gown with too many frills. It looks tacky and brings down the wow-factor of your tall physique.
If you have an hourglass figure, we hope you know how lucky you are! To pick a prom dress that suits your curvy figure is quite simple. Opt for strappy dresses that are tight around the bust and waist area and flowy toward the bottom. Fish-cut dresses work great with this body type. Colors like rose gold and pastel shades are a good choice. They look stylish yet elegant at the same time. Leave your hair loose in soft curls or straighten it out. Put on a pair of silver strappy heels, and you are all set for prom night!
What To Avoid
Avoid wearing midi-length gowns and loud makeup.
The apple body type is elegant and beautiful. An off-shoulder dress with strappy low sleeves will be perfect for flaunting your neck. You can opt for a dress that is tight around your waist and bust to add character to your look. Tie your hair in a loose ponytail or bun it up. Put on a pair of high heels, and you are all ready for prom!
What To Avoid
Avoid wearing closed, high neck dresses. They draw attention away from your bust.
Many dress styles and necklines look great on busty bodies. The deep neckline and caged detailing around the waist of this particular dress are perfect for someone with a busty body. The flared out skirt looks downright gorgeous.
What To Avoid
Avoid wearing high-neck dresses and dresses that are not fitted at the bust.
Backless dresses look drop-dead gorgeous on this body type. Colors like red, black, gold, and white can be worn to enhance your physique. A dress with a loose neck and a tight waist is the way to go. This dress is perfect for prom night. Leave your hair open or tie it in a messy braid. Put on a pair of strappy stilletos, and you are good to go!
What To Avoid
Avoid wearing dresses with too much flare. Silky satin dresses are perfect for your body type.
This super stunning mini dress is perfect for anyone with a pear-shaped body. It looks super cute yet glamorous and classy at the same time. This dress adds volume to the top half of your body. Let your hair loose, put on some light makeup, and you are ready for prom!
What To Avoid
Avoid wearing bulky dresses or dresses with too many frills.
Now that you know what kind of dress to pick for your body type, let's take a look at some of the other prom essentials that you need to complete your look.
Prom Essentials
1. Shoes
Your shoes can legit make or break your outfit. There are so many options available in the shoes category that it is next to impossible to pick a favorite. From stilletos to strappy heels to pumps or even heeled boots, you need to pick a pair of shoes that works effortlessly. The shoes you pick for prom speak volumes about your sense of style. At the same time, don't compromise on the comfort factor. After all, apart from looking pretty on prom night, you also need to move those legs and dance the night away!
2. Hair
Your hair is yet another crucial but super fun part of dressing up for prom. You can get your hair styled by a professional to make sure it looks perfect in the billion pictures that you will be taking. From soft curls to beachy waves to straight tresses, there are so many options that can make your prom dress look marvelous!
3. Accessories
Getting your accessories right can glam up your prom dress. If it is a simple prom dress, go all out with your accessories. But, don't forget to keep it classy and elegant. There are plenty of options out there. You can opt for crystal headbands, rhinestone bracelets, or a bejeweled clutch. Work with what you have and make the best of it.
Prom is an event that no girl should miss out on. You can make many memories there that you will cherish all your life. So, you don't want to look anything less than perfect on this magical night. Dress up, look pretty, and have a blast! If you have any more questions about picking a prom dress for your body type, drop them in the comments section below, and we will get back to you!
The following two tabs change content below.

Latest posts by Nooraine Firdouse (see all)