52 Protective Hairstyles For Natural Hair To Try Out In 2023
Fun and fashionable way to keep your hair safe while elevating your style quotient.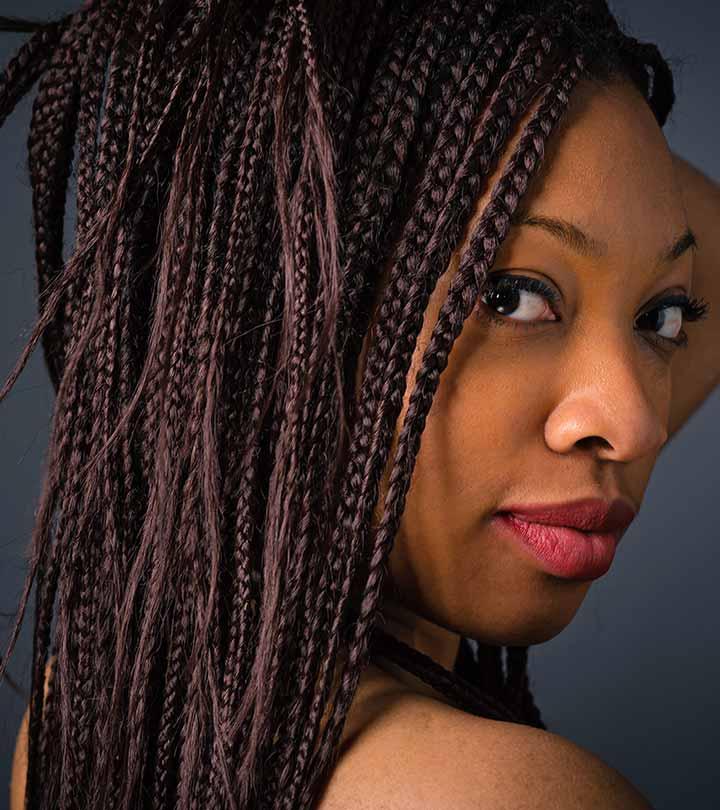 Hair loss and damage can leave us panicking, especially when you have coily or naturally textured hair.
One of the ways you can manage hair damage and loss is by styling your hair in protective hairstyles. Every day your hair is exposed to UV rays, heat styling tools, pollution, harsh weather conditions, color and chemical treatments, and over-brushing. These factors leave your hair damaged, thinning, and falling. Hair damage means breakage, dryness, dullness, coarser hair, and split ends. And what worsens this damage are those tight, sleek hairstyles. They pull on your hair roots, causing frizz and hair fall.
But styling your hair in protective hairstyles protects it from damages. To know more about these protective hairdos and how they prevent your hair from being ruined, keep reading!

Before You Get Started
It is a time-consuming hairstyle which can take up to 5 hours.
Due to better grip, it is easier to practice protective hairstyles on curly, kinky hair rather than straight hair.
It is a gender-fluid look and can be worn by men and women alike.
Wrap your hair in a silk scarf before bedtime to prevent frizziness and to keep the hairstyle intact.
What Are Protective Hairstyles?
Protective hairstyles, as the name suggests, are hairstyles that protect your hair from damage. They require less upkeep, and they keep your hair safe from the roots to the ends. They are also long-lasting, i.e., they last a few months. Protective braids, like cornrows and Ghana braids, can be kept for as long as three months with the right amount of care. While these braids are tight, creams and oils are used when weaving them to prevent them from pulling on your scalp too much. A few protective hairstyles keep your kinky curls perfect and reduce frizziness. Talk about godsend!
The benefits of using protective hairstyles are many. They give your curls flawless definition. You can wash your hair once a week, which means you steer clear of the damage caused by chemical-based shampoos. You also don't need to comb your hair that often (if at all), which decreases breakage. Your ends are sealed off, which means they're protected from any and all kinds of damage. And, as I've said before, protective hairstyles are long-lasting. This means that you don't have to worry about styling your hair every day. They also minimize the risk of damage from hair coloring and heat styling tools.
Faith Akinleye, a hair blogger, is a big supporter of protective hairstyles, stating, "The biggest advantage for me is that I have no access to my hair and my ends, and so my 'hand in hair' problem has not been a problem. My ends are nice and protected (i). "
I'm sure this has piqued your interest, and you probably want to try a protective style. But, you must be wondering how long they actually last. We've got the answer for you in the next section.
How Long Can Protective Hairstyles Be Kept For?
This is a good question! Protective hairstyles need to start from the hair closest to the scalp. To reduce the tension caused by pulling on your scalp, creams and oils are used. But, over time, the cream wears off, and the weight of the braids starts pulling on your scalp. You need to retouch your protective hairstyle before this happens. Typically 6 to 8 weeks max between maintenance, but it really depends on the style and your hair and scalp condition. Ask your stylist to recommend a maintenance schedule for you during your consultation. This way, the new hair that has grown can be incorporated into the style.
Now that I have your full attention, check out these uber-stylish protective hairstyles. Hair protection has never looked this good!
52 Stylish Protective Hairstyles:
1. Knotless Box Braids
Knotless box braids closely mimic classic box braids, but there is one thing that sets them apart. The biggest distinction is that knotless braids are not weaved with the tiny knot that traditional box braids begin with. So these braids don't pull on your hair follicles as much as classic box braids, making them more comfortable and less likely to break.
2. Fulani Braids
Fulani braids are cornrows weaved close to the scalp in beautiful patterns that can be accessorized with beads. This style is inspired by one of Africa's largest ethnic groups, the Fulani. Not only is it fashionable, but it also carries a legacy!
3. Dreadlocks With Highlights
Dreadlocks are an iconic hairstyle. And colors add vibrancy, life, and dimension to hair. Do you see where I'm going with this? So, go ahead and dye those locks and look amazing in this classic protective hairstyle!
4. Floral Box Braids
Along with your floral dresses, this look is perfect for summer and can be accessorized with real flowers or embellishments. The Marvels actress Teyonah Parris walked the red carpet in this look, with this "braid made of braids," and it is a must-try!
5. Chunky Braided Mohawk
The wild mohawk and the elegant braid crossover to create a hairstyle that is unmistakably unique! And the red hair adds a fiery touch. While the back of the hair is neatly braided all the way down, the sides are gelled down and weaved in a thin cornrow on each side to give a faux shaved sides look.
6. Box Braids With Beads
Box braids are one of the most popular protective styles. Not only are they easy to achieve but, as seen in the image above, they can be made beautiful with accessories like beads. With this style, you can keep your hair out of the way while still looking stylish. What a fashion move!
7. Natural Twists
Nothing is simpler than twisting your hair strands to achieve a fabulous look. Most twist styles use extensions to appear longer. But with this style you can show off your natural locks! This two-strand protective hairstyle looks great on both short and long hair and is gentle on the scalp as well.
8. Braided Half Top Knot
Looking for a hairstyle that can jazz up your already braided hair? A sleek half top knot adds height and elegance to your braided look. Instead of coloring your natural hair, you can simply weave these box braids with colored hair extensions and voila!
9. Ombre Box Braid
The best part about protective hairstyles like box braids is the addition of hair extensions. Not only do they make your hair look longer and thicker, but you can also experiment with a wide range of colored extensions. To recreate this look, weave your natural hair box braids. As you reach the end of the braid, start adding in orange extensions and continue weaving the braid. Then add in the white extensions. This fabulous orange to white ombre is sure to keep the spotlight on you!
10. Cornrowed Low Ponytail
This chic, formal look can be worn at any time during the day. Whether a formal dinner or an afternoon outing, the traditional low ponytail looks edgy when done on braided hair. And this hairstyle is so versatile that it can be worn for any mood or season!
11. High Ponytail Box Braids
I'm starting this list on a high note. Sleek high ponytails are stylish, but this box braided high ponytail is HAWT. Let's not overlook the finger waves that are around her hairline. They add some extra oomph to the whole look. Love it!
12. Half Ponytail Box Braids
Box braids are braids that are done in square- or rectangle-shaped partitions. The half ponytail is a big hit with box braids. It is a brilliant way to show off your braids and look spectacular! This protective hairstyle also shows off your face shape and features, especially if you have an oval face.
13. Open Ends Box Braids
If you have thick hair tips and dry roots, try this protective style. You don't need to braid all your hair. Caring for your hair tips is easier with this style as you can apply oil freely to them. This protective hairstyle not only solves that issue but also makes you look glamorous while doing it.
14. Pattern Jumbo Braids
Patterns are everything in this century. Hair has become a canvas, and it is truly inspiring. I love these triangled box braids. They look super stylish!
15. Patterned Cornrows
Showcase a masterpiece with this creatively designed protective hairdo. I would recommend getting a professional to do this instead of trying it yourself. Just look at that finish! You have to be a professional hairdresser to get that kind of a look.
16. Feed-In Braids
Feed-in braids are closely aligned to the scalp. As you weave the stitches in the braid, you keep adding hair to it. Feed-in braids start off scrawny but end up thick at the end. They look pretty wild if, you ask me. Alternate between thin and thick braids to create a dynamic hair look.
17. Big Cornrows
Big cornrows look super chill.
They also decrease the tension on your hair roots caused by the pulling of the braids. So, if you already have an issue with hair loss, I recommend you speak to your hairdresser about getting big cornrows.
18. Side Cornrows
We know that side-swept bangs work wonders for all face shapes. Now you can take that sweep and add it to your braids as well. Just take inspiration from this side-parted hairstyle.
19. Twisted Braids
This dreadlock-like hairstyle is achieved by simply twisting your hair tightly. The roots are not necessarily pulled tight. It looks pretty cool, right? Add a subtle pop of color to your locks to jazz up this hairstyle.
20. Braided High Ponytail
Doesn't this hairstyle look incredibly pleasing? The scalp-aligned braids are perfectly swept, and the high ponytail is totally on point. I mean, damn girl! You looking fine!
21. Yarn Twists
This protective hairstyle has become one of the most sought after black braid styles of 2018. It involves adding yarn to your natural hair like a wig. While woolen yarn is said to curb frizziness, acrylic yarn is more protective. Whatever you pick, know that this protective hairstyle most certainly has your back.
22. The Pineapple
The Pineapple is the kinky-haired girl's answer to the messy top knot. Simply apply some curl defining cream to your hair and flip it over. Gather all your hair right on top of your head and tie it with an elastic band. If you have long hair, wrap it around in a loop bun. You can tie a colorful headwrap to protect your hair when you go out and to add a funky touch to the look.
23. Bantu Knots
Bantu knots have to be one of the coolest hairstyles of all time. It looks super edgy while keeping all your hair off your face and neck. Twist your hair in sections and wrap them in tight buns to form Bantu knots.


Quick Tip
Bantu knots are styles that are trending nowadays, thanks to celebs like Rihanna, Cardi B and Yara Shahidi, who are seen rocking this style in different looks.
24. Senegalese Twists
Senegalese twists are one of the simplest and trendiest twists.
You can use synthetic or natural hair extensions for Senegalese twists, but natural extensions give them a more authentic feel. Add the extensions near the roots of a section of hair and twist until you reach the very end.
25. Braided Pigtails
Just when I thought there couldn't possibly be any trendy ways to style pigtails, I saw this image on my Insta-feed. I love it! It's so badass and flowy. This is the perfect gym and dance hairdo.
26. Ghana Braids
Ghana braids are done the same way as cornrows, but extensions are added to the braids to make them look well-defined. Using colored extensions adds even more dimension to this look. It also makes your hair look thick and lush.
27. Tree Braids
Tree braids are protective braids that use hair extensions. The braid starts at the scalp but can stop anywhere from an inch away from the roots to halfway down your hair. The rest of the hair is left loose. This hairstyle is used to make your hair look thicker.
28. Big Feed-In Braids
Contrasts are what people are talking about. Blonde and brunette ombres are taking the world by storm, thanks to their stark contrast. Similarly, in the world of black braids, big and small braids are the contrast everyone is talking about. So, get on board!
29. Braided Feed Ins
Women are complicated. We have feelings about our feelings. So, naturally, we want our hairstyles to take on our personalities. If simple braids won't do, try this braids-merged-into-one-braid hairstyle.
30. Beaded Braids
Protective braids are everywhere, so how do you set your hairstyle apart from everyone else? Add some beaded accessories! All you have to do is clip them onto your braids anywhere you like. Get ready to look on fleek!
31. Colored Braids
Hair color damages your hair. We all know that the chemicals used in coloring products weaken and dry out your hair. Instead of coloring your hair, do some box braids (or any other protective style) with colored hair extensions.
32. Multicolored Braids
If I had to bleach and color my hair these colors, I would probably end up with no hair on my head. Again, use extensions! It brings your chances of hair loss and damage to zero. You can experiment with different colors, patterns, and protective styles, too.
33. Crochet Braids
Okay, I have to confess something. Earlier, I was a little confused about what exactly crochet braids are. Crochet braiding is a method of adding extensions to your hair. You start by braiding all your hair into cornrows. Then, you insert and loop the extensions into the middle section of the cornrows. You can then leave these extensions loose or braid them.
34. Hair Rings
Hair rings are THE hair accessories of 2018. They look totally badass, and all you have to do is loop them through your braids. You can get designer hair rings with feathers and stars to spice up your braids and bring out your personality.
35. Braided Bun
In the movies, when there's work to do, you often see the girl bun her hair up. Why? Not only is it an effective way of keeping your hair off your face, but it also looks good. Black women have taken their hair game up a notch with this hairstyle.
36. Black Dutch Braids
Oh, my gosh, talk about perfection! Tell me I'm not the only one seeing those flawless stitches that join to form some stunning braids. Clearly, the Dutch style of braiding is all the rage right now.
37. Mambo Twists
When you weave your braids very tight, they start curling up and become squiggly. This protective hairstyle is called the mambo twist. You can add more definition to this style with some rollers, hair gel, and a blow dryer.
38. Spider Web Pattern Braids
Like I said before, we women are complicated, and we like complicated works of art, like this hairstyle. The spider web pattern of this hairstyle is equal parts cool and gorgeous.
39. Designer Braids
It's all about lines and angles. Geometry finally makes sense! These angled partitions make for a great pattern for protective styles. If you love styling your hair like this, I'd recommend using a mix of small and big braids.
40. Marley Twists
Marley twists are one of the most seen protective hairstyles on Instagram. Marley hair extensions are used for this protective hairstyle. These twists are smaller than Havana twists. Marley extensions are said to have a more natural texture than any other synthetic hair. They last for about two months before any touch-ups are required.
41. Halo Braids
The halo braid had to have been discovered by some divine intervention. It looks so simple, yet elegant and beautiful. Imagine pairing this hair look with an off-white linen gown and some simple jewelry. S-T-U-N-N-I-N-G!
42. Havana Twist
"Havana oo na na, half of my heart is in Havana oo na na"
The Havana twist is just as catchy as the Camila Cabello song. Jumbo Havana twists are a great summer hairstyle. They make you look laid-back and carefree.
43. Faux Locs
When you color, straighten, curl, or perm your hair, you ruin its texture and strip off its nourishment. Therefore, you need to use extensions to protect your hair. This will improve your hair drastically. A simple solution is to use faux locs. Not only do they look great, but you can also experiment with heat styling tools and colors. They also add volume to your hair.


Quick Tip
Faux locs can be installed in two ways: either by wrapping your braids with hair extensions or crocheting your hair into the braids.
44. Bob Braids
Black women took the bob and transformed it into this stunning hairstyle that almost everyone wants. The braided bob is a '90s hairstyle. Yes, that's true! It's making a comeback with a bang.
45. Top Braids
When you have thick kinky hair, your hair tend to be undernourished. The problem with this is if you don't take care of your roots, the entire length of your hair can be compromised. By braiding the top of your hair, you can easily apply hair masks and oils to strengthen the roots.
46. The Middle Braid
The middle braid is a style that is unusual but looks great. If you have love symmetry, I'm sure this protective style will give you a satisfying feeling. Accessorize the middle braid with rings or beads, and you will slay your hair game.
47. Thread Braids
Colorful threads are a great accessory for braids. Protective braids are long-lasting, which means you have the same hairstyle for over three weeks. Play around with different colored threads and patterns to give your braids a new look every day.
48. Multiple Accessories
Why choose between beads, rings, and threads when you can use them all to create a stunning hairdo? Revamp your braids with these stunning accessories. All eyes are guaranteed to be on you.
49. Half Top Knot
The half knot will go down in history as the most sported hairstyle of 2018. Black women love putting their own spin to regular hairstyles and letting their creativity fly. This half top knot done with box braids looks absolutely brilliant.
50. Short Box Braids
Short hairstyles are killing it this year! From the pixie to the short black braids hairstyles, short hair seems to be everywhere. And, why not? Short hair is easy to manage, and it reduces hair fall and split ends.
While we have covered numerous protective hairstyles that you can do, one common question that is often asked is, which protective hairstyles would be the best for sleeping. Let's have a look at a few of those below. Scroll down.
Protective Hairstyles For Sleeping
51. Small Bantu Knots
This intricate hairdo is perfect for sleeping, as it will keep your strands intact overnight, preventing frizz and breakage. It involves sectioning the hair neatly into various parts, which further promotes easy maintenance.
52. French Braids
The French braids are an easy yet stylish hairstyle to do and are also ideal for sleeping. You can keep the braids tight for limited frizziness or make them loose if you prefer something more relaxed.
Infographic: Hair Care Tips For Protective Styles
Now that you have a fair idea of what kind of protective styles you may opt for, the next step is to learn how to prep your hair before styling and maintaining the style. To help you narrow your search, we have a few hair care tips for maintaining protective styles. Check them out in the infographic below.



Protective hairstyles are the most convenient and efficient method of working with afro-textured hair to tuck away your hair ends and provide overall security from harsh weather conditions. Their practicality aside, these hairstyles are badass, and there are several ways to go about them. This article tells you all about protective hairstyles and lists 40 uber cool ways to make them. You will find a style for every occasion. And honestly, why not style them just for the heck of it! So, try out these hairstyles and make heads turn your way.
Frequently Asked Questions
Do protective styles help hair grow?
Yes, protective styles encourage hair growth by minimizing damage, friction, and breakage.
What is the longest-lasting protective style?
Ghana braids and cornrows can last for as long as three months. However, they need proper maintenance and care.
How do I prepare my hair for protective styles?
The first step to prep your hair for a protective hairstyle is to wash your hair and scalp to make sure they are clean of any product buildup. Then you must condition and moisturize your hair, and stretch it through heatless methods like twists and braids. Lastly, trim the split ends before styling them.
How do you clean your scalp in a protective style?
Use special protective style cleansers directly on your scalp. Gently scrub your scalp with enough pressure to loosen the cuticles a bit, but be careful not to be rough. Rinse it off and squeeze the water out of your hair. Spend ample time to gently dry your hair with microfiber towels because your hair or extensions should not be wet for too long. Lastly, use moisturizing sprays to hydrate your hair.

Check out this video to style your dupatta in six different styles. This video shows a variety of draping techniques from modern to classic pleats.
Personal Experience: Source
i. Few Updates: RESULTS of Protective hairstyle Challenge & London Natural Hair Week 2015
https://naturalbeauts.wordpress.com/tag/natural-hair-protective-hairstyle-challenge/
The following two tabs change content below.