10 Best Protein Powders For Women To Tone Your Muscles, WeightLoss
Protein is a key ingredient that can help you achieve a healthier and fitter body.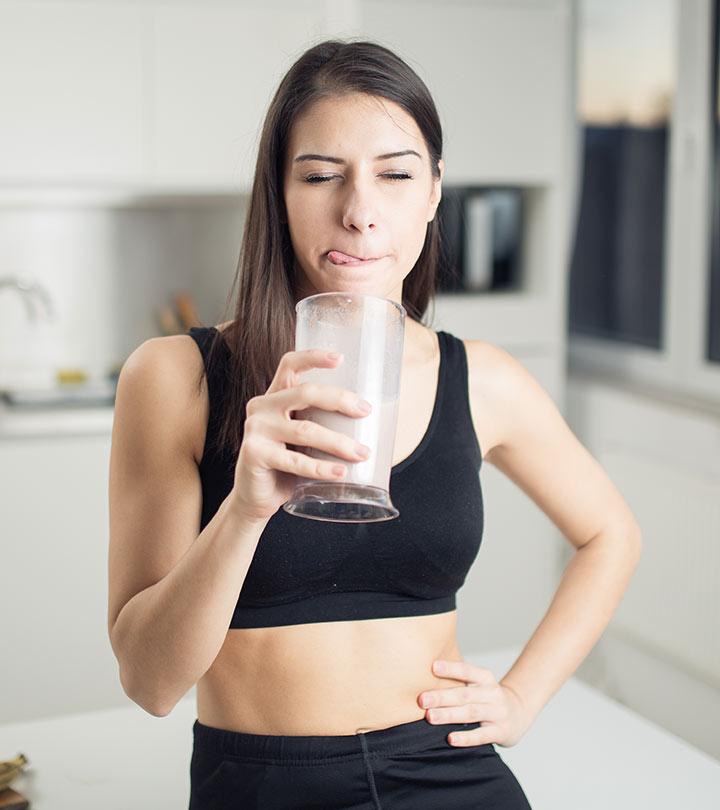 Protein powder is one of the most convenient ways to add protein to the diet but, choosing a good protein powder, especially when you are a woman, might be tricky. There is a common misconception that protein powders are only meant for men who want to grow muscle mass. However, the best protein powders for women significantly contribute to muscle toning and weight loss. Also, they are an excellent alternative for those who don't derive enough protein from whole food sources.
Now, it is time for you to discard all the prejudices and pick the right protein powders for women. Read on!
10 Best Protein Powders For Women
Egg whites are low in calories and loaded with protein. Egg whites are healthier than whole eggs as they contain lesser fat and cholesterol. If you cannot make yourself an egg white scramble, you can get an equal amount of protein from egg white protein powder. Here's what we recommend. Check out this video for a detailed review of the product.
Best In The Market – Julian Bakery Paleo Thin Egg White Protein
Key Features
Contains all amino acids
Packed with BCAA
Paleo diet-friendly
GMO-free
Soy-free
Gluten-free
Keto-friendly
Contains just two ingredients – egg white powder + sunflower lecithin
Made from the highest grade egg whites
Easy to digest
No fat
No sugar
Pros
Aids weight loss
Helps define muscle
Prevents muscle loss
Cons
Might not be suitable if you are allergic to eggs.
Whey protein is the by-product of the cheesemaking process, where the milk solids separate, leaving behind a greenish liquid. It has 9 essential amino acids and is low in lactose. Whey contains a mix of bovine serum albumin, beta-lactoglobulin, alpha-lactalbumin, and immunoglobulins. Here's the whey protein we recommend for you.
Best In The Market – Bodylogix Natural Grass-Fed Whey Protein Powder
Key Features
24 g of complete protein per serving
Over 5 g of BCAA per serving
Sourced from grass-fed cows
Gluten-free
Non-GMO
Produced in a peanut-free facility
100% whey protein
No artificial color, flavor, and sweetener
Pros
Helps satisfy hunger
Increases lean muscle mass a.k.a helps in muscle toning
Boosts muscle recovery
Available in 5 different delicious flavors
Cons
Shipment only within the US
There are many vegan protein replacement supplements available on the market now. Vegans generally do not get all the essential amino acids only from plant whole food sources. So, it makes sense to meet your body's protein requirements by consuming protein powders that contain all the amino acids. Of course, the proteins are sourced from plants. Here's one of the best vegan protein powders.
Best In The Market – Garden of Life Raw Organic Fit Powder
Key Features
Plant-based
Vegan
100% organic
USDA certified
Non-GMO
No hormones or antibiotics
Pros
Boosts energy
Specially designed for weight loss
Helps in muscle toning
Helps maintain healthy blood sugar
Helps reduce and manage stress
Contains other natural fat-burning ingredients
Cons
Shipment available only in the US
Not meant if you are pregnant, nursing, anticipating surgery, or are on any medication.
If you are on a diet that requires you to count calories and maintain a certain calorie intake per day, low-calorie protein powders should be your choice. You will get a good amount of protein without consuming too many calories! Here's the one we recommend. Take a look at this video to learn more about the product.
Best In The Market – Fitmiss Delight Women's Complete Protein Shake
Key Features
Low-calorie
High-protein
Low-carb
Gluten-free
Pros
Aids weight loss
Helps in muscle toning
Increases satiety
Loaded with vitamins and minerals
Helps flush out toxins
Re-energizes the body
Cons
Caution
Check for allergens before consuming.
Avoid using if you are pregnant or nursing.
Hemp protein is obtained from the Cannabis sativa plant. It is a rich source of protein, low in sugar, and high in fiber. If you are lactose intolerant, hemp protein is your best bet. Here's what we recommend.
Best In The Market – LeanHemp Chocolate Hemp Protein Powder With Maca
Key Features
Vegan
Non-GMO
Contains coconut sugar as a sweetener
All natural cocoa powder enhances the flavor
Safe and legal to use
Pros
Easy to digest
Increases satiety
Aids weight loss
Contains all 20 amino acids
Contains maca root powder
Cleanses colon
Cons
Unpleasant smell and taste
Caution
Brown rice protein is a great choice if you are vegan or vegetarian. Brown rice is a great source of protein, dietary fiber, vitamins, and minerals that help in building lean muscle mass (i.e., help you look toned), increase satiety, and re-energize your body. Here's the brown rice protein powder we recommend for you.
Best In The Market – Naked Rice Organic Brown Rice Protein Powder
Key Features
Vegan
100% organic
Soy-free
Dairy-free
Gluten-free
Non-GMO
Low-calorie
25 g protein per serving
4.9 g BCAAs per serving
Pros
Obtained from sprouted organic whole brown rice
No sugar
Amino acid profile is similar to whey protein
No artificial colors and flavors
Cons
Can cause reactions if you are allergic to brown rice.
Caution
Avoid it if you are pregnant or nursing.
Casein is a slow digesting milk protein found in the solid parts during the cheese making process. It helps in muscle toning and is extremely helpful if you workout regularly. Here's the casein protein powder that we recommend consuming.
Best In The Market – Optimum Nutrition Gold Standard 100% Casein
No products found.
Key Features
24 g protein
5 g BCAAs
Slow-digesting 100% casein protein
Also contains fast-digesting 100% whey protein
Pros
Great source of calcium
Improves muscle tone
 Great pre or post-workout nutrition
Cons
Shipping only within the US
Non-vegan
Caution
Avoid using if you are lactose sensitive.
Dissolve it properly and drink slowly to prevent choking.
Keep away from children.
Pea protein is an excellent source of protein for vegans and those who cannot tolerate animal proteins. Pea protein is made from dried yellow peas. It aids weight loss and helps in building lean muscle. It is also hypoallergenic, so, for most people, it is safe to use. But if you are allergic to peas, avoid using it. Here's the pea protein we recommend for you.
Best In The Market – Nuzest Clean Lean Protein
Key Features
Gluten-free
Non-GMO
Dairy-free
Vegan
Soy-free
Paleo-friendly
Low-fat
19-21 g of protein per serving
Pros
High in protein and low in carbs
Increases satiety
Available in 5 different flavors
Doesn't contain artificial sweeteners
Supports athletic recovery
Boosts muscle recovery, repair, and development
Cons
Might not dissolve easily
Making bone broth is a time-consuming process. But it is highly nutritious and good for weight loss and your skin. If you do not have time to prepare bone broth at home, consume bone broth powder. Here's the one that we recommend.
Best In The Market – Ancient Nutrition Bone Broth Protein
Key Features
Low-calorie
Gluten-free
Soy-free
Dairy-free
Grain-free
0 carbs
Paleo-friendly
No artificial ingredients
20 g protein per serving
19 amino acids per serving
Pros
Highly nutritious
Contains collagen, gelatin, glucosamine
Highly absorbable protein
Improves skin health
Good for gut health
Promotes healthy aging
Supports joint health
Cons
Not vegan
Not vegetarian-friendly
Meal replacement protein powders are best for weight loss. The mantra is to avoid consuming any solid food for say, lunch. Instead, have a meal replacement protein that will help you burn fat and keep you satiated at the same time. Here's the meal replacement protein powder we recommend.
Best In The Market – SlimFast Original Meal Replacement Shake Mix Powder
Key Features
Gluten-free
Clinically proven to aid weight loss
Easy to use
Can be used to replace 2 meals per day
Good for weight loss maintenance
10 g of protein and 5 g of fiber per serving
Pros
Aids weight loss
Helps curb hunger for as long as four hours
Re-energizes the body
Loaded with vitamins and minerals
Tastes great and comes in different flavors
Cons
Caution
There you have it – 10 best protein powders that you can consume with water, milk, almond milk, and soy milk. You may also add them to pancake and cake mixes and enhance the protein content of a delicious breakfast or dessert. "A good consumption of protein is highly recommended for optimum health. However, excess protein in the diet might lead to kidney damage," says Rowinda Dimech, a registered dietitian. So, make sure to talk to your doctor and fitness trainer before you consume any of these protein powders. They will help you select the best protein powder for you and also fine-tune the dose.
Remember, protein powders are not only for men, and they will not make you look bulky. With that in mind, start consuming protein powder and look and feel your best. Take care!
Why Trust StyleCraze?
Aditi Naskar, the author of this article, has a diploma in health and wellness and is a fitness enthusiast. She agrees that protein powders are a great way to add protein to a diet, especially for women. She recommends using these powders after studying each of them and reading through their reviews on various forums. She chose these powders based on the ingredients, the absence of elements like gluten, soy, and GMOs, and their weight loss benefits.
Frequently Asked Questions
Can we take protein powder on an empty stomach?
Yes, it is beneficial to take protein powder on an empty stomach. It helps in easier digestion and absorption.
Is protein powder good for diabetes?
Yes, powder protein may stimulate insulin secretion in people and balance the insulin index in your body.
What kind of protein is the best for women?
Egg white protein is the best for women as it is healthier and contains less fat.
How much protein should a woman have daily to lose weight?
A woman should consume 0.5 grams to 1.0 grams of protein per pound of body weight. For example, a 120-pound woman should consume 60 grams to 120 grams of protein per day.
When should a woman drink a protein shake?
Drink protein shakes within one to two hours after your workout.
Is it good to drink protein powder every day?
Yes, it is good to drink protein powder every day. Consult your trainer or doctor to know about the amount of protein powder you should consume.
Can a teenager have protein powder?
No, it is not recommended for teenagers to have protein powders until they are medically asked to do so.
Recommended Articles