11 Best Protein Shakes For Weight Loss And Muscle Gain In 2023
Consume a diet that aids weight loss and maintains your muscle mass effectively. Proteins are crucial nutrients to keep your body healthy and conditioned. However, fitness coaches and experts recommend protein shakes when you are not consuming enough proteins in your diet. The best protein shakes for weight loss will strengthen your muscles, keep your hunger at bay, and invigorate metabolism. Protein shakes help to lose unwanted fat without making you weak. They might include ingredients like soy, hemp, or casein. Try out our list of the best protein shakes for weight loss. Check them out below!

What Are Protein Shakes?
Humans need 0.8 g of protein per kilogram of body weight per day. But research shows that most of us lack an adequate amount of protein – meaning the dietary protein intake is not satisfactory. Moreover, you may not find the time to cook a proper meal due to the fast-paced lifestyle. But our body needs protein to function properly and efficiently. This factor has made protein shakes/supplements popular. What is it? Well, a protein shake is exactly what the name says – it's protein! To be more specific – protein powders of whey, casein, hemp, or soy protein containing the essential amino acids are mixed with water, milk, or added to breakfast bowl or smoothies. Now, let's find out how protein shakes can can help you with fat loss.
How Protein Shakes Aid Weight Loss?
If you are not getting the required daily dose of protein, you must take protein shakes to help your body build muscle, hormones, and enzymes to function properly, maintain proper cellular and biochemical functions, produce immune system components, and help in growth, muscle contraction, wound healing, and improve cardiovascular functions. Now, all these functions are directly or indirectly related to weight loss. Directly, proteins take more energy to metabolize thereby creating a negative energy balance and proteins increase satiety and reduce the ghrelin (hunger hormone) levels, keeping your hunger pangs at bay. Indirectly, proteins aid weight loss by helping in gluconeogenesis thereby controlling blood sugar levels. Proteins also aid weight loss by synthesizing biomolecules that take part in various functions of the cells and the body. But the next big question is, when to drink the protein shakes to lose weight? Let's find out.
When To Drink Protein Shakes For Weight Loss?
The best time to drink a protein shake is the time when you are more prone to snacking. For example, if you like to snack before lunch or during the evenings, drinking a protein shake instead, will help you shed the flab. Some people also consume protein shake post-workout to enhance their body's muscle-building capabilities. So, if you have a rigorous workout routine and you are looking at replenishing protein in the muscles, you can have a protein shake after exercising. Now, there are many protein shakes available in the market that are recommended by fitness experts or nutritionists. Here's a list of protein shakes that you can try for optimum nutrition.
11 Protein Shakes For Weight Loss
It is one of the best protein powders available in the market. It contains 24g of whey protein, 1g carbohydrate, and 1g fat per serving. It also contains 5.5g branched chain amino acids (BCAA) and more than 4 g of glutamine and glutamic acid per one serving. You can drink it first thing in the morning, post-workout, or just as a meal replacement. Make sure to mix it with water or milk according to the directions on the label. Click here to check out an in-depth review of this well reputable fitness product.
Product Dimensions: 5.99 x 5.99 x 9.94 inches | Weight: 1.98 Pounds
Pros
Keto-friendly
Gluten-free
Easy to swallow
Great taste
Cons
Might have artificial sweeteners
2.
Best Quality:
Pro JYM
The next most recommended protein powder for weight loss and building muscle is Pro JYM. Each serving of Pro JYM gives 24g of best quality protein and contains high-quality whey-protein, micellar casein, egg albumin, and milk isolate protein. If you are looking for a protein powder that helps you rebuild the muscles and tone up, you must get Pro JYM. Here's a personal review video featuring the reviewer's experience to help you get a better understanding of this trusted product for weight loss.
Product Dimensions: 8 x 8 x 10 inches | Weight: 4.41 Pounds
Pros
Great taste
High-quality protein
Unisex
No spiking
Versatile use
Cons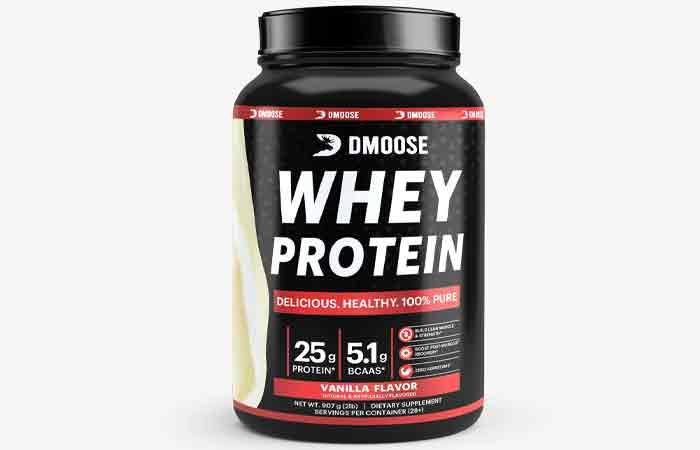 The DMOOSE Whey Protein Powder is formulated with cold-processed, non-denatured whey that boosts your metabolism rate and increases your energy levels. It strengthens your bones and balances your cholesterol and blood sugar levels, reducing the risk of heart disease. This naturally-flavored powder is packed with a digestive enzyme blend that aids digestion. This mass gainer helps build muscle strength and minimizes your recovery time after a workout. This whey protein powder provides 25 grams of protein concentrate per serving. You can consume it daily to lose, gain, or maintain your body weight.
Pros
Easy to mix
Easy to digest
Cold-processed
Naturally flavored
Non-GMO
Gluten-free
No amino spiking
Aspartame-free
Gluten-free
Hormone-free
Soy-free
Cons
Might be too sweet for some
4.
Best Post-Workout Drink:
Nitro-Tech
Want to improve your muscle performance or want to prepare yourself for an upcoming competition? Go for Nitro-Tech protein powder. It contains whey protein and is enriched with creatine and essential amino acids. It helps in speedy recovery and prevents fatigue and muscle soreness. It is best to drink for post-workout nutrition. Reviewers online highly rate this product for its blendability.
Item Weight: 2.2 Pounds | Product Dimensions: 6 x 6 x 8 inches
Pros
Ideal for post-workout
Unisex
Digests easily
Improves recovery
Cons
None
Calcium is essential for women and this protein powder, Gold Standard 100 % casein, is a good choice as it provides you with 60% of daily value of calcium. It also provides 24g slow digesting micellar casein protein, 5g natural BCAA, and 5g glutamine and glutamic acid. You can drink this in between meals if you have a tendency to snack at odd times. Need more information or practical insights on the product? Watch this video for an in-depth review and the tester's experience.
Item Weight: 2 Pounds | Product Dimensions: 6 x 6 x 10 inches
Pros
Absorbs quickly
Creamy Consistency
Tastes good
Affordable
Cons
6.
Best Aspartame-Free:
Syntha-6
Syntha-6 is a unique blend of fast, medium, and slow digesting proteins and it also gives 5g of fiber per serving. It also contains BCAAs, peptides, nonessential amino acids, and Glutamine. Drink it post workout as per your weight loss plan as it helps in muscle recovery and is also aspartame-free.
Item Weight: 5.3 Pounds | Product Dimensions: 7.99 x 7.99 x 10.91 inches
Pros
Aspartame-free
Ideal for post-workout
Promotes recovery
Value for money
Cons
May have an unpleasant taste
Garden of Life Raw Organic Fit High Protein For Weight Loss is a plant-based protein powder, providing 28g protein per serving. It is formulated with raw organic ashwagandha to fight cravings, green coffee bean extract, cinnamon, and chromium to burn fat for your weight loss journey, while enzymes and probiotics improve digestion. This chocolate flavor, low-sugar vegan drink also helps maintain healthy blood sugar levels and is free from gluten, soy, and dairy.
Product Dimensions: 4.88 x 4.88 x 6.88 inches | Weight: 15.8 Ounces
Pros
Fights cravings
Organic
Gluten-free
Dairy-free
Soy-free
Non-GMO plant protein
U Kosher
Cons
None
Want to try a delicious dairy-free, GMO-free, and a gluten-free protein shake? Try Orgain Vegan Nutritional Shake. It provides 16g protein per serving – the protein being extracted from flax, chia, hemp, organic brown rice, and organic fruit and veggies. It is a great protein supplement and can be used as a meal replacement option.
Item Weight: 132 Ounces | Number of Items: 12
Pros
Dairy-free
USDA Organic
Vegan
Unisex
Gluten-free
Dairy-free
Soy-free
Kosher
Non-GMO
Carrageenan-free
Diabetic friendly
No artificial colors, flavors, or preservatives
Cons
SlimFast Original Meal Replacement Shakes come in a pack of 8 individually- bottled shakes. Each bottle provides 10g protein, 5g fiber, and 180 calories, 24 vitamins, and essential minerals. It makes up for four hours of hunger control, syncing perfectly with our fast-paced lifestyles. It is available in many delicious flavors to make losing weight an easy process.
Item Weight: 6.66 Pounds | Product Dimensions: 9.88 x 4.85 x 6.75 inches
Pros
Curbs appetite
Gluten-free
Diet-friendly
Value for money
Cons
None
This grass-fed protein drink provides 20g protein and 4g fiber per serving. This is a non-GMO, gluten-free, lactose-free, soy-free, artificial ingredient-free, and is sweetened with fair-trade organic blue algae.
Number of Items: 12 | Product Dimensions: 2.15 x 2.2 x 7 inches | Weight: 11.5 Ounces
Pros
Vegetarian
Soy-free
Keto-friendly
Sugar-free
Low-calorie
Gluten-free
Lactose-free
Non-GMO
BPA-Free
Cons
None
BSN ISOBURN Fat Burning Protein Powder Matrix offers 20g of whey protein per serving. It contains L-carnitine, lepticore, and green coffee extract to support the fat-burning process and lose weight effectively. Free from caffeine, it is ideal to be consumed any time of the day for a lean muscled body.
Item Weight: 1.74 Pounds
Pros
Non-caffeinated
Suitable for any time use
Nice flavor
Value for money
Cons
None
*The prices provided in this article are based on the latest available information. However, they may vary due to changes in pricing by the seller and/or promotional offers.
*Subject to Availability
Now, if drinking low-carb protein powders or protein shakes are not your thing then you can try making protein shakes at home. Here are a few recipes for you to try.
5 Yummy Homemade Protein Shake Recipes
11. Strawberry, Chia, Almond Milk
Ingredients
1 cup strawberries
1 cup almond milk
2 teaspoons chia seeds
How To Prepare
Blend the strawberries with almond milk and chia seeds.
Drink it with breakfast or post workout.
12. Chocolate, Peanut Butter, Banana
Ingredients
1 banana
2 tablespoons peanut butter
3 tablespoons of melted dark chocolate
How To Prepare
Blend all the ingredients.
Add a little milk if the blend is too thick.
Pour it into a glass and enjoy the chocolate-loaded feast!
13. Raw Egg, Milk, Honey
Ingredients
1 raw egg white
1 cup milk
2 teaspoons honey
How To Prepare
Mix egg white, milk, and honey.
Drink it before or after working out.
14. Oats And Berry
Ingredients
2 tablespoons oats
4 blueberries
5 strawberries
4 blackberries
1 cup warm milk
2 teaspoon maple syrup
How To Prepare
Blitz all the ingredients to make a delicious protein smoothie.
15. Yogurt, Kiwi, Flaxseed
Ingredients
1 cup yogurt
½ cup kiwi
1 teaspoon ground flaxseeds
1 teaspoon honey
How To Prepare
Blend yogurt, kiwi, ground flaxseeds, and honey together to make a thick protein shake.
 These delicious homemade protein shakes and the protein powders will help you in many different ways for weight loss. Want to know how? Read below.
Benefits Of  Protein Shakes For Weight Loss 
Protein shakes help burn calories by building muscle and boosting the metabolism.
Proteins are a great replacement for bad carbs thereby preventing blood sugar spikes.
Protein shakes help increase satiety and keep you from eating junk.
Protein shakes help reduce the waistline and help burn belly fat.
It is the best meal replacement option for those who do not have time to cook.
Now, let us find out how else you can add protein to your diet?
How To Make Your Diet Protein-Rich?
Here are a few tips on how to make your diet rich in types of protein.
Tip#1 – Include a source of protein in every meal.
Tip#2 – Add nuts and seeds to your diet.
Tip#3 – If you are a vegetarian or vegan, drink vegan protein powder shakes.
Tip#4 – Try different recipes to make your protein-rich food more fun and innovative.
Well, now we have almost come to an end – just one thing. Are there any side effects of protein shakes? Find out below.
Protein Shake Side Effects
Some people drink protein shakes even when they are on a high protein diet, i.e. they get enough protein from whole foods. In this case, they may damage the kidneys in the long run and may experience painful joints.
You may suffer from digestive problems.
If you do not exercise regularly and eat well, you will start looking bulky.
You may experience hair loss if your diet becomes dependent only on protein shakes.
Hormonal balance may get disrupted.
Drinking too much protein shake may damage your liver.
Protein shakes may have a negative interaction with a few drugs. Therefore, it is advisable to consult your healthcare or wellness consultant before including protein shakes in your diet.
Why Trust Stylecraze?
Aditi Naskar, the author of this article, holds a diploma in health and wellness. She is passionate about reviewing fitness and health products. She has listed the best protein shakes for weight loss after thorough research and reviewing of various products available on the market. Right from listing the best products available to instructing the readers how to choose the best one, she has got you covered.
Frequently Asked Questions
How many protein shakes should you drink a day to lose weight?
Drink one or two protein shakes a day to lose weight. However, it can only complement a healthy diet and not supplement one.
When should you drink protein shakes?
Drink protein shakes at least 30 minutes to an hour after exercising. This time frame is known as the anabolic window which refers to the short time after a workout when your muscles tend to repair and recover.
How long after drinking a protein shake should I eat?
Wait for 45 minutes to an hour to eat after having your protein shake.
What is the best-tasting protein shake for weight loss?
The Garden of Life Raw Organic Fit High Protein For Weight Loss is the best-tasting protein shake. It is low in calories and at the same time, it contains cinnamon, green coffee bean extract, and chromium that burns extra calories while tasting good. The shake is free from gluten, dairy, and soy.
Can I drink a protein shake before bed?
Yes, drink a protein shake before bed to help your body build muscles as you rest and improve the quality of your sleep.
Can we drink protein shakes on an empty stomach?
Yes, you can drink a protein shake on an empty stomach.
Recommended Articles: