4 Best Protein Treatments For Natural Hair | Types & Benefits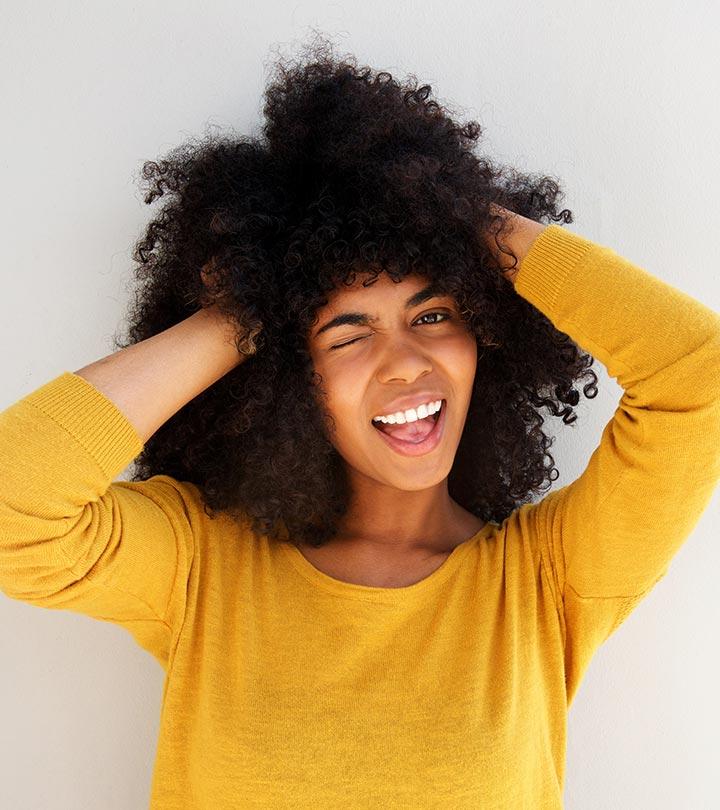 Protein treatment for natural hair is worth trying, at least, that is what the trends suggest. Amino acids, which form the building blocks of protein, have hair-strengthening properties. If you are not convinced yet, read this article to know more about this novel therapy and the best protein products to choose from. Read on!
What Is Protein Treatment?
Do you have split ends? Is your hair weak, dry, and brittle? Protein treatment is a temporary yet effective solution for such problems. Keratin, the natural protein in our hair, is highly prone to damage caused by exposure to the sun, wind, pollutants, and chemical treatments (1). Protein treatments nourish and strengthen your hair externally, just like conditioning treatments. They come in various types that are listed in the next section.
Types Of Protein Treatments
These are used to treat mild hair damage and are good for regular hair maintenance every 1-2 months.
These treatments are beneficial for slightly damaged hair and are also known as conditioning masks. They are ideal for regular hair maintenance.
Deep Penetrating Treatments
Deep penetrating treatments are perfect for treating moderately damaged hair. They are known for their intense moisturization properties and are recommended to be used once every two weeks.
Reconstructors are used to treat severely damaged hair and are meant to be used once every two weeks.
Proteins treatments can give your damaged hair a new lease of life. To know more about how they benefit your hair, check out the next section.
Benefits Of Protein Treatment For Natural Hair
If you don't want to spend a bomb on getting a protein treatment at a salon, here are some natural protein treatments that you can try at home.
Natural Protein Hair Treatments
Avocado contains fatty acids and proteins that repair, strengthen, and nourish damaged hair. You can prepare a protein treatment by simply mashing a couple of avocados or mixing mashed avocados with mayonnaise. You can apply this mask all over your hair and scalp to condition and nourish them (4), (5).
Dairy products, such as yogurt and sour cream, contain proteins and lactic acid that cleanse your hair. You can prepare a protein conditioner by mixing an egg and some yogurt. Leave the mixture on your hair for about 20 minutes before washing it off with lukewarm water (5).
How To Make A Natural Protein Treatment For Natural Hair
You can prepare your own protein treatment at home by using a combination of ingredients. You can make a protein-rich hair pack using eggs, avocado, or greek yogurt and combining them with conditioning ingredients like coconut oil, honey, coconut milk, banana, cream, or mayonnaise. Warm up the mixture, apply it all over damp hair, and cover your head with a shower cap. Leave the mixture on for about 30-40 minutes and then wash your hair thoroughly.
Protein treatments are essential to repair, nourish, strengthen, and volumize damaged hair. They intensely moisturize your hair to restore its health. You can prepare your own protein treatment at home, buy it from a store, or go to a salon to get it done. However, one thing you need to remember is that your hair can harden or experience breakage if you use these treatments too often or for too long. So you need to assess your hair's needs and plan your protein treatments accordingly.
A protein treatment for natural hair repairs split ends and weak, dry, and brittle hair. They replenish and fortify the hair externally. There are different types of protein treatments, like protein packs, light treatments, deep penetrating treatments, and reconstructors. There are many benefits to using a protein treatment on natural hair. They soften, moisturize, and strengthen your hair, leaving you with thicker, longer, and healthier strands. You can also try natural protein treatments made with natural ingredients like avocado and greek yogurt. Apply a protein treatment on your hair once or twice a month to reap its benefits. Don't overuse the treatment as it may lead to your hair hardening or breaking.
Key Takeaways
Protein treatments play an important role in repairing, nourishing, strengthening, and volumizing damaged hair.
You can choose a light protein hair treatment or a deep penetrating treatment based on your hair needs.
Choose from a natural DIY protein treatment at home, a store-bought treatment, or book an appointment at the salon.
Sources
Articles on StyleCraze are backed by verified information from peer-reviewed and academic research papers, reputed organizations, research institutions, and medical associations to ensure accuracy and relevance. Read our editorial policy to learn more.
The following two tabs change content below.