Pumpkin Seed Oil For Hair: Can It Increase Hair Growth?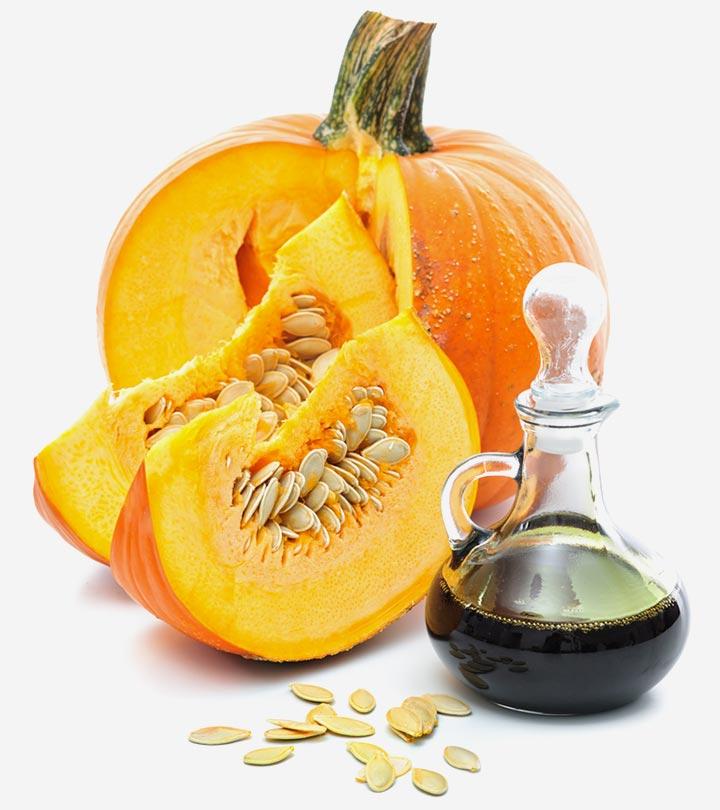 Are you on the quest for that one ingredient that can put your hair woes to rest? Pumpkin seed oil could probably be it. It is claimed by many to promote hair growth. But what does the research say? Can you use it without experiencing any side effects? Here, we discuss the pumpkin seed oil and its effects on hair growth.
What Is Pumpkin Seed Oil?
Pumpkin seed oil is extracted by cold pressing pumpkin seeds. These seeds are dried, hulled, and roasted before the extraction of the oil. The oil was first discovered in Austria in the seventeenth century. The oil is used as a topical treatment for skin and hair. How does it benefit hair? Let us understand in the following section.
Does Pumpkin Seed Oil Promote Hair Growth?
One study suggests that pumpkin seed oil may help promote hair growth (1). Men who took 400 milligrams of pumpkin seed oil every day for 24 weeks saw a 40 percent increase in their hair growth. But the exact mechanism of the oil that led to the hair growth is yet to be studied.
Also, the study had a couple of limitations. One was the use of a multi-ingredient supplement that included pumpkin seed oil and other components like tomato powder and corn silk powder. The contribution of pumpkin oil alone was hard to determine. The other limitation was the absence of any women participants in the study. Hence, the effects of the oil in women are still unknown.
Although the research concludes that pumpkin seed oil could be considered an alternative treatment option for hair loss, more studies are warranted in this regard.
In the following section, we have discussed how you can use the oil for promoting hair growth.
How To Use Pumpkin Seed Oil For Hair Growth
1. Topical Application Of Pumpkin Seed Oil
You Will Need
Pumpkin seed oil, 2 to 3 drops
What You Have To Do
Apply the oil to the scalp.
Massage for 15 to 20 minutes.
Rinse as usual.
How Often You Should Do It
2 to 3 times a week
2. Pumpkin Seed Oil And Peppermint Oil
Peppermint oil may promote hair growth without any toxic effects (2). Using it along with pumpkin seed oil may help promote hair health.
You Will Need
Pumpkin seed oil, 2 to 3 drops
Peppermint oil, 2 to 3 drops
What You Have To Do
Mix both oils in your palm.
Apply the mixture to the scalp.
Massage for 15 to 20 minutes.
How Often You Should Do It
Twice a week
The benefits of pumpkin oil for hair growth are inconclusive. But people still use it. Does this mean it has no side effects?
Side Effects Of Pumpkin Seed Oil
Pumpkin seed oil is considered safe for use. Anecdotal evidence suggests that the oil is safe for ingestion as well as topical application. Limited information is available about its side effects. Also, research on the effects of pumpkin seed oil on pregnant and breastfeeding women is scarce (they may avoid the oil to be on the safe side).
Conclusion
Pumpkin seed oil has been used as a food supplement for hundreds of years. While many claim the oil has benefits for hair and scalp health, research is limited. You may still try the oil and see the benefits for yourself. It is unlikely it may cause any side effects, but do visit a doctor should such an event arise.
Expert's Answers For Readers' Questions
Does pumpkin seed oil block DHT?
It is believed that pumpkin seed oil may block DHT and promote hair growth. However, research is limited in this regard.
Can pumpkin seed oil treat baldness?
The oil seems to have some effect in promoting hair growth. But more research is warranted.
2 sources
Stylecraze has strict sourcing guidelines and relies on peer-reviewed studies, academic research institutions, and medical associations. We avoid using tertiary references. You can learn more about how we ensure our content is accurate and current by reading our
editorial policy
.
Recommended Articles
The following two tabs change content below.

Latest posts by Sucharita Mishra (see all)

Sucharita Mishra
Sucharita Mishra has a Master's degree in Biotechnology and specializes in writing on Health and Wellness. She has worked on determining various heavy metals present in green tea for her Master's dissertation at CSIR- CFTRI, Mysuru. After completing her degree, Sucharita decided to pursue her passion for writing. She is addicted to all things black and aspires to become a bat one day.