10 Best Pumpkin Skin Care Products To Brighten Your Skin – 2022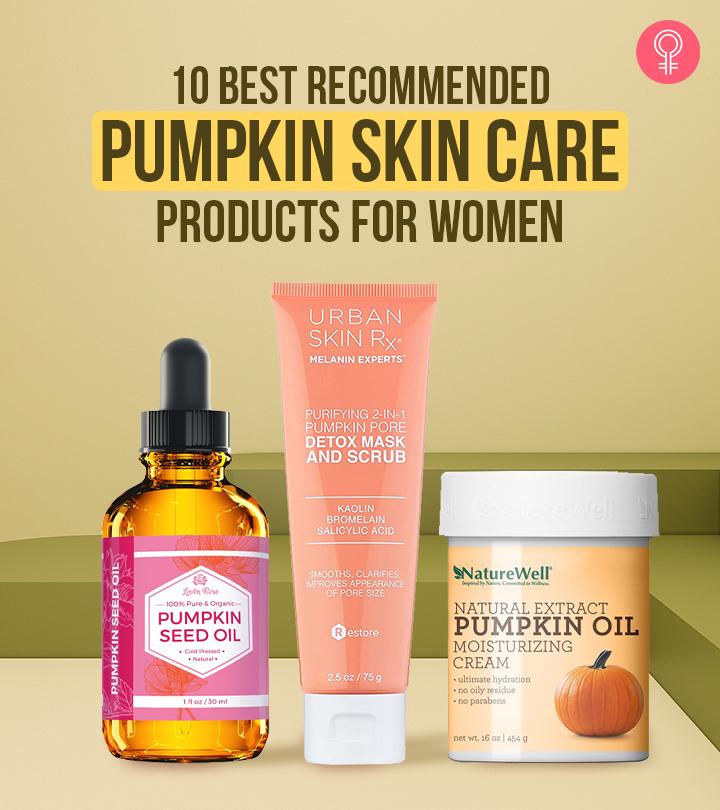 Are you looking for pumpkin skin care products that you can use for all fall and beyond? Fret no more! We have got you covered.
Be it a sculpted pumpkin for Halloween or a pumpkin mocha at your favorite coffee shop; we can all admit that the simple pumpkin wins the taste game every time. Besides being a delicious delicacy, pumpkin could also be a key ingredient in your skin care routine.
Pumpkin is high in fruit enzymes and alpha-hydroxy acids, which cleanse the skin while increasing cell regeneration. In addition, it's high in zinc, which helps with acne and antioxidants, which protects your skin from the sun, brown spots, and sagging skin.
Why not use all that pumpkin has to provide and use some pumpkin-based products? We've compiled a list of the top 10 pumpkin skincare products for glowing, smooth skin. Continue reading to learn more.
If you love pumpkin pie, you will probably enjoy rubbing this pumpkin and cinnamon enriched mask on your face. It is infused with fruit stem cells, glycolic acid, and vitamin C that work simultaneously to melt away dead surface cells, exfoliate the skin, and reveal brighter complexion. Additionally, the Manuka honey and organic pumpkin extracts in this mask nourish the skin. The beta carotene in the mask evens out one's skin tone and texture. If you want to find out more about this product and its usage, make sure to check out this review on YouTube.
Key Ingredients: Pumpkin Puree, Manuka Honey, Vitamin C
Pros
Lightens dark spots
Hydrates skin
Reduces breakouts
Brightens skin
Controls sebum
Smoothens skin texture
Pleasant fragrance
Hypoallergenic
Gluten-free
Cruelty-free
Petrochemical-free
Preservative-free
Paraben-free
Sulfate-free
Non-GMO
pH-balanced
No synthetic fragrances
Cons
May cause a tingling sensation
The NatureWell Natural Extract Pumpkin Oil Moisturizing Cream is a lightly scented moisturizer with creamy pumpkin notes. It is formulated with plant-based ingredients. This pumpkin fruit rejuvenates and conditions the skin to make it appear more toned, radiant, and brightened. The pumpkin extract and pumpkin seed oil in the cream offer antioxidant protection to the skin and boost its moisture balance.
Key Ingredients: Pumpkin oil, Pumpkin extract, Pumpkin fruit
Pros
Moisturizes skin
Softens skin
Smoothens skin
Non-greasy
Non-sticky
Mild fragrance
Value for money
Gluten-free
Cruelty-free
Non-GMO
Soy-free
No artificial flavors
No artificial colors
Paraben-free
Dye-free
Cons
None
The Acure Brightening Glowing Serum is designed to give you a brighter appearance and make your skin glow. It is concentrated with natural ingredients like argan oil to restore skin moisture, borage oil to soothe the skin, and a blend of cranberry seed and pumpkin seed oils to provide antioxidant protection.
Key Ingredients: Pumpkin seed oil, Cranberry seed oil, Borage oil, Argan oil
Pros
Suits all skin types
Moisturizes skin
Brightens skin
Prevents breakouts
Reduces flakiness
Non-comedogenic
Pleasant fragrance
Paraben-free
Sulfate-free
Cruelty-free
Petrolatum-free
Mineral oil-free
Formaldehyde-free
Vegan
Cons
None
If you are dealing with rough skin texture, blemishes, dull skin, and signs of aging, the Leven Rose 100% Pure & Organic Pumpkin Seed Oil is your all-in-one solution. This therapeutic grade organic pumpkin seed oil provides anti-inflammatory and moisturizing benefits. It helps treat breakouts, acne scars, stretch marks, and blemishes.
In addition, this oil also has a plethora of benefits for all your hair concerns. The antioxidants in the pumpkin seed oil strengthen hair follicles and fight hair loss while its proteins make your hair lustrous, add shine, reduce heat damage, and renew split ends.
Key Ingredients: Organic pumpkin seed oil
Pros
Moisturizes skin
Calms eczema
Treats scars
Eliminates breakouts
Value for money
Paraben-free
Sulfate-free
Cruelty-free
Non-GMO
Fragrance-free
Vegan
Cons
None
The PCA Skin Nutrient Toner refines pores and nourishes the skin. The vitamins, amino acids, and enzymes in the toner work to gently exfoliate the skin. The toner is formulated with pumpkin wine that is enriched with vitamins A and C and lactic acid that moisturize the skin. In addition, it contains the skin-supporting ingredient called aminoguanidine that makes your skin soft and supple. This toner is suitable for all skin types and can be an effective solution for anyone dealing with acne, signs of aging, discoloration, and skin sensitivity.
Key Ingredients: Organic pumpkin seed oil
Pros
Pleasant fragrance
Evens skin texture
Minimizes pores
Gentle on the skin
Cons
Contains denatured alcohol
The Aveeno OAT MASK with pumpkin seed extract is designed to hydrate your skin and revive its natural glow. It especially benefits those with dry skin. It is formulated with colloidal oatmeal that protects the skin, restores the skin's pH, and strengthens the skin's moisture barrier. It protects the skin from water loss and prevents skin dryness. The pumpkin seed extract helps balance the skin tone while the feverfew extract soothes and calms the skin. If you need further convincing, check this YouTuber's review out.
Key Ingredients: Colloidal oatmeal, Pumpkin seed extract, Feverfew extract
Pros
Softens skin
Gentle on the skin
Calms irritation
Controls excess oil
Mild fragrance
Soothes redness
Paraben-free
Phthalate-free
Non-comedogenic
Allergy-tested
Cons
None 
If you are looking to get nourished, luxurious lips, the Burt's Bees Pumpkin Spice Moisturizing Lip Balm is a must-have. This lip balm is infused with naturally conditioning ingredients of pumpkin seed oil, coconut oil, and beeswax that hydrate your lips to make them look soft and supple. This lip balm is flavored with creamy pumpkin, a hint of rosemary, and a touch of spice. Check out the review of this product on YouTube to know why it is one of the best out there.
Key Ingredients: Beeswax, Pumpkin seed oil, Coconut oil
Pros
Moisturizes skin
Pleasant fragrance
Non-sticky
Petrolatum-free
Paraben-free
Phthalate-free
SLS-free
Cons
The Urban Skin Rx Purifying 2-in-1 Pumpkin Pore Detox Mask And Scrub is designed for people struggling with blemishes, large pore size, clogged pores, uneven skin tone, rough texture, and early signs of aging. This self-warming 2-in-1 pumpkin mask and scrub is infused with a mix of detoxifying clay, exfoliating jojoba beads, vitamins, and enzymes that deeply clean and refresh the skin.
It is formulated with the brand's proprietary ClearTone Advanced Technology that includes a blend of 6 nourishing ingredients that work in conjunction to give you a more even-toned complexion. The scrub also tightens your pores and smoothens skin texture.
Key Ingredients: Kaolin, Salicylic acid, Bromelain, Willow bark extract, Jojoba beads
Pros
Smoothens skin
Prevents breakouts
Tightens pores
Pleasant fragrance
Paraben-free
Sulfate-free
Cruelty-free
Vegan
Cons
MyChelle Dermaceuticals Creamy Pumpkin Cleanser is formulated to wash away surface impurities and environmental toxins. It is effective in exfoliating and unclogging pores that makes the skin brighter and radiant. The cleanser restores the moisture balance, refines, and smooths the skin. It is EWG verified, cruelty-free, and is made without GMOs. Regular use of the cleanser makes you look brighter and radiant.
Key ingredients: Pumpkin powder, Sea Algae, Nutmeg kernel oil, Cinnamon leaf oil
Pros
No parabens
No petroleum
No phthalates
No silicones
No sulfate
No urea
No artificial color and fragrances
Cons
The scent is unpleasant to some.
The Bath & Body Works Marshmallow Pumpkin Latte Shea Butter Hand Cream is a rich and hydrating product with a non-greasy formula. The cream is designed to absorb more quickly. It is formulated with highly moisturizing ingredients like shea butter and vitamin E that nourish the skin while leaving it softer and smoother. It is also infused with a soothing pumpkin latte, toasted marshmallow, creamy sandalwood, and praline musk that leaves a luxurious scent upon application.
Key Ingredients: Shea Butter, Vitamin E
Pros
Moisturizes skin
Pleasant fragrance
Reduces dryness
Cons
Conclusion
These are the best pumpkin skin care products you can incorporate into your daily beauty routine. Pumpkin is packed with antioxidants and will bring you closer to achieving your ideal skin tone and texture. We believe this article has given you enough options to choose from. Make your purchase and start using your favorite pumpkin skin care product today!
Why Trust StyleCraze?
Shiboli Chakraborti, the author, is a certified skin care coach and has a lowdown on the wide range of benefits pumpkin can have on the skin. She has curated the above list of the best pumpkin skin care products after reviewing tons of products and skimming through numerous reviews online. These products help exfoliate the skin and boost skin cell regeneration, preventing the appearance of brown spots.
Recommended Articles