50 Punk Wavy Hairstyles
Embrace your fiery femininity and flaunt it in style with these eye-catching punk hairdos.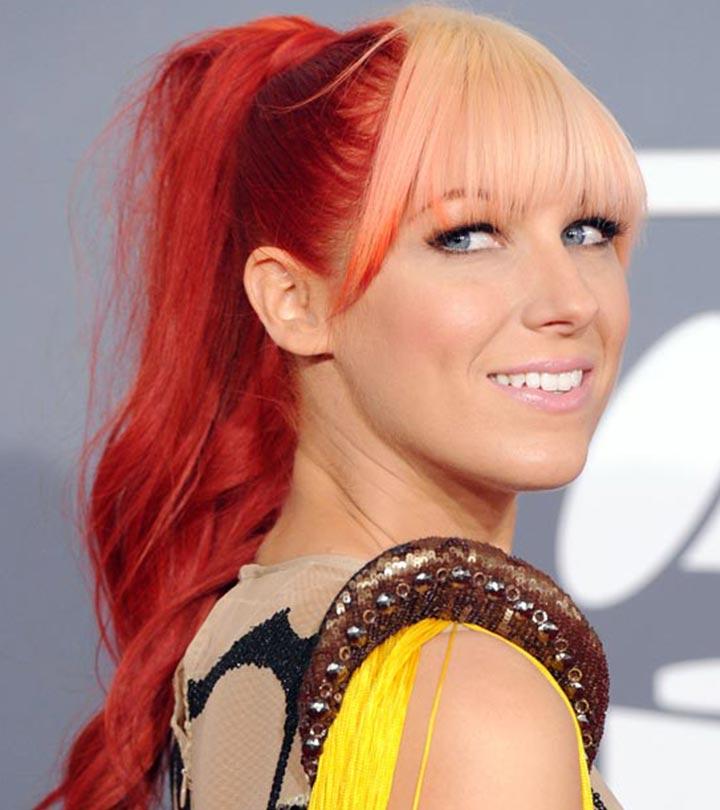 Punk wavy hairstyles are the future of hairstyling, and if you are looking for the perfect ways to dress your hair, this is your right stop. Gone are the days when hair straighteners were the only styling tools used on hair. Now people are experimenting with the perkiest of hairdos, which need many waves. So, if you have gorgeous wavy hair, here is a list of some punk hairstyles you can experiment with. Keep scrolling for more info!
Best 50 Punk Wavy Hairdos:
1. Highlighted Super Long Waves:
Punk doesn't necessarily mean to be short. Have a glimpse of these middle-parted blonde waves with highlights and dark roots and you will fall in love with this quirky mysterious look almost immediately.
2. Messy Voluminous Wavy Bob with Fringes:
This wavy cheek-length bob with thick and long front fringes is teased up a lot in order to give a highly voluminous angular shape. Keep the look punk by maintaining the messy finish.
3. High Wavy Copper-Red Ponytail with Peach Fringes:
Get your long hair colored bright dazzling copper red and create a perfect contrast by dying the long front fringes peach. Now, turn the copper red section into a high ponytail and let the fringes rest on your forehead.
4. Sizzling Ombre Waves with Middle-Part:
Ombre is punk yet extremely trendy. Here, the medium-length wavy layered locks are parted in the middle and ombred from jet black to dark brown to light reddish brown with a true glossy finish.
5. Long Side-Parted Combination Waves:
This playful combination of deep pink and electric blue is just ideal to recreate a loud punk look. Wear it on your long layered wavy hair, if you are confident enough to pull it off rightly.
6. Short Wavy Pixie with Textured Layers:
When it comes to rocking a punk look in the sexiest manner, nothing can beat a short wavy pixie. Pick the golden blonde color with ash green tint and add texture to the layers for a flawless look.
7. Cool Blonde Waves with Dark Fringes and Highlights:
Look remarkably different by choosing an amazing contrast of shades for your long wavy hair. Here, platinum blonde is used as the base color, while the fringes are dyed jet black and a certain section of the waves is also highlighted by it.
8. Bright Yellow Waves with Puffy Front:
Not everyone can go for a bright yellow hair color. But if you are one with a unique taste for fashion, do give this hairstyle a try. Just puff up the top-front hair and pin it at the back. You are done.
9. Light Purple Folded Waves with Shaved Sides:
Give the Mohawk hairstyle a punk twist by folding and pinning the wavy hair at the top-front and letting the free ends swing over the forehead. The light purple shade and almost shaved sides have made the style awesome.
10. High Textured Waves with Shaved Sides:
Here is another cool version of the Mohawk in which the sides are roughly shaved and the middle blonde hair is teased up extensively to create height and volume. Set the look by sprtizing hairspray.
11. Messy and Airy Rolled Back Waves:
Give your ash brown bob with golden highlights a cool casual look by applying mousse to it and rolling it back in an unorganized manner. Keep it fluffy and airy by skipping the smoothening and add a messy flair to complete the look.
12. Thick Wavy Light Golden Blonde Mohawk:
This is a typical Mohawk hairstyle with buzz cut at both sides and at the back. The light golden blonde shade and the feathery texture of the thick wavy middle locks have given it a distinct look.
13. Voluminous and Wispy Ash Brown Bob:
Though this is a regular shoulder-length ash brown bob with frequent layers, the golden blonde highlights, the thin wispy waves all over the head and immense volume have made it look punk.
14. Very Short Downy Bob with Rolled Back Waves:
If you are fond of very short hairstyles, this wavy platinum bob is something that you can give a shot. It features feathery waves with the front hair rolled back to one side, which adds a touch of elegance to the spunk look.
15. Simple Boy Cut with Messy Textured Waves:
Now, this is what we call a true delinquent look that, of course, doesn't fit all. Get a typical boy cut on your natural wavy hair, add texture to the soft waves and finally give it a messy flair. Just perfect!
16. Dark Brown Stacked Hair with Textured Waves:
Back comb all your dark brown hair to give it a stacked look. Now, texturize the waves nicely and let them rest on the stacked hair the way you wish. The whole look should be set with a hairspray.
17. Highlighted Platinum Blonde Waves with Dramatic Volume:
Create spectacular volume on your platinum blonde wavy locks and roll them back to one side. Texturize their free ends as well as the side bangs and give them a wispy flair. Besides, the uniform fringes and the electric blue and cobalt blue highlights are two other vital features of this punk look.
18. Wispy and Textured Wavy Bob with Middle Part:
Middle part your wavy cheek-length bob and add texture to it properly. Now, apply serum to give it a glossy look and add wispy points. A very simple yet hippie look to flaunt, what say?
19. Long Dual Toned Waves with Rounded Fringes:
Grab all the attention to your hair by opting for this unusual hairstyle. Divide your long waves, including the rounded fringes, into two sections and color it honey yellow blonde and deep blue respectively. The bottom section of the first section should also be dyed deep blue for an uneven look.
20. Highly Texturized Front Hairdo with Waves:
Add intense texture to your rich auburn blonde waves and gather it into a huge flowery updo at the top-front section of your head. Apply hairspray generously to keep the look intact.
21. Massive Wavy Hairdo with Textured Ends:
Volumize your rich golden blonde wavy locks to a great extent so that it gets a gigantic shape. Now, roll it to one side and let the messy waves rest on your shoulder. The front fringes and the textured ends are two other specialties of this hairstyle.
22. Messy Boyish Bob with Blonde Waves:
Here is a smart boyish bob with a subtle punk twist in it. Comb your light natural blonde hair with peach lowlights roughly to achieve a messy look and texturize a couple of waves at the top-front for an added touch of sophistication.
23. Short Stacked Bob with Intense Waves:
This is a short jet black bob with stacked hair. Take it in small sections after parting to one side and create thin dense waves. Allow the front waves to swing over your eyes and enjoy the rockstar look.
24. Very Short Bob with Textured Waves:
In this very short bob, the large waves are parted to one side and dyed deep burgundy. You need to add extreme texture to them in order to keep the style organized.
25. Long Precise Dreadlocks on Layered Wavy Hair:
Afro-textured hair is just ideal for punk looks. Here, the neatly made dreadlocks on the long layered waves are enough to make you the center of attraction at any event.
26. Messy Jaw-Length Bob with Wispy Textured Waves:
Apply mousse to your side-parted jaw-length bob and add decent texture to the waves to recreate his look. The striking copper-red shade and the wispy texture are two biggest traits of this funky hairstyle.
27. High, Wavy and Light Purple Mohawk:
As we all know, the Mohawk hairstyle itself is a great attention-grabber. In order to spice it up, you can wave up the thick hair, add height to it and color it light purple.
28. Light Yellow Bob with Voluminous Waves:
Give yourself a true punk look by changing the color of your hair into light yellow and giving it considerable volume. You must create intense waves and add a messy flair to your locks before teasing them up.
29. Short Bob with Long Wavy Textured Front:
This is a light golden brown bob with natural brown roots. All you need to do is create dramatic sweeping waves at the front and texturize them in order to achieve a nice shape.
30. Sharp Ombre Spikes with Subtle Waves:
The list of punk hairstyles remains incomplete without the mention of spikes. But here, the ombre spikes with sharp ends are given a subtle wavy effect all over the head as well as at the nape of the neck for a beautiful twist.
31. Light Brown Waves with Unique Highlights:
Even though these long light brown layered waves represent a simple and decent look, the pale blue and pale green highlights have given them a punk effect. Just roll them to one side and let them flow down your shoulders
32. Light Purple Textured Waves with Shaved Sides:
Get a buzz cut at both sides of your head and color the hair at the center light purple. Now, create delicate waves on it and add texture by spritzing hairspray.
33. Rolled Back and Pinned Waves with Deep Blue Highlights:
The first thing that you will notice about this style is the deep blue highlights on jet black hair. Apply mousse all over the wavy hair, roll it back by creating a puff at the top and finally pin it back for a punk look.
34. Caramel Waves Rolled and Pinned to One Side:
Smoothen up your caramel waves with dark roots and part them to any one side. Now, roll them back to the other side and secure with a bobby pin right above the ear. The pretty curly side sweep should rest on your temple gracefully.
35. Long Waves with Folded Top and Shaved Side:
Here is another copper red wavy hairstyle with ash brown roots and shaved one side. Gather all your waves to the other side and let them cascade your shoulder. Also, take some of them in a few sections, fold separately and secure at the top for an exclusive look.
36. Very Short Bob with Highlighted Wavy Side Bang:
Create a side part on your very short dark brown bob and give it a smooth finish by applying serum. Now, wave up the golden blonde highlighted side bang, give it texture and let it swing over your face.
37. Slicked Side Waves with Shaved One Side:
Get one side of your head shaved completely for a true punk appearance. Now, slick the long jet black waves to the other side and apply a good hair wax for a glossy finish.
38. Half-n-Half Waves with Pinned Back One Side:
As the name suggests, it is a half-n-half hairstyle with thick waves combined with smooth hair at one side. Create a deep side part and pin the smooth section at the back, while the textured waves should frame your face nicely.
39. Side-Parted Waves with Deep Purple Highlights:
Part your medium-length wavy hair to one side and let it flow down your shoulders. The deep purple highlights on the jet black hair have made it look quite funky.
40. Fiery Red Mohawk with Wavy Wispy Hair:
This fiery red Mohawk will bring the punk out of you instantly. The fiery red shade, the highly voluminous waves, and the high wispy ends have made it stand apart from others.
41. Partially Shaved Waves with Dark Brown Highlights:
Get a buzz cut at one side of your head and smoothen up the rest of the long waves. Give it a distinct look by choosing dark brown highlights for your otherwise jet black hair.
42. Asymmetric Blonde Bob with Random Waves:
This is an asymmetric bob featuring natural golden blonde hair with dark ash brown roots. Turn this simple hairstyle into a punk one just by creating random messy waves on it.
43. Light Pink Shoulder-Length Bob with Tight Waves:
In this style, the light pink shade itself is enough to give you a funky look. However, you can create tight waves all through the shoulder-length bob and add significant volume to it in order to add a zing.
44. Side-Swept Textured Waves with Dark Roots:
Deep side part your cheek-length golden blonde bob with dark brown roots. Now, roll all the waves back to the other side to create a pretty side sweep and add texture to them.
45. Highly Messy Blonde Waves Rolled to One Side:
Roll all your natural blonde hair back to any one side of your head without creating a precise part. Tease it up extensively so that it looks highly messy and voluminous. You are done!
46. Very Short Hair with Highly Textured Wavy Top:
This is a very short light reddish blond hairstyle in which both sides of the head is either almost shaved or cut into buzz cut. Now, gather the comparatively longer middle hair at the top and texturize it intensely to create a flowery look.
47. Smooth Topknot with Sweeping Wavy Ends:
Smoothen up all your wavy locks and turn them into a tight topknot. However, keep its ends free and let them sweep over your forehead.  A very cool and funky look. Isn't it?
48. Messy Light Brown Waves with Front Fringes:
Section off the uneven front fringes from ear to ear and let the light brown waves flow down your back or shoulders. Puff up the crown a little bit and give it a messy finish.
49. Smooth and Middle-Parted Platinum Blonde Waves:
Alter your look completely with this exclusive platinum blonde hairstyle. All you need to do is smoothen up the wavy locks and part it in the middle.
50. Triple Braided Light Auburn Waves with Layers:
Divide your top hair into three sections and braid them up separately. Pin all three braids at the back and let rest of the layered waves flow down your shoulders. The light auburn shade has made the style even more unique.
So, ready to bring out the punk within you? Which of these hairstyles did you love the most? Do let us know by leaving a comment below.
Frequently Asked Questions
Why do punks have mohawks?
Punks usually sport mohawks because it is an edgy and rebellious hairstyle. They opt for mohawks because they hate conforming to the traditional or trendy hairstyles that most people sport. As a result, they sport outlandish makeup, haircuts, and clothing to stand out from the crowd.
What is the meaning of punk hairstyle?
Punk hairstyles are usually spiky and shaggy and styled with unique undercuts. They represent independence and freedom.
The following two tabs change content below.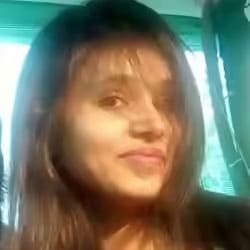 Jyotsana Rao is an engineering graduate from NIT, Nagpur, who discovered her love for writing during her undergraduate days. She...
more