32 Wonderful Purple Hair Color Ideas
Turn some heads wherever you go with this funky, chic, and stunning hair color!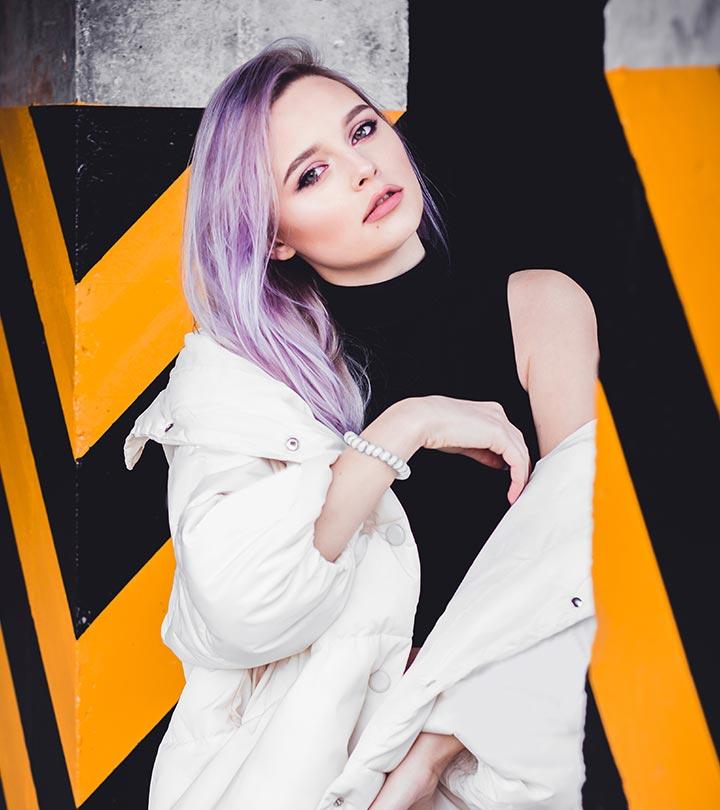 If the color purple intrigues and attracts you, why not color your hair purple? There are many purple hair ideas that look gorgeous. But, not all of them will accentuate your skin undertone. You can choose from electric purple to the more subtle lilac – there is a purple for everyone!
Here's a collection of purple hair ideas to get inspiration for your hair color. But first, check out what you need to consider before picking a purple for your hair. Swipe up!

Before You Get Started
If you have dark hair, you will most likely have to bleach your hair before coloring it purple.
It is wise to opt for lighter shades of purple, like lilac or lavender, for summery days. These pastel shades are in vogue and go well with most skin tones.
To make the purple hue last longer, wash your hair with cool water. Also, wear a scarf before stepping out in the sun to prevent the color from fading.
Limit heat styling as much as possible because colored tresses are more susceptible to damage. Make sure to use a heat protectant before styling your hair.
How To Choose The Right Shade Of Purple For Your Hair
Keep Your Skin Tone In Mind: When choosing a hair color, make sure you keep your surface skin tone and undertone in mind. If you have a warm undertone, opt for golden hues of purple. If you have a cool undertone, go for darker or more intense shades of purple.
Keep Your Daily Wear In Mind: The clothes you wear should look good with the shade of purple you choose. Figure out if you wear more warm, cold, or neutral colors and pick a purple accordingly.
Don't Forget Makeup: If you spend a good amount of time in front of the mirror, making sure your face looks perfect, it is important that you read this. Imagine spending all that time doing your makeup only to realize that it doesn't match your new lilac hair!
Figure Out What You Want: Do you want a complete hair color change? Or are you just looking for some playful streaks? Maybe some face-framing highlights? Do you want to get on the two-toned look bandwagon? Or is a dimensional purple look what you are aiming for? Make sure you check out all your options, so you pick the best shade for you!
Consider The Amount Of Maintenance You'll Need: Think about whether you want to spend a lot of time on maintaining that fresh purple shade. You may have to keep recoloring your hair as frequently as every three weeks. If you are not up for it, consider just getting some streaks.
Here are a few popular purple hair dyes options you can check out if you are planning on coloring your hair at home!
Now, let's take a look at the trending ways that purple hair is being styled right now. Keep scrolling!
32 Wonderful Purple Hair Color Ideas
Licensed hair stylist Jessica Shults tells us, "I love every shade of purple! One of my favorite reasons to go the purple route is that when it fades (which it will do quickly) it looks beautiful as it lightens and almost always leaves a beautiful shade of blonde once it's gone. I believe purple is one of the most eye pleasing colors out of all the vivids, and the versatility of all the shades of purple make it a good sell to anyone looking to spice up their hair game!"
Excited to look at these chic, edgy, and beautiful purple hair colors? Let's get to it then!
1. Purple Color Melt
This is the most subtle purple hair coloring style that you have ever laid your eyes on. The black bangs and deeper roots beautifully melt into the pastel purple shade, which has hints of caramel at the ends. The color melt looks avant-garde, and you don't have to worry even if your roots grow out.
2. Bold Unicorn
How about giving a vibrant magical color to your hair? There is no limit to the creativity you can add to your hair with unicorn hair colors. Bring fairy tales to life, and be a part of the magical world with energetic shades on your hair. These multi-layered ombre shades from dark pink at the roots melt into a pastel blue shades before changing to vibrant purple at the ends. Let the colors make heads turn.
3. Deep Lilac
Kylie Jenner rocked this lilac hair at the MET gala this year. While she did remind all of us of one of the step-sisters from Cinderella, she totally owned the look. This deep lilac looks blended and natural and is perfect for winter.
4. Light Purple With Blue Highlights
Purple and blue are a pair to be reckoned with. If you have colored your hair a nice light purple, here's one way you can jazz it up. Add some bright blue highlights at the ends to bring out the purple. Don't use a very bright blue as it can look tacky. Opt for a more subtle blend.
5. Pastel Lilac
Pastel purple has taken the world by storm, from hair to interior decor and more. This pastel shade suits all skin tones and looks great in summer and fall. The light tips help in framing your face and highlighting your facial features. They also soften your face shape.
6. Intense Light Purple
Looking for a drastic makeover this year? Go the Keke Palmer way! Get a buzz cut and color it purple. But I must warn you – as cool as this hairstyle looks, it comes with a lot of maintenance. You'll need to get your hair redone very frequently to prevent your roots from growing out. I wouldn't advise anyone with wide cheeks or a large forehead to go for this hairstyle as it can make your face look larger.
7. Blonde Purple Ombre
If you want an edgy look, go for these platinum highlights with purple ends. The platinum highlights contrast beautifully against the vibrant purple shade. This color combination works well with cool undertones.
8. Shock Meadow Purple
Purple blended with hints of pink and lavender creates this stunning color palette. If you have a wide face, the dark roots will make your face appear longer and slimmer. These colors will make green, blue, and hazel eyes pop.
9. Super Bright Purple
This is one way to really jazz up your look. The bright purple here is accentuated with some lavender highlights. If you have hazel eyes, this color blend is sure to bring out the golden flecks in them. This hair color goes well with neutral-toned skin and works with all surface skin tones.
10. Dark Purple
Katy Perry is the queen when it comes to hair colors! In this hair look, partial highlights are done on only one layer of hair, which help with framing her face. These highlights add texture and shine to your hair.
11. Unicorn Purple
Unicorns are said to be the life of the party. This is because the color purple makes people think of happy and bright things. This look is perfect for brunettes with cool undertones.
12. Purple To White Ombre
Keeping the top of your hair brown, get a blonde ombre that matches the hue of your undertone. To add intensity to this ombre, color it purple and lighten it as you reach the ends. If you have a square or diamond face shape, this color blend will soften those sharp facial outlines.
13. Rose Purple
I love this hair color! It is a rosy mix that has a reddish-purple hue. Pair these highlights with light brown highlights to add some dimension and texture to your brown locks. Style your hair in waves to make it look flowy.
14. Bright Purple Highlights
Bright purple symbolizes celebration and is often used to portray a rebel. Take that extravagance to your hair with these stunning twirls of bright purple highlights. Style your hair in curls to finish off the look.
15. Deep Plum Purple
Deep plum purple – the color that has every woman in the world asking for more. Keep your roots dark and color your brunette locks this deep plum shade. Get ready to make some serious heads turn!
16. Vampiric Purple
If you have cool-toned skin and are looking for a costume this Halloween, look no further. This stunning vampiric purple will make you look like a modern vampire.
17. Pale Lilac
These pale lilac highlights look stunning. Usually, dark means dull, but these lilac highlights are bright. They go well with medium brown hair with dark roots and also with blonde locks.
18. Deep Pinkish Purple
When you have light brown hair, adding some purple and pink to the mix can give you a whole new hair color like this surreal blend. While dyeing your hair, make sure you blend the dye evenly. This will make the hair change seem more natural.
19. Brown And Deep Lavender
If you have deep brown hair, highlight it with an intense lavender shade. This will give your hair more texture while also showcasing your natural brunette locks. Opt for a balayage look as it will blend the highlights with your natural hair seamlessly.
20. Burgundy Purple
This is the perfect teen rebel blend a girl can get. Bright pink and intense purple blend to create a candy mix that looks incredible in the sun. It is the perfect hair look for those summer holiday vacays you have planned.
21. Light And Dark Purple Highlights
Leave your roots dark, and add some light and dark purple highlights all over your hair. The dark roots will elongate your face while the light and dark highlights will accentuate your eye color and soften your face shape. Remember to match the highlights to your skin's undertone to get the best out of them.
22. Wild Purple
Heavy but muted purple highlights can add oodles of texture to your hair. This means that they can make your hair look thicker than it is. This is the best hair look for fall and winter.
23. Shocking Lilac Ombre
Blonde at the top that fades into a light lilac at the bottom – this ombre is another perfect summer hair color mix. The sun rays will reflect off this color combination well to give you many Instagram-worthy pictures.
24. Rose' Purple
I have a friend who recently got a brown ombre done. Over time, she felt it was too plain and needed just a dash of spice. Her hairstylist suggested adding some purple to her ends to take the look up a notch. If you to jazz up your plain brown hair, go for this color look. It will not disappoint!
25. Glossy Purple
Transitioning to purple is no joke, especially if you've never colored your hair before. Keep in mind that not all shades of purple suit everyone. I cannot stress this enough: talk to a hairstylist before taking the plunge. They will guide you in picking the best purple shade according to your skin and hair color.
26. Muted Purple
If you have dark hair, lighten it with some muted purple highlights. Add a nice purple touch to add gloss to your tresses, and you've got one stellar hair color blend. Looks pretty wild, doesn't it?
27. Dirty Blonde Purple
You don't need to bleach your light brown locks to acquire this color blend. All you need are some lavender highlights and hints of dirty blonde. Keep your roots dark to make the colors blend better and use cool tones to give it that metallic feel.
28. Rebel Purple
Be a rebel and go for an all out contrast. An electric purple will blend well with brown locks. If you have blonde hair, you will need to go a bit lighter. The highlights frame your face beautifully.
29. Blue And Purple Highlights
Honey blonde hair with blue and purple highlights looks divine! If you are petrified of coloring your hair but want to try something new, opt for partial highlights. Contrasts always grab attention, so go for a purple and blue blend that merge in places to create pink.


Quick Tip
You can play with shades of purple like lilac, pastel, plum, bright, and periwinkle, or try purple balayage on blonde hair.
30. Glossy Deep Lavender
There is a reason purple is the color of royalty. It is because it looks stylish and stunning. Keep your roots your natural hair shade and gradually blend it into purple. To create a dimensional effect, keep your ends choppy and light.
31. Deep Dark Plum
This hair color mix is to die for. It has got the perfect amount of black and plum. The colors have been blended so naturally that her hair looks like a curtain. It's perfect!
32. Deep Ashy Purple
Step aside ash blonde, brunettes are ecstatic about this deep ashy purple trend. Straight hair works beautifully with this color. Notice how you see black hair at the front? It helps in framing your face.
Now that you know some great ways to style your purple hair, here's how you can take care of your hair once you color it.
Hair Maintenance For Purple Hair
Oil your hair often. Colored hair needs heavy maintenance, so give it all the nourishment it needs.
Use a color protect shampoo to prevent your hair color from fading quickly.
Consider using a deep conditioner once every week to nourish your hair right from the roots.
Use a protein-based hair mask once every two weeks to restore all the nutrients you lost when coloring and bleaching your hair.
Oil your hair after you return from the salon. Do it gently because your hair will be fragile at this point. After that, keep oiling your hair on a weekly basis.
When you first color your hair, don't style it in tight hairstyles. Allow it to hang loose to avoid breakage. Also, keep your hair protected at night if you have curly hair. Follow the pineapple method to maintain the definition of your curls.

Quick Tip
You may use color-lock products (fixatives and emulsions) to lock-in the pigments, maintain your hair color, and prevent color fading.
Key Takeaways
There are many purple hair ideas that look gorgeous. But, not all of them look good on everybody.
Consider skin tone, daily wear and level of maintenance before choosing to color your hair in purple.
Deep lilac, pastel lilac, deep purple, light purple with blue highlights, rose purple and purple ombre are some of the most popular purple hair looks.
Infographic: Top 7 Purple Hair Color Ideas
Say hello to the hottest hair color in town – purple! Be prepared to command attention with either a fairytale-reminiscent whimsical purple accent or an intense all-out color. There's something for everyone! However, it might be confusing with so many choices to pick from, so we decided to cut down the list even further and share our top 7 picks for the best purple hair color ideas you should know about. Check out the infographic below!

Purple hair color always looks elegant. You can try different shades in this hair color to gracefully freshen up your look. Deep lilac, light purple with blue highlights, pastel lilac, intense light purple, and blonde purple ombre are some popular purple hair color ideas to try. These hair hues will transform your look completely and make you look younger. However, while choosing the hair color, please keep your skin tone and clothing in mind. Try out the purple hair color idea from this list that best suits your age, style, and complexion!
Frequently Asked Questions
Is purple hair dye damaging?
Semi-permanent purple hair dye is not damaging to the hair. However, the ingredients in the dye you choose to use may factor in. Additionally, if you have to undergo a bleaching process to color your hair purple, you may damage your hair slightly.
Is purple hair still trendy?
Yes, purple hair is still trendy with multiple shades and coloring techniques to choose from.
What color does purple hair turn into?
It depends on the intensity of the purple you wear and the original color of your hair. Most commonly it fades to either a pink shade, bluish-green or a very light purple.
Is purple hair unprofessional?
Colored hair is not considered to be formal or professional in some organizations. However, some corporates accept hair color as a part of the individuality and do not correlate it with professionalism.
Is purple hair flattering?
An appropriate shade of purple that complements the skin tone and eye color can look very flattering. However, it is a subjective matter as beauty lies in the eyes of the beholder.
The following two tabs change content below.