20 Pretty Purple Highlights Ideas For Dark Hair
It's the color of royalty, it's the color of luxury, it's the color of power. Purple is a color that is loved by women all over the world because it exudes these amazing qualities. And with the trend of dyeing your hair in funky colors taking the world by storm, purple has made its way onto women's hair in a huge way. What makes this beautiful shade such a favorite among the ladies is the fact that you can play around with it to create a hair look that matches your personality. You could go for a bright, electric shade of purple to create an emo punk rock look or experiment with lighter hues like lilac and mauve to go for a subtle boho flower child style. So, check out our rundown of the top ideas to style purple highlights for your dark hair!
But first, let's look at how you can highlight your hair with a gorgeous purple shade right at home!
How To Add Purple Highlights On Your Dark Hair
What You Need
Hair brush
Towel
Bleach
Volume 40 developer
Red gold corrector
Purple shampoo
Purple hair color
Tint brush
Gloves
Bowl
Aluminum foil
Deep conditioner
What To Do
Start by brushing your hair and draping a towel around your shoulders to avoid staining your clothes.
Put on your gloves.
Mix your bleach, developer, and red gold corrector in a bowl using your tint brush. Check the instructions on all boxes to figure out how much of each product to use and in what proportion.
Separate the section of hair you want to highlight and place it on a strip of aluminum foil.
Use the tint brush to apply bleach to a section of hair from the root to the tip.
Place another aluminum foil on top of this section of hair and fold it at the bottom. This will trap the heat and help develop your bleach faster.
Repeat steps 3 to 5 on all the sections of hair that you want to highlight.
After 15 minutes, remove the bleach from a small section of hair to check if your hair has lightened. If it hasn't, leave it on for a while longer. But make sure you don't leave it on for more than 45 minutes as it can seriously damage your hair.
Wash off your bleach and shampoo it with a purple shampoo to tone down any brassiness.
After your hair has dried, apply the purple hair color to your bleached sections of hair with the help of your tinted brush. Leave it on for the duration indicated on the box.
Wash off the color until the water runs clear and then condition it.
Now that you know how to highlight your hair purple, let's look at all the cool ways that you can style it!
20 Brilliant Ways To Style Purple Highlights In Your Dark Hair
1. Peacock Highlights
Who hasn't admired the beauty of a peacock's gorgeous blue and purple feathers? You could recreate their regal look on your hair by going for these dark purple and burgundy highlights on your black hair. This subtle look also works well if you like to keep things low-key and need to look professional.
2. Electric Purple Highlights On Chocolate Brown Hair
No combination creates a more beautiful hair color than one that makes use of both warm and cool tones. This hair look, for example, expertly uses cool-toned electric purple highlights on a warm chocolate brown base to create a stunning contrast of colors and tones. Sport this look if you're a twenty-something on a quest to "find yourself."
3. Violet Highlights With Red Streaks
The beauty of having long straight hair is that any color you dye it in really stands out. Highlight your hair with a bright purple shade to go for a futuristic ultraviolet look. Accentuate the violet highlights with a few streaks of brassy red to add some dimension and to take the cool factor of this look to a whole new level.
4. All Over Purple Highlights On Curly Bob
A common complaint I hear from my curly haired gals is that any kind of color job won't look good on them. Well, you're wrong, sistah! You can look super funky and fresh with some purple highlights all over your sandy brown curls. You could also throw in a couple of blonde highlights to add some brightness to your look.
5. Lilac Highlights On Dark Ginger Hair
When it comes to highlighting your hair with a bright color, it can be pretty tricky if you are a redhead. But one color that looks great with dark ginger hair is lilac. Highlight your tresses with this soft purple shade to look like a weirdly edgy candy cane princess. Blowdry your hair to get soft rounded edges to finish off the look.
6. Deep Purple Balayage On Jet Black Hair
A huge perk of having jet black hair is that you can highlight it with literally any color and it will look awesome. Go for some deep purple balayage highlights on your black hair to create a totally sexy and mysterious hair look.
7. Subtle Purple Highlights
You know, this may sound weird, but you can actually tell a lot about a someone's personality by looking at the kind of hair color they go for. People who are more introverted usually go for dark highlights that almost match their base color. These super dark purple highlights done on black hair have a subtle tinted effect when indoors but burst to life when hit by sunlight.
8. Sunset Purple Highlights
Have you ever looked at the sky at dusk? When the sun is setting and the sky is enveloped in gorgeous shades of purple, orange, and blue. Recreate that alluring look on your dark brown hair with some bold purple highlights and subtle blonde streaks. And be prepared to make some heads turn.
9. Subtle Blonde And Purple Highlights
Going for a purple, pastel pink and blonde highlight look on your dark brown hair may sound like a disaster, but trust me when I say this – it works, and looks absolutely beautiful. Combine these gorgeous colors to create a hair look that's not too over the top but will definitely have people looking at your hair in wonderment when you pass them by.
10. Shaded Purple And Magenta Highlights
If you're a punk rock princess at heart and want to show it to the entire world, here's a hair look you just can't miss. These super cool highlights start off purple at the top and slowly turn into a bright magenta that takes this bold look to a whole new level. Style this awesome color job in some big curls to rock this look.
11. Popping Purple And Pink Highlights
You may think purple and pink together could be an overdose of colors, but you couldn't be more wrong. Dark brown hair works as a brilliant base for these dark purple and bright pink highlights, which come together to create what I can only call a 'masterpiece.'
12. Purple Hidden Highlights
Not everyone likes going all out with their hair color. Some people prefer to keep their hair looks lowkey. If you are one of those people but still want to experiment with some funky highlights, try out this adorable look. Go for some purple highlights on sections picked up from underneath your top hair. These hidden highlights have a peek-a-boo effect that allows you to sport them even in professional environments.
13.Metallic Purple Highlights On Curly Black Hair
Now here's another highlight look that looks great on naturally curly hair. These metallic purple highlights shimmer against naturally black hair and make you look like a total rockstar who doesn't give a damn about what anyone thinks of her. Style these highlights in a wet hair look to make them look ultra glossy and cool.
14. Purple And Auburn Highlights
Feeling extra wild and want to do something extra cool with your hair? Boy, do I have a gorgeous look for you then! Rich shades of auburn and purple highlights come together beautifully to complement the dark chocolate base of this look. Pair this look with some big, glossy curls to create a style that's one for the ages.
15. Lavender Balayage Highlights
Lavender tea, lavender candles, lavender perfumes…we girls sure do love to have lavender in everything we can get our hands on. Why not extend it to our hair as well? These stunning lavender highlights done up in a balayage style on dusty brown hair looks flirty, feminine, and so pretty. No one will be able to keep their eyes off of you.
16. Mauve All Over Highlights
Have a day job that doesn't allow you to have funky colored hair? (Really sucks if you do.) Well, then you just need to pick a color that does not scream for attention. In this case, you could go for an understated shade of mauve to highlight your dark coffee brown tresses.
17. Lowkey Amethyst Highlights
Jeweled toned highlights have a beauty of their own that is unmatched by any other hair look. These lowkey amethyst highlights are great for anyone who wants to go for a bright pop of color on their hair but does not want to compromise on sophistication. They look especially great on a straight short bob.
18. Purple And Pink Ombre Highlights
You can roam the world and cross the seven seas but you'll never find a hair look as breathtaking as this one. The beauty of ombre highlights is taken to a whole new level with the help of these stunningly bright purple and pink shades that look like they came straight out of a painter's imagination. Pair this look with a long bob done up in low curls to accentuate the beauty of this color job.
19. Understated Purple Highlights
A lot of women shy away from any kind of color job when they have a short bob because they think it won't look any good. But that really is not the case! The only thing you need to keep in mind when you have a short bob is to keep things low-key with the color. You could, for instance, go for these really subtle and understated purple highlights done on just a few sections of hair to create a sophisticated hair look.
20. Ultraviolet Highlights On Jet Black Hair
Fulfil the dreams of your high school self and embrace your inner goth with this ultraviolet hair look. These bright purple highlights create a stunning contrast and stand out beautifully on jet black hair. Style this look in some loose big barrel curls to make your dual toned hair look like something straight out of a fairytale.
Well, ladies, I hope this awesome list gave you some great ideas for styling your purple highlights. Comment below to let us know which of these looks you can't wait to try out!

The following two tabs change content below.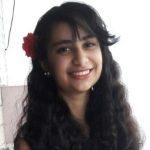 Latest posts by Arshiya Syeda (see all)