Do Purple Potatoes Grow Naturally? Are They Good For You?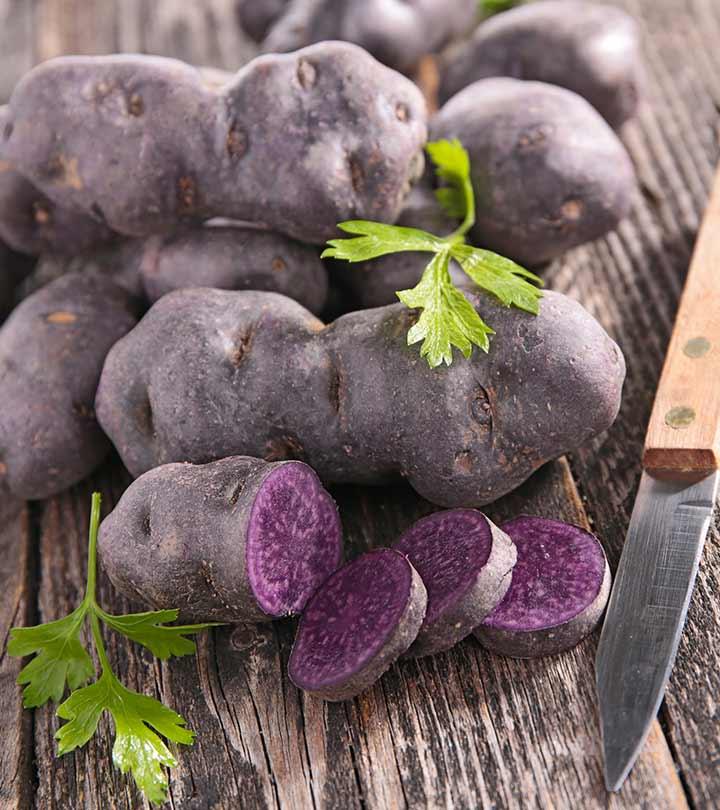 576795
Potatoes are only associated with guilt. Just when you thought of giving up, science made them guilt-free for you. Purple potatoes are the colorful and healthier cousins of regular potatoes.
There are purple-skinned and purple-fleshed cultivars of this variant. The color comes from the high levels of pigment-producing molecules. The pigments are also responsible for all the health benefits of purple potatoes (1). Swipe up to know how and why they are beneficial.
Are Purple Potatoes Real? What Is Unique About Them?
Yes, they are very much real!
Purple potatoes are an enriched variant of the white-fleshed starchy cultivar. These tubers are rich in active molecules called anthocyanins (1).
Anthocyanins are phenolic compounds responsible for the intense color of many fruits and vegetables, including berries, red grapes, red cabbage, and, of course, purple potatoes. These phenolic compounds protect the potatoes from diseases like potato blight (self-defense) (2).
You will find this purple variant in sweet and starchy potatoes. Some could be purple-skinned varieties, and some could have purple flesh. All of them have high amounts of phenolic compounds with minor differences in concentrations.
Where can one find this variety of potatoes?
Where Do Purple Potatoes Come From?
Purple potatoes are native to Peru and Bolivia. You can find their other varieties in parts of Central and South America.
Gradually, they were introduced to the Asian countries. Japan's Okinawa island is famous for its pale purple flesh, white-skinned potatoes. These days, you can find these variants in every supermarket that sells international/gourmet food.
Also, you can eat these tubers with their skins on!
Research reveals that the antioxidant levels in these potatoes are 2-3 times higher than white-fleshed potato because of the presence of anthocyanins (2).
Adding purple potatoes to your meals will enhance their nutritive value. The potato anthocyanins and vitamins have shown to suppress chronic diseases, including cancer (1).
Scroll down to find the scientific evidence that proves such health benefits.
What Are The Benefits of Purple Potatoes?
The anthocyanins in purple potatoes fight diabetes, obesity, and heart disease. They also eliminate free radicals that induce inflammation of the gut, liver, and brain.
1. May Possess Anticancer Effects
Clinical trials show that purple-fleshed potatoes suppress the formation of tumors. They also reduced the size of tumors and polyps in the intestines, colon, and connective tissue by about 50% (3).
The predominant anthocyanins in these tubers were identified as peonidin and cyanidin. These molecules inhibit the cell division and growth in cancer cells. Researchers also report a decrease in other proliferative markers in subjects fed with these potatoes (1).
Several clones of purple potatoes (Peruvian, Okinawan, etc.) are present and are being developed. With further research and validation, they could be used as anticancer agents in humans.
2. Lower Blood Pressure (Hypertension)
Purple potato extracts have shown to lower blood pressure in subjects with hypertension. After four weeks, these individuals showed a 3.5% drop in systolic blood pressure and a 4.3% drop in diastolic blood pressure (4), (5).
There was no effect on the levels of blood lipids and glucose. The bodyweight of the subjects also remained unchanged. The anthocyanins, vitamins, and potassium are responsible for these observations (4).
Consuming the potatoes in regulated amounts could reduce the stiffness of arteries that arises due to cholesterol accumulation and aging. Hence, purple potatoes may not only control hypertension but also prevent cardiovascular diseases (6).
3. Improve Digestion And Gut Health
After digestion, the purple potato polyphenols release active molecules that promote gut health. Studies show that these molecules can inhibit cancers of the GI tract and colon. The high fiber content in these potatoes boosts the growth of good gut bacteria (7), (8).
Purple potato anthocyanins protect your gut and intestinal cells from inflammation and free radical damage. These polyphenols also stop the excessive absorption of iron in the intestines, which could be toxic (7), (8).
4. Maintain Liver Function
A study was performed in 2016 to study the effect of purple potato anthocyanins on animal liver injury. The results revealed increased antioxidant activity in the subjects. These active molecules slowed down the uptake, metabolism, and storage of fats in the liver (9), (10).
These effects could prevent the onset of chronic non-alcoholic fatty liver disease (NAFLD) in mouse models. The potato anthocyanins also protect the liver against inflammation and chemical stress induced by alcohol abuse in mice (9), (10).
Did You Know?
Purple potatoes can help in weight loss by stopping fat accumulation in your body. Adding these tubers to your diet, therefore, lowers the risk of obesity (contrary to popular belief) (11).
Due to its rich and deep color, purple potato is a popular food coloring agent. As a natural extract, it could replace chemical colorants like sodium nitrite. You can add purple or red potatoes to sausages, muffins, bread, cakes, and other non-food products for pink to black shades (12).
Clinical trials on rats prove the safety of purple potatoes in subjects with diabetes. The flavonoids reduce blood glucose and lipids levels. They also improve insulin sensitivity in individuals with type II diabetes (13).
These benefits of purple potatoes are attributed to their antioxidant-rich biochemical profile. Go through the next section for more details.
Biochemical Profile Of Purple Potatoes
Most colored varieties of potatoes have similar nutritional status as the white tuber. They have equivalent amounts of carbohydrates, fibers, proteins, minerals, and vitamins.
The major difference is the concentration of biochemicals – this varies from one color to another. Purple potatoes have exceptionally high amounts of anthocyanins, carotenoids, and phenolic acids.
Purple-skinned tubers contain twice the concentration of phenolic acids as white-skinned tubers. The concentration of these acids was three to four times in purple-fleshed cultivars than that of white-fleshed varieties (14).
The prime phenolic acids are chlorogenic acid, protocatechuic acid, vanillic acid, and p-coumaric acid (14).
The colored tubers have about 5.5 mg to 35 mg/100g of flavonoids (like anthocyanins). The predominant anthocyanins are petunidin, peonidin, cyanidin, pelargonidin, and malvidin (14), (15).
Other flavonoids include catechin, epicatechin, eriodictyol, kaempferol, and naringenin (14).
Scientific data indicates that purple potatoes are nutritionally superior to the regular white ones.
Why not try replacing them with the colored ones?
Scroll down for the delicious recipe with purple potatoes.
How To Cook With Purple Potatoes
Before you start cooking, understand that purple potatoes taste exactly like the white ones. The purple ones wouldn't taste like eggplants, and the reds won't taste like beetroots. Don't let the colors fool you!
You can use these colored tubers in almost all the recipes of white potatoes. Here's one such recipe.
Purple Potato Roast With Garlic
What You Need
Purple potatoes: 1 kg (or 2½ lbs)
Garlic: 3 cloves, minced
Fresh cilantro: 2 tablespoons, chopped (optional)
Extra virgin olive oil: 4 tablespoons
Kosher salt: 3/4 teaspoon (or to taste)
Black pepper: 1/8 teaspoon, ground (or to taste)
Fresh thyme leaves: 2 teaspoons or ½ a teaspoon of dried thyme leaf
Microwave oven
Mixing bowl: large sized
Let's Make It!
Preheat the microwave oven to 400°F (or 200°C).
Brush a large rimmed baking pan or roasting pan with olive oil.
Wash and peel the purple potatoes well. Cut them into 1-inch pieces.
Add the minced garlic, freshly chopped cilantro, olive oil, pepper, and thyme to a mixing bowl.
Add potatoes and toss them well to coat the mixture.
Arrange them in a single layer in the prepared roasting pan.
Roast the potatoes for 20-25 minutes or until browned and tender. Flip them occasionally to cook equally. (You could also use an air-fryer for this step.)
Stir-frying them is another quick option.
When done, transfer to a serving dish.
Serve hot alongside rice, pasta, steak, or just by itself. Enjoy these potatoes with dips of your choice.
Along with enough carbohydrates and fiber, you will also stock up on antioxidants and anti-inflammatory polyphenols by having purple potatoes.
But, purple or pink, they still are potatoes! Aren't potatoes bad for your health?
Yes, only if taken in excess. Moreover, purple potatoes have a richer nutrition profile. Having them in moderation shouldn't harm you.
However, there could be a few issues. Read on.
Do Purple Potatoes Have Any Side Effects?
No toxicity or side effects of purple potatoes have been proved to date. There is almost no trial shedding light on the interactions of these tubers with drugs.
One disadvantage of overeating these could be issues with blood clotting. High amounts of anthocyanins in purple potatoes may interact with anticoagulants/blood thinners.
Hence, we urge you to consult a healthcare provider or nutritionist about the safety of these potatoes. You may be advised to limit your intake depending on the medical history.
In Summary
Purple potatoes are one of nature's wonders. The presence of abundant flavonoids and phenolic acids give them anti-obesity, digestive, and anticancer properties. Potato anthocyanins can also protect your heart, liver, brain, and gut from inflammatory diseases.
Start using them instead of the regular starchy potatoes. Start with our recipe. Share your feedback by leaving a comment in the box below. You can also send in your suggestions and innovative recipes too.
Until next time, enjoy guilt-free meals with purple potatoes!
Sources
Articles on StyleCraze are backed by verified information from peer-reviewed and academic research papers, reputed organizations, research institutions, and medical associations to ensure accuracy and relevance. Check out our
editorial policy
for further details.
The following two tabs change content below.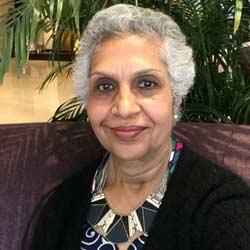 Madhu Sharma
(Registered Dietitian)

Madhu Sharma is a member of the National Executive Committee of IDA. She has been associated for almost three decades with Pediatric Nutrition at PGI while serving in the Gastroenterology Department (20 years) and then the Advanced Pediatric Center (10 yrs) at PGIMER, Chandigarh. She is former Senior Dietitian from PGIMER, Chandigarh, retired in 2012. Madhu has been closely working...

more