Can You Use Purple Shampoo On Brown Hair
Effective formulations that improve the vibrant look and feel of your colored tresses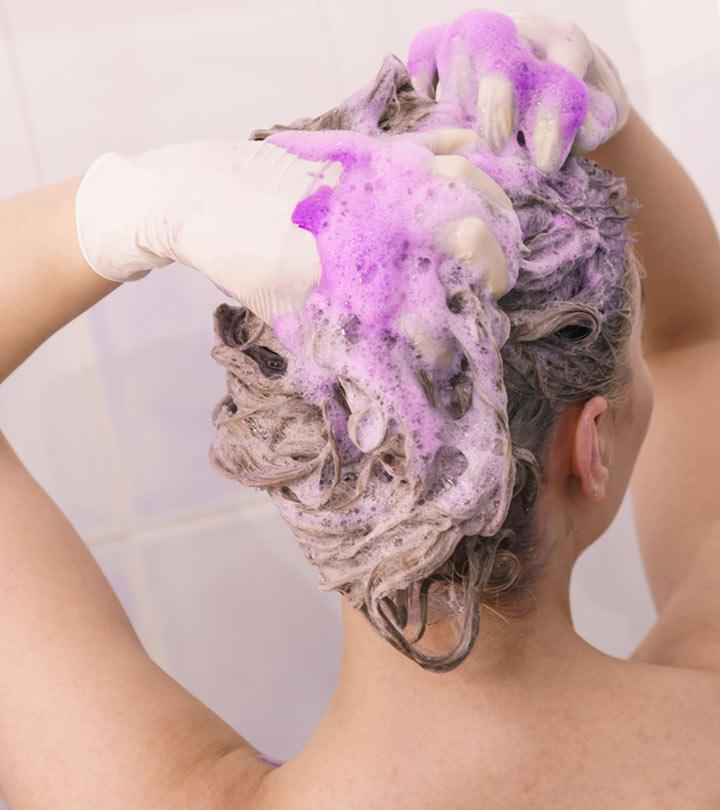 Purple shampoos are must-have products in the blonde hair care routine. The brightening effect of these shampoos helps maintain your hair color for longer. But can you use purple shampoo on brown hair? Yes, you can. These shampoos will tone your lightened hair strands and neutralize the brassy tones. They also help make your hair look fresh and healthy.
These shampoos work best on dark or brown hair with colored highlights. This article explores the right way you can use purple shampoos on your brown hair. Keep reading to know more.
What Is A Purple Shampoo?
A purple shampoo is what it sounds like – a shampoo with purple pigments to neutralize brassy undertones in blonde and colored hair.
But why purple and not any other color? If you remember the color wheel, purple is the opposite of yellow. It helps neutralize yellowness in the hair and refresh the hair color, keeping it bright and beautiful for longer.
You can also use a purple shampoo on brunette and dark hair. Wondering how? Scroll down to find out.
Can You Use A Purple Shampoo On Brown Hair?
Yes. You can use a purple shampoo on brown hair.
If you have highlights, a balayage, or an ombré of a lighter shade, such as blonde, platinum blonde, or any other light hair color, a purple shampoo can help maintain the highlights.
UV exposure, frequent hair washing, hard water, and pollution can turn the hair color brassy. Brassiness of hair color refers to the orange or yellow undertones that the hair color develops over time. Using a purple shampoo can cut down the brassiness and maintain the brightness of your highlighted tresses.


Quick Tip
Overusing purple shampoo may lead to dull, dry, and frizzy hair.
If you have just highlighted your beautiful brown hair, you can use a purple shampoo. In the next section, we have explained the right way to use it.
What Is The Right Way To Use A Purple Shampoo?
To use a purple shampoo on brown hair:
Rub some purple shampoo between your palms to work up a lather.
Massage it all over your head, across the entire length of your hair.
Leave it on for about 5 minutes or longer (discussed in detail later in the article).
Rinse the shampoo out and apply a conditioner.
Use a purple shampoo once a week to maintain the lighter tones.
When using a purple shampoo, the time you leave it on is equally crucial.
How Long Should I Leave A Purple Shampoo On My Brown Hair?
It depends on how intense the brassiness is. You can leave it on for 20 minutes to cut down all the brassiness and maintain the gray, silver, platinum, or blonde shade. However, if you do not want an intense refreshment of your hair color, you can leave it on for just five minutes or like the regular shampoo you use.
Do not leave it on for more than 20 minutes. While a purple shampoo does not contain any dye, if you leave it on your hair for too long, it may leave a light lilac hue. However, the tint goes away with just one wash.
While a purple shampoo is great for blonde hair, does it eliminate reddish-brown or copper tones? Is it a promising solution for brassy brown hair? Read on to find out.
Is A Purple Shampoo The Solution To Get Rid Of Brass In Brown Hair?
A purple shampoo can take care of the yellowish brass in your highlights. However, if your highlights have turned brassy brown, a blue shampoo can help. Unlike a purple shampoo, a blue shampoo contains blue-violet pigments that can cool down warm and brassy tones.
Brunettes can use both purple and blue shampoos to maintain the highlights.


Quick Tip
Purple shampoo wouldn't work well on hair with orangey hues as purple and orange are not opposite colors on the color wheel. Opt for blue shampoo instead.
Infographic: Everything You Need To Know About Purple Shampoo
Choosing to color your hair involves taking utmost care of it afterwards. If not, the hair begins to fade and loses its shine, causing it to look unhealthy and brassy in color, especially if you color it blonde or any light shade. One of the easiest ways to prevent this is to incorporate a purple shampoo into your hair care regimen. To learn more about it, check out the infographic below.

Purple shampoo neutralizes brassy tones in blonde and colored hair. It contains purple pigments that eliminate brassy yellow hues. Factors like sun exposure, pollution, hard water, and overwashing your hair can lead to these brassy tones. You can use purple shampoo on brown hair if it is very light or if you have blonde or lighter highlights. This is because purple complements yellow in the color wheel, thus balancing or neutralizing it. If you have darker, redder, or copper hair, you should use a blue shampoo to even out your hair color.
Frequently Asked Questions
Does purple shampoo turn brown hair green?
No, purple shampoo will not turn brown hair green.
Is purple shampoo damaging?
No, purple shampoo is not damaging. But it may turn the tresses light purple if you leave it for too long.
Is purple shampoo a toner?
Yes, purple shampoo is a toner. It helps maintain the lightened or blonde hair look.
Is it better to use purple shampoo or conditioner?
A purple conditioner may have the same effect as a shampoo. Moreover, it also helps condition the hair, unlike a shampoo. Hence, using a purple conditioner may benefit more.
Is it OK to use purple shampoo everyday?
Yes, purple shampoo can be used daily if you feel your hair is turning brassy.
Key Takeaways
Purple-toned shampoos, usually used to enhance blonde hair, can also help neutralize the brassy tones of brown hair.
These make the colored highlights look brighter and more vibrant while adding a healthy shine to your hair.
For orange and reddish undertones, a blue-toned shampoo is preferable.