101 Motivational Quotes About Fear That Will Give You Courage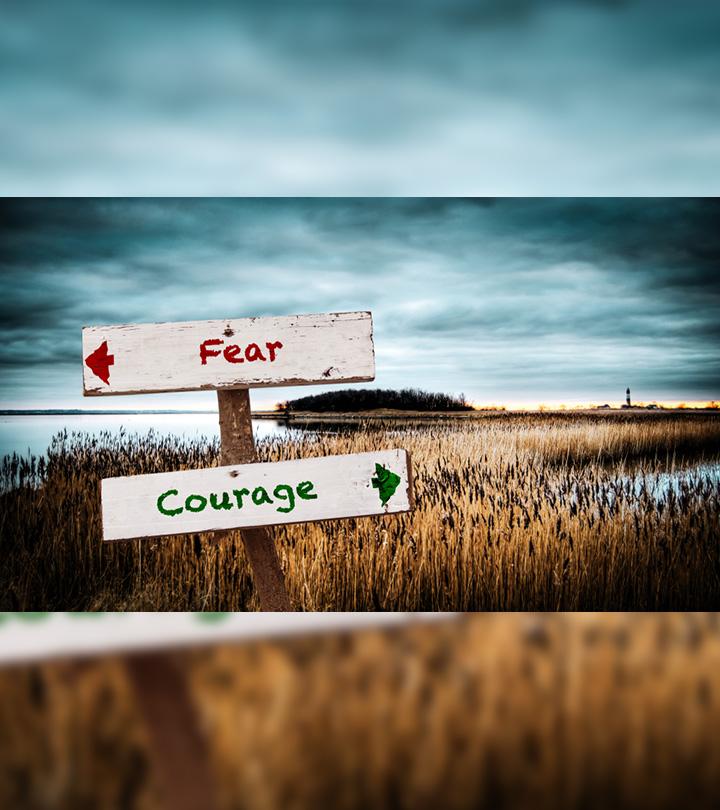 Fear is one of the most basic emotions we experience. Biologically, fear triggers our survival instincts to keep us safe when faced with dangerous situations. The fear of the unknown and uncertain gives us sleepless nights. Fear is common when we are faced with new situations and circumstances in life. The good news is that when we learn to face our fears, we get the courage to overcome those tough situations and come out stronger and victorious!
We have put together the best motivational fear quotes to help you overcome your fear and inspire you to take up challenges and transform your life! Scroll down to check them out.
101 Inspiring Quotes About Fear
"For God gave us a spirit not of fear but of power and love and self-control."  – 2 Timothy 1:7, Bible
"Our greatest fear should not be of failure but of succeeding at things in life that don't really matter."  – Francis Chan, Crazy Love: Overwhelmed by a Relentless God
"There are two kinds of fears: rational and irrational – or in simpler terms, fears that make sense and fears that don't."  -Lemony Snicket
"Nothing in life is to be feared, it is only to be understood. Now is the time to understand more, so that we may fear less."  -Marie Curie
"There's no shame in fear, my father told me, what matters is how we face it."  -George R.R. Martin, A Clash of Kings
"The only thing we have to fear is fear itself."  -Franklin D. Roosevelt, Franklin Delano Roosevelt's First Inaugural Address
"Without fear, there cannot be courage."  -Christopher Paolini
"Fear is the main source of superstition, and one of the main sources of cruelty. To conquer fear is the beginning of wisdom." –Bertrand Russell, Unpopular Essays
"Power does not corrupt. Fear corrupts…perhaps the fear of a loss of power." –John Steinbeck
"Have no fear of perfection – you'll never reach it." –Salvador Dali
"First of all, let me assert my firm belief that the only thing we have to fear is fear itself – nameless, unreasoning, unjustified terror which paralyzes needed efforts to convert retreat into advance." –Franklin D. Roosevelt
"He who has overcome his fears will truly be free." –Aristotle
"Courage is knowing what not to fear." –Plato
"The cave you fear to enter holds the treasure you seek." –Joseph Campbell
"It is not death that a man should fear, but he should fear never beginning to live." –Marcus Aurelius
"He is terribly afraid of dying because he hasn't yet lived." –Franz Kafka
"I am afraid. Not of life, or death, or nothingness, but of wasting it as if I had never been." –Daniel Keyes, Flowers for Algernon
"Do the thing you fear and the death of fear is certain." – Ralph Waldo Emerson
"Of all the liars in the world, sometimes the worst are our own fears." –Rudyard Kipling
"There is a stubbornness about me that never can bear to be frightened at the will of others. My courage always rises at every attempt to intimidate me." –Jane Austen, Pride and Prejudice
"I believe that words are strong, that they can overwhelm what we fear when fear seems more awful than life is good." –Andrew Solomon, The Noonday Demon: An Atlas of Depression
"A kind of light spread out from her. And everything changed color. And the world opened out. And a day was good to awaken to. And there were no limits to anything. And the people of the world were good and handsome. And I was not afraid anymore." –John Steinbeck, East of Eden
"I'm not afraid of death; I just don't want to be there when it happens." Woody Allen
"We promise according to our hopes and perform according to our fears." –François de La Rochefoucauld
"In time we hate that which we often fear." – William Shakespeare, Antony andCleopatra
"I learned that courage was not the absence of fear, but the triumph over it. The brave man is not he who does not feel afraid, but he who conquers that fear." –Nelson Mandela
"Ignorance is the parent of fear." –Herman Melville, Moby-Dick
"Don't fear failure. — Not failure, but low aim is the crime. In great attempts, it is glorious even to fail." –Bruce Lee, Striking Thoughts: Bruce Lee's Wisdom for Daily Living
"Be strong and courageous. Do not fear or be in dread of them, for it is the Lord your God who goes with you. He will not leave you or forsake you." –Deuteronomy 31:6, Bible
"Find out what you're afraid of and go live there." –Chuck Palahniuk
"I think the big mistake in schools is trying to teach children anything, and by using fear as the basic motivation. Fear of getting failing grades, fear of not staying with your class, etc. Interest can produce learning on a scale compared to fear as a nuclear explosion to a firecracker." –Stanley Kubrick
"Fear defeats more people than any other one thing in the world." –Ralph Waldo Emerson
"Fear doesn't shut you down; it wakes you up" –Veronica Roth, Divergent
"Move outside the tangle of fear-thinking. Live in silence." –Rumi
"But fear doesn't need doors and windows. It works from the inside."–Andrew Clements, Things Not Seen
"Here is the world. Beautiful and terrible things will happen. Don't be afraid." –Frederick Buechner, Beyond Words: Daily Readings in the ABC's of Faith
"Do not be afraid; our fate, Cannot be taken from us; it is a gift." –Dante Alighieri, Inferno
"Gratitude looks to the Past and love to the Present; fear, avarice, lust, and ambition look ahead." –S. Lewis, The Screwtape Letters
"What do you fear, lady?" [Aragorn] asked. "A cage," [Éowyn] said. "To stay behind bars, until use and old age accept them, and all chance of doing great deeds is gone beyond recall or desire." –J.R.R. Tolkien, The Return of the King
"I have accepted fear as part of life – specifically the fear of change… I have gone ahead despite the pounding in the heart that says: turn back…." –Erica Jong
"The human race is a monotonous affair. Most people spend the greatest part of their time working in order to live, and what little freedom remains so fills them with fear that they seek out any and every means to be rid of it." –Johann Wolfgang von Goethe, The Sorrows of Young Werther
"There is no fear in love, but perfect love casts out fear. For fear has to do with punishment, and whoever fears has not been perfected in love. We love because he first loved us." –1 John 4:18–19
"Fear of a name increases fear of the thing itself." –K. Rowling, Harry Potter and the Sorcerer's Stone
"There is only one thing that makes a dream impossible to achieve: the fear of failure." –Paulo Coelho, The Alchemist
"No power so effectually robs the mind of all its powers of acting and reasoning as fear." –Edmund Burke
"Anxiety is the dizziness of freedom." –Søren Kierkegaard, The Concept of Anxiety: A Simple Psychologically Orienting Deliberation on the Dogmatic Issue of Hereditary Sin
"Do one thing every day that scares you." –Eleanor Roosevelt
"Fear is a darkroom where negatives develop." –Usman B. Asif
"Fear is the thief of dreams." –Brian Krans
"There are three things all wise men fear: the sea in storm, a night with no moon, and the anger of a gentleman." –Patrick Rothfuss, The Wise Man's Fear
"Ignorance is the parent of fear." –Herman Melville
"Fear is an insidious and deadly thing. It can warp judgment, freeze reflexes, breed mistakes. Worse, it's contagious." –Jimmy Stewart
"Fear cuts deeper than swords." –George R.R. Martin, A Game of Thrones
"Men are not afraid of things, but of how they view them."  – Epictetus
"He who is not everyday conquering some fear has not learned the secret of life."  – Shannon L. Alder
"Everything you want is on the other side of fear."  –Jack Canfield
"Men go to far greater lengths to avoid what they fear than to obtain what they desire."  –Dan Brown, The Da Vinci Code
"I must not fear. Fear is the mind-killer. Fear is the little-death that brings total obliteration. I will face my fear. I will permit it to pass over me and through me. And when it has gone past I will turn the inner eye to see its path. Where the fear has gone there will be nothing. Only I will remain."  –Frank Herbert, Dune
"We can easily forgive a child who is afraid of the dark; the real tragedy of life is when men are afraid of the light." –Plato
"Don't be afraid of your fears. They're not there to scare you. They're there to let you know that something is worth it." – JoyBell C.
"Expose yourself to your deepest fear; after that, fear has no power, and the fear of freedom shrinks and vanishes. You are free."  –Jim Morrison
"We are all the pieces of what we remember. We hold in ourselves the hopes and fears of those who love us. As long as there is love and memory, there is no true loss."  – Cassandra Clare, City of Heavenly Fire
"Scared is what you're feeling. Brave is what you're doing." – Emma Donoghue, Room
"That is the fear: I have lost something important, and I cannot find it, and I need it. It is fear like if someone lost his glasses and went to the glasses store and they told him that the world had run out of glasses and he would just have to do without." – John Green, Looking for Alaska
"I'm intimidated by the fear of being average."  –Taylor Swift
"Don't give in to your fears. If you do, you won't be able to talk to your heart."  –Paulo Coelho, The Alchemist
"No one ever told me that grief felt so like fear."  –S. Lewis, A Grief Observed
"I imagine one of the reasons people cling to their hates so stubbornly is because they sense, once hate is gone, they will be forced to deal with pain."  –James Baldwin, The Fire Next Time
"Fear isn't so difficult to understand. After all, weren't we all frightened as children? Nothing has changed since Little Red Riding Hood faced the big bad wolf. What frightens us today is exactly the same sort of thing that frightened us yesterday. It's just a different wolf. This fright complex is rooted in every individual."  –Alfred Hitchcock
"Fear is a phoenix. You can watch it burn a thousand times and still it will return."  –Leigh Bardugo, Crooked Kingdom
"A man that flies from his fear may find that he has only taken a shortcut to meet it."  –R.R. Tolkien, The Children of Húrin
"The moment we begin to fear the opinions of others and hesitate to tell the truth that is in us, and from motives of policy are silent when we should speak, the divine floods of light and life no longer flow into our souls."  –Elizabeth Cady Stanton
"Laughter is poison to fear."  –George R.R. Martin, A Game of Thrones
"Courage is feeling fear, not getting rid of fear, and taking action in the face of fear."  – Roy T. Bennett, The Light in the Heart
"'Because fear kills everything,' Mo had once told her. 'Your mind, your heart, your imagination.'"  –Cornelia Funke, Inkheart
"Keep your fears to yourself, but share your courage with others."  –Robert Louis Stevenson
"It's true, I am afraid of dying. I am afraid of the world moving forward without me, of my absence going unnoticed, or worse, being some natural force propelling life on. Is it selfish? Am I such a bad person for dreaming of a world that ends when I do? I don't mean the world ending with respect to me, but every set of eyes closing with mine."  –Jonathan Safran Foer, Everything Is Illuminated
"We meet fear. We greet the unexpected visitor and listen to what he has to tell us. When fear arrives, something is about to happen."  –Leigh Bardugo, Crooked Kingdom
"The Lord is my light and my salvation; whom shall I fear? The Lord is the stronghold of my life; of whom shall I be afraid?"  –Psalm 27:1, Bible
"Everyone is afraid of something. We fear things because we value them. We fear losing people because we love them. We fear dying because we value being alive. Don't wish you didn't fear anything. All that would mean is that you didn't feel anything." –Cassandra Clare, Lord of Shadows
"It's better to die laughing than to live each moment in fear." –Michael Crichton
"The man who fears losing has already lost." –George R.R. Martin, A Game of Thrones
"Bran thought about it. 'Can a man still be brave if he's afraid?' 'That is the only time a man can be brave,' his father told him."  –George R.R. Martin, A Game of Thrones
"Don't be afraid of being scared. To be afraid is a sign of common sense. Only complete idiots are not afraid of anything." –Carlos Ruiz Zafón, The Angel's Game
"You can't make decisions based on fear and the possibility of what might happen."  –Michelle Obama
"I am all in a sea of wonders. I doubt; I fear; I think strange things, which I dare not confess to my own soul." Bram Stoker, Dracula
"He who fears he shall suffer, already suffers what he fears." –Michel de Montaigne, The Complete Essays
"I am constantly trying to communicate something incommunicable, to explain something inexplicable, to tell about something I only feel in my bones and which can only be experienced in those bones. Basically, it is nothing other than this fear we have so often talked about, but fear spread to everything, fear of the greatest as of the smallest, fear, paralyzing fear of pronouncing a word, although this fear may not only be fear but also a longing for something greater than all that is fearful."  –Franz Kafka, Letters to Milena
"One is never afraid of the unknown; one is afraid of the known coming to an end."  – Krishnamurti
"Fear is a manipulative emotion that can trick us into living a boring life."  –Donald Miller, A Million Miles in a Thousand Years: What I Learned While Editing My Life
"All that ever holds somebody back, I think, is fear. For a minute I had fear. [Then] I went into the [dressing] room and shot my fear in the face…"  –Lady Gaga
"There is no beauty in sadness. No honor in suffering. No growth in fear. No relief in hate. It's just a waste of perfectly good happiness." –Katerina Stoykova Klemer
"Men who fear demons see demons everywhere." – Gerald Brom, The Child Thief
"When you are grateful, fear disappears and abundance appears."  –Anthony Robbins
"Even though I walk through the valley of the shadow of death, I will fear no evil, for you are with me; your rod and your staff, they comfort me." –Psalm 23:4, Bible
"I believe that every single event in life happens in an opportunity to choose love over fear." –Oprah Winfrey
"To overcome fear is the quickest way to gain your self-confidence."  –Roy T. Bennett, The Light in the Heart
"May your choices reflect your hopes, not your fears."  –Nelson Mandela
"I have such a fear of finding another like myself, and such a desire to find one! I am so utterly lonely, but I also have such a fear that my isolation be broken through, and I no longer be the head and ruler of my universe."  –Anaïs Nin, House of Incest
"Inaction breeds doubt and fear. Action breeds confidence and courage. If you want to conquer fear, do not sit home and think about it. Go out and get busy." –Dale Carnegie
"Ultimately we know deeply that the other side of every fear is a freedom."  –Marilyn Ferguson
Recommended Articles
The following two tabs change content below.