25 Easy & Creative Rangoli Designs With Dots To Try In 2019
Rangolis are a very common sight during the festive season. They play an integral part in Indian festive celebrations and their shape and colours vary from region to region.
In our previous post, we gave you some nice and colourful Rangoli patterns which are sure to fetch you a lot of compliments and I am sure you loved them. But don't you think it's unfair to show you just the colourful ones? Rangolis are also beautiful when they are monochrome. We love how one can create innumerable monochrome designs of Rangoli using dots.
So we bring you some Rangolis which are created by just connecting the dots. Some of these designs are easy and some are a little difficult to do, but can be done with a little patience and hard work nonetheless. So if this is your first time, do not fret we have some simple designs for you too.  You also have a choice to keep the designs monochrome or use colours over it. So just enjoy making Rangolis and let the compliments flow your way.
Rangoli Designs With Dots
1. Now this is a slightly tough one. There is a use of complex geometric patterns and shapes to make this Rangoli. One needs a lot of practice to get these results, so do try it and keep doing it till you get similar results. This design shows overlapping motifs and can be done on any occasion.
Difficulty: Complex
2. This one is shaped as an octagon and is different from the usual square or round shaped rangoli. Here dots have been used to connect and make this rangoli. We love the flower patterns and simple designs which make up for the whole Rangoli. This is also a complex rangoli, so those who are new to it might find it difficult to do.
Difficulty: Complex
3. This one is simpler than the two we showed earlier. This is a simple rangoli design with dots based on floral motifs and is created using the dots, so it will be easy for those who are new to making Rangolis. This design can be done on any occasion or festival as per your need. And the size can also be altered as per your desire.
[ Read: Simple Rangoli Designs for Beginners ]
Difficulty: Simple
4. Now this one is slightly difficult design having floral, geometric patterns and motifs. These types of rangoli designs take a lot of skill and practice. The main feature of this is the white patterns over the black background. The design is apt for any special celebration and will no doubt attract a lot of attention from your guests.
Difficulty: Complex
[ Read: Kundan Rangoli Patterns ]
5. This one is quite easy to do even for a beginner. In this Rangoli, we see dots being used to draw the motifs of peacocks and flowers. The use of different coloured lines makes this stand out from the rest. Also the peacock motif is something which is unique.
Difficulty: Beginner
6. This particular one is a little tough but one may do it with a bit of practice and patience. The main theme here is leaves, flowers and other floral like patterns. As the motifs are not connected it makes it easier for those with minimum experience.
Difficulty: Moderate
7. 'Sankha' is an inseparable part of Indian Religion and its significance is never to be forgotten. It is a part of all religious ceremonies and the sound of the Sankha is considered very holy. So this Rangoli uses the concept of Sankha patterns to make this design with dots. There are twelve similar looking Sankha's with six of them forming a flower rangoli pattern and the others a circle around the flower.
Difficulty: Moderate
8. Now we present a very simple and small rangoli design with dots. This is a simple design without any fuss. This can be done at any place and on any occasion. One just needs to draw the dots and use simple lines to join the dots. There are minimal designs making this a very simple Rangoli with dots.
Difficulty: Beginner
9. This one is a little complex but if you really look at it, there are only geometric patterns. The square shaped Rangoli seems very complex but if you are patient enough, it's not that difficult. The geometric shapes create Floral patterns at the middle. We believe this can be done on any possible occasion.
[ Read: Simple Free Hand Rangoli Designs ]
Difficulty: Moderate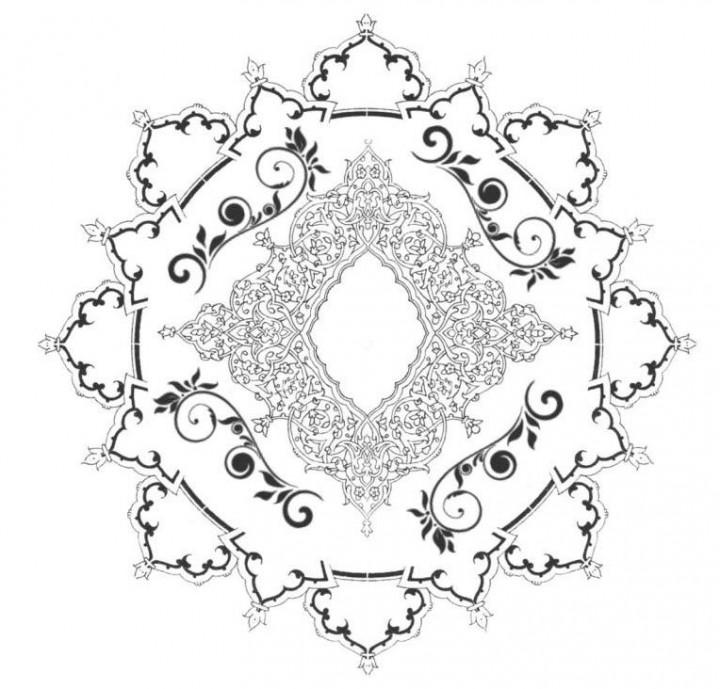 10. This one is very complex based on floral patterns and is one of the most amazing dotted rangoli designs. But the floral patterns and the whole Rangoli has several levels of intricate designs and motifs which make it a great way to do your home rangoli. But for this type of design, one needs practice and expert hands. The small details in the middle are what make this design so unique.
Difficulty: Complex
11. This one is a simple representation of the Lotus flower in terms dot rangoli designs. As a beginner you can never go wrong by trying out this to welcome the upcoming year 2019. The dots are joined to form the Lotus Shape. The four lotuses create the outer shape of the Rangoli whereas in the middle there is a very simple floral pattern. You can also leave a message in the middle saying Happy New Year 2019.
Difficulty: Beginner
12. This one is a bit complex dotted rangoli design but still with practice one can achieve it. The festival of Kolam is the origin for this Rangoli design, but you can do this on any religious occasion. The design has floral motifs in the middle with four lotus shaped motifs in the Rangoli.
Difficulty: Moderate
13. This one is wholly done using floral patterns. It has details which would be too complex for a beginner or inexperienced rangoli maker. The Rangoli is in a Star shaped pattern. The floral motif in the center is worth mentioning.
Difficulty: Complex
14. If you love easy patterns for your Rangolis, then try this one. We love how the effect is quite unique but there is very simple work. There are basically geometric shapes which are arranged to make floral patterns. The design is easy enough for a new rangoli maker and would suit a whole lot of occasions. So if you think you are not expert, start from patterns like this. You may also colour the shapes for an added effect like the picture above.
Difficulty: Beginner
15. Well we see so many designs online of Rangoli with dots but surely you will find this one to be quite unique. The star shape in the middle elaborates to create six swan shapes using the Rangoli with dots technique. We love how the Swan shape has been placed to give the effect of a whirlwind.
It is surely going to attract a lot of appreciation and comments from everyone. As it is quite complex, we suggest to practice hard for beginners. You can do it after a couple of tries.
Difficulty: Moderate
16. This one is a floral pattern and it is quite simple. Even beginners will find it quite easy to do, so this will make a great Rangoli. If you ever need to do one quickly, you may do this one as it is super easy and takes less time than the other ones. This one looks great for religious occasions and also for other functions. A great occasion to do this would be to the place where you place your idol for worship, or at your house entrance.
Difficulty: Beginner
17. This is a nice mix of geometric floral and traditional patterns. This one is a bit more complex than the ones beginners can do easily. To get such fine results, one might need a bit of practice. The geometric pattern on the center and on the outer border deserves a special mention. One can do this Rangoli on any occasion.
Difficulty: Moderate
18. This one is a pure geometric style Rangoli. The use of geometric shapes is evident and this makes this Rangoli quite different from other common ones we are quite used to see. The design is made simply connecting the dots with straight lines which makes it very easy for beginners to try. We think this one is quite apt for an occasion. The unique patterns makes it a must mention style.
Difficulty: Beginner
19. Now this design is very simple too. We love how a hexagon is used to create this lovely rangoli. In the center, there is a star shaped motif followed by other geometric patterns. The design is quite easy and can be done by beginners too. We feel this one too can be done on any occasion. So if you want to amaze your guest with an unusual Rangoli design with dots, use this one. We are sure it will be the talk of the day/night.
Difficulty: Beginner
20. This is a very easy and simple Rangoli design with dots. This design uses simple geometric shapes drawn inside a circle to get this effect. No doubt it is very simple and easy but that does not make it boring. We love how simple geometric shapes like circles and triangles are used to make this Rangoli.
Difficulty: Beginner
21. This one is a great and easy Rangoli with dots. It can be done to highlight a spot and you can also do this around special objects. So you may do it on any possible occasion on any part of your house or other such places. May we suggest doing this design and placing a small vessel full of floating flowers and candles on Diwali night. The effect would be just brilliant. Also this one is easy to do, so it can be done by those with very less experience too.
Difficulty: Beginner
22. This is a nice design featuring a pair of swans. The design features the two swans and there are also simple flower patterns which highlight the design. The design is also simple enough to be done by anyone. One may need a bit of practice but this can be done quite easily.
[ Read: Pongal Rangoli Designs With Dots ]
23. A simple floral design which can be used on any occasion and can be used as a whole or as a part of a bigger design. This flower pattern can be used to make more similar patterns and turn it into a larger Rangoli. We love its simplicity and believe this can be done by even an inexperienced Rangoli maker. This is suitable for any occasion.
Difficulty: Beginner
24. Swans are a common feature in Rangolis along with Peacock designs. We can see again in this Rangoli that the swan design is used along with multiple geometric designs which make this Rangoli look quite unique from the rest.  There are many types of small details in this design which makes it quite difficult to reproduce for an inexperienced artist.
Difficulty: Complex
25. This design is also unique and features Butterflies. The floral pattern in the middle is surrounded by four butterflies in each direction. There are no small details and this can be done easily by beginners too. We love the freshness of the design.
We hope you all love these designs and do mention if you know better ones. We would love to add them to our collection as well.
Images: Google

The following two tabs change content below.