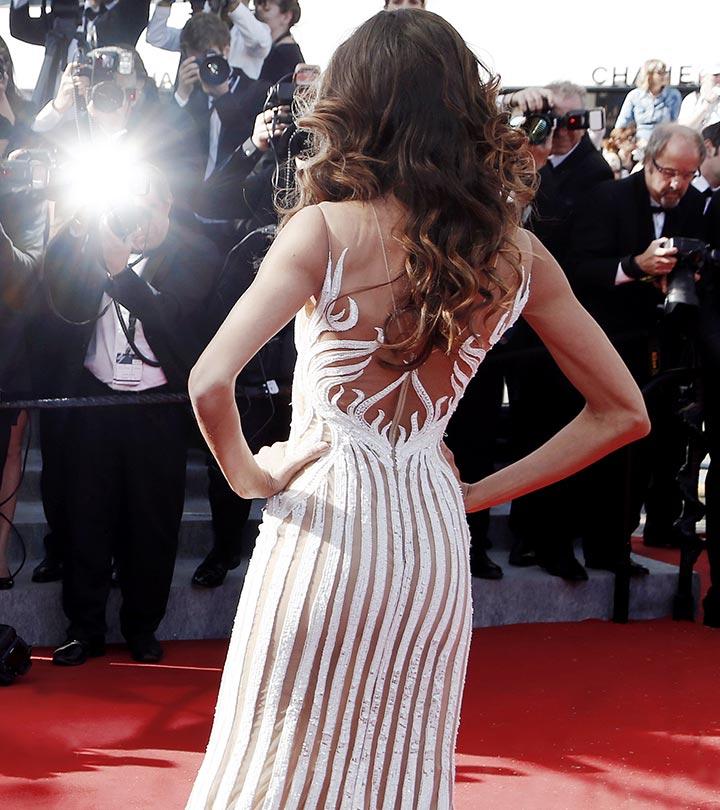 Have you ever dreamt of wearing a stunning hairstyle that was sported by your favourite star on the Red Carpet? Why don't make your dream come true? Oh, yes, it is actually possible. There are lots of celebs who love to keep their hairstyles simple and elegant on the Red Carpet in order to complement their dazzling outfits.
Popular Red Carpet Hairdos:
You can explore those easy peasy Red Carpet Hairstyles here and give yourself a lovely makeover:
1. Middle-Parted Soft Waves with Outward Layers:
Let us start with something naturally sizzling. These golden blonde soft flowy waves with outward layers and a centre part not only look wonderful on our celebrities arriving on the Red Carpet, but you can also totally rock these.
2. Smooth High Half Ponytail with Rounded Loose Hair:
Show off the enviable length of your hair proudly with this simple yet beautiful Red Carpet hairstyle. Give the ends of your locks a smooth rounded shape and create a half ponytail at your crown by securing a certain portion of it with elastic band.
3. Luscious Side-Swept Curls with Layers:
Your long layered hair with subtle highlights can be parted to one side, curled up with a big barrel curling iron and finally, swept over the other shoulder. You have just achieved the perfect celebrity look!
4. Long Centre-Parted Waves with Highlights:
Smoothen up your long centre-parted hair and create large waves on it. Set them on one of your shoulders and spritz hairspray generously to set the style. One of the most gorgeous looks you can ever get.
5. Perfect Retro Waves with Textured Side Sweep:
When it comes to the Red Carpet hairstyles flaunted by our favourite celebrities, the popularity of retro waves or vintage curls can't be ignored. Here, is something very much retro, which features highly textured waves and side sweep.
6. Low Side-Swept Wavy Ponytail with Double Hair Wraps:
This stylish Taylor Swift look is more than easy to recreate. Deep side-part your long slightly wavy hair, sweep it to the other side and turn it into a little loose low pony. Now, wrap up the elastic band with two sections of hair and you are done.
7. Side-Swept Textured Waves with Layered Side Bangs:
In this image, the style queen Miley Cyrus is sporting a side-swept hairdo with delicate waves and excellent texture. The layered side bangs have even jazzed up the look to a great extent.
8. Voluminous Rolled Back Waves with Curly Ends:
Now, this is what we call a perfect red carpet hairstyle. Tease up your long waves to get oodles of volume and roll them back gently. Then, curl up the ends and let them cascade your shoulders. Here, Beyonce has totally nailed the look!
9. Shoulder-Length Textured Curls with Deep Purple Highlights:
Those deep purple highlights are enough to give your jet black hair to a whole new dimension. But don't just stop here. Create a side part, get your locks curled, add texture to them and enjoy!
10. Messy Side Fishtail Braid with Sharp Side Sweeps:
This is one of the best red carpet hairstyles for long hair. Super long hair and fishtail braid can go hand in hand, if done the right way. Just check out this image for a better idea. Sharp graduated side bangs and a messy flair have complemented the precise braid perfectly.
11. Tight High Bun with Braided Wraparound:
The list of red carpet hairstyles remains incomplete without the mention of buns. This super smooth, super high and super glossy bun with a neat braided wrap can help you stand out from the crowd in an effortless manner.
12. High Twisted Braid Ponytail with Braided Wrap:
This high braided pony is one of the most unique Red Carpet hair styles that can't be seen easily. Smoothen up your hair and make a high ponytail of it. Now, turn it into a thick twisted slightly widened braid and wrap with another braided section.
13. Messy High and Loose Braided Ponytail:
Be it every day fashion or Red Carpet style, the appeal of a regular braid is same everywhere. Make a high ponytail at your crown and braid it up loosely. You can spice up the look just by pulling the braid a little wider and keeping it messy.
14. Double-Braided Low Side Bun with Hair Brooch:
Our celebrities love to sport braided buns and so as we. Check out this side bun resting at the nape of the neck and how it is perked up with two thick braids and a beautiful hair brooch. You simply can't help but love it.
15. Wavy Diagonal Bun with Texture and Hair Brooch:
Well, you must seek the help of a pro for achieving this 'oh-so-gorgeous' look of Scarlett Johansson. It may take a lot of time to tease and texturize the waves as well as turn them into such an attractive diagonal bun, but it is absolutely worth trying.
16. Braided Low Side Spiral Bun with Pouf and Messy Finish:
You can create this spiral rose bun by braiding up the hair, folding it tactfully and securing it at places as you go. A small pouf and a tangled finish will complete your Red Carpet look flawlessly.
17. Upside Down French Braid with Puffy Crown and Loose Strands:
You have French braided your hair quite a number of times. Now, try your hand at this upside down version of the wonderful hairstyle. A volumized top and a few loose strands swinging over the face carelessly will brighten up your look even more.
18. Rolled Back Bob with Braided Sides:
Add volume to your top and roll it back gently. The lower section of your hair should remain straight yet blunt. Now, braid up both sides and secure them at the back. You are ready to rock with your smart celeb-like hairstyle.
19. Messy Loose Side Ponytail with Wavy Side Bang:
Here is another ponytail hairstyle for you right from the Red Carpet. Add texture to your long layered hair, turn it into a low side ponytail by keeping the base loose enough and wave up the thick side bang to make it swing over your eye.
20. Gorgeous Side Curls with Dramatic Side sweep:
A deep side part, medium-length wavy hair with random curls at ends and a dramatic long side-sweep, what else do you need for a gorgeous ultra-feminine look? However, apply a good serum if you want extra shiny tresses.
21. Dense Side-Swept Curls with Layers and Texture:
Lustrous curls are extremely loved and often sported on the Red Carpet by our super hot celebs. You can try out these tight textured curls on your layered medium-length hair and enhance the look by adding wide side sweeps to it.
22. Sleek Straight Medium-Length Bob with Fringes:
Shoulder-length Chinese bob hair is in vogue these days. Take a look at this sleek and straight bob with long front fringes and you will understand why we loved this style. Do not forget to apply serum for added shine.
23. Boho Waves with Zigzag Part and Metal Head Chain:
Who says Boho can't be pulled off on the Red Carpet? This picture of the actress Mischa Barton will change your idea completely. Zigzag part, relaxed blonde waves and a metal head chain – these are all that you need to recreate the look successfully.
24. Small Low Twisted Bun with Side Braid:
A side braid can always amp up the beauty of a small bun. Here, you need to pull all your hair back at the nape of your neck and create a small twisted bun with free ends. Then, create a side braid along your hairline and secure it into the bun.
25. Classic French Twist with Nice Long Side Sweep:
A typical French twist hairdo goes absolutely perfect with the sophistication and glamour of the Red Carpet. Here, the classic hairstyle is made even more graceful by adding a long impressive side-swept bang.
26. Low Side Tousled Braid with Spiral Side Bang:
A tousled braid can put great emphasis on your natural grace and feminine charm. You just need to middle-part your golden blonde waves, turn it into a tousled side braid and let a sexy spiral bang hug one side of your face lovingly.
27. Short Voluminous Pixie Bob with Wispy Ends:
If you have short bob hair with pixie cut, this is the hairstyle for you. Add texture to those short precise layers by applying mousse and give them considerable volume in order to make the wispy ends more noticeable.
28. Smooth Low Ponytail with Hair wrap and Highlights:
When it comes to showing off the stunning highlights on straight smooth hair, a ponytail can be the best choice. Smoothen up your hair by using serum and make a tight ponytail a little up the nape of your neck. Finally, wrap it with a thin section of hair.
29. Voluminous Layered Waves with Hair Headband:
This simple yet adorable Red Carpet hairstyle will make you fall in love with it. Add incredible volume to your layered wavy hair starting right from your crown and curl up their ends in outward direction. Now, take a thin section of hair and secure it from ear to ear as a headband.
30. Puffy High Bun with Divided Front Bangs:
This solid high bun with puffy top and bottom is ideal for all sorts of casual as well as formal events. The long divided front fringes have balanced off the look flawlessly.
31. Twisted and Wrapped Bun with Puffy Crown and Long Side Sweep:
Puff up your crown and pull all your hair back at the nape of the neck into a low ponytail. Now, twist the pony to come up with a nice bun, and wrap it with a section of hair. Finally, add a long wide side sweep to it.
32. Romantic Textured Bob with Random Curls and Bangs:
This romantic Red Carpet bob hairstyle can be the best choice for your first date night or next Valentine's Day party. Get a side part; curl up the ends starting right from the bang, and spritz hairspray to add texture. Voila!
33. Smooth Straight Slicked Back Hair with Flared Bottom:
Roll back your straight hair and give it a smooth, slicked back look by applying lots of serum or pomade. Now, curl up the ends of your hair slightly in such a manner that it gets a flared look. Nice, isn't it?
34. Low Flat Messy Bun with Double Side Braids:
Create two thick wide side braids and come up with a flat braided bun at the nape of your neck by taking them together. Give it a little tangled finish for a simple casual look.
35. Half Wavy Hairdo with Twisted Top and Pulled Back Sides:
Divide your long wavy hair into three distinct sections. Twist up and texturize the upper section and secure it on the top with bobby pins to create a nice shape. Pull both sides tightly and pin them at the back together. Now, let rest of the waves flow down your back elegantly.
36. Sleek Smooth Low Bun with Highlighted Twists:
Create a centre part up to your crown and pull all your hair back at the nape of your neck to make a low firm twisted bun. Those subtle highlights and that wax-applied sleek-n-shiny finish will give you even a better look.
37. Soft Wavy Hair with Long Fringes:
This is basically a medium-length blonde hairstyle with soft, flowy and relaxed waves. But the long straight front fringes have made it quite unique. Don't you think so?
38. Highly Twisted Low Bun with Puffy Crown and Sexy Bang:
This is a very much Red Carpet hairstyle that can bring out your natural womanly beauty and make you look charming in no time. Volumize your crown and keep it loose, while pulling all your hair back at base of your neck and twisting it up in multiple small sections. And don't forget to add that sexy curly bang.
39. Rolled Up and Tucked In Side-Swept Waves:
This tucked in hairdo is another classy example of Red Carpet hairstyles. Sweep your wavy hair to one side by creating a side part and add texture to it. Now, start rolling it up in the inward direction and tuck in with bobby pins at the nape of the neck.
40. Tight Braid with Rolled Back Textured Top and Wispy Ends:
Give your top hair extra volume, shine and texture by applying mousse. Now, roll and pin it back at the crown and create a nice side plait with rest of the hair. The ends of the braid should have curly wispy points.
41. Mysterious Low Bun with Twist, Fold and Highlights:
This is a wonderful low bun on highlighted smooth and shiny hair. Just twist all your hair loosely at the base of your head and fold it into a small chignon. You are done!
42. Solid Semi-High Bun with Messy Twisted Wraparound:
Red Carpet hairstyles are not all about fussy hairdos and this semi-high bun is enough to prove it. All you need to do is twist the upper hair at your crown and wrap the solid bun with it.
43. Double Braided Low Ponytail with Hair Wrap:
Subtle waves and eye-catching highlights are the USPs of this amazing hairstyle. Braid up the waves separately at two sides, turn them into a single ponytail by twisting together at the back and finally, wrap the pony with a thin section of hair.
44. Textured Rippling Waves with Embellished Side Braid:
This outstanding hairstyle may look quite similar to the famous waterfall hairdo, but it is actually easier than that. Turn your natural blonde hair into thick textured rippling waves and curl their ends slightly. Now, braid up one side, pin it at the back and embellish with a pretty accessory.
45. Highly Textured Poodle Hairstyle:
Apply lots of mousse to give your medium-length hair a nice volume and texture. Now, pull all your hair up at the crown, twist it up and curl up the ends to get a cute poodle hairdo.
46. Modified French Twist with Curly Volumized Top:
This modified version of the classic French twist hairstyle will blow your mind for sure. Add significant volume to the top, roll the hair to one side, and curl it up by taking one small section at a time. At last, set the entire style with hairspray.
47. Hair-Wrapped Wavy Ponytail with Puffy Crown and Headband:
When it comes to sporting a smart and attractive look, most of our celebrities prefer hair-wrapped wavy ponytails. Here, a volumized as well as textured crown and a black headband have added zing to the otherwise simple ponytail.
48. Flat Donut Bun with Side-Swept Bottom and Wavy Bangs:
Well, this is more than a simple donut bun. The side-swept bottom hair, the messy side bang and the side waves secured into the bun have made it much prettier and sexier than its regular counterpart.
[ Read: Latest And Hottest Celebrity Hairstyles ]
49. Straight Smooth Middle-Parted Layers with Inward Feathers:
Straight layers are also quite preferred by our international celebs for their Red Carpet looks. Just get your straight layered hair feathered in an inward direction, middle-part it and let it rest on both of your shoulders.
50. Low Pigtails with Fringes and Wispy Points:
Lastly, here is a pigtail hairstyle from the Red Carpet that will take you back to your school days. Create two low ponytails at two sides of your head and jazzed them up with wavy front fringes and wispy ends.
Choose the best Red Carpet updo hairstyles from this list to suit your personality and share your experience with us.
Recommended Articles:

The following two tabs change content below.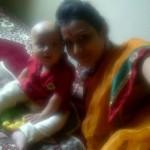 Latest posts by Khushboo Mehta (see all)