30 Femme Fatale Shades Of Red Hair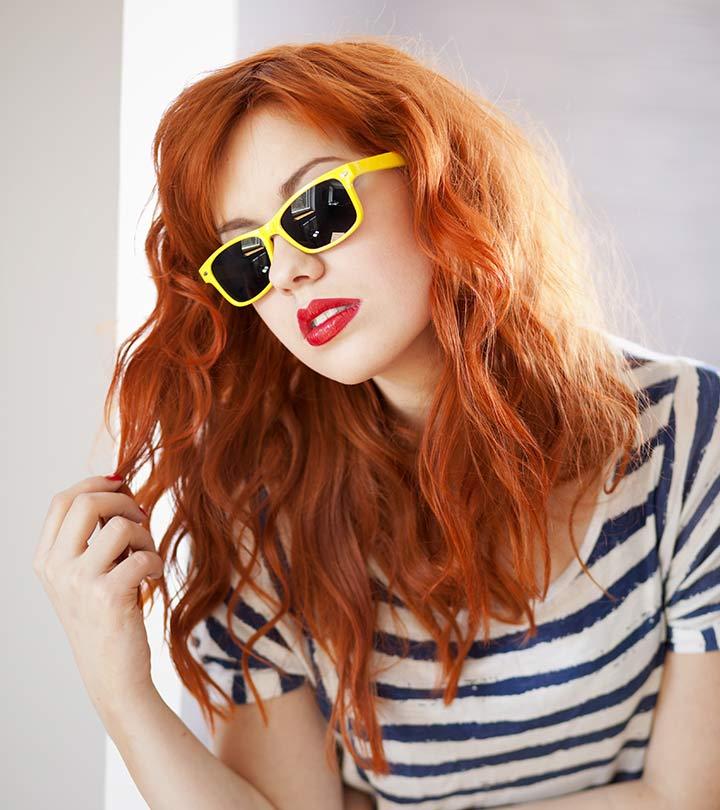 Red is a fierce color that makes anyone believe they can do it all.
It is the telltale sign of a femme fatale. When badass Cheryl Blossom made her entrance in CW's Riverdale, her red hair made hearts stop and women jealous. All of us wanted her long fiery locks. So, why not color your hair red this season? With so many shades of red available, you must be wondering which one is the best for you. Don't worry! I'm here to help you pick the best shade for you.
Whether it's cherry, passion, or auburn – you deserve only the best. Paint the town red (and your hair) with these vibrant hair shades!
But before that, here are some pointers to help you pick the best shade of red keeping your skin tone in mind.
Choosing The Right Red
I've heard so many stories where a friend wanted to color her hair red, but the shade she picked didn't work for her. That's because not all shades of red look good on everyone. Here are some tips to help you pick the best shade for your skin tone:
If you have dark skin, go for dark and intense shades of red. They'll look stunning on you. Pastel red streaks can also add a nice touch to your natural locks.
If you have medium skin, consider dark auburn and copper shades. They will accentuate your skin color nicely and contrast well with brown, blue, green, and gray eyes.
If you have light skin, go for lighter shades. A darker shade can contrast too much with your fair skin.
Olive skin is a bit tricky since it has a yellowish-green undertone. Light auburn and copper may look too jarring against it. Choose mild reds that blend well with your hair, like strawberry blonde for blonde hair and brown reds for brunettes.
If you have a cool undertone, go for intense red shades. Warm shades can add a bit of a washed-out look to your skin.
If you have warm skin, you are blessed! Earthy colors like red look great on warm skin. So, any shade of red will work with your warm undertone.
Now that you know how to pick your perfect red shade, check out these 30 incredible shades of red hair that are sure to convert you to a redhead!
30 Femme Fatale Shades Of Red Hair
1. Classic Red
Classic redhead! This is the color that comes to mind when you think of a redhead. This hair shade is also called ginger. It has hints of orange and brown to it and looks almost like copper.
2. Copper Ginger
Intense ginger hair, indeed! Ginger hair is a mix of orange and red with a dash of brown. Notice how the top half has more orange to it while the bottom half has a more brown tint. The shaggy curls give it a wild look.
3. Golden Red
This is for blondes who are trying to transition to red hair but aren't 100% on board yet. It is also called strawberry blonde. It is the perfect shade for autumn as the color is warm and sure to heat up those cold evenings.
4. Burgundy Red
Did you know that burgundy got its name from the wine region in eastern France? The most renowned wines are called burgundies. Spill the ecstasy wine brings onto your luscious locks.
5. Orange Red
Hot damn! If the Phoenix had turned into a woman, this is probably what she would look like. The fire hot hair would certainly give her away.
6. Blonde Red
Going red is a serious decision. Blonde hair with subtle red highlights is one sure way to go if you don't want to deep dive into red. It adds vibrance to your blonde locks while also flaunting your natural hair color.
7. Cherry Ombre
Have you ever had a slice of black cherry cake? Having just one slice of this delicious cake just doesn't do it justice. This stunning cherry ombre brings back that memory, and I can almost taste the goodness!
8. Brown Red Hair
If you're a brunette, coloring your hair red should be a thrill. Brown hair looks stunning with a red tint. It's like eating strawberries dipped in chocolate. It makes you appreciate the chocolate so much more.
9. Brown Auburn Hair
You know that feeling when brownies are fresh out of the oven with chocolate icing on top, and they glisten? This hair shade epitomizes that feeling. It makes your toes curl and warms you up instantly. Add a dash of auburn to your brown locks to rejuvenate it.
10. Intense Mahogany Red
Mahogany is a sure favorite! It is the ideal blend of deep brown and red. Add that woody texture to your hair with this intense mahogany mix. Also, doesn't this hair color remind you of Laguna Colorada?
11. Intense Red Carnelian
Doesn't this intense red shade look glossy like a gemstone? An intense red carnelian to be precise. Red carnelian is one of the oldest gemstones and was used for signets in ancient Rome.
12. Auburn
I love this hair shade. When I turn 30, I'm going to color my hair auburn. It's the perfect shade of red for me. It is bright and intense at the same time. It reminds me of autumn when the leaves turn brown and fall. I love it!
13. Phoenix Red
Remember that scene in Harry Potter and the Chamber of Secrets? The phoenix that saved Harry dies. The theater got so quiet, and the melancholy was tangible. Then, a baby phoenix emerges from the ashes, and the whole theater was relieved and happy. Pretty awesome! Give your hair a new lease of life the same way with this phoenix blend. You won't be sorry!
14. Moore Red
Yes, I'm naming this shade of red after the actress Julianne Moore. This is the hair shade she sports. It is very similar to her natural hair color and suits her like a boss. No wonder she remains a redhead to this day!
15. Deep Brown Red
I have a few friends who love red but don't want to take the full plunge because they love their brown locks. So, I found them a solution – tinting their brown locks with red. Not only do they love it, but they also recommend it to others.
16. Brown Red Dimension
Why go for plain old chocolate when you can add some delicious cherry jam to the mix? This brown red dimension is stunning. I bet after seeing this woman, a lot of other women made hair appointments. For sure!
17. Shocking Red
Ahh! Remember when you were younger and thought being rebellious was fun? The first thing you probably did was considered coloring your hair shocking red. It's the teenage color of rebellion.
18. Intense Auburn
This intense auburn is one of my favorite hair shades. If you have brown hair, don't bleach it. Add some auburn to it to get this intensely dramatic look. Pair it with a dark lip color, and the world is your oyster.
19. Copper Ginger
This is one of the best colors to sport during autumn and winter. Copper blended with orange gives you this warm and wonderful red shade. Her hair reminds me of Donna Noble (from Doctor Who)! Excuse me while I cry in the corner (if you get the reference, you are my friend!).
20. Pinkish Red
Red and pink are colors that symbolize femininity and energy. Why choose between the two when you can merge them and become a happy unicorn? There's something about red hair that makes it look so silky – like a curtain you want run your fingers through.
21. Dimensional Auburn
Coloring your hair darker in some places can add dimension to it. Look at this auburn dimension. Her hair is auburn, but you can see that some parts are darker than the others. They clearly make those stunning eyes pop!
22. Mary Jane Red
Mary Jane is one of the most iconic women in the comic book world. Maybe it's because she has red hair, and Spidey's signature colors are red and blue. And I have to say, Kirsten Dunst looked stunning with red hair.
23. Copper Dimension
This mix looks like a sunrise and sunset wrapped together. I love how the darker copper hair is curled while the lighter hair is left a little straight. Each color adds contrast and life to the hair without looking too over the top.
24. Playful Red
A friend of mine loves Pinot Noir. She loves its taste and color and how it relaxes her after a long day of work. She wanted to take that feeling everywhere she went, so she colored her hair a Pinot Noir red. She loves it, and it looks wicked!
25. Light Intense Red
When I was younger, everyone was going for bright red highlights. I thought they would be a tad bit too much for me, but that's when I saw this shade. It's not too bright and not too dull. It's the perfect amount of red to dazzle.
26. Red Streaks
If you want a makeover but don't want to go all out, this is the perfect hair look for you. Getting partial red streaks can really amp up your facial features and highlight the color of your natural locks. Not to mention, it can make you feel super edgy!
27. Maroon Red
I want that red velvet, I want that sugar sweet. This woman's hair looks like a red velvet curtain. It flows down so smoothly. If my hair looked that good, I would be playing with it constantly. Stunner!
28. Cheryl Blossom Red
Red is Cheryl Blossom's color. She has red lips, red hair, and now, a red Serpent jacket. She's the perfect millennial femme fatale. You can be a badass too with this hair shade. It is a vibrant shade that brings your hair to life instantly.
29. Strawberry Blonde
Before you yell at me for adding blonde to a mix, hear me out. When you have blonde hair, transitioning to a shade like red can be scary. From the light hair you and everyone around you are familiar with, you're moving to darker territory. Before going for a full-on red, try this mild one. Strawberry blonde is the perfect start for your journey to becoming ginger.
30. Bright Copper
Whoever looked at copper and thought of turning it into a hair color is a genius! And we're all thankful. Copper is an incredible shade and works with all natural hair tones. Dark roots make your face look longer while blunt ends make your jawline look more pointed.
There you have it – 30 stunning red hair shades that are sure to dazzle the entire world. If you feel like I've left a shade out, let me know. Which is your favorite red shade from this list? I'm partial to the auburns! Let me know in the comments section below.
The following two tabs change content below.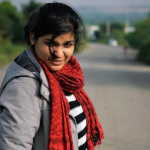 Latest posts by Anjali Sayee (see all)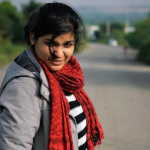 Anjali Sayee
Anjali Sayee is a writer and an introvert. From studying Aeronautical Engineering and wanting to design her own airplane to writing articles on hairstyles, she has been on quite a journey. She believes that hair is one of the key factors that define a woman's personality. To quote her, "What's the first thing they do in the movies to show a personality change? Change the hair – because it has a life of its own." She's here to help you find the hairstyle you need. This bookworm is a self-professed Wholocker, a talented drummer, and an amateur photographer.