How To Use Retin-A (Tretinoin) For Wrinkles And Skin Aging
Improve skin texture and keep aging signs at bay with this potent ingredient.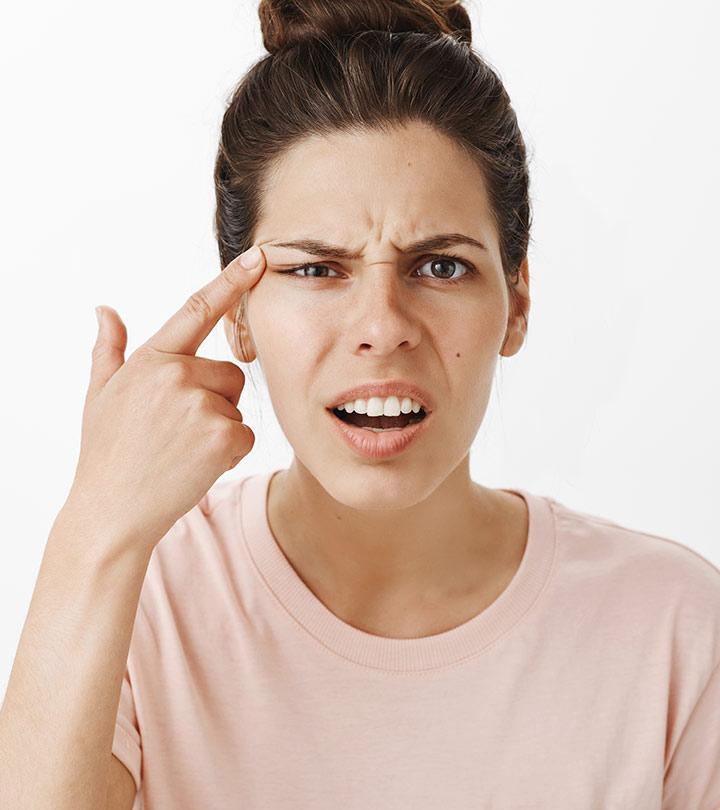 Tretinoin (Retin-A) is one of the most potent ingredients to fade signs of aging. You can never go wrong with Retin-A for wrinkles as it improves skin texture and tone, and supports skin rejuvenation to minimize the signs of aging and keep the skin youthful. Retin-A also helps fade dark spots and pigmentation to make your skin brighter. While tretinoin is quite potent, you must be patient to experience visible results. This article explains why Retin-A should find a permanent spot in your anti-aging skin care routine. Read on.
What Is Retina-A Or Tretinoin? How Does It Work On Your Skin?
Tretinoin or Retin-A belongs to the retinoid family (derived from vitamin A). Usually, retinoids are used topically for treating skin issues such as acne, melasmai  XA skin disorder where dark skin patches develop on the face due to hormonal changes or sun exposure. , psoriasisi  XA non-contagious autoimmune disorder where skin cells accumulate and develop into scales and dry, itchy areas. , etc. Tretinoin is the most studied retinoid. It was only in 1984 that the potential of Tretinoin in treating photoagingi  XAccelerated skin aging caused due to prolonged exposure to ultraviolet radiation (UV) from the sun. was discovered. Researchers tested the effect of tretinoin on mouse skin for 10 weeks and found that it increased collageni  XA protein that helps maintain the structure of connective tissues like skin, tendons, bones, and cartilage. production and reduced wrinkles and fine lines Tretinoin may also help with acne treatment and management (1).
There are a lot of scientific studies that prove the efficacy of tretinoin as a potent anti-aging topical medicine. Let's take a look.
Tretinoin For Anti-Aging Benefits: What Does Research Say?
In a randomizedi  XA research study approach that divides participants into control (no intervention given) or experimental groups at random. , paralleli  XA clinical study where two or more participant groups get different treatments. , and double-blinded studyi  XA study where the therapy the subjects get is kept a secret from both the researchers and the subjects until the study is over. , the participants used retinol and tretinoin on their skin for three months. After three months, a significant improvement in their wrinkles, photodamage, and pigmentation levels was observed, with very mild adverse effects. The study concluded that even though tretinoin could help improve wrinkles and other signs of aging, it might cause irritation, such as redness and/or dryness, which is a common side effect of topical retinoids (2). The skin often takes time to adjust to retinol and retinoids (also known as retinization), during which you may experience these symptoms. However, they eventually subside.
Another double-blinded study observed the effects of tretinoin on photoaged skin. The study suggested that applying 0.5% tretinoin cream daily not only boosted collagen formation but also improved the skin texture and skin tone and facilitated the development of new blood vessels (angiogenesis) (3).
While you can feel the effect of tretinoin on your skin right after a few weeks, you will see major changes in the long run. A study found that tretinoin improved the clinical signs of photoaging in the participants, but significant differences were observed after six months of using the cream continuously. The study was then extended to six more months, with the participants now using the cream one to three times per week. The results showed more improvements in the overall signs of photoaging (4).
A beauty and lifestyle blogger used retin-A on her skin for three months and saw visible improvement. She noticed that it moisturized the skin and reduced redness. She writes, "It takes up to 4-6 months of tretinoin use in order to see some great effects. This is basically a chemical peeling, which requires time for it to show what it's worth… I used Retin-A in 2012 for the first time and, in many years, my skin was finally clean and healthy, without redness or an excessive sebum secretion (i)."
Tretinoin is a potent medication for anti-aging. However, you need to use it properly to get the most out of it.
How To Use Tretinoin Or Retin-A For Signs Of Aging
Avoid using tretinoin during daytime. Always apply the cream at night, before going to bed. This ensures your skin gets time to absorb the medication and improves its efficacy.
Avoid pairing tretinoin with benzoyl peroxide. It's best not to use it with other acid products, such as salicylic acid, glycolic acid, and vitamin C.
Cleanse your face before applying tretinoin or any other skin care product. If you are layering tretinoin with any other skin care product, wait for at least 15 minutes before you apply tretinoin.
When used in the right way, tretinoin improves your skin cell turnover and slows down the development of lines and wrinkles. But, you have to be patient.


Did You Know?
While retinol is a natural vitamin A derivative and doesn't warrant a doctor's prescription, tretinoin is a synthetic derivative of vitamin A and needs a prescription.
How Long Does It Take For Tretinoin To Work?
It will take several months before you see actual results.
A study observing the effect of tretinoin on Caucasian health concluded that tretinoin therapy should be continued for at least six months to notice visible changes in the skin. The subjects observed no significant difference in their skin for the first six months. However, after 12 months, new collagen fibers developed, and researchers observed overall improvement in their skin (1).
In another study, the researchers observed visible results after 84 days. They found significant improvement in supralabial wrinklesi  XWrinkles above the upper lip, which are often the early signs of aging. , pigmentation, and nasolabial folds (laugh lines) (2).
Despite its impressive benefits, tretinoin might cause some side effects.
Side Effects Of Tretinoin
Your skin needs some time to adjust to retinoids. If you are using tretinoin for the first time, you might experience initial side effects, such as:
Skin dryness
Irritation
Stinging sensation
Itching
Scaling
Mild burning
Introduce it to your skin gradually as it might cause skin sensitivity. Start with a twice-a-week routine and stick to it for the first two months. You can also talk to your doctor and get an idea about how to use it properly.
If you opt for a skin resurfacing laser treatment, avoid using tretinoin before and after the treatment for at least a few weeks as it may lead to inflammation and adverse reactions.

Quick Tip
Certain compounds like lime,
astringents
i
X
Ingredients that cause the body tissues and skin cells to constrict to reduce skin oiliness or stop minor bleeding.
, alcohol, and spices may interact with tretinoin. Hence, ensure these don't come in contact with your skin.
Also, before you start using tretinoin, be aware of the following things.
Things To Consider Before Using Tretinoin
In case you are considering any facial treatment, such as laser treatments or chemical peels, don't forget to consult your doctor and inform them that you are using tretinoin infused skin care products. Tretinoin might interfere with other skin treatments, and the doctor might suggest you stop using it for a certain time before and after you undergo the facial treatment.
Avoid using tretinoin if you are pregnant.
Tretinoin and other retinoids exfoliate your skin and make it sensitive to the sun. So, use sun protection and try not to expose your skin to the sun for long periods to prevent damage. Use a sunscreen that has at least SPF 30 and consider wearing a hat when outdoors.
If Retin-A does not seem like a suitable option for you, consider the following alternatives.
Alternative Wrinkle Treatments
You may consider the following treatments instead of Retin-A (tretinoin):
Infographic: Tips To Keep In Mind Before Using Retin-A
Retin-A is a popular topical medication used for treating acne, psoriasis, dark spots, and signs of aging. However, it is important to know how to use it properly to get the most out of it. Check out the infographic below for tips to keep in mind before incorporating tretinoin into your skin care routine.

If you have just introduced your skin to Retin-A and made it a part of your beauty routine, you may notice breakouts and experience minor skin irritation. Do not discontinue using it as retinol and its derivatives usually cause skin purging before showing any results. This should not stop you from using Retin A for wrinkles, hyperpigmentation, sun damage, fine lines, and other aging issues. However, always start with a lower concentration. Consult a doctor to determine the right strength of tretinoin for your skin and the correct way to use it. This will help avoid unwanted skin reactions and irritation and promote optimal skin health.
Frequently Asked Questions
Which is better for wrinkles: retinol or Retin-A?
According to anecdotal evidence, Retin-A is better. Its main active ingredient is retinoic acid, which aids in wrinkle reduction more effectively than any other anti-aging product.
Does Retin-A tighten the skin under the eyes?
Yes. Retin-A helps boost collagen production and reduces wrinkles and fine lines that help tighten the skin under the eyes.
Do I need to wash tretinoin off in the morning?
No. If you have applied tretinoin to the skin, wait at least for 1 hour before washing it.
What moisturizer should I use with tretinoin?
Tretinoin may dry your skin or make it sensitive to the sun. Use a water-based, hydrating moisturizer with SPF.
Key Takeaways
From dark spots to acne troubles, tretinoin is the best solution to treat them all.
Using Tretinoin may help reduce the signs of aging like wrinkles and fine lines.
You can use it in your night skincare routine.
Avoid pairing it with acid products as it may cause irritation.
You should be consistent with using Tretinoin as it may take around 12 months to show results.
Personal Experience: Source
i. Retin-A: Benefits And Disadvantages
https://theceltiberian.wordpress.com/2014/08/21/retin-a-benefits-and-disadvantages/
Sources
Articles on StyleCraze are backed by verified information from peer-reviewed and academic research papers, reputed organizations, research institutions, and medical associations to ensure accuracy and relevance. Read our editorial policy to learn more.
Reveal the magic of tretinoin, the elixir of youth. Immerse yourself in this captivating video to unravel the transformative powers that keep your skin timeless, exuding radiance for years to come.
The following two tabs change content below.