4 Benefits Of Retinaldehyde For Your Skin You Should Know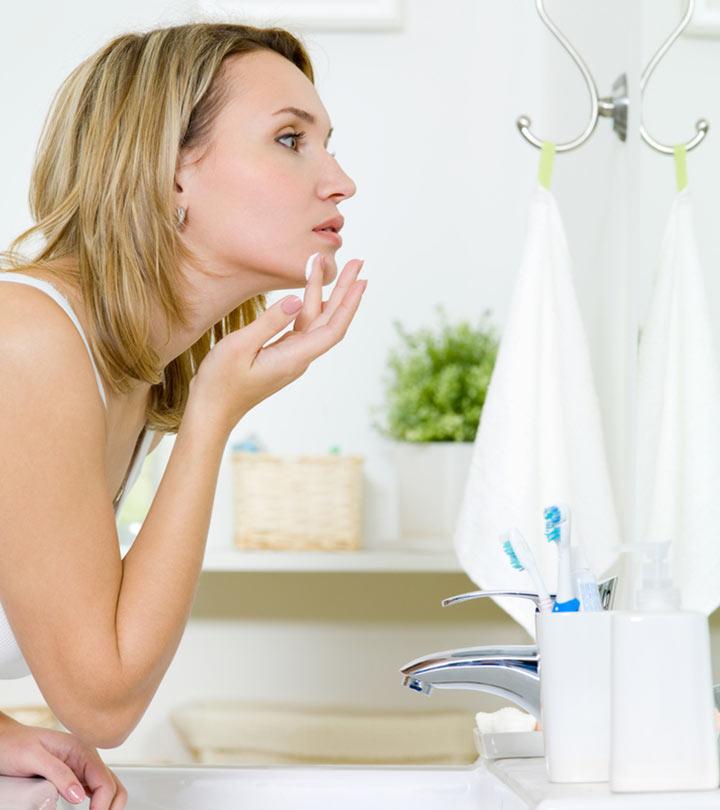 Protecting the skin has always been one of the biggest concerns. You may have tried many products and home remedies by now. But one specific ingredient common in any skin care regimen is vitamin A. Using it daily may help improve skin tone, reduce wrinkles, and prevent hyperpigmentation and premature aging (1). The best way to use vitamin A for healthy skin is through its derivative, retinaldehyde.
Retinaldehyde is a better alternative to retinol (another derivative of vitamin A) products due to fewer side effects (2). In this article, we discuss the benefits of retinaldehyde for the skin, how you can use it, and the precautions to keep in mind. Read on.
What Is Retinaldehyde?
Retinaldehyde is a stabilized form of vitamin A that converts to retinoic acid when applied topically. Retinoids like retinyl palmitate, retinol, and retinaldehyde convert to retinoic acid for the skin to make use of them. Their potency and efficacy depend on this conversion process. The retinoid gets weaker as the number of steps for its conversion increases. Retinaldehyde forms retinoic acid in just one conversion process and is more potent than other retinoids.
Retinaldehyde products may help treat acne. They may also reduce the signs of premature aging.
We discuss the benefits retinaldehyde can have for the skin in the next section.
What Are The Benefits Of Retinaldehyde For The Skin?
Retinaldehyde is good for sensitive skin. It causes less irritation compared to its counterparts. It helps reduce wrinkles, lighten skin tone, rejuvenate skin, and treat acne. Retinaldehyde also speeds up skin cell turnover, reduces hyperpigmentation, and stimulates collagen production.
1. May Improve Skin Tone
The production of new skin cells to replace the existing ones (called skin cell turnover) slows down with age. Retinaldehyde (tretinoin) accelerates skin cell turnover and can make skin smooth and even-toned (3). A study shows that the use of cosmetic cream with retinaldehyde in it has improved the melanin index of the group (4).
2. May Improve Skin Texture And Hydration
Retinol, retinal and retinoic acid have the same biological features as vitamin A (3). Like retinoic acid, retinaldehyde is a retinoid that helps boost the production of epidermal proteins with less irritability. This may improve skin texture and hydration. A study shows that the ingredient is well tolerated and improves skin hydration and texture (4).
3. May Reduce Acne
To treat acne issues, usually one can do retinoid treatments that reduce sebum production and antibiotics that fight bacterial infections. Since retinaldehyde is a retinoid that has antibacterial properties, it may help reduce acne. A study shows that daily application of retinaldehyde has reduced the density of propionibacterium acnes (5).
4. May Reduce Aging And Photoaging Signs
Use of retinaldehyde increases epidermal thickness and cutaneous elasticity (6). This makes the skin thicker and more elastic, helping in reducing wrinkles and fine lines. Thus, it benefits the skin against aging signs. Studies also show it is an effective topical agent against photoaging signs (7).
Retinaldehyde appears to be superior to other retinoids. But how do they compare?
Retinaldehyde Vs. Other Retinoids
Other retinoids include retinyl palmitate, retinol, retinoic acid, tazarotene, adapalene, and isotretinoin. However, retinoic acid is the purest form, and the other derivatives must get converted to it. Retinaldehyde has the most similar properties to retinoic acid and takes lesser time to convert and has a good tolerance profile (8). The metabolism of retinaldehyde to retinoic acid occurs only by keratinocytes at an appropriate stage of differentiation. Hence, retinoic acid formed on the skin will be more controlled and shows no adverse effects (1).
People who used retinol and retinyl palmitate products may have had side effects like dry skin, sun sensitivity, flaky skin, peeling, etc. Retinaldehyde might help those with sensitive skin or those who have not seen good results after trying products containing other retinoids.
While retinaldehyde has fewer side effects compared to other retinoids, it is still important to know them. Keep reading.
Side effects Of Retinaldehyde
A common misconception is that retinaldehyde causes breakouts. But the chances are fewer as it helps unclog the pores. However, any other ingredient in a retinaldehyde product can cause breakouts. Retinaldehyde is less likely to have any other side effects. Use it with a moisturizer or minimize the quantity and frequency if you develop flaky skin or redness.
However, the safety of using topical retinoids during pregnancy is a controversial case as there have been cases of birth defects due to topical tretinoin use. Though it is not proved to be the reason for these defects, women are advised to not use topical retinoids, including retinaldehyde, during pregnancy (9).
You may now be willing to include retinaldehyde in your skincare regimen as it has fewer side effects. But how can you use it? Read to know more.
How To Use It?
It is important to observe your skin's reaction after using a new product. Use retinaldehyde at the same frequency if you have already used other retinoid products. Otherwise, start using it twice a week. Apply it every night if the skin reacts positively. Minimize use a few times a week if the skin turns red or dry.
Apply only a pea-sized amount (0.25g) of the product for the whole face. Begin with a product whose retinaldehyde concentration is low. You may gradually use products of a higher retinaldehyde concentration if you do not experience any allergies.
The best products that contain retinaldehyde are face serums, anti-aging serums, eye creams, and face masks. A good retinaldehyde serum brightens the skin and maintains a moisture barrier. Retinaldehyde eye creams help reduce dark circles, fine lines around your eyes, and de-puff the face. Be consistent with your use. The best results may take more than six months.
Conclusion
Retinaldehyde is a vitamin A derivative that is more effective than other retinoids. It may help reduce wrinkles, improve skin tone, remove blemishes, and minimize hyperpigmentation. Retinaldehyde products are more suitable for sensitive skin. Include them in your skincare regimen. However, check if your skin is suitable for such products before using them regularly. Consult a dermatologist if you experience any side effects.

References:
Articles on StyleCraze are backed by verified information from peer-reviewed and academic research papers, reputed organizations, research institutions, and medical associations to ensure accuracy and relevance. Read our editorial policy to learn more.
Recommended Articles
The following two tabs change content below.