Revlon Ultra HD Matte Lip Color Review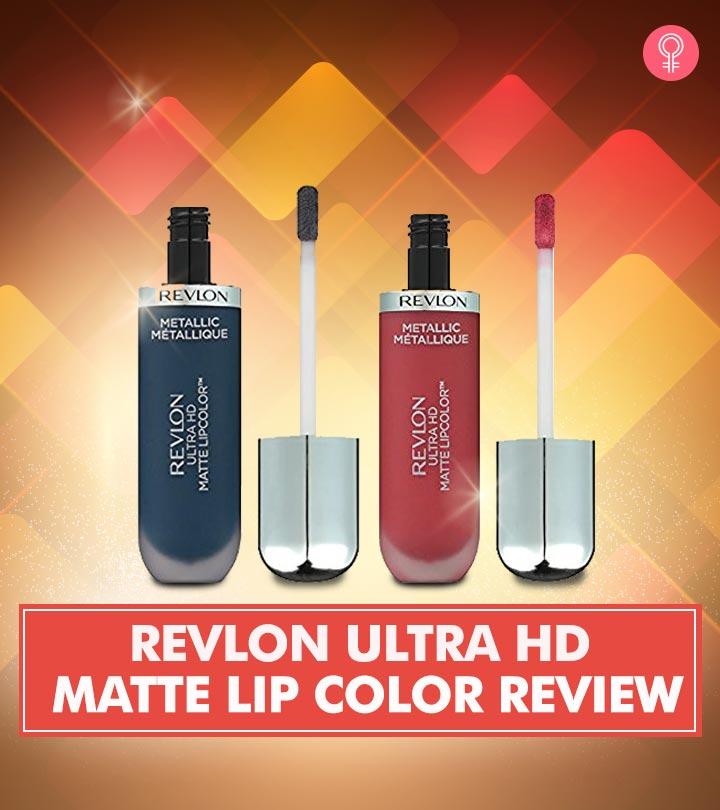 While matte lipsticks are taking over the beauty industry, liquid matte lipsticks are leading the way. They are breaking the Internet, to be more specific, they have become a staple for makeup fanatics on Instagram (thank you, Kylie J). If you've been a fan of this trend, I have something for you. I tried the Revlon Ultra HD Matte Lip Color and here's my review of this popular drugstore liquid lip color.
If you're curious to find out whether this product is worth all the rage, read on to know how it fares in my review.
Revlon Ultra HD Matte Lip Color Review
The Revlon Ultra HD Matte Lip Color is a lightweight, high definition, velvety matte color. Its moisturizing gel formula is 100% wax-free. It's now available in 24 high definition shades to choose from.
Features And Benefits
Here's what Revlon has to offer with this liquid matte lip color:
• Comes with a plush, velvety applicator
• Has an irresistible scent of creamy mango and whipped vanilla
• Lightweight, high definition and velvety matte color
• Gives you full coverage in a single swipe
• Available in a variety of shades
• Incredibly long-wearing
Ingredients
Dimethicone, Isohexadecane, Trimethylsiloxy, Isododecane, Vinyl Dimethicone/ Methicone Silsesquioxane Crosspolymer, Silica, C30-50 Alcohols, Methyl Methacrylate Crosspolymer, Diisostearyl Malate, Aloe Barbadensis, Calcium Aluminum Borosilicate, Calcium Sodium Borosilicate, Aloe Barbadensis Leaf Extract, Butyrospermum Parkii (Shea Butter), Tocopheryl Acetate, Bis-(C12-14 Alkyl PPG-4) Hexamethylene Urea, Kaolin, Silica Silylate, Bismuth Oxychloride, Hydrogenated Polyisobutene, Methicone, Pentaerythrityl Tetraethylhexanoate, Parfum (Fragrance), Limonene, Sodium Saccharin, Benzoic Acid, BHT, May Contain: , MICA, Titanium Dioxide (Cl 77891), Iron Oxides (CI 77491, 77499), Red 27 Lake (CI 45410), Red 28 Lake (CI 45410), Red 7 Lake (CI15850), Red 33 Lake (CI 7200), Yellow 5 Lake (CI 19140), Yellow 6 Lake (CI 15985), Blue 1 Lake (CI 42090), Red 27 (CI 45410), Carmine (CI 75470)
Packaging
The Revlon Ultra HD Matte Lip Color comes in a traditional liquid lipstick tube. It's an oval, cylindrical, frosted tube with silver detailing. Its applicator is the standard doe shaped one that's very easy to handle and applies the lip color with precision. On the whole, its packaging is simple and looks super classy and high-end. It also feels good to hold and use.
Review
I was on the lookout for a drugstore matte liquid lipstick, and I came across the Ultra HD Matte Lip Color from Revlon. Its packaging lured me at first, after which I decided to try out the tester, and I was quite impressed with its velvety formula. I picked this up in four shades (HD Romance, HD Kisses, HD Intensity, and HD Seduction) to start off with and here's my experience with this lip color.
The texture of this lip color is extremely creamy and smooth. It glides easily on the lips and applies evenly without having to pull or tug your lips. But here's the catch: its formula seems to take forever to dry! It barely sets into a matte finish unless you wait for a couple of hours. Considering that it's marketed as an ultra HD "matte" lip color, isn't that ridiculous?
Coming to its fragrance, it has a distinct sweet fragrance, similar to that of cupcakes. It fades after a while of application, but if you're sensitive to smells, it can be annoying.
Pigmentation And Performance
The pigmentation of this lip color is quite good. Two swipes of the color give a fully opaque finish. You need to be careful and apply thin layers of the formula as it can end up looking messy and clumpy. Its dry time is incredibly high, and the lipstick has the tendency to transfer a lot, also onto your teeth. If you have dry lips, it settles into lip lines and highlights dry patches.
If you don't give this lip color enough time (that is about 1.5 hours) to dry and set, which will be the case more often than not, it will give you a wear time of about three hours. However, if you do allow it to set without any interference, its staying power drastically improves. But my question is, who has that kind of time and patience?
Shades
This lipstick comes in a range of 24 shades that includes reds, pinks, nudes, purples, and mauves. There's something for everyone. Here's how some of the shades look and perform:
'Addiction' is a mauve-pink shade with subtle purple undertones. This unique color is one of my personal favorites from this range. It makes for a great daily wear shade and suits medium to light skin tones well.
This purple-ish pink shade is so pretty! It suits medium to light skin tones well. You can pair it up with a floral outfit to create a perfect look for this spring.
This shade is pink with muted mauve undertones. It's great to give your lips a natural flush of color. This suits almost all skin tones.
This peachy shade is the perfect nude for fair skin tones. It's a great shade to wear to the office.
'Flirtation' is a perfectly bright coral shade. It's a must-have color for spring or summer! If you instantly want to brighten up your look, this is the way to go!
If you're into neutrals, this one's a sheer, brownish nude shade that suits medium to light skin tones. It goes on evenly and is perfect when you want to go in with the no-makeup makeup look.
This chocolate brown color is such a standout shade! It's perfect for evening wear. It looks extremely pretty on dusky, medium, and fair skin tones!
This one's a deep pink. A staple for most girls. It's a very fun and youthful color and suits all skin tones well.
'Kisses' is a gorgeous, neutral medium pink. It works well for all skin tones and is perfect for the office goers.
'Love' is a bright cherry red. It's perfect for evening wear and complements every skin tone beautifully. This shade can be worn all through the year because red lips never go out of season.
If you're into bright shades, this one's a vibrant, bubbly pink. It suits all skin tones well and gives your pout the right amount of drama.
'Passion' is a classic deep red. If you want the Marilyn Monroe pout, this is the shade you need. It's perfect for every skin tone and is one of my favorite shades from this range.
Besides these, here's a bunch of other shades from the Revlon Ultra HD Matte Lip Color range.
Subject to Availability
Here's a list of pros and cons of the Revlon Ultra HD Matte Lip Color to help you make your decision:
Pros
Applies smoothly and evenly
Extremely pigmented
Creamy texture that sets into a matte finish (eventually)
Feels light and comfortable on the lips
Does not dry out your lips or flake
Easy to apply applicator
Available in various shades
Affordable and easily available
Cons
Takes time to dry
Transfers a lot
Highlights dry patches and settle into lip lines
If you're very sensitive to smells, its fragrance could be an issue
How To Use This Product
You can apply the Revlon Ultra HD Matte Lip Color flawlessly with these easy steps:
Step 1: Exfoliate your lips to get rid of all the dead skin and then apply a moisturizing lip balm.
Step 2: Use concealer around your lips to prevent the formula from bleeding onto the skin around your lips.
Step 3: If desired, line your lips and fill them in using a lip liner that matches your lip color.
Step 4: Apply the liquid lipstick in thin coats, starting from the outer corners of your lower lip and moving towards the center.
Step 5: Press your lips together before you move on to your upper lip.
Step 6: Blot using a tissue.
Shelf Life
36 months
Rating
3/5
Will I Recommend This Product?
I do not recommend the Revlon Ultra HD Matte Lip Color even though it has a lot of good stuff going on – for instance, its wide shade range and intense pigmentation. On the other hand, its cons outweigh the pros. I dislike the fact that this lip color has 'matte' in its name as it's so far from being matte. It's really high maintenance and takes up a lot of time to set. It's not something that you can rely on when you're in a rush to go about your day. Also, there are a whole bunch of other, more efficient matte liquid lipsticks in the drugstore category, making this nothing but a sorry excuse for a matte liquid lip color.
The thing about a matte liquid lipstick is that it can sometimes appear more dated than modern, so make sure you pick the right one. That was my review of the Revlon Ultra HD Matte Lip Color. Have you ever tried this liquid lipstick? What did you think of it? Let me know in the comments section below.
Frequently Asked Questions
How is the formula of the Ultra HD Matte Lip Color different from regular matte lipsticks?
Unlike other matte lipsticks, the Revlon Ultra HD Matte Lip Color has a lightweight, creamy texture that glides smoothly on the lips, providing a comfortable and non-drying feel. The Revlon lipstick has a velvety and soft finish, as opposed to traditional matte lipsticks, which can feel dry or powdery on the lips.
How do I remove the Ultra HD Matte Lip Color at the end of the day?
Follow these steps to remove Ultra HD matte lip color lipstick effectively:
Apply a cream- or oil-based cleanser on your lips.
Massage it gently for one minute.
Take a cotton pad and wipe off the remains.
Rinse with water and follow up with a lip balm.
Are there any known potential allergens or irritants in the Ultra HD Matte Lip Color?
There are low chances of getting an allergic reaction from Ultra HD Matte Lip Color. It is allergen-free and has no nickel, gluten, or coconut. If you are allergic to a specific ingredient, it's better to check the ingredient list before using this lipstick.
Recommended Articles: