How To Dress According To Your Body Type – Complete Guide
Always felt like your clothes don't look good on you? It's time to start dressing for your body type!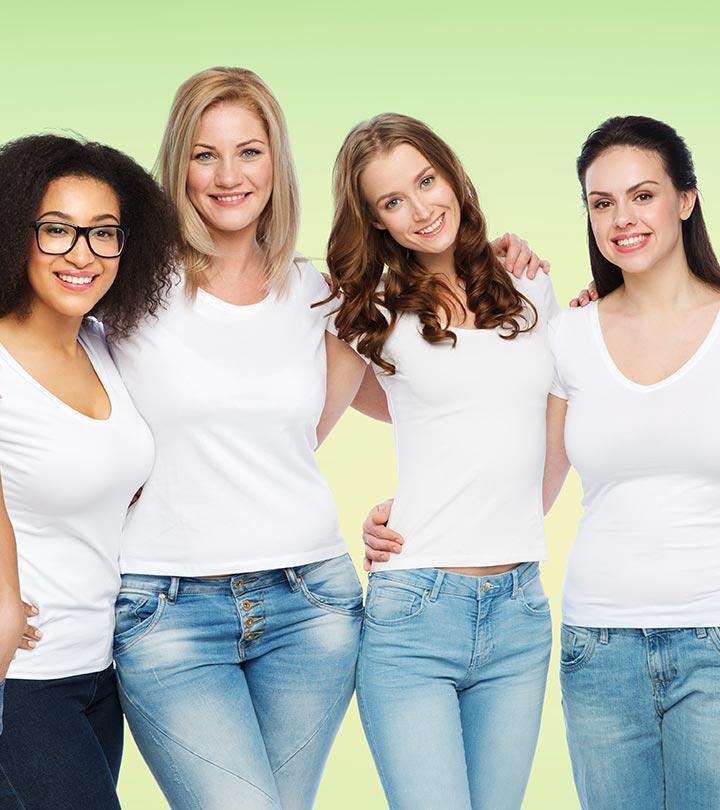 If you often ask yourself 'What is my body type?', you will be happy to know that you have landed yourself in the right place, for we are here to help. In this article today, we are going to give you a thorough understanding of different body types and how to dress up accordingly. We know that sometimes when you are out there shopping, you pick the perfect dress and go into the trial room to see if the dress fits you but then you get disappointed. Well, let us tell you that the reason behind the disappointment is the lack of awareness of body types. When you are fully acquainted with your own body structure, flaunting your dream outfit becomes a reality right away. Therefore, it is of utmost importance to know about the different types of body types that are there and identify which body type you belong to. So, please scroll down and give this article a read and find it out yourself.
How To Determine Your Body Shape – With Measurements
Your body silhouette is what your body type is, which is what we will discuss shortly. However, it is also important to know your vitals first, as much as it is to understand your body type.
Tip – Using cloth tape is better than metal. Let the tape be neither too tight nor loose; it should be snug to a point where you think it will slip. It probably will but hold on to it and give you the most accurate number.
Measuring your shoulder measurements is relatively difficult because it is tricky to hover the tape while keeping it intact. If you have people around, let someone else help you with this part, at least. Start at the tip of the shoulder (any side) and then take it around to the other side till the end meets the tip of the same shoulder. Remember that the tape should be very close to the shoulder. This way, you get the measurement of the widest point of your shoulder.
Stand straight before you do this. You need to measure the fullest part of your bust. Start by placing one end of the tape at the fullest part and wrap it around from under your shoulders to bring it back to where you started. You now have your bust size. Don't let the tape squish your breasts; it should stick to your chest end to end.
Do not slouch your stomach or pull it in. Just stand as straight as you can. Start at the slimmest part of your waist above your belly button and below the rib cage; this is your natural waistline. Another way to find your waistline is to bend to the side. The point from where we bend is our waistline.
Wrap the tape around your stomach and bring it back to where you first started. If you are someone who usually wears clothes below your belly button, you might want to make a note of that number too.
You need to measure the circumference of the fullest part of your buttocks to get the measure of your hips. Start with one side of the hip and take it from the rear towards the other hip. Bring it back to the starting point. Do this exercise in front of the mirror so you know the tape is leveled throughout.
How To Determine Your Body Type And Dress Accordingly? – The Body Shape Guide
Simply put, your body type is the outline of your structure. Thus, understanding your body type helps with mapping clothes and tweaking them in a way that matches your style. The idea is to make sure the dresses we choose sit beautifully and proportionately (or according to your body proportions) and enhance your looks for an even better-looking silhouette. Short, tall, slender, curvy, etc., do not determine your body type; the body parts do. Since all of us almost have a distinct shape, yet (our bodies) fall under bigger buckets, we need to delve into this a little.
P.S – If you want to be doubly sure and make it seem more than an eyeball measurement, your vitals can be used as the basis too. You can look at the math and be able to point the finger at the body type.
How To Dress For Your Body Types – 5 Different Types
1. What Is An Apple Body Shape?
You will fall under this apple-shaped (or oval-shaped) figure when you have a heavier upper body in comparison to your lower part of the body. People with this body type usually have broad shoulders and a bigger bust line, and that's why it feels like the weight gathers around the midriff.
How To Dress For Apple Body Shape?
Since most of the weight and concentration is above the hips, the mid-riff appears heavier than the remaining body with a minimal waistline. So, the idea here is to take the attention away from that part of the body and highlight your strengths. That's why you need to flaunt your legs or wear the dress with V or deep V necklines that create the illusion of an elongated torso.
You can also play with accessories like necklaces and earrings. The most important thing is to move the attention close to the face or, if you have nice legs, to the bottom.
Best Clothes For Apple Body Shape?
A-line or empire cuts are ideal for you. Wear printed dresses or patterned jackets that add a layer to shift the focus. Monochrome looks, dark colors, full or 3/4th sleeve dresses, and flowy tops will help. You could also wear flared bottoms, palazzos, etc., to create a balance. Also, since your shoulders are broad and you might already have a bigger bustline, ensure you wear the right bra.


Quick Tip
Pick open cardigans with draped fits that are less clinging to accentuate the apple body type best. Ensure the garment ends below the hipline to lengthen the body, and ensure that the clothing skims over the torso and hips.
What Not To Wear When You Have An Apple Body Shape?
Avoid figure-hugging dresses or tops with skinny jeans; this will make it more visible. Try and replace the waist belt with an upper waist belt to strike a balance. Waistband trousers and skirts with elastic bands work well on this body shape.
2. What Is An Hourglass Body Shape?
You know when you're an hourglass body shape, and so will the others. This body type is the most balanced of all with a proportionate top and bottom part of the body with a well-defined waistline. So when you look for dresses, choose the ones that do just that for you. It is a body to die for, so flaunt it and in the right way.
How To Dress For An Hourglass Body Shape?
Since you have a well-balanced figure, your dress styles should do the same as well. The dress should sit well at the right curves and follow the outline of these curves. Make the most of it because not everybody has this!
Best Clothes For Hourglass Body Shape?
Dresses that cinch at the waist will be your best fit. V or plunge V and sweetheart necklines help you flaunt your upper body. To flaunt your waistline, go with a belt at your natural waistline or below the belly button — either way, it only looks great. A-line dresses or similar cuts take care of working on the lower part of the body, and needless to say, body-hugging dresses are your thing because, why not?


Quick Tip
Form-fitting, belted jackets are ideal. Short jackets that end just above your hips highlight your curves. If you are petite, opt for shorter jackets that end at your hips.
What Not To Wear When You Have An Hourglass Body Shape?
Almost anything looks great on this body type. But pairing it up with loose tops or bottoms might kill the look. What is the point, otherwise?
3. What Is A Pear Body Shape?
The pear body shape is all in the lower part of your body. Your butt and thighs are visually bigger than your upper body. So, make some space for that base, people. Thanks To Kim Kardashian and others, this body is a rage right now. You're lucky if you've naturally got a figure like this or achieved this with workouts. It is the Best Pants For Pear Shaped Petites.
How To Dress For Pear Body Shape?
The advantage of this body type is that you can create an illusion of an hourglass figure if styled correctly. Your shoulders are narrow, and your hips are wide. All you have to do is to strike a balance. Or, wear outfits that enhance your lower body; either way works well.
Best Clothes For Pear Shaped Body?
Wide-legged pants, A-line skirts, or dresses with patterned or ruffled tops that add definition to the upper body look great. Skinny jeans with loose tops help create an hourglass illusion. Crop tops, sweetheart, V or deep-V, padded jackets and tops, scoop, or boat necks will balance your bottom.
What Not To Wear When You Have A Pear-Shaped Body?
Avoid skin-fitting tops, halter necklines, and loose bottoms unless you prefer the look.
4. What Is A Rectangle Body Shape?
The rectangle-shaped body is usually well balanced from the shoulders to the hips. So, there is not too much of a definition to your silhouette, and it's fairly straightforward.
How To Dress For A Rectangle Body Shape?
Your arms and legs are the assets. So, focus on enhancing that. It's like the hourglass figure minus the defined waistline.
Best Clothes For Rectangle Shaped Body?
Choose A-line skirts, ruffled and layered tops. Dresses that add definition to your bottom and necklines that add meat to the upper body. Sleeveless, strapless, and sweetheart lines are your thing. Blazers, long jackets, and capes add the much-needed drama here.
What Not To Wear When You Have A Rectangle-Shaped Body?
Avoid dresses that are overarching; they look very consuming and will not look great.
5. What Is An Inverted Triangle Body Shape?
The inverted triangle is the most athletic-looking body type. Your shoulders are much broader than your hips. So, your arms and shoulders need to be enhanced as much as possible; let's work on them.
How To Dress For An Inverted Triangle Body Shape?
You have to remember to add definition to your hips and thereby to focus on creating a balance. Straight-cut jeans and dresses that naturally have an inverted V-look to them are all clothes that will suit your body.
Paola Farina says, "If you want to narrow the shoulders, you have to focus on the bottom by adding volume with fabrics, light colors, details, and prints (look at Kate Middleton). But many inverted triangles love their wide shoulders and want to maximize them. In this case, I work with padded jackets, horizontal stripes, and light colors on the upper part of the body."
Best Clothes For Inverted Triangle Body Type?
Since your hips are much narrower than your shoulders, pencil-cut skirts, skinny jeans, etc., with any tops, will look great. But, do make sure that there is not much layering or definition to your upper body because it needs none. V-neck lines work well and create an illusion of narrow shoulders, so this should be your go-to neckline.
What Not To Wear When You Have An Inverted Triangle Body Shape?
Let all the patterns, ruffles, layers, etc., be part of the bottom part of your body, and the upper body be minimalistic. As long as you remember this, you will do more than good.
Infographic: The Right Pair Of Shoes For Your Body Type
Dressing according to your body type can make you feel happy, confident, and comfortable in your skin. But, it is important to note that choosing the right shoes based on your body shape is equally important. Check out the infographic below to find out which type of footwear goes well with your body type.



Gone are the days you would feel disappointed or insecure despite wearing your dream outfit as it would not look as glamorous as you expected. Now, you know the underlying reasons behind feeling uncomfortable in clothes that seem perfect on fashion bloggers, mannequins, and fashion influencers on the cover page of fashion magazines and in the shops, and the models on those online shopping websites. It is because dressing according to your body type and fashion sense can make you feel like your clothes were made just for you. So, take your required insights from the above tutorial and flaunt your flawless looks! It's also important to embrace body positivity and dress in a way that makes you feel confident and comfortable in your own skin. Always remember, you are beautiful just the way you are. Wear your confidence so nothing steals your shine.
Frequently Asked Questions
How should I dress according to my age?
Although the 20s are more about experimenting with clothes and the 40s reflect your calm and stable life, these are only general ideas. To dress according to your age, decide how you want people to perceive you. However, don't forget to give utmost attention to your comfort and personal style. Also, remember that your preferences will change depending on your age. So, dress however you like to because age is only a number!
What body type is hardest to dress?
It's the 21st century, and there are perfect dresses for all body types. All you need to do is choose your right fit wisely and be comfortable and confident while you are in it.
What type of dress to wear if you have a big stomach?
You can go for empire line styles, as they will draw attention to the tiniest part of your torso and creates an illusion of a higher waistline.
Key Takeaways
For an apple body type, choose clothing that draws emphasis to the legs, such as A-line dresses and skirts, and tops that emphasize the neckline.
Choose clothing that balances the hips and shoulders for a pear-shaped figure, such as A-line skirts and empire waist tops.
For an hourglass body shape, choose clothing that draws attention to the waist and accentuates the curves, such as form-fitting dresses and blouses with cinched waists.
Choose clothing that adds curves if you have a straight body type, including ruched tops and A-line skirts.
Avoid wearing clothing that is excessively tight or loose, and select items in colors and patterns that flatter your skin tone.

Learn to dress for your body type. Watch the complete video to know about the various body types out there and the kind of outfits that will look the best on you!

The following two tabs change content below.