10 Sexy Rihanna Tattoos And Their Meanings
Pop sensation Robyn Rihanna Fenty, known by her stage name Rihanna, is truly a poster-girl when it comes to flaunting the love for tattoos on her body. "I like hanging out in tattoo shops," Rihanna has said. "I am so intrigued by tattoos. It's an entire culture, and I study it. Sometimes I go with friends, or just by myself. I get bum-rushed, but I don't care. I don't take security." The artist who has created the most number of tattoos on Rihanna is Bang Bang. He has done 12 tattoos for her. Here is a look at some of her interesting tattoos and their meaning.
Rihanna Tattoos and Their Meaning
1. Musical Notes:
This is believed to be her first tattoo. She got it inked sometime in 2006.  This tattoo appears on her left foot and it draws inspiration from her musical journey when she began her foray in the music industry.
2. Coloured Skull: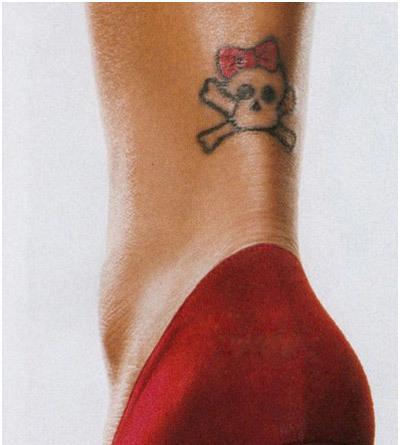 This tattoo design consists of a skull with a bow. Unlike other tattoos that Rihanna sports, it is coloured. Though a skull and cross bone usually depicts danger, the little pink bow on the skull makes it cute.
[ Read: Couple Tattoo Designs ]
3. R:
This one of rihanna's tattoo is self-explanatory. 'R' stands for her name – Rihanna.
4. Love: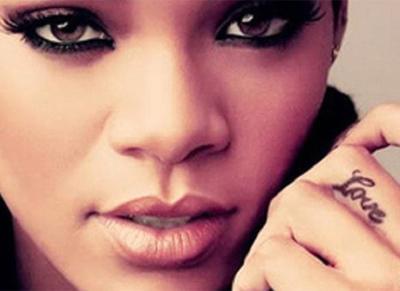 This tattoo says 'Love'. It appears on the middle finger of her left hand. This tattoo is done in a simple cursive font and is not clearly visible unless she holds a microphone. She got it inked in Los Angeles.
[ Read: Moon Tattoo Designs ]
5. Trail of Stars: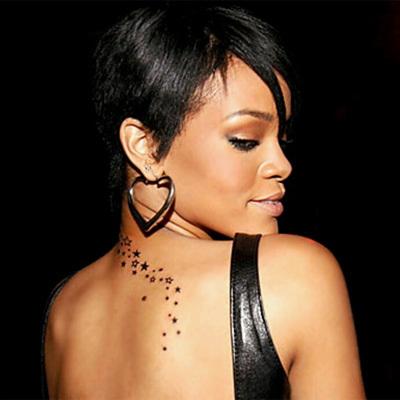 Rihanna has a trail of stars that begins from her nape and trails down to her upper back. The Rihanna star tattoo is one of her most visible and famous tattoo designs of all. The design was etched in New York by her favourite tattoo artist, Bang Bang. This tattoo is also believed to match the trio of stars tattoo behind her boyfriend Chris Brown's ear.
6. Pisces Symbol: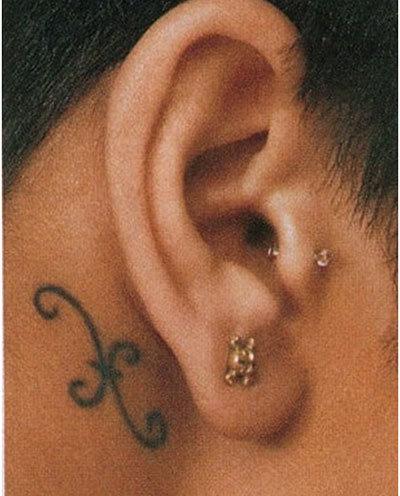 This design is one of the first tattoos that Rihanna got done. This tattoo was done by a very famous Brazilian tattoo artist, whose clients need to book him three years in advance. Luckily for Rihanna, he was in Tokyo at the same time as Rihanna was, so she got it inked.
[ Read: Flowers Tattoo Designs ]
7. Shhh: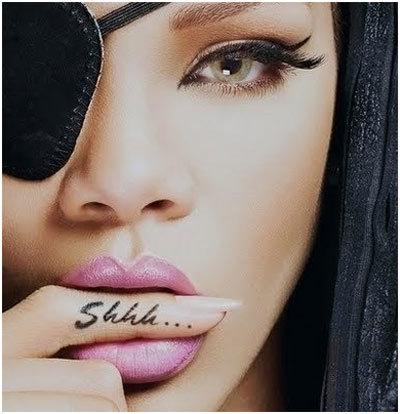 The tattoo says 'Shhh….' It appears on the index finger of her right hand. This tattoo is one of her most copied tattoo design amongst her fans. Lindsay Lohan and Lily Allen have already copied it from Rihanna.
8. Tribal Sign: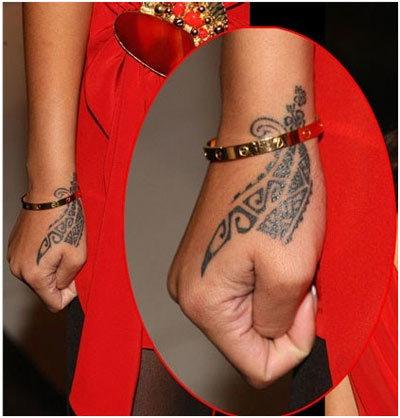 This tattoo is done around her wrist bone on the right hand and at the back of the palm till the beginning of her index finger. This exotic tattoo was done while she was on her New Zealand tour. This Maori-inspired geometric design represents 'strength and love.'
9. Rebel Flower: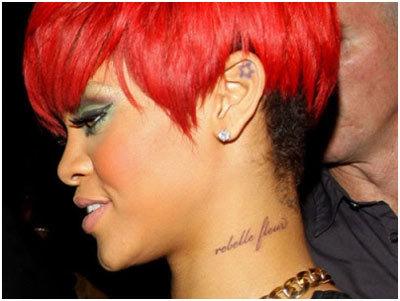 This tattoo on the left side of her neck was etched in 2010. The text says 'rebelle fleur' which means "rebel flower'' in French. This tattoo was also done by her favorite tattoo artist Bang Bang.
10. Roman Numeric: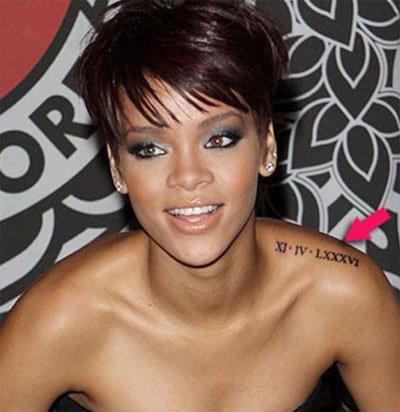 Rihanna shows off the date '14.11.1986' in Roman numeric on her left shoulder. It is the birth date of her best friend Melissa. Melissa also got the same tattoo inked with the birth date of Rihanna.
Image source: 1 , 2 , 3 , 4 , 5 , 6 , 7 , 8 , 9 , 10 , 11

The following two tabs change content below.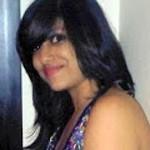 Latest posts by Debolina Raja Gupta (see all)