19 Beautiful Rihanna Tattoos And Their Meanings
Get to know more about the global icon RiRi through her gorgeous and unique body art.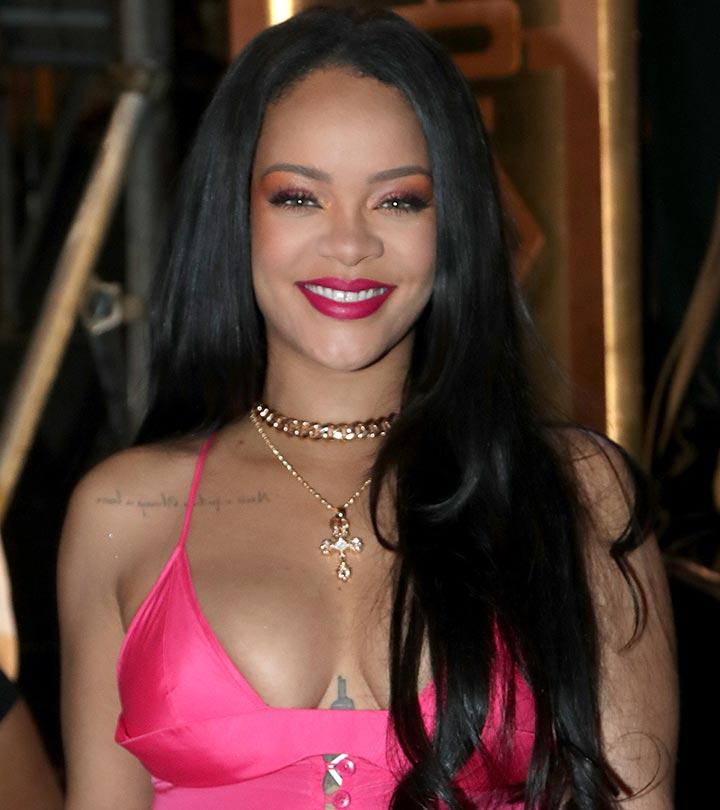 Rihanna or Riri is not only considered an amazing singer and musician but is also known as an icon for women's empowerment. She is expressive, bold, and fierce, and her love for body artwork shows the same.
She has often admitted her absolute love for tattoos and doesn't mind needles full of ink creating decorative patterns and images on her skin with tiny pricks as feels they are intriguing. Her tattoos are inspired by different cultures across the globe. Rihanna has got over 25 tattoos over the years, and Bang Bang, a tattoo artist, has done most of them.
Check out 19 of her most popular tattoos with their meanings.
Rihanna's Tattoos And What They Mean
1. Henna-Inspired Hand Tattoo
When it comes to Rihanna's tattoos, perfection is inevitable. According to sources, she was unhappy with her tribal Maori tattoo near the thumb that she got done in New Zealand. So, she decided to mix it up with an enchanting mandala design, covering her entire forehand and wrist. It talks a lot about her creativity and is close to her personal style, it is an abstract motif inspired by Indian henna art. She flew Bang Bang to the Dominican Republic, especially for this. He, along with Cally-Jo, worked on the pattern.

Quick Tip
Rihanna's body art designs are a mix of things she is a deep believer of and things she finds aesthetic. We can learn from her that not all tattoos need to have a deep meaning behind them. Getting them done purely for aesthetic purposes is cool too.
2. Arabic Quote Tattoo
Rihanna's Arabic tattoo is placed on her lower left rib cage and says, "Al Hurria fi Al Maseeh." It means "Freedom in God." She is greatly motivated by culture practices around the world and is a religious individual, so this tattoo exhibits her spiritual side.
3. Roman Numerals Tattoo
The story of Rihanna's shoulder tattoo is a lesson in friendship and companionship. In June 2008, Rihanna got Melissa Forde's (her best friend) birth date inked on her shoulder in Roman numerals. Melissa, who is also her manager, got Rihanna's birth date tattooed in the same place. This is a great tattoo idea for anyone who wants to commemorate their friendship in a unique manner with their best friends.
4. Egyptian Stomach Tattoo
This is probably one of the most recognized designs in the history of chic tattoos, and when Rihanna's wearing it, there's no doubt that it looks even more spectacular and definitely makes a statement! The large design spread right below her chest is a tattoo of the wingspan of the Egyptian goddess, Isis. Isis is regarded as an ideal mother and wife. This tattoo that she got inked at Soho, London, is a tribute to her late grandmother, Dolly.
5. Gun Tattoo
Apparently, Rihanna flew her tattoo artist, Bang Bang, to Los Angeles from New York to get a birthday tattoo for her friend. Later, she decided to get one for herself as well. The artist suggested getting a small handgun that would look good on her because of her badass personality. Well, it didn't come easy because this tattoo was mired in controversies, with people saying it glorifies and promotes violence. However, Bang Bang defended the creation, saying that Rihanna's tattoo of the gun actually represents power and strength. While she wanted the gun above her armpits, Bang Bang suggested a little more subtle placement on the side of her rib cage.
6. Falcon Ankle Tattoo
In June 2012, Rihanna decided to cover up her music notes tattoo, replacing it with a rather sizeable Egyptian falcon. It could have been inspired by a display in the Metropolitan Museum of Art, where Bang Bang is known to do most of his work. She shared a picture of her tattoo on Twitter along with the caption, "Falcon: a light that shines in the darkness! Never close their eyes during sleep." Rihanna's tattoo on the ankle of the falcon looks like a handgun.
7. Star Tattoos On The Neck
Another Bang Bang creation, Rihanna's star tattoo is one of the most visible tattoos. It consists of a trail of stars that cascades down to her neck and back. Initially, it started off as a bunch of stars on her neck, matching her ex Chris Brown's tattoo that he wears behind his ear. However, later, she had Bang Bang add more stars that extend down her back in New York, which not only added to its beauty but turned it into an iconic pattern that many can take inspiration from.
8. Sanskrit Prayer On Her Hip
In 2007, Rihanna got a Sanskrit prayer from the Sanatana Dharma done on her hip. It translates to "forgiveness, honesty, suppression, and control." Unfortunately, this one was misspelled, and it actually says, "Long-suffering, truthfulness, self-restraint, inward calm, fear, and fearlessness."
9. Rebelle Fleur On Her Neck
As you can see here, Rihanna got a neck tattoo with the text "rebelle fleur," again a Bang Bang creation. But people pointed out that it should rather be "fleur rebelle" to be grammatically correct. The artist defended his tattoo, saying that it translated to 'rebel flower' not 'rebellious flower' as one might presume.

Quick Tip
If you wish to get a tattoo in a foreign language, always do your research. Many people end up making embarrassing mistakes with permanent ink and you do not want that to happen.
10. Skull On Her Ankle
Rihanna's tattoo on the ankle is her only colored ink till date. It was done in Miami in 2008. As you see in the image, the skull is placed on her left ankle. The red and pink bow on it makes the skull seem more feminine, soft, and sweet.
11. "Love" On Her Finger
Rihanna can make a simple 'love' tattoo look edgy and chic. This tattoo is written in cursive and is located on the side of the middle finger of her left hand. There isn't a lot known about her inspiration behind this tattoo, but we know that she picked this one up in L.A. in 2008.
12. "Shhh" On Her Finger
This one is an intriguing design chosen by the singer. The 'Shhh" text is placed on the index finger of her right hand, and she got it in June 2008. Rihanna's finger tattoo has been copied by a bunch of people over time. It is said that this tattoo inspired Lily Allen and Lindsay Lohan as well.
13. Cross On Her Wrist
Rihanna's wrist tattoo is an intricate and elaborate cross design, which is again done by her go-to artist, Bang Bang. It is done on the underside of her wrist. This tattoo symbolizes her faith in God, and the singer got it done in the artists' studio in New York in January 2014.
14. Music Notes On Her Foot
The first-ever tattoo that Rihanna got was in 2006 to mark her brand new singing career. She aptly got music notes done on the inside of her right foot. The two notes are the sixteenth note and a treble clef, which were inspired by her love for music and are a form of expression of herself and signify the importance it holds in her life. Rihanna's foot tattoo was later covered up by a falcon design by Bang Bang in June 2012.
15. Tibetan Phrase On Her Butt
The lower back tattoo or butt tattoo of the singer is a Tibetan word for "lover." Although Rihanna hasn't disclosed what the tattoo means to her and the reason behind getting it inked, people believe that it is a tribute to the people in her life that she loves and the ones who love her.


Quick Tip
When getting a tattoo with symbols from other cultures and religions, make sure you are respectful. Be mindful of not appropriating cultural or religious beliefs.
16. Tribal Design On Her Hand
While on tour in New Zealand, Rihanna experienced getting inked with the traditional Maori 'stick and poke' technique, and it was no piece of cake. This technique is more painful and slower than the regular tattooing technique that is done using electric equipment. It is a tribal dragon claw design representing aroha (or love) and mana (or strength) and matches Chris Brown's (her ex-boyfriend) tattoo on the same hand.
17. Pisces Symbol Behind Her Ear
This is a pretty simple design. Pisces is her zodiac sign. It was made by a famous Brazilian tattoo artist who gets bookings done almost three years in advance. Luckily enough, he was present in Tokyo the same time she was visiting, and she got it done then and there.
18. Egyptian Queen Tattoo
During a photoshoot with Terry Richardson in January 2012, Rihanna showed off her new tattoo – the bust of the Egyptian queen, Nefertiti. The tattoo is placed on the side of her rib cage. 'Nefertiti' translates to 'a beautiful woman has come.' There were a lot of titles associated with the queen, like, Great of Praises, Lady of Grace, Sweet of Love, and the Hereditary Princess.
19. "Never a failure, always a lesson" On Her Chest
Rihanna is highly inspired by art and spirituality. She combines both of these concepts in this tattoo, suggesting it to be a self-motivational piece that is supposed to be her life mantra. The quote, "Never a failure, always a lesson," is written backward on the right side of her chest so that she can read it right in the mirror. This tattoo is an inspiration to many and is considered one of her most meaningful tattoos.
Rihanna is a music icon and a fashion diva. Fierce, bold, and captivating, she has moved millions around the world with her beautiful songs. She inspires people every day with her work in social justice and women empowerment. Last but not the least, is Riri's passion for tattoos. She has over 25 tattoos motivated by different cultures from around the world. Each tattoo holds a unique meaning in her life. If you are looking for something creative and badass, check out Rihanna's tattoos for inspiration.
Frequently Asked Questions
Did Rihanna cover her shark tattoo?
Yes, Rihanna has reportedly covered up her shark tattoo with a crown tattoo.
Does Rihanna have a face tattoo?
No, the word 'truth' that appeared to be tattooed on her face in the photo on the cover of Vogue, was created with makeup. Rihanna did want a face tattoo, but the request was turned down by her tattoo artist.
Do Rihanna and Drake have matching tattoos?
Rihanna and Drake used to have matching shark tattoos, but Rihanna has reportedly covered hers up.
The following two tabs change content below.