18 Wedding Ring Tattoos For Couples That Convey Their Love
A list of unique and gorgeous wedding ring tattoo designs to choose from.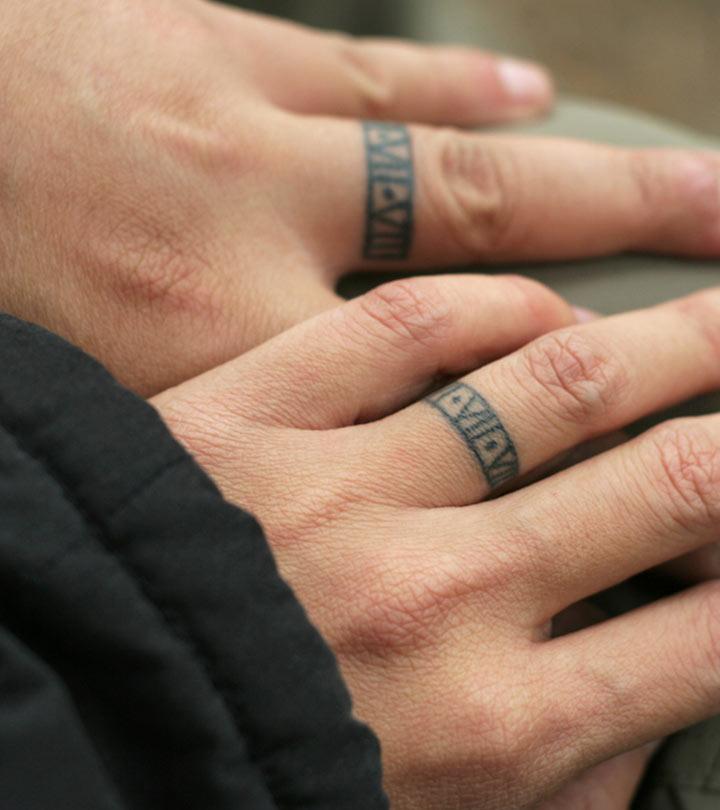 When two people, ready to get married, choose to wear matching wedding ring tattoos, it can be a bonafide declaration of everlasting love. Opting for these tattoos over wedding rings is a creative and aesthetic statement that expresses your attachment to the beloved. This tattoo ring is a long-lasting gesture, a permanent reminder of the love you share, and a symbol of an unbreakable commitment.
In a variety of ways, you will remember your wedding day. For a long time, you will think back on it with pride and affection. It will be filled with beautiful rituals and memorable moments, starting from the bridal shower to the bouquet flinging and so much more. And what better way to mark the event than with a pair of tattoos of your wedding ring?
Wedding ring tattoos can be funny, simple, extravagant, or beautiful. The possibilities are endless, and they are decided by you and your partner, the people involved. We have compiled a collection of some incredible wedding ring tattoo ideas to help you get inspired in this article. So, let's get started!
What Does A Wedding Ring Tattoo Signify?
Not only does a wedding ring tattoo show commitment, but it is also a promise that the relationship is forever. You and your partner aren't going to leave each other, just like how the tattoo isn't going to leave your finger.
This permanent pattern on your ring finger is a sign of the seriousness of your commitment, a commitment that will not fade in the years to come.
Here are 18 wonderful wedding ring tattoo ideas that show that you are not only linked but also inked forever to each other.
18 Wonderful Wedding Ring Tattoo Ideas
1. Queen And King Of Hearts Tattoos
This is a wonderfully simple and classy design. It is also one that is immediately recognizable. The message it conveys is both timeless and romantic. It is all about a special relationship between a queen and king. You can customize the ink to include more or fewer elements from the playing cards and make it uniquely personal.
2. Initials Tattoos
This style is as personal as it gets. When you take your partner's name during the nuptials, you can make sure that the ring tattoo does too. The font of the name initials and their background can be modern or traditional. Depending on the look you want, you can get these colored or in classic black-and-white.
3. Wedding Date Tattoos
Your wedding date is one of the most special days of your life. A day that you'll look back on with pride and joy. What better way to memorialize the day of a wedding than by inking it permanently on your finger? Here, too, the style of the numbers can be as classic or quirky as you like. Roman numerals or those in any other language can also work. Another advantage of this wedding ring tattoo is that you'll never forget your anniversary!
4. Mr. and Mrs. Tattoos
This is a simple and effective take on an old-world theme. It is a classic way of stating how the wedding has changed your status. As always, you are free to choose a letter style that works for you, from capitals to cursive, from simple to complex. Perhaps you could even use your own handwriting.
5. Simple Wedding Ring Tattoos
Many people don't want something that's in your face and loud. In that case, you could consider these tattoos, which are impressive yet low-key. They show confidence and conviction. Typically, they take the form of simple bands or small repeating motifs. These simple, classic patterns are perfect for the couple who doesn't want to shout out loud about their relationship, but who aren't afraid to flaunt it either.


Trivia
American singer Kelly Rowland got a small minimalistic ring tattooed on her ring finger to signify her engagement to the former professional boxer Tim Witherspoon.
6. Celtic Knots Tattoos
Celtic knots symbolize friendship, love, and loyalty. A Celtic knot ring tattoo makes love and affection permanent and special. Inked in vivid colors or in black and white, these will always be vivid reminders of emotions that will never die.
7. Lock And Key Tattoos
Lock and keys are timeless symbols and tokens of love. One heart opens to one key, and this is in your hands. This is something that perfectly reflects your married lives together. These ring finger tattoos can be minimal or elaborate. It's all up to you. Which one of you gets the lock and which the key? That's for you to decide!
8. Lifeline Tattoos
A lifeline ring tattoos is a sweet and effective way to show whom your heart beats for, now and forever. The symbol can be as realistic or as graphical as you like, the only thing matters is that it's the symbol of your companionship. Some people prefer to personalize it with hearts, and some even end the lifeline with initials. These are typically in a single color and extend down the length of the finger to display the lifeline.
9. Heart And Infinity Tattoos
Heart and infinity are a graceful and creative combination that show eternal love. They signify two hearts beating together, for eternity. That's why the heart and infinity pattern is often used to convey the classic statement, "till death do us part." This is a strong and heartfelt motif that reveals a lot about your relationship.
10. Diamonds Are A Girl's Best Friend
You know what they say about a diamond being a girl's best friend. Well, diamonds are also forever, and that's what this wedding ring tattoo symbolizes. Why put a diamond on a ring when you can permanently attach one to your finger? This tattoo is fun, glamorous, and goes with any bridal outfit.
11. Connected By The Heart Tattoos
This charming pattern shows the initials of two people connected by a heart. It is romantic, it is cheesy, and it is adorable. At one glance, it shows off your relationship status. As a symbol of love, it couldn't be more clear. It is a cool and unarguable way of demonstrating a loving bond.
12. Minimalistic Wedding Ring Tattoos
These tattoos are simple, sweet, and stylish. A minimalistic design is for those who prefer a no-frills yet trendy way to show they belong to each other forever. They could be simple, notched bands, or elegant curved lines. This sophisticated and suave style will always be in fashion.
13. Tie The Knot Tattoos
This is another evocative symbol of what two people are setting out to do – tying the knot. It is a sign of a bond that will live on over the years. A knot that will never fray or come undone. Because when it is inked, it is forever.
14. Celtic Wedding Ring Tattoos
The Celtic wedding ring tattoo is a strong and traditional symbol of union and shows that you are bonded in love and loyalty forever. While you don't have to travel to Ireland to appreciate such sentiments, you can still respect the history and symbolism of the traditional Irish version by wearing this on your finger. For those with Irish roots, this is an especially potent symbol.
15. Irish Wedding Ring Tattoos
This symbol is also known as the Claddagh ring and is another age-old sign of togetherness. The two hands represent friendship, the heart symbolizes love, and the crown on top is for loyalty. Friendship, love, and loyalty – that's what this ring tattoo will remind you of every single day.
16. Anchor Couple Tattoos
When one makes the promise of entering into wedlock, it means both of you are there to anchor each other through life's ups and downs. Both of you will influence each other and create a bond together that will be steadying, grounding, and eternal. What better way of conveying that than with anchor couple ring tattoos? This is a strong and vivid declaration of what you and your partner mean to each other.
17. Star Wars Ring Tattoos
An immediately recognizable pop culture symbol beloved by so many. This can be customized in different ways. The tattoo design could show characters, a motif, or even be a favorite quote. Let this be your reminder of eternal wedded bliss, and may the force be with you.
18. 3D Wedding Ring Tattoos
There are many dimensions to the love that leads to a wedding. And if you choose a 3D design, you bring out some of them in magical, colorful ways that last forever. What's more, a 3D ring is certain to be unique, just like your union.
All the above designs would make perfect choices when it comes to wedding band tattoo ideas. Experts say that you should keep a few things in mind. You could opt for non-elaborate styles for the tops or sides of the finger, such as diamond shapes, runes, initials, and dates.
Other patterns that circle the whole finger are also fine, but do remember that these are more difficult to create. Moreover, you will need to maintain and touch it up as the years go by. At the end of the day, it is your decision, and you should have a tattoo that you are completely happy with.
The above-mentioned are some perennially popular choices for wedding band tattoos. Depending on your tastes, you are sure to find one that appeals to you and your partner. You may, however, want to get one that is personalized. Take your time to think about it, experiment with a few ideas for unique wedding ring tattoos, discuss it with your partner, and see what you can come up with.
Design A Unique Wedding Ring Tattoo Of Your Own
You could take names and initials and see how you could creatively combine them. Remember that there's only a little space on the ring finger, so the design should not look cramped or hard to decipher.
Choose Roman numerals or words that mean a lot to both of you, such as faith or trust. Again, you could even look at inking words in your native language.

Trivia
Jay Z and Beyonce tattooed the Roman numeral "IV" on their ring fingers as a substitute for engagement rings. The number signifies their birthdays, December 4 and September 4, respectively.
Colors are another area where people like to experiment. Choosing the right colors can make all the difference between an average wedding ring tattoo and one that really stands out. Look at the different inks available and try several combinations. Many people like the sophistication of the classic black. It is important that both of you are comfortable with the decision.
Keep in mind that both your rings need not be the same design. Each one of you could choose what he or she is comfortable with, such as the king and queen or the lock and key designs. You could also come up with similar matching sets of your own. There are no hard and fast rules here. It's all up to you.
For many couples, selecting the perfect tattoo wedding ring does take time and consideration. It is, after all, a decision you will have to live with forever. It is also important to visit a professional tattoo parlor. This is a special, once-in-a-lifetime tattoo, and you shouldn't settle for second best. A wedding ring finger isn't exactly the easiest place to ink, so it is important that you choose someone who has the necessary experience. They can also share designs and ideas for you to customize.
Keep it simple, keep it personal, and keep it meaningful, and you will not go wrong.
Just like your marriage, a wedding ring tattoo will stand the test of time. For those who do not want wedding rings, a ring finger tattoo is an excellent alternative. Of course, it is an option for those with wedding rings too.
Choose a personal design that has significance for both of you. And whenever you lift your hand or hold your partner's hand in yours, you'll be reminded of your wedding vows, now and forever.
Infographic: 7 Tiniest And Most Meaningful Wedding Tattoo Ideas To Commemorate Your Promise Of Everlasting Love
Couple tattoos are always cute and adorable, but not all of them can be as poignant as some tiny wedding tattoos which pack a punch when it comes to the deep meaning they hold. In other words, the best comes in small packages. Shortlisted here are some of the tiniest and simplest wedding tattoos that even those who are not much into inking will want to get done with their significant others.
Check out the infographic for a quick look into the tiniest yet most meaningful wedding tattoo ideas.



A wedding ring tattoo is one of the newest wedding trends. Make a hand ring tattoo instead of a standard wedding ring if you don't want a regular wedding ring! There are numerous variations ranging from dates and names to patterns and rings. Unlike an actual ring, a tattoo will never be lost or misplaced. You can be as imaginative and unique as you want with the designs. There will never be any concerns about correct fit over time. It's something you can't take off, an unmistakable symbol of affection. Many couples have opted to remember their marriages in this unique way of recreating an age-old ritual.
Frequently Asked Questions
Do wedding ring tattoos bring bad luck?
Well, it all depends on what you believe in. There are always superstitions around important life moments, such as weddings. It is up to you to believe them or not. Some do, and some don't, and it is not as though both are right at all times.
If you have carefully considered the reasons for getting a wedding ring tattoo, and if both of you share the same commitment, there should be no reason not to get one. It should not be a decision based on what others say. This is a union between you and your partner, and that's the only opinion that ought to matter.
Once both of you find a design you love, seek the services of a professional tattooist. They will guide you through the process, may suggest modifications, use the best ink, and make sure that the tattoos look great.
Why get a wedding ring tattoo?
The exchange of wedding rings during a marriage ceremony is a beautiful reminder of the sanctity of the marriage. Wedding ring tattoos are more permanent than wedding rings. Remember, though, that tattoos take a little while to heal after they are inked, so you should not get them done just before your wedding day. With a little planning, both of you will be just fine.
How much do wedding ring tattoos cost?
The cost of a wedding ring tattoo depends on several factors, such as the artist, studio location, design, and color. An average wedding ring tattoo costs around US$50 to US$400.
Are ring tattoos a good idea?
Ring tattoos are a good idea if you want to stand out from the traditional crowd and display your love for each other in a different way. They are also suitable for people who lose things easily and don't want to worry about taking care of an actual wedding ring.
Is a ring tattoo cheaper than a traditional wedding ring?
Yes, a ring tattoo is substantially cheaper than a traditional wedding ring. But it depends on your taste as well. If you want an intricate ring tattoo, it may end up costing more than a basic gold wedding ring.
Will a ring tattoo fade?
Yes, the ink of the ring tattoo can fade away because the skin on your hands undergoes a lot of wear and tear.
Are wedding ring tattoos painful?
Yes, getting a wedding ring tattoo can be painful as your fingers tend to have more nerve endings than other parts of the body. The ring finger also lacks fat and muscle mass to reduce pain.
Break free from materialism and choose a more personal, everlasting symbol of commitment. Check out this video to express love in a meaningful way with inspiring wedding ring tattoo ideas.
The following two tabs change content below.