101 Heart Touching Love Quotes To Express Your Deep Feelings
Love can often make you speechless but these words can help you express better.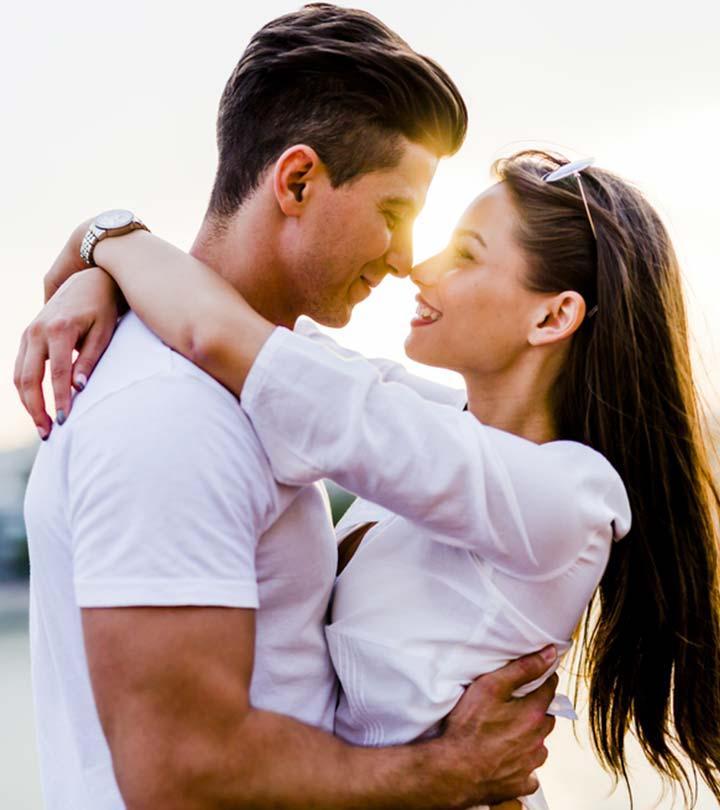 Merely saying "I love you" to express your feelings may not suffice when you are in a relationship. However, you can come up with some exciting romantic love quotes to describe the depth of your feelings. If you are unable to pick the right words, you are not alone. After all, not everybody is good at this. In this article, we have compiled some best romantic and heart touching quotes to help you express how much you love your sweetheart. Let's get started with a few deep love quotes for him! Read on!
Romantic Love Quotes For Him
"You know it's love when all you want is that person to be happy, even if you're not part of their happiness." – Julia Roberts
"When you realize you want to spend the rest of your life with somebody, you want the rest of your life to start as soon as possible." – When Harry Met Sally
"Take my love. I'll never ask for too much. Just all that you are. And everything that you do." – Whitney Houston
"Baby it's you. You're the one I love, You're the one I need, You're the only one I see." –Beyonce
"When the evening shadows and the stars appear. And there is no one there to dry your tears. Oh, I hold you for a million years. To make you feel my love." – Adele
"He's more myself than I am. Whatever our souls are made of, his and mine are the same." –Emily Bronte
"I can't sleep, I can't eat, I can't do anything but think about him. At night I dream of him, all day I wait to see him, and when I do see him my heart turns over,and I think I will faint with desire." – Philippa Gregory
"I need you like a heart needs a beat." – Anonymous
"You are sunlight through a window, which I stand in, warmed. My darling." – Jessie Burton
"I love you begins by I, but it ends up by you." – Charles de Leusse
"I love you with every beat of my heart." – Anonymous
"You want to know who I'm in love with? Read the first word again." – Anonymous
"I love you and I don't want to lose you. Because my life has been better since the day I found out." – Anonymous
"Loved you yesterday, love you still, always have, always will." – Elaine Davis
"I saw that you were perfect, and so I loved you. Then I saw that you were not perfect, and I loved you even more." – Angelita Lim
"The best thing to hold onto in life is each other." – Audrey Hepburn
"I love you because you join me in my weirdness." – Anonymous
"I want someone who will look at me the same way I look at chocolate cake." – Anonymous
"I love you not only for what you are, but for what I am when I am with you. I love you not only for what you have made of yourself, but for what you are making of me. I love you for the part of me that you bring out." – Elizabeth Barrett Browning
"But nothing's greater than the rush that comes with your embrace." – Leona Lewis
"Thinking of you keeps me awake. Dreaming of you keeps me asleep. Being with you keeps me alive." – Anonymous
"I need you like a heart needs a beat." – Unknown
These love quotes for boyfriends sure touch the heart! But for those of you with girlfriends, don't feel left out. It's time to show some love to your girlfriend too with some love lines and relationship quotes that are sure to make her heart flutter. Make your girlfriend feel special and appreciated with a sweet reminder of your emotions. Use any of these love quotes for a girlfriend, mentioned in our next section, to express your affection sincerely. Celebrate her uniqueness and bring a smile to her face with these love quotes.
Romantic Love Quotes For Her
"The water shines only by the sun. And it is you who are my sun." – Charles de Leusse
"There is a madness in loving you, a lack of reason that makes it feel so flawless." – Leo Christopher
"I am who I am because of you. You are every reason, every hope, and every dream I've ever had." – Nicholas Sparks
"Love is being stupid together." – Paul Valery
"He stepped down, trying not to look long at her, as if she were the sun, yet he saw her, like the sun, even without looking." – Leo Tolstoy
"I love you without knowing how, or when, or from where. I love you straightforwardly, without complexities or pride; so I love you because I know no other way." – Pablo Neruda
"You are the finest, loveliest, tenderest, and most beautiful person I have ever known, and even that is an understatement." – F. Scott Fitzgerald
"You're the closest to heaven that I'll ever be." – Goo Goo Dolls
"You know you're in love when you can't fall asleep because reality is finally better than your dreams." – Dr. Seuss
"I feel wonderful because I see the love light in your eyes, and the wonder of it all is that you just don't realize how much I love you." – Eric Clapton
"And there is no, no song I could sing, and there is no combination of words I could say, but I will still tell you one thing, we're better together." – Jack Johnson
"And I can't help but stare, cause I see truth somewhere in your eyes." – Justin Timberlake
"And when you're needing your space to do some navigating, I'll be here patiently waiting to see what you find." – Jason Mraz
"Well I found a woman, stronger than anyone I know. She shares my dreams, I hope that someday I'll share her home." – Ed Sheeran
"There is no remedy for love but to love more." – Henry David Thoreau
"I cannot let you burn me up, nor can I resist you. No mere human can stand in a fire and not be consumed." – A.S. Byatt
"We are asleep until we fall in love!" – Leo Tolstoy
"If I had a flower for every time I thought of you… I could walk through my garden forever." – Alfred Tennyson
"Love is that condition in which the happiness of another person is essential to your own." – Robert A. Heinlein
"You are my heart, my life, my one and only thought." – Arthur Conan Doyle
Heartfelt quotes for your love come with a big emotional punch. They are more than just cliches of romantic confession. Whether you want to compliment your partner or floor them with a creative message, these heart touching lines and passionate quotes will surely make their hearts flutter. If you are looking for inspiration to take your relationship to the next level and get married, these heart touching love quotes for husbands will do all the work for you!
Heart Touching Romantic Love Quotes
"My love for you is past the mind, beyond my heart, and into my soul." – Boris Kodjoe
"The day I met you, I found my missing piece. You complete me and make me a better person. I love you with all my heart and all my soul." – Anonymous
"I love you like a fat kid loves cake." – Scott Adams
"I love you and that's the beginning and end of everything." – Scott Fitzgerald
"In all the world, there is no heart for me like yours. In all the world, there is no love for you like mine." – Maya Angelou
"Age does not protect you from love, but love to some extent protects you from age." – Jeanne Moreau
"Love is never lost. If not reciprocated, it will flow back and soften and purify the heart." – Washington Irving
"Life is the first gift, love is the second, and understanding the third." – Marge Piercy
"You never lose by loving. You always lose by holding back." – Barbara De Angelis
"Love is the expansion of two natures in such fashion that each includes the other, each is enriched by the other." – Felix Adler
"Love does not consist of gazing at each other, but in looking together in the same direction." – Antoine de Saint-Exupéry
"If you remember me, then I don't care if everyone else forgets." – Haruki Murakami
"People think a soul mate is your perfect fit, and that's what everyone wants. But a true soul mate is a mirror, the person who shows you everything that is holding you back, the person who brings you to your own attention so you can change your life." – Elizabeth Gilbert
"I'm here. I love you. I don't care if you need to stay up crying all night long, I will stay with you. There's nothing you can ever do to lose my love. I will protect you until you die, and after your death, I will still protect you. I am stronger than depression and I am braver than loneliness and nothing will ever exhaust me." – Elizabeth Gilbert
"Love is the emblem of eternity; it confounds all notion of time; effaces all memory of a beginning, all fear of an end." – Madame de Stael
"Love is an emotion experienced by the many and enjoyed by the few." – George Jean Nathan
"Love is more than a noun – it is a verb; it is more than a feeling – it is caring, sharing, helping, sacrificing." – William Arthur Ward
"Only true love can fuel the hard work that awaits you." – Tom Freston
"The greatest thing you'll ever learn is to love and be loved in return." – Natalie Cole
"If you find someone you love in your life, then hang on to that love." – Princess Diana
"I love you more than coffee, but please don't make me prove it." – Elizabeth Evans
"Love means having to say you're sorry every fifteen minutes." – John Lennon
"Love is like pi – natural, irrational, and very important." – Lisa Hoffman
"We're all a little weird. And life is a little weird. And when we find someone whose weirdness is compatible with ours, we join up with them and fall into mutually satisfying weirdness—and call it love—true love." – Robert Fulghum
"Love is something sent from heaven to worry the hell out of you." – Dolly Parton
"There is always some madness in love. But there is also always some reason in madness." – Friedrich Nietzsche
"Love is an ocean of emotions entirely surrounded by expenses." – Thomas Dewar
"Love is a lot like a backache, it doesn't show up on X-rays, but you know it's there." – George Burns
"A man is already halfway in love with any woman who listens to him." – Brendan Francis
"Love you as certain dark things are to be loved, in secret, between the shadow and the soul." – Pablo Neruda
"Love is the whole thing. We are only pieces." – Rumi
"You make me want to be a better man." – Melvin Udall
"A kiss is a lovely trick designed by nature to stop speech when words become superfluous." – Ingrid Bergman
"Love: a temporary insanity, curable by marriage." – Ambrose Bierce
"What the world really needs is more love and less paperwork." – Pearl Bailey
"Love is like Heaven, but it can hurt like Hell." – Anonymous
"Love does not dominate; it cultivates." – Johann Wolfgang Von Goethe
"The only thing we never get enough of is love; and the only thing we never give enough of is love."– Henry Miller
"I fell in love with her courage, her sincerity, and her flaming self-respect. And it's these things I'd believe in, even if the whole world indulged in wild suspicions that she wasn't all she should be. I love her and it is the beginning of everything." – F. Scott Fitzgerald
"I swear I couldn't love you more than I do right now, and yet I know I will tomorrow." – Leo Christopher
"If you live to be a hundred, I want to live to be a hundred minus one day, so I never have to live without you." – A. A. Milne
"Life is the flower for which love is the honey." – Victor Hugo
"I will never stop trying. Because when you find the one… you never give up." – Crazy, Stupid, Love
"I am in you and you in me, mutual in divine love." – William Blake
Go through our next section for some lovely heart touching love messages and sentimental quotes to wish your lady good night after a long, busy day. Let her know how grateful you are and that you will never let her go. Scroll down.
Romantic Good Night Love Quotes For Her
"You always gain by giving love." – Reese Witherspoon
"The night seems to be falling away, but my love for you can never go away, my love." – Anonymous
"Every night I catch my sleep with the thought of you. I wonder how my life will be if you are not a part of it." – Anonymous
"I am so grateful for the time that I can spend with you. You are the best partner ever. I love you." – Anonymous
"I fell in love the way you fall asleep: slowly, and then all at once." – John Green
"As each night comes and goes, I'm always counting down to the day that I can finally call you mine with full assurance." – Anonymous
"You are the last thought in my mind before I drift off to sleep and the first thought when I wake up each morning." – Anonymous
"We are most alive when we are in love." – John Updike
"You're the closest to heaven that I'll ever be." – Iris
"My daily routine after coming home from work is to jump in the shower, brush my teeth, and think about you before sleeping. It's just perfect!" – Anonymous
"I sleep with the hope that when I wake up in the morning, You will be in my Reality." –  Anonymous
"Take my hand, take my whole life too. For I can't help falling in love with you." – Elvis Presley
"Want to live that beautiful moment with you by looking at a shooting star and holding your hand." – Anonymous
"To be brave is to love someone unconditionally, without expecting anything in return." – Madonna
"Nobody has ever measured, not even poets, how much the heart can hold." – Zelda Fitzgerald
That was our list of heart touching love messages for her and him that will make them believe in true love. Whether you are looking for quotes to adorn your Valentine's Day card or text a cute goodnight message to your significant other, or are looking for heart-touching love proposal quotes to take the bond to the next level, these sweet quotes and sayings will inspire you to express how you feel. They are a thoughtful way to spice things up and rekindle that romantic spark even more.
Infographic: Small Non-Verbal Romantic Gestures To Express Love
It's okay if you aren't big on poetic words. Simple love quotes in English for your girlfriend or boyfriend can also work wonders in expressing your love and affection towards your partner. Not everyone wishes to express themselves that way. But expressing yourself is non-negotiable in a relationship. If you'd rather not write or say romantic things, we can help you express your feelings through actions. Check out the infographic below to learn what small, romantic things you can do for your partner to express your love for them.



Sometimes, saying 'I Love You' just doesn't cut it. Those three little words aren't enough to describe the wide range of emotions you may feel for that one person who makes your heart flutter and your toes curl. And that is where the above romantic love quotes can come to your rescue. You never have to worry about expressing your feelings, loving and endearing quotes can let them know how they make your world go round! Not only will you feel good expressing yourself, but your partner will also get a glimpse of how much you love, care, and appreciate them. After all, being open, vulnerable, and expressive is important to make a relationship work and thrive.
Frequently Asked Questions
How do I romance my boyfriend over text?
If you are done with dedicating some loving and adoring quotes for him from the heart, Here are some romantic texts you can send to your boyfriend::
• It's pretty cold today. I'd love a big bear hug from you.
• You seem to be working very hard. When we meet later, I'll help you relax. *wink*
• I've prepared the perfect date for tonight: candles, music, and just the two of us.
• If today isn't going well, know that tonight will be better.
How can I express my love in words?
There is no ideal method for expressing love. You can show your loved ones how much you care for them in various ways, from little words to the most extravagant gestures. Sending unpredictable texts, leaving sticky notes around the house with romantic messages, dedicating emotional love quotes, giving them handmade greeting cards, and sharing romantic and affectionate quotes and poems with them are some ways to express your love with words.
How can romantic love quotes help you connect with your partner on a deeper emotional level?
A romantic love quote that beautifully, but accurately puts your love for your partner into words, can convey your feelings clearly to them. It can also reassure them of your commitment to them and brighten their day to know that you found a romantic quote and immediately thought of them.
What are some of the most iconic romantic love quotes from literature and film?
There are so many iconic romantic love quotes from literature and films to choose from. Here are a few:
• "Whatever our souls are made of, his and mine are the same" – Wuthering Heights
•"If I loved you less, I might be able to talk about it more" – Emma
• "You complete me" – Jerry Maguire
• "I'm also just a girl, standing in front of a boy, asking him to love her" – Notting Hill
Can romantic love quotes inspire us to become better partners and lovers?
Romantic love quotes may give us an idea of what our partners might expect in a romantic relationship and how those expectations can be met. However, to become better partners, it is important that we back our words with actions, listen to our partner, and offer kindness, consideration, understanding, and devoted love.
How can we use romantic love quotes to reignite the passion in a long-term relationship?
Couples generally start taking each other for granted in long-term relationships. Romantic love quotes scribbled onto little notes and slipped in random places for the other to find, can express a playful mood. It might bring back memories of the initial days of dating when everything was about enjoying exciting and fun experiences with each other.
How can we personalize romantic love quotes to make them more meaningful to our partners?
You may mention your partner's best qualities, how you appreciate them, and how they help you or make you feel special, in your romantic quotes. You may also tweak a particular romantic love quote to add a reference from your personal shared experience to make it more meaningful.
Can romantic love quotes help us appreciate the beauty and complexity of love in all its forms?
Romantic love quotes can certainly make us aware of different forms of love, as everyone experiences love differently. Some forms of love may be beyond our understanding but seeing others talk fondly about them can help us accept that love is always good and kind, no matter how complex.
Searching for love quotes for your boyfriend? Look no further! Watch the video below for the best quotes to show your love and appreciation for your special someone!