Why Is Rooibos Tea Popular? All You Need To Know About Its Benefits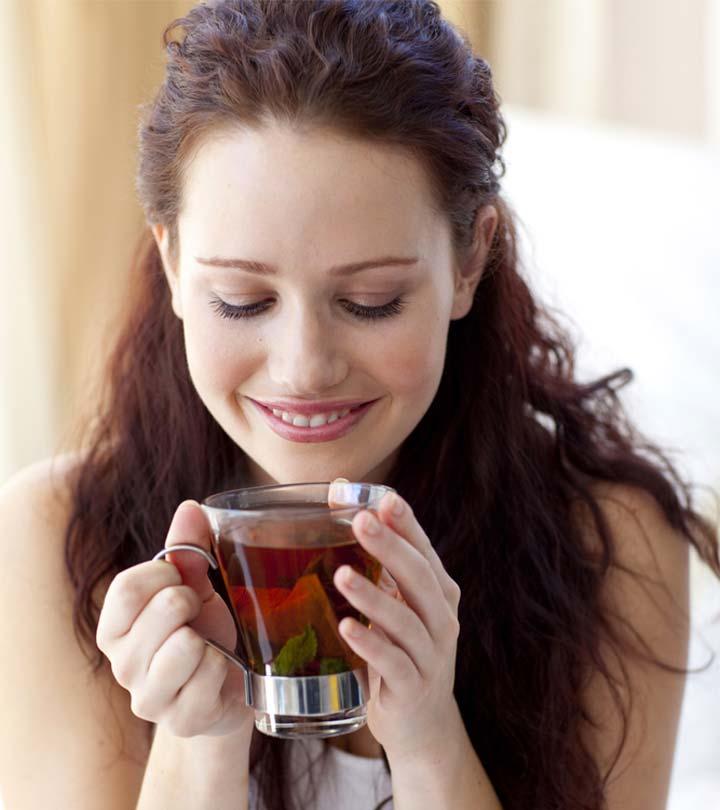 Rooibos tea is quickly gaining popularity among tea lovers worldwide. It is considered one of the best alternatives to black and green teas and is preferred for its high antioxidant content and other health benefits. Rooibos tea has a sweet, delicate, and earthy flavor and is perfect for those who avoid caffeine. Keep reading to learn the health benefits of rooibos tea, possible side effects, and how to prepare it.
What Is Rooibos Tea And What Does It Taste Like?
Rooibos tea is made from Aspalathus linearis, a shrub grown on the western coast of South Africa. The tea produces a reddish color when brewed, earning its name – red tea or red bush tea. Though rooibos tea is a herbal tea, it is not related to green and black teas.
Traditionally, rooibos tea is made by fermenting the leaves of Aspalathus linearis. The process of fermentation turns the leaves reddish-brown (1). The unfermented variety of rooibos tea is called green rooibos. It has higher antioxidant content than the red one and is more expensive.
Rooibos tea is available in plain and flavored varieties. Red rooibos tea has a smooth, fruity-sweet, earthy flavor and can be consumed as a hot or cold beverage. The unfermented rooibos tea has a slightly astringent flavor. Overall, it is milder than black and green teas.
Rooibos tea is graded based on many factors like color, flavor, and cut length. The highest grade of rooibos tea is called the 'super grade.' Due to its mild taste, rooibos tea is often added to multi-blend herbal tea concoctions. It is also rich in antioxidants. Let's take a look at the major flavonoids in this tea.
Chemical Composition Of Rooibos Tea
Rooibos tea is caffeine-free and low in tannins compared to Camellia sinensis tea. It mainly contains (2):
Tannins (3.2-4.4%, which is less than regular tea)
Monomeric flavonoids (aspalathin and aspalalinin)
Other flavonoids like beta-D-glucopyranosides, dihydro-orientin, dihydroiso-orientin
Flavonols like quercetin, quercetin-3-orobinoside, hyperoside, isoquercitrin and rutin
Phenolic acids
Lignans
Coumarin
Esculentin
Vitamin C (ascorbate)
All these phenolic compounds and antioxidants make rooibos tea an excellent free radical scavenger with anti-inflammatory, anticancer, and tumor inhibitory effects (2). Here are the health benefits of drinking rooibos tea.
Health Benefits Of Rooibos Tea
1. Is Caffeine-Free
Caffeine is a natural stimulant found in many varieties of tea and coffee. While moderate caffeine consumption is safe, excessive consumption has been linked to sleep disorders, increased anxiety, restlessness, and headaches (3). Rooibos tea is naturally caffeine-free, making it a great alternative to black and green teas.
2. Is Antioxidant-Rich
Due to its high antioxidant content, rooibos tea prevents free radical damage, the primary cause of inflammation, cell damage, and premature aging. The antioxidants in rooibos tea may also have anticancer and antitumor effects (2).
3. May Promote Heart Health
The antioxidant-rich rooibos tea has been associated with improved heart health. Studies show that rooibos tea helps reduce LDL or bad cholesterol and improves HDL or good cholesterol (4). This reduces the risk of heart disease.
4. May Help Manage Diabetes
Drinking rooibos tea may benefit people with diabetes mellitus. Rooibos tea is a natural source of antioxidant aspalathin, a chemical known for its anti-diabetic effect. It balances blood sugar levels and reduces insulin resistance (5), (6).
While rooibos tea has multiple health benefits, it may also cause side effects.
Are There Side Effects Of Consuming Rooibos Tea?
Rooibos tea is safe to consume, and side effects are rare. However, there have been reports of an extremely rare case of hepatotoxicity (liver injury) caused by consuming rooibos tea and buchu (a herbal preparation). While the exact mechanism was unknown, researchers believed that it could be due to the heterogeneous composition of the tea prepared in small batches (7 ).
Rooibos tea may interact with medications for chronic conditions like hyperglycemia (high blood sugar) and dyslipidemia (high or low blood lipid levels) (8 ). Hence, it is best to consult with your doctor before consuming rooibos tea.
If you do not have any underlying health condition and want to consume rooibos tea, check out the process below.
How To Brew Rooibos Tea
Rooibos tea is versatile and can be enjoyed both hot and chilled. This makes it very similar to black tea. The best way to brew the tea is to follow the instructions on the pack. You can simply boil the tea leaves in a cup of water (just like regular tea) and drink it. You may add honey, milk, or sugar if you want. You can also prepare iced tea. Here is a simple recipe:
Rooibos Iced Tea Recipe
You Will Need
6 tea bags or 6 teaspoons of rooibos tea
1 lemon (sliced)
20 mint leaves
Sugar (as per taste)
4 liters of water
Method
Boil the water, tea leaves, and all ingredients (except lemon) for 5 minutes.
Let the tea cool down.
Pour in a glass jar and add the lemon slices.
Refrigerate for a few hours before drinking.
To Conclude
Rooibos tea is a healthy, delicious beverage that is increasingly becoming popular due to its caffeine-free nature. It is not a true tea as it is not derived from the tea plant Camellia sinensis. However, it is healthy, natural, rich in antioxidants, low in tannins, and extremely versatile like teas obtained from the tea plant. If you prefer a herbal, non-caffeine alternative over true tea, you can give rooibos tea a try. However, ensure that you don't have an underlying condition (especially liver condition) or take medications that may interact with the tea.
Expert's Answers For Readers' Questions
Does rooibos tea make you sleep?
No. There is no conclusive study to confirm that rooibos tea can induce sleep.
Does rooibos tea detox your body?
No. The body has a detoxification system (liver and kidneys) that eliminates harmful toxins. Rooibos tea or other 'detox' drinks cannot detoxify your system.
What time of day should you drink rooibos tea?
There is no specific time to drink rooibos tea. You can enjoy the flavor of this pleasant tea any time during the day.
Does rooibos tea burn belly fat?
No. It cannot burn belly fat. However, an animal study found that it may reduce stress-induced weight loss. Rooibos tea may reduce stress, thereby promoting weight loss (9). However, these studies have been performed on animals, and human studies are still underway.
Does rooibos tea dehydrate you?
No. Beverages that contain caffeine may cause dehydration. Rooibos tea is caffeine-free and does not cause dehydration.
Can rooibos tea upset your stomach?
Beverages that contain tannins can cause acidity, acid reflux, and nausea sometimes. Rooibos tea has very little tannin content and rarely upsets your stomach.
From what age can babies drink rooibos tea?
 Although rooibos tea can be introduced to babies when they start consuming solid food, it is better to consult a pediatrician beforehand.
How much rooibos tea should I drink in a day?
 You can drink 1-2 cups of rooibos tea a day.
References:
Articles on StyleCraze are backed by verified information from peer-reviewed and academic research papers, reputed organizations, research institutions, and medical associations to ensure accuracy and relevance. Read our editorial policy to learn more.
Recommended Articles
The following two tabs change content below.