15 Best Photos Of Samantha In A Saree
Take a cue from this stunning southern diva's saree looks for some fashion inspiration.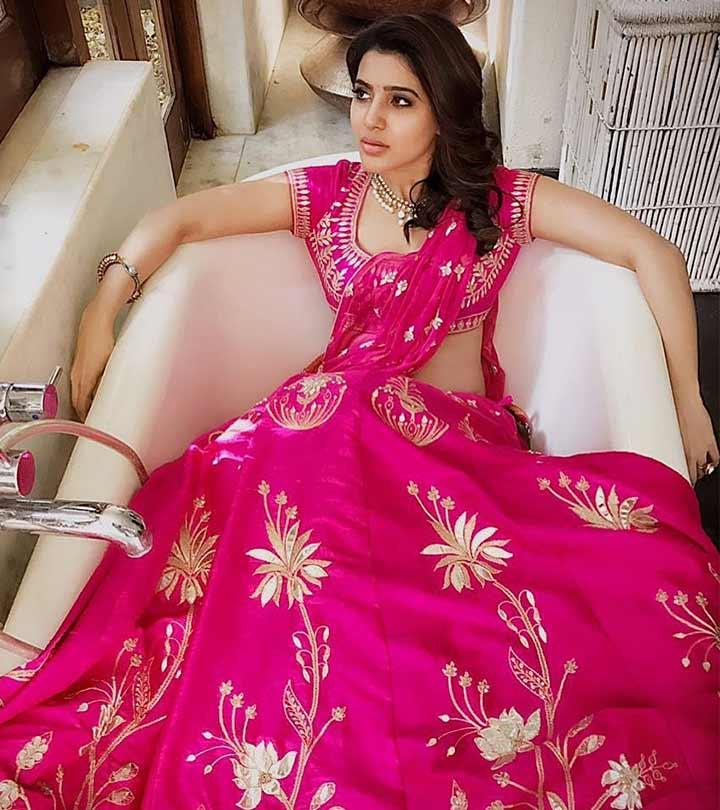 Samantha Ruth Prabhu in Ye Maya Chesave made sure to steal our hearts with her gorgeous saree looks, and we can't deny it. The glimpse was enough to inspire all of us to grab that nine yards of pure elegance and flaunt as she did too. So, if you are going gaga over her saree looks, you are in the right place because, in this article, we have made a list of the best Samantha in saree photos that are worth looking at to take away some inspo. Let this diva's traditional looks give you some great ideas. All you have to do is, scroll down and go gaga over those looks all over again. So, go ahead and check them out.
15 Cute Styles Of Samantha In A Saree
1. Samantha Prabhu Engagement Saree
Samantha's engagement saree blew everyone's mind, and not because it was an over-the-top-larger-than-life couture saree. It had their story etched – how it all started and other magical details that are truly profound. Samantha carried it gracefully with a gold off-shoulder top and sparkled her way into marital bliss, giving us all major #goals.
2. Samantha In Anavila Saree For Mahanati
Samantha is juggling between big hits, and she is doing it like a boss. She switches gears without a jerk – one day, she wears this uber chic pantsuit, while the next day, she comes out in a saree, giving us major retro vibes and is just as convincing as the previous outfits. Her new summer haircut, the white collared blouse, and the belt all add to a perfect hundred.
3. Samantha In A Red Saree
Samantha is one of the very few actresses who don't think twice before taking up deglamorizing roles. Vanity takes a backseat for these roles, and she seems to be handling it rather well. Her half saree look for a recent film is proof that aura is what an actor needs to become a star – and she definitely has all of it.
4. Samantha In White And Black Saree
Samantha loves handloom. She believes in the cause and has always been pretty vocal about it. She is often seen wearing handloom sarees and spins them to give a contemporary streak. She rocked it in this stripe saree from Archana and Puneet. The high neck blouse, a chunky neck piece, and a belt to cinch at the waist were all perfect accessories.
5. Samantha In A Golden Pattu Saree
Samantha dazzled at the opening of a jewelry store in Chennai, looking like a million bucks. She wrapped herself up in a full gold pattu saree from Raw Mango and reminded us of actresses from the yesteryears. The half sleeve-high neck blouse, the neckpiece, and the earrings were equally exquisite.
6. Samantha In A Chanderi Saree
Samantha Prabhu loves everything handloom, and that's why so many of us root for her. She donned a blue chanderi saree with a simple ikkat blouse and barely any accessories. That's Samantha for you!
7. Samantha In Anita Dongre
Can't take your eyes off her, can you? Anita Dongre is known for her understated elegance and how she brings about glamor with the most unassuming designs – like this one. The blue printed saree with the pleats neatly tucked in and a halter neck is something I cannot get over for the longest time.
8. Samantha For JFW Photoshoot
Just when you thought this girl-next-door is all about muted snowflakes and rosebuds, she flipped it all with a tribal look and went all out. She set the stage on fire with the JFW photoshoot, and she gave it her everything for all her looks. The tribal theme jacket style saree, mirror work bikini blouse, the dreadlock style braids, the statement neck piece, and her charm married it all perfectly.
9. Samantha In a Sabyasachi Saree
Samantha wore a floral and breezy organza saree from Sabyasachi for Akhil Akkineni's engagement. Pulling off a look like this is rather tricky because it can come across as dated if not dealt with properly. Samantha gracefully paired it with an embellished full sleeve blouse. A stone studded clutch put her hair in a neatly done chignon updo, and the bindi looked incredibly adorable on her.
10. Samantha In A Cotton Saree
Ajrakh style sarees are catching up, and like wildfire, thanks to stars like Samantha who endorse them beautifully. She paired the ajrakh print saree with a fully embroidered handmade blouse with half sleeves and a choker necklace.
11. Samantha In Kanjeevaram Saree
Samantha's traditional choices are just as elegant as her contemporary ones because she keeps the whole minimalist theme intact, no matter what. The black pattu saree from Raw Mango with a handmade golden blouse, gold drop earrings, and a clutch made her look fabulous.
12. Samantha's Wedding Saree
Samantha's wedding with Naga Chaitanya Akkineni was her dream, and she looked like one. Thanks to social media, she transported us to this wonderland, giving a peek into everything that happened and what she wore while she was living it all up. Her off-white Sabyasachi saree and the red half sleeve blouse, the jewelry, and, most importantly, the twinkle in her eyes restored our faith in love, romance, and happily-ever-afters.
13. Samantha In Handloom Saree
Samantha's love affair with handloom is perpetual. She has a great demeanor and fits the bill perfectly. She did it like a pro, yet again, in an elephant motif saree and a sterling silver neck piece with neutral makeup.
14. Samantha In Anavila Saree
Brands like Anavila, Raw Mango, etc. have high perceived brand value and put you on a pedestal. Samantha attended an audio launch in an elegant but simple Anavila saree in pink and an off-white high neck blouse. Her silver hoop earrings, high ponytail, and minimal makeup rocked the theme entirely.
15. Samantha In A Shilpa Reddy Official Saree
Here's another one from her many irresistible looks! This time, it is from Shilpa Reddy's label. The off-white and gold saree with a signature high neck blouse is something I'm going to try very soon. And I think you should too!
Samantha has a grace and charm about herself that is evident in any outfit she wares. The photos given above of Samantha in sarees would have already made you realize how effortlessly she pulls the looks off. Whether it's a simple handloom monotone black and white saree or a gorgeous engagement saree, she drapes it all with elan. Her bouse designs and hairstyles are all perfectly matched with the saree and the occasion. So, the next time, you need saree outfit ideas, you can take some inspiration from her looks above.
The following two tabs change content below.