Sara Ali Khan's Weight Loss Story – How She Beat PCOS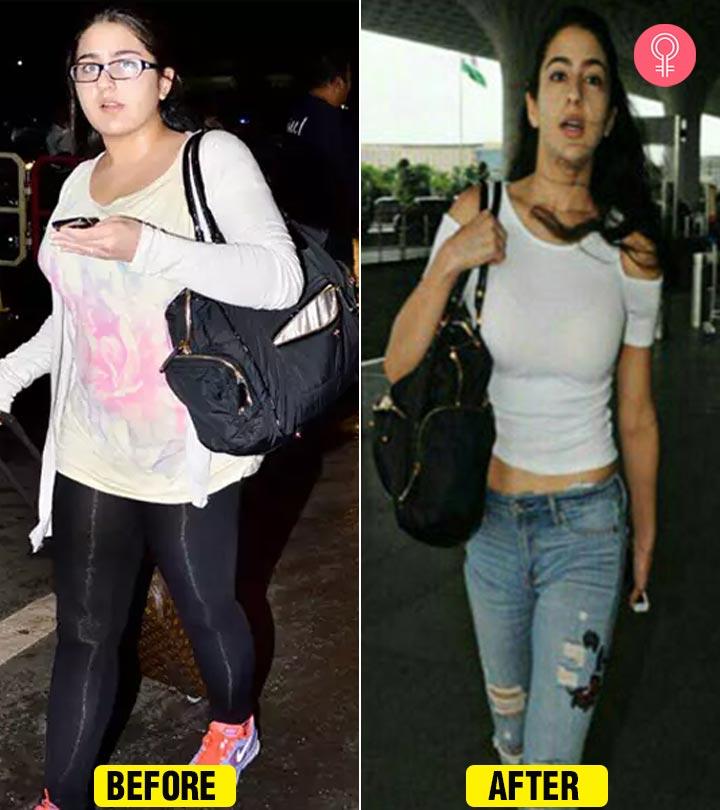 Sara Ali Khan's weight loss is the talk of the town. This Bollywood celeb with an ethereal, dream-like face and bubbly personality has shed 30 kgs. If you follow Bollywood news, a few years ago at Saif and Kareena's wedding, Sara did not look the same as you see here today.
But now, look at her! She is a confident and bright young woman with a promising career in acting. But this transformation was no cakewalk. Sara struggles with PCOS. It happens due to hormonal imbalance that causes weight gain, irregular periods, and facial hair. Talking about Sara Ali Khan's weight loss is important as many women are dealing with PCOS and weight gain. Read on to know Sara's diet and workout routine and use it if you want to shed a few kilos too! Scroll down.
Sara Ali Khan Struggles With PCOS
Sara Ali Khan opened up about her struggle with PCOS on Koffee with Karan. PCOS or Polycystic Ovary Syndrome is a hormonal disorder that affects women of reproductive age. The main symptoms of PCOS are excessive weight gain, irregular periods or no periods at all, body and facial hair growth, and male-pattern baldness.
If you look at Sara's old pictures, you can clearly see that she has come a long way. In Koffee with Karan, Karan Johar showed a few old videos and asked about her weight. She said, "I was 96 kgs. 'It will be almost rude to call you fat,' is what you (indicating her father, Saif Ali Khan) said. Actually, I had PCOD. I still do. And, because of that, I think I put on the amount of weight that I did. Because of that, there was also like a hormone problem." At this point, she was interrupted by her father, Saif, who asked, "It had nothing to do with the pizzas you used to have?"
She said, "Of course, I used to eat a lot. I did have a good time. I was a regular kid. It made it very hard for me to a. lose weight and b. the hormone level was very high. So, as you can see, there is a level of delusion that was in me…I was confident, I was delusional."
This answer revealed that Sara's diet was not healthy. This brings us to the next question, how did she manage to lose 30 kgs? Let's find out in the next section.
How Did Sara Ali Khan Lose 30 kg?
In a recent interview with BBC, Sara Ali Khan revealed that she realized that she wanted to be an actor. And to fit the role in a mainstream Bollywood movie, she had to drop a few pounds. She said, "I went to Columbia for four years and at the end of the second year, I decided that I really want to act, like I said I have always known, but that realization coincided with the weigh scale saying that I'm 96 kilos. So, it was a bit difficult. Then it was the senior year of college in America itself that I lost the weight."
But how did she manage to lose 30 kg? When asked, she had this to say.
"You know, I lived on 110 on Broadway and there used to be a Pizza place called Tom's Pizza. And for the first two years of my college, I have eaten so much of that pizza. I didn't even realize that there is this Vitamin shop, right next to Tom's Pizza, where you get these protein bars, salads. I think that was it, the movement from Tom's Pizza to Vitamin shop. And somewhere in the middle of that, I lost weight."
So, now that she is back in India, what does Sara Ali Khan's diet look like? Scroll down to find out.
Sara Ali Khan's Diet Plan
Breakfast – Egg whites and toast or idlis
Lunch – Chapatis, daal, vegetables, salad, and fruits
Snacks – Upma (Savory vegetable semolina)
Dinner – A light dinner with chapatis and green veggies
Pre-workout – Muesli or oats with fruits
Post-Workout – Protein shake, tofu, salad or legumes
If you have PCOS or know someone who has it, you might be aware that it is difficult for such people to lose weight. Diet, as well as exercise, has to be a part of the weight loss journey. Sara Ali too has to sweat it out to be in shape. Here's what she does at the gym.
Sara Ali Khan's Workout
Sara Ali Khan revealed that she worked out regularly. She said, "Everyday. Running to Bollywood music on the treadmill as fast as I could." She also trains with Namrata Purohit, who is Kareena Kapoor Khan's (Sara's stepmother) Pilates instructor. Pilates was invented initially to rehabilitate soldiers and help them recover from injuries. It includes body strengthening, conditioning, and flexibility movements.
Sara Ali Khan also trains under Cindy Jourdain, who is the boot camp trainer for Shahid and Mira Kapoor. Boot camp includes a mix of aerobic and strength training moves that help build endurance and strength. Here's a video of her working out.
Sara Ali enjoys a mixed workout, and it prevents her from getting bored of the same routine.
Here, I want to take a pause and let you know that Sara Ali Khan doesn't believe that everyone has to lose weight to look good or join the movies. In general, PCOS symptoms are said to improve when your diet and lifestyle change. Looking or feeling good is just the byproduct.
When asked why she felt the need to lose weight, she said, "of course, in many ways we as an industry are progressing and accepting. But having said that, it's not just about being accepted, it's also a personal thing. It's not like I aspire to have a size zero figure, it's not gonna happen and I'm okay with that. But you don't have to be 96 kgs either. Apart from just acting, it's not a healthier way to live. I was really large and for no reason. It messes up your hormones, your health – mentally, physically emotionally. It's just a bad place to be."
She also added, "I have never really derived confidence with the way I look but I think that people, more than me, find it important to people rather than me."
Simply put, she wanted to be healthy, and how she looked did not matter to her as much as it did to others.
Sara Ali Khan is a popular Bollywood actress with many movie hits. This bubbly star has come a long way to achieve the glory she enjoys today. She has shed some pounds successfully and actively pursued her fitness goals to overcome her obstacles. Sara Ali Khan's weight loss journey inspires many, particularly individuals with PCOS. Her elegance in discussing a health issue on prime time television is capturing the hearts of millions. Few women have the strength of character to tackle such a topic. Take her example, and don't lose hope in your health goals.
The following two tabs change content below.