5 Benefits Of Sardine, Nutrition, Recipes, & Side Effects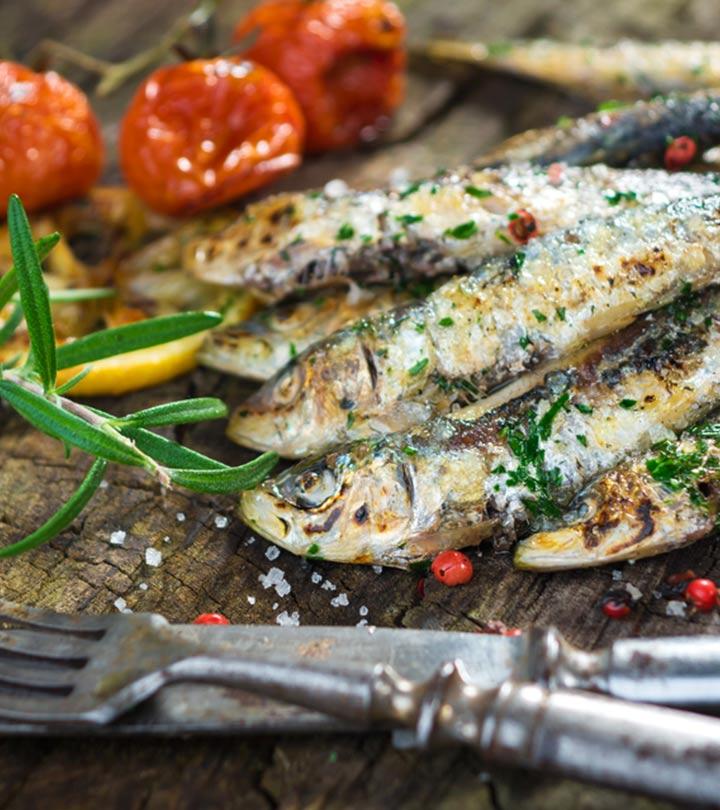 The health benefits of sardines are gaining the attention of many health enthusiasts, and these benefits can be attributed to their highly nutritious nature. Sardines are tiny-boned fish and are relatively inexpensive. They are mostly available in cans as they can get spoiled easily. Sardines can be enjoyed directly from the can, or you may add them to your regular salads, pizza, tacos, and sandwiches. Read this article to know more about sardines, the health benefits they offer, easy recipes with them, and possible side effects. Scroll down.
What Are Sardines?
Coming from the Clupeidae family, they are small, silver-colored fish that have been around for thousands of years. Said to have been discovered by the Romans near the coast, today they play an essential part in both human and animal kingdoms. While they are food for larger mammals like sharks and birds, for humans, they are used as bait, and as a source of nutrition. Not consumed very often in the US, sardines are frequently eaten by people in the United Kingdom, Spain, and Portugal, and Middle Eastern countries. Earlier sardines were consumed fresh. But these being highly perishable, many prefer to buy them as canned sardines. Now, let us look at the nutrition that sardines provide.
Nutritional Information
According to the USDA, 2 sardines give you 209 calories along with a host of nutrients, ranging from vitamin A and vitamin D to a source of calcium and phosphorus. What's better, sardines have no carbohydrates or sugar, making them very healthy. Find below the nutritional value of sardines as given by USDA (1).
| Nutrient | Amount |
| --- | --- |
| Calcium | 91.7mg |
| Phosphorus | 118mg |
| Potassium | 95.3mg |
| Sodium | 73.7mg |
| Vitamin D | 46.3 IU |
| Vitamin A | 25.3 IU |
Sardines' nutritional value is very high and can be beneficial to your health in many ways. Let's read next about the different health benefits of sardines.
Potential Health Benefits Of Sardines
Sardines are considered a great addition to our diets because they offer a multitude of benefits. Due to their large reserve of nutrients such as vitamins, protein, and essential minerals, they are considered healthy (2). Let's read about how sardines benefit our well-being and health.
May Help Reduce The Symptoms of Alzheimer's
Did your mother ever tell you that eating fish is good for your brain? She was probably right. Sardines fall under the category of fatty fish due to its high level of omega-3 fatty acids. A study was conducted to see the effect of fatty fish such as sardines in diseases like dementia, Alzheimer's disease, and vascular disease. The researchers found that in comparison to lean fish, consumption of fatty fish twice a week showed a decrease in the risk of developing dementia by 28% and Alzheimer's by 41%. While this study suggests that fatty fish may be good for brain health, more studies need to be conducted to understand the connection between sardines and brain health (3).
May Play A Role In Preventing Cardiovascular Diseases
Eating a healthy diet rich in fish may prevent the development of cardiovascular disease (4). Experts conducted a study to see the effect of eating a sardine-rich diet on inflammation, metabolic control, and gut bacteria. 35 patients diagnosed with diabetes were asked to follow a standard diabetes diet, or a diet rich with 100g of sardines for 5 days for 6 months. The results saw a decrease in plasma insulin levels and an increase in gut bacteria. Researchers suggest that having a sardine-enriched diet may be essential in reducing the risk of heart diseases, although more research needs to be conducted on this topic (5).
May Play A Protective Role Against Diabetes
In a study that was conducted, 152 people with prediabetes and old age were asked to consume sardine two times per week for 1 year. The results showed that those in the sardine group had a decreased risk of developing diabetes. Along with this, the patients showed a decrease in triglyceride as well as an increase in HDL cholesterol (good cholesterol), omega3, and bile acid levels. This study indicates that sardines may play a protective role against diabetes and anyone at a high risk of developing diabetes (7).
May Aid In The Development Of Healthy Bones
The calcium in sardines is reported to be 91.7 mg, according to USDA (1). Calcium and vitamin D are necessary for the development of healthy bones and play an important role in preventing bone disorders such as osteoporosis, and rickets (7), (8). Sardines being high in calcium, and vitamin D, you can add these silver swimmers to your diet for healthy bones (9).
May Protect Your Skin From UV-rays Of The Sun
If you like getting tanned but still need to protect your skin from those UV rays, then sardines may help you in that. An in-vitro study was conducted to see the anti-inflammatory activity and skin absorption of essential fatty acids from fish oil extracts. The researchers obtained oils from three fish oils, namely, sardine, mackerel, and horse mackerel. The results showed that sardine fish oil extract had a higher concentration of omega-3 fatty acids and anti-inflammatory activity compared to the other two (10). While the study suggests that sardines may play a role in protecting our skin UV rays, more studies need to be conducted to substantiate this fact.
You can see from the above section that sardine benefits you in more than one way. From playing a role in the development of healthy bones to protecting your skin against UV-rays, and diabetes, sardines may prove to be a great addition to your diet. Let's look at the different ways through which you can add sardines to your menu.
How To Add Sardines To Your Diet
Can you eat sardines raw? Can you eat canned sardines? All your questions shall be answered here. While sardines can be eaten from a can, it is best to avoid eating them raw. If you are looking to eat something light yet filling, a nice sardine salad would be the right way to go about it. If you are looking for a snack to complement your beer, then fried sardines would add a nice touch to it. But if you are looking for healthier options with very little oil, then you can either grill them in a pan or bake them in the oven with some salt and lemon.
Sardines are versatile and can be added to your diet in many ways to suit the occasion and mood. Let's see about the possible side effects you can develop from eating sardines.
Possible Side Effects Of Sardines
Sardines, like their marine siblings, are very good for us. But just like everything, it has its cons too. With pollution increasing every year and rivers being poisoned with toxic metals, it has become a little dangerous to consume fish. A study was conducted to see the negative effects of sardines on rats (11). The rats were fed either red or white sardines for 60 days. The researchers observed an increase in their uric acid level along with the high accumulation of lead in the liver. Thus, it is highly advised that you buy fresh sardines and wash them properly before consumption. Excessive sardine consumption may have several other side effects:
 Risk Of Mercury Poisoning: Mercury is a heavy metal that may cause severe health issues. This often happens when the body absorbs too much mercury from food sources like fish.
 Risk Of Heart Disease: Sardines are usually canned in vegetable oils. These oils are rich in omega-6 fatty acids. Consuming excessive amounts of omega-6 fatty acids (through different food sources) may increase the risk of heart diseases, obesity, diabetes, and other health conditions.
 May Cause Vitamin A Excess: Vitamin A is a fat-soluble vitamin that boosts your eyesight, immune system, and reproductive organs function. However, consuming excess vitamin A may increase the risk of developing cancer.
Currently, there is little research to show the possible side effects of sardines on our health. More studies will need to be conducted to understand the link between the two. Let us have a look at some simple and delicious ways to prepare sardines.
How To Prepare Sardines Recipes
Sardines provide innumerable benefits as discussed above. With that being said, let us look at some of the best ways to eat sardines.
Grilled Sardines
Ingredients
1 tablespoon of garlic cloves, minced
¼ cup of extra virgin olive oil
¼ cup of fresh lemon juice
1 teaspoon of paprika
½ teaspoon of freshly ground black pepper
1 pound of fresh sardines, cleaned, scaled, and gutted
2 tablespoons of chopped fresh parsley
lemon wedges, for serving
kosher salt
Instructions
Combine 2 teaspoons of lemon juice, lemon zest, garlic, oil, and chilli in a bowl.
Season the mixture with freshly ground pepper and salt.
Cut slits on both sides of every sardine.
Rub the oil and lemon mixture all over the sardines, as well as into the body cavity and slits.
Cook the sardines on medium heat in a pan for around 3 minutes on each side, until it is perfectly cooked through and the flesh flakes fall from the bone.
Put the lemon halves next to the fish for another 3 minutes.
Serve sardines with salad and grilled lemons.
Sardine Salad
Ingredients
2 tablespoons of extra-virgin olive oil
1 teaspoon of grated lemon zest
juice of 1 lemon
1 teaspoon of Dijon mustard
1 tablespoon of rinsed capers
2 tablespoons of chopped fresh parsley
1 tablespoon of chopped fresh tarragon
2 stalks celery, finely diced
2 cans of sardines
salt and freshly ground black pepper
lettuce, for serving
Instructions
Take a bowl and mix lemon zest, lemon juice, oil, capers, parsley, celery, and tarragon.
Gently put the sardines in.
Season with pepper and salt.
Put the sardines on the lettuce and munch away.
The benefits of sardines can be attributed to their wonderful nutrients. When included as a part of your diet, sardines can reduce the symptoms of Alzheimer's disease. It also reduces the risk of cardiovascular disease and diabetes. It promotes bone health and protects the skin from UV damage. Sardines can be easily added to your diet as a snack, whether grilled or baked. Although consuming fresh sardines is generally safe, stored sardines may cause an increase in their uric acid and lead levels. Hence, try including fresh sardines in your diet to reap their benefits.
Frequently Asked Questions
Are canned sardines good for you?
No research currently suggests that canned sardines are unsafe. However, it is always advisable to purchase fresh sardines.
What happens if you eat sardines every day?
Presently, scientific evidence suggests that sardines are good for your health and offer a good source of nutrition.
Is it healthy to eat sardines every day?
The USDA recommends eating 8 ounces every week for young children and between 8 to 12 ounces of sardines every week for lactating and pregnant women (12).
Are sardines good for Covid 19?
Research suggests that sardines benefits us in various ways, studies are yet to be conducted to see the impact of sardines on COVID 19.
Key Takeaways
Sardines are rich in minerals like calcium and phosphorus and vitamins D and A.
Studies suggest that eating fatty fish like sardines helps reduce the risk of dementia, Alzheimer's, and diabetes.
Their vitamin D and calcium content helps strengthen bones and reduce the risk of bone disorders.
However, they are highly perishable, so avoid consuming them raw.
References:
Articles on StyleCraze are backed by verified information from peer-reviewed and academic research papers, reputed organizations, research institutions, and medical associations to ensure accuracy and relevance. Read our editorial policy to learn more.
The following two tabs change content below.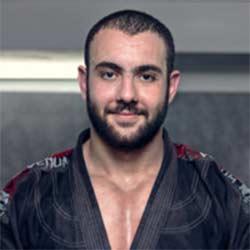 Reda Elmardi
(RDN)

Reda Elmardi is a registered dietician, certified nutritionist, and certified strength and conditioning specialist trainer. He has more than 10...

more