Is Saw Palmetto Effective For Acne? Know The Truth Here
Include this small shrub into your skincare routine and say goodbye to acne for good.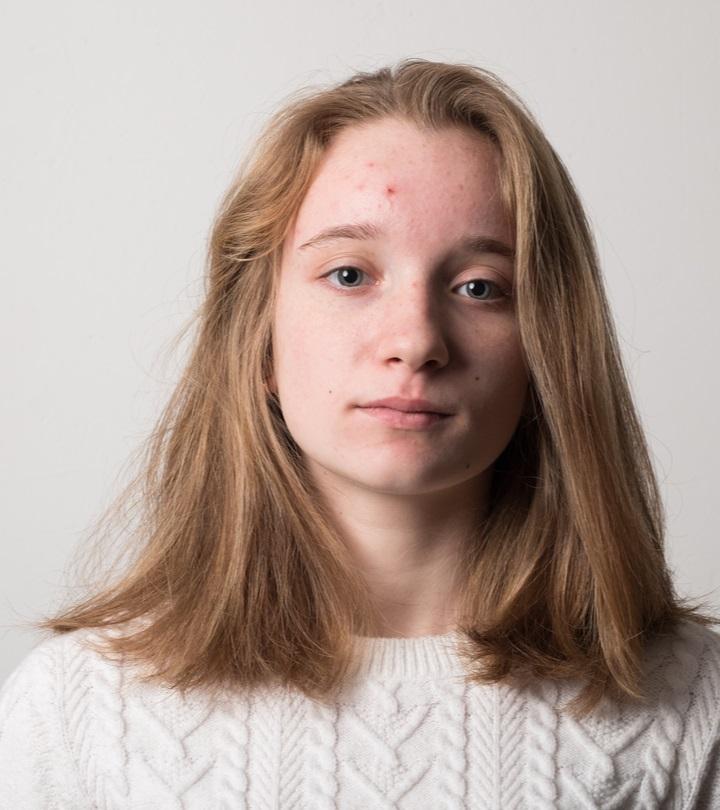 Saw palmetto extracts and supplements have gained popularity due to the various health and skin benefits. Saw palmetto is effective for acne and may help reduce severe breakouts. However, you must understand how it works and if it suits everyone or not before using it. This article explains the science behind the use of saw palmetto for acne, its benefits, safety, and efficacy. Read on.
What Is Saw Palmetto?
Saw palmetto or Serenoa repens is a small shrub resembling a palm tree that grows only in sandy soil, typically underneath the pinewoods and hardwood hammocks. It is native to the southeast United States and also grows along the plains and sandy areas of the South Atlantic and Gulf Coast.
The plant produces dark-colored berries known for their several nutritional properties. The Native Americans use the berries as sedatives, diureticsi  XAny substance that aids the kidneys in excreting more sodium by forcing water out of the bloodstream, thus lowering blood pressure. , and aphrodisiacsi  XSubstances like plants, spices, or synthetics that increase libido and sexual attraction in humans. . The oil extracted from these berries is used as a nutritional supplement for health and skin care benefits. The extracts are also used in topical preparations and are claimed to reduce acne.
Its plant extract is commonly used as a herbal remedy and natural treatment in alternative medicine, especially as an herbal supplement for prostate health, and has also been studied for its potential benefits in dermatology.

Quick Tip
Saw palmetto was discovered by William Bartram, an American botanist and explorer, in 1791.
The Benefits Of Saw Palmetto For Acne
Saw palmetto extract works as an anti-androgeni  XThe property of a substance that blocks male sex hormones from binding to androgen receptors, thus stopping their effects in the body. and has anti-inflammatory benefits, which helps minimize acne (1).
Conditions like polycystic ovarian syndrome can increase adrenal androgen levels, which may increase excess sebum production and make your skin acne-prone. Taking saw palmetto extracts can reduce androgen levels, controlling contributory factors to acne. Saw palmetto extract also lowers the DHT levels and helps minimize acne inflammation. It can be used as a monotherapy or as a combination therapy for acne (1).
A clinical trial examining the efficacy of a sebum control cream containing saw palmetto extract, sesame seeds, and argan oil on oily skin found that 95% of the volunteers reported sebum-regulatory effects of the cream. In addition, it reduced greasiness in oily skin (2).
Scientific research is minimal to prove the efficacy of saw palmetto for hormonal and any other forms of acne. However, it might be helpful to some extent.
If you are interested in trying this ingredient, continue reading for the best ways to use saw palmetto for acne.
How Can You Use Saw Palmetto For Acne?
You can use saw palmetto extracts in the following ways:
 Consume saw palmetto supplements (after consulting your doctor).
 Eat dry saw palmetto berries.
 Apply saw palmetto essential oil as a spot treatment. Remember to always dilute it with a carrier oil.
 Use lotions, creams, and gels containing saw palmetto extract.
K, a blogger, shared that she has been taking two 450 mg saw palmetto capsules daily for about four weeks, and experienced visible results. She writes in one of her posts, "I was breaking out with new pimples almost every day! Within a week, I had no more breakouts, just a rare blemish every now and then (i)."

Quick Tip
You can use coconut oil or olive oil as a carrier oil for saw palmetto oil to reduce acne.
Anecdotal evidence is mixed regarding the efficacy of saw palmetto extracts.
While some people reported improvement in their acne, others saw no effect or experienced a flare-up.
Therefore, it is better to test the ingredient to check for its effectiveness.
Always perform a patch test before using saw palmetto products on your skin. If you develop an allergic reaction, avoid further use and consult your physician immediately. Do not take saw palmetto supplements without consulting the doctor as they might cause side effects.
Are There Any Side Effects Of Saw Palmetto?
Most people using saw palmetto for skin can tolerate it well without any reactions. However, you can develop some mild side effects if you consume the ingredient. These side effects include:
 Indigestion
 Abdominal pain
 Diarrhea
 Nausea and vomiting
 Tiredness
 Headache
 Constipation
If you are pregnant or breastfeeding, avoid taking saw palmetto in any form. As it interferes with the hormonal balance (androgens), children below 12 and women below 18 should avoid them.
Always check with your doctor before using saw palmetto for the skin or taking any such supplements. It may also cause drug interaction, so let them know about any other medications or supplements you are currently using.
Spironolactone is a medication that is generally prescribed for treating acne. Check out how it compares to saw palmetto in the next section.
Saw Palmetto Vs. Spironolactone For Acne
As mentioned earlier, saw palmetto is effective for treating acne and may help reduce severe breakouts. However, spironolactone is also a well-established medication for treating acne, particularly in women (4). Like saw palmetto, it is also an anti-androgen drug that works by reducing the effects of androgens, a group of hormones that can contribute to acne formation by increasing oil production and pore blockage. Spironolactone is commonly prescribed for moderate to severe acne when other treatments have not been effective or are contraindicated. While spironolactone has proven efficacy in addressing acne, its use should be supervised by a healthcare professional due to potential side effects and considerations related to blood pressure and hormone levels. You may go for this medication if the more natural saw palmetto fails to show results in reducing your acne. Consult your healthcare provider to determine if spironolactone is a suitable option for your acne management.
Infographic: A Complete Guide To Using Saw Palmetto For Acne
Saw palmetto has been used by Native Americans for centuries to treat hair and skin issues. Modern research suggests that topical application of this herb may treat acne. We have summarized the key points of using saw palmetto for acne in the infographic below for your reference. Check it out!

Saw palmetto is an herb used by Native Americans for centuries for medicinal purposes. Studies suggest that the anti-inflammatory and anti-androgenic properties make saw palmetto effective in treating acne. You can use saw palmetto as a supplement, lotion, cream, or essential oil. While topical application of saw palmetto is safe, consumption of the berries may result in mild side effects such as abdominal pain, indigestion, or headache. If you develop adverse reactions, stop its use immediately and consult your doctor. It is recommended that pregnant women and children below 18 years avoid using saw palmetto as it may interfere with the hormones.
Frequently Asked Questions
How long does it take for saw palmetto to work for acne?
It may take 4 to 6 weeks for saw palmetto to show any results. Consult a doctor for further information.
Does saw palmetto increase estrogen?
Currently, there are no studies that suggest that saw palmetto increases estrogen levels.
What does saw palmetto do for women?
Saw palmetto may help in the treatment of women suffering from androgenic alopecia, hirsutismi  XAn abnormal growth of male-pattern body hair in women, associated with medical conditions like PCOS or caused by excess male hormones. , hyperandrogenismi  XA major symptom of PCOS in which excess levels of male hormones manifest as acne, hirsutism, or hair loss. , and acne (2).
Key Takeaways
Saw palmetto is a small, palm-like shrub native to the southeast United States.
It has anti-androgen and anti-inflammatory, which contribute to reducing acne.
To reap the benefits of saw palmetto, you can take supplements, apply essential oils, or use skin care products containing its extract.
Saw palmetto is a natural supplement with many potential benefits. Learn what it is used for and the potential benefits it may offer in this video! Click on it to get started now!
Personal Experience: Source
i. Saw palmetto (really!) works for hormonal acne in women
https://naturesabundance.wordpress.com/2013/04/21/saw-palmetto-really-works-for-hormonal-acne-in-women/
Sources
Articles on StyleCraze are backed by verified information from peer-reviewed and academic research papers, reputed organizations, research institutions, and medical associations to ensure accuracy and relevance. Read our editorial policy to learn more.
The following two tabs change content below.