4 Possible Side Effects Of Giloy You Must Know
Steering clear of this traditional herb may be in your best interest if you are diabetic!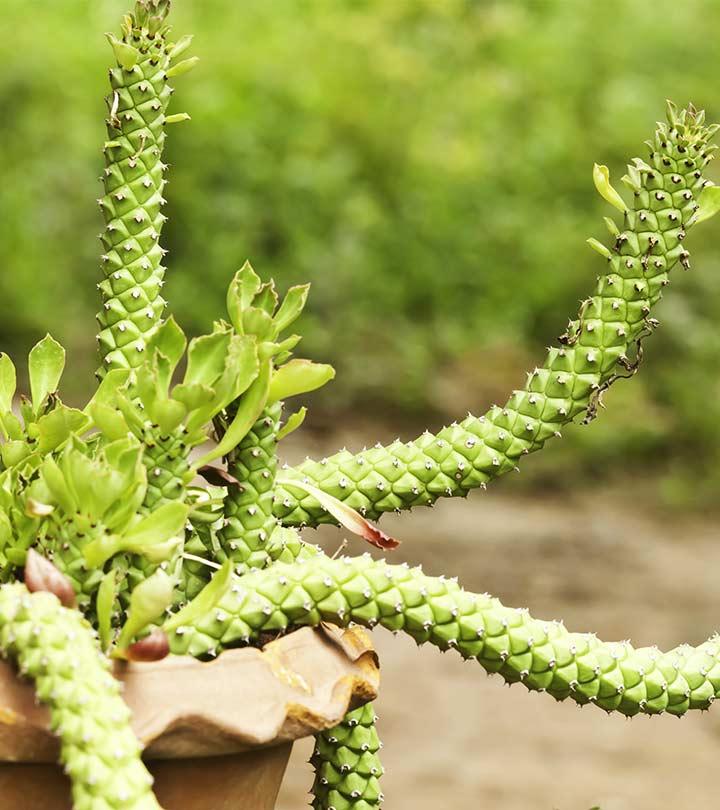 Giloy is an immune-boosting herb known for its many health benefits! However, if you have ever wondered about the side effects of giloy, then this article would clear it for you! An essential herb in many ayurvedic medicines and treatments, giloy has become a common name in many households. Different parts of the plant are used to treat a wide range of infections and health issues like vomiting, nausea, diarrhea, headache, dizziness, fatigue, fever, and diabetes. However, one must also be aware of its dosage and side effects! Read on to learn if giloy is safe for everyone and how to avoid its possible risks and side effects.

Know The Flip Side: Giloy
Short-Term Effects
Reduces and interferes with blood sugar levels and causes stomach irritation and constipation
Long-Term Effects
Aggravates the symptoms of autoimmune diseases like lupus, multiple sclerosis, and rheumatoid arthritis, and harms your liver
Drug Interactions
It might interact with some anti-diabetic drugs.
When To See A Doctor
If you experience any digestive issues or dizziness
Caution
Avoid using neem oil if you experience any rashes or redness on your skin.
Giloy – A Brief
In Sanskrit, Giloy is known as 'Amrita', which means 'the root of immortality', because of its abundance of medicinal properties. Capsules are made from the pure herbal extract that is obtained from the plant, which has the botanical name, Tinospora cordifolia.
It may have anti-pyretici  XDrugs that are used to lower body temperature in a state of fever by regulating the hypothalamus and inhibiting prostaglandin synthesis. , anti-arthritici  XA class of drugs used to treat arthritis symptoms such as inflammation, pain, tenderness, and joint deformity. , antioxidant, anti-inflammatory, and anti-cancerous properties. It aids in digestion and is also well-known as a highly effective blood purifier. It may be used to manage many ailments such as cardiac debilityi  XA condition that causes the heart muscles to weaken, increasing the chances of other cardiac conditions such as cardiomyopathy. , gout, anemia, allergic reactions, skin diseases including skin rashes, leprosyi  XA serious bacterial disease causing skin ulcers, nerve damage, and muscle weakness. It can cause disability if left untreated. , jaundice, as well as other serious diseases like cancer (1). In recent times, Giloy has become hugely popular due to its ability to manage symptoms of swine flu.


Trivia
Giloy is endemic to India and is found throughout tropical and subtropical zones at an altitude of 600 m.
All About Side Effects Of Giloy
There are no serious side-effects that occur due to the short-term consumption of Giloy. It is not known how safe it is when it is used on a long-term basis, that is, 8 weeks or more. It is a natural and safe herbal remedy that is used to treat a large number of health problems, from the simplest to life-threatening ones. Here are some side effects of Giloy use:
1. Constipation:
In some cases, the use of Giloy can cause constipation and abdominal pain. The problem can be caused by using Giloy in any form. Whether you take it as a juice or a supplement capsule, this is one of the serious side effects of giloy that you should consider keeping in mind. It may also cause stomach irritation (2).
2. Low Levels Of Blood Sugar:
Giloy may reduce blood sugar levels, which can lead to low blood sugar in people with diabetes. If you are a diabetic, your blood sugar levels should be regularly monitored and you should use this herb with caution. You should consult your doctor before using it, as the doses of the medications prescribed for diabetes may need to be adjusted or changed (3), (4).


Quick Tip
People with diabetes should not consume more than 1-2 teaspoons of giloy juice twice a day.
3. Increase In Autoimmune Disease Symptoms:
Giloy may over-stimulate the immune system and make it more active. This can result in an increase of symptoms of autoimmune diseases such as lupusi  XAn inflammatory autoimmune disorder affecting the tissues and usually triggered by exposure to the sun, infections, and certain drugs. (SLE or systemic lupus erythematosus), multiple sclerosisi  XA central nervous system disorder where the immune system depletes the protective cover of the nerves causing inflammation and scars. , and rheumatoid arthritisi  XA chronic inflammatory condition mainly affecting the joints of the body caused by immune dysfunction. . If you suffer from any of these conditions, it is best to avoid the use of Giloy.
4. Interference With Blood Sugar Control:
Giloy may have an effect on the blood sugar levels in your body (5), (6). Hence, there is a chance that it could interfere with the control of blood sugar during surgery, as well as afterward. It is best to stop taking this herb in any form 2 weeks prior to scheduled surgery.
Giloy is popularised for the array of health benefits it offers. But one must also consider the side effects of giloy. Long-term consumption of giloy in excess quantities may cause constipation and stomach irritation. Furthermore, giloy may also result in low blood pressure and decrease fertility, and increased bleeding tendency due to its anticoagulant effect (7) (8) (9). Further research is required to determine the effects of giloy on human fertility. It also lowers blood sugar levels way too much. Hence, people with diabetes should consult their doctor before using this herb. In addition, it aggravates the symptoms of autoimmune diseases and interferes with blood sugar control. Also, pregnant or lactating women should avoid the use of giloy.
Infographic: 4 Unexpected Ways Giloy Can Affect You
While giloy has been used for centuries to treat infections and nausea, many people do not know that its excessive consumption may negatively affect their health. Check out this infographic for the side effects of giloy you should be aware of before including it in your diet.


Frequently Asked Questions
Does giloy damage the liver?
Giloy may cause liver damage in some people (10).
Can giloy damage the kidneys?
No, consumption of giloy does not lead to kidney damage. The herbal extracts of giloy may help prevent kidney stone formation (11).
Is giloy hot or cold in nature?
Giloy is cold in nature.
Key Takeaways
Giloy may cause constipation and stomach irritation.
It may make the immune system overactive and cause autoimmune diseases, such as lupus.
It affects blood sugar levels and should not be consumed 2 weeks before and after a surgery.
People with diabetes should not take more than 1-2 teaspoons of giloy juice every day.

Discover how giloy can provide health benefits and cause unwanted side effects. Check out the video below to know about the pros and cons of this ingredient before including it in your diet.

Sources
Articles on StyleCraze are backed by verified information from peer-reviewed and academic research papers, reputed organizations, research institutions, and medical associations to ensure accuracy and relevance. Read our editorial policy to learn more.
The following two tabs change content below.