10 Best And Sexy Short Hairstyles For Women To Try
These classy, trendy, edgy haircuts can frame and flatter all face shapes.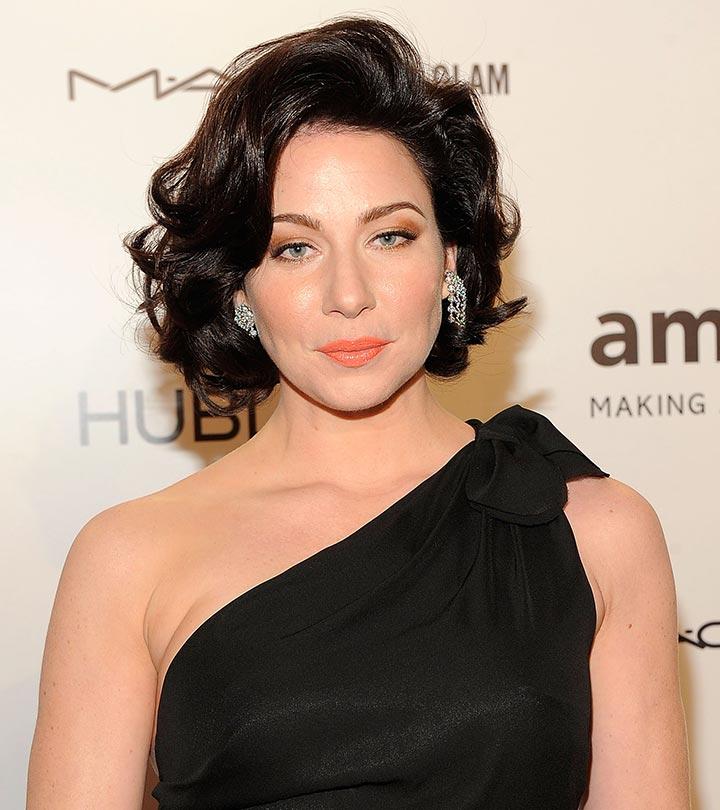 Many people think that sporting short hair means having a limited number of styles to flaunt. They could not be more wrong, and to prove it, we have curated the 10 ultra sexy short hairstyles that are show-stoppingly edgy, modern, and chic. Keep reading to get inspired by some gorgeous celebs who will have you swearing by short hair!
Scroll down to learn how to pick the best short hairstyles for you.
1. Curly Bob:
Actress Vanessa Hudgens looks fabulous with her short-length messy waves of hair. This hairstyle is very easy – simply blow-dry hair with a round brush for extra volume, and then use a curling wand to create subtle waves. Wrap large sections of hair around the curling iron on low heat, and then brush out the loose curls for natural looking waves. Pair this hairstyle with dewy, glowing skin and natural makeup for best results.
The actress also had left her long curly hair behind and opted for a bouncy, tousled bob. This is a gorgeous hairstyle for thick hair, and it also works particularly well for naturally curly or wavy hair. For a night out, you can use a curling iron to give your tousled bob extra vivacity.
2. Angular Bob:
If anyone can influence us to try the angular bob trend, it's the sexy Victoria Beckham, who loves to experiment with different hairstyles. The talented songbird and fashionista looks amazing with this blonde asymmetrical bob that complements her beautiful eyes. Short at the back and long in the front, this sophisticated look works particularly well for round faces, as it frames the face beautifully by creating the illusion of a longer face.
Style the look by naturally drying your hair. Then, apply a dime of smoothing serum. Next, take small sections and smooth them out with your hair straightener. After all sections have been smoothed out, apply a bit of mousse or hairspray to accentuate your angular bob.
3. Side Wavy Bob:
Actress Zoe Saldana looks radiant with her layered bob. The actress shows off her thick, curled and voluminous locks by wearing them in a stylish side-swept hairstyle.
A popular modern look that creates asymmetry, to recreate this look, section out your hair and spray each section with firm-hold hairspray and put it into a hair roller. Once the rollers are cool, take your hair down. Mist some volumizing mousse at the crown; let it dry for a minute for a touchable hold, and make sure you shape your hair out with your fingers. The hairstyle is perfect for a date or a special occasion, as it's ultra-chic and very glamorous.
4. Short Side-Swept Updo:
Short, sexy and seriously blonde, Actress Evan Rachel Wood showed off this fabulous close crop – and we can't stop swooning over it. Here Evan has cropped her golden blonde hair, which opened up her face; and subtle waves on the top that allowed her stunning skin-like beauty to shine through.
An effortless and chic hairdo, this short side-swept hairstyle is equally versatile and can be worn to any occasion. So, next time if you're looking for a smart, slick but soft wavy crop, make like Evan and keep some length at the front for a touch of glamour, and to really frame your face.
5. Pompadour Pixie:
If you are brave enough to go for a boyish pixie cut like Charlize Theron, make sure you give it a feminine twist with a subtle make up and bright lip colour. Here we notice this beautiful actress sporting a tousled, curled pixie that gives her hair lot of texture, volume and funk. For this quick and easy look, pull the hair up into a curled-up position and apply matte paste to your hands, and run though your hair to hold them in place. And the final outcome? A punk-y, youthful, no-fuss look. Truly a winning combination!
6. Pixie Perfection:
Michelle Williams' super-short sexy haircut accentuates the actress' eyes, cheekbones, and lips, completely bringing out her sophisticated and classy look. Filled with tons of short layers, the hairstyle is utterly feminine and flattering to her face. You can achieve this look by using loads of volumizing and texturizing gel to tussle it up a bit and help bring out her mature and confident look to life. And if you want to soften your look, leave a longer side-swept section to frame your face.
7. Bob With Bangs:
Actress Rosy Byrne is an absolutely gorgeous woman, and while this hairstyle may be rather easy-to-do, it doesn't take away her style, grace and femininity in any form. The actress' short bob cut with blunt bangs works wonders on ladies with oval-shaped faces like her, and the ombre hair colour adds to the modern look of this 'do.
For keeping your bob in phenomenal shape, use a good quality hair straightener and plenty of styling spray, which would act as a protector against heat. Section out blunt bangs, if you want to add a bit of edginess to the look instantly.
8. Side-Swept Pixie:
The Devil Wears Prada actress Anne Hathaway is equally striking as a blonde or a brunette, and she looks ethereal with her soft and wispy blonde layered pixie cut. The actress who is popular for constantly updating her style paired the short pixie cut with minimal makeup and a side-swept bang that frames her round-shaped face perfectly. Consult a good stylist for the perfect cut and the drastic colour.
9. Messy Bob:
Model Karlie Kloss looks simple and appealing with her messy layered bob and loose ginger curls. The short to medium-length hairstyle with long bangs is both carefree and playful. Besides her flirty hairdo, we also adore her glamorous ombre hair colour.
For this low maintenance short sexy hairstyle, let your hair air dry naturally, curl hair with the help of a hair roller or curling tongs, mist some texturizing spray into your tresses with your fingertips for a wild, yet sexy hairdo.
10. Wispy Bob:
Lynn Collins looks glamorous with this Hollywood voluminous bob. This is a fantastic hairstyle for thick, naturally curly hair, and if you don't have natural curls, you can get this hairdo with a curling wand and some firm-hold hairspray to give your undone bob some extra volume and secure those perfect curls in place. With volumes, layers, curls, dark roots, and loads of shine, this short hairdo is perfect for a girl's night out and will definitely turn heads around!
Short hair is not just about easy maintenance and decreased hair issues and damage. Short hairstyles are chic and fiercely edgy. They change the way you look entirely. And if you thought short hairstyles were boring and hard to style, we hope that these sexy short hairstyles have corrected that notion. There are many versions of bobs, pixies, shag cuts, and other short hairstyles that make chopping off your tresses fun. You can pair your short hair with different bang styles and layers to keep your short hairstyle fresh and stylish.
The following two tabs change content below.