52 Latest Shag Haircuts Based On Your Face Outline
From classy to edgy, make a great style statement with these gorgeous and unique haircuts.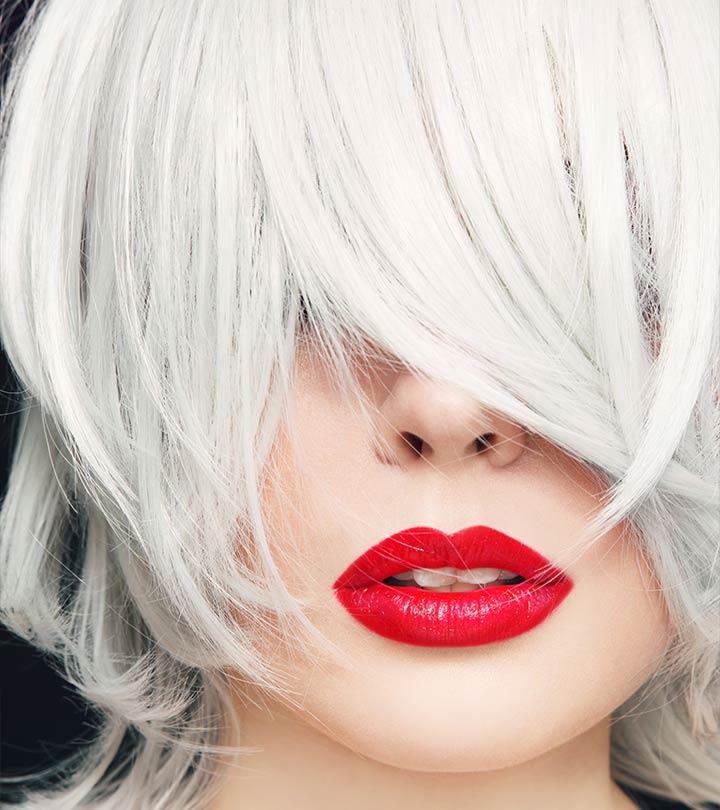 Layer after layer after layer – no, we are not talking about cake but something equally exciting: shag haircuts!
Most of us believe that there are two major short hairstyles – the bob and pixie haircuts. But those that like to steal the spotlight know how seductive a good shag hairstyle can be! Depending on the shape of your face (or face outline), you can choose how you'd like your layers to be – either choppy ends, wispy tips, or feathered tails. With its many layers, the shag looks super cool, even messy, and is easy to maintain. Keep reading to check our top 52 uber-chic shag hairstyles.


Before You Get Started
Medium-to-long shags are perfect for oval faces since they soften the lower half of your face and create a symmetrical look.
Shag haircuts are low-maintenance because they can be air-dried and still maintain their look.
Use a curl cream or hair mousse to add volume and definition to your hair.
Invest in sulfate-free shampoos and hair masks once a week to help maintain your shag haircut.
52 Super Fun Shag Haircuts
Favour Akinjiyan of Favoured Beauty advises, "Shags may be low maintenance, but remember, cutting your shag often is key to maintaining a polished appearance."
1. Fiery Red Short Shag
A perfect style for those who prefer short haircuts over long haircuts! The layers from the crown to the back create an illusion of volume and look good on those with thin hair. The brightness of the red color pops and makes the cut even more edgy and attractive.
2. Punk Shag
Channelize the rocker-chic vibe in you with this razor-sharp, jet black punk shag hairstyle. This messy haircut look exudes a free-spirited vibe. However, you can also apply gel to the front bangs and the side layers and finger-comb them to give a damp, shaggy appearance.
3. Coily Shag With Caramel Highlights
Curly shags are in and popular these days. Coily shags, on the other hand, are rare. Some caramel highlights near the bangs pull our focus to the face and the curls framing them. This a perfect hairstyle for you if you're tired of tying your hair in braids.
4. Wavy Shaggy Bob
This is a look anyone can pull off without much effort. Let some long fringe frame the sides of your face and keep the styling clean. Let your short, wavy locks do the talking.
5. Light Ash-Blonde Messy Shag
Sharp edges in the front and sides and a light ash-blonde shade give this messy shag a somewhat uptown vibe! If you don't prefer veering into the dramatic platinum shag look, this shade can be your in-between. The color emphasizes your facial features, and the sexy bangs complete the look.
6. Shag With Curtain Bangs
This is a more refined version of the bold and edgy shag. The curtain bangs, styled with a middle parting and flipped away from the face, give a fresh and airy vibe. This classic look is definitely here to stay for a long.
7. Simple Shaggy Lob
This middle-parted lob shag is your best friend if you have trouble maintaining long haircuts. It is a style is for women of all ages who want to explore the shag territory minus the dramatic changes.
8. Flirty Shag
An elegant twist to the shag hairstyle – the locks are wispy, and the bangs are split in the middle and curled outwards, giving it a more refined and voluminous look. This is the perfect hairstyle for thin hair.
9. Bright Blonde Shag
Like its name, the blonde color of the hair is what catches the eye. The forehead-covering bangs are separated, adding an easygoing charm to this short shag hairstyle.
10. Pearl Platinum Frizz Shag
A frizzy shag in a pearl platinum shade gives more of a punk-rock vibe than any other color. A modern take on the shag, this is perfect for those who struggle daily with their frizzy hair.
11. Long Wavy Shag With Curtain Bangs
Who said shaggy hairstyles look good only on short and medium-length hair? This long shag with face-framing layers is a softer version of the traditional shag. It requires minimal effort and styling but adds a lot of movement and texture to the hair.
12. Steel Blue Short Shag
Love colors? This is your signal to get your hair styled in a very short layered shag with long fringes on the side and some bangs to cover your forehead. The selling point of this hairstyle is the striking steel blue shade.
13. Mullet Bob Shag
What happens when you mix three hairstyles into one? Well, this hairstyle came out as a thing of beauty. A new take on bob, mullet, and shag, experimenting with hair has never been more fun.
14. Blow Out Layered Shag
If voluminous, blown-out hair is your go-to, then this shag hairstyle is for you. It's dramatic and showcases your length while framing your face in delicate layers. Get some ash-blonde highlights and you're good to go!
15. Long Indigo Shag With Bangs
A shaggy haircut on long, straight locks is all about layering. They break the hair surface to give a textured look without making the hair look flat. Adding choppy, wispy bangs give you some extra points and if you are bold enough, go for this bright indigo hair dye!
16. Sunset Shag
Is your favorite color red? If it is, then this hairstyle should be on your list. A cute shoulder-length shag with bangs in different hues of sunset is as attractive as it is playful.
17. Bubblegum Princess Shag
As its namesake, flaunt your cute shag in blue and pink colors. Getting your hair done in just one shade is a thing of the past. This cut highlights the blue shade as it is just on one side at the front, not hidden underneath all the pink.
18. Ice Wolf Shag
Mixing two similar hairstyles brings out the best of both. This wolf cut-meets-shag look provides edginess to the icy blonde hair. If you have straight hair, the layers will provide a voluminous look.
19. Shag With Flipped Bangs
These flipped-out bangs sure look stunning when styled on dark, mid-length bob shag. The slightly twisted and teased sides add more swing and bounce to the hair. Edgy is one of the go-to qualities of getting a shag, and this look masters it perfectly.
20. Pink Curly Shag
Want to style your bright pink curly hair? Go shag! It is one of the most versatile hairstyles, if styled correctly, it compliments any face shape and size. The crimped curls add body to the hair, and the textured bangs draw all the attention to your eyes.
21. Long Copper Choppy Shag
Look at those wispy, flipped-out layers! This long shag hairstyle is a perfect example of the smooth bangs-to-layers transition. The glossy, choppy, bouncy locks look voluminous and vivid.
22. Grunge Ponytail With Micro Bangs
If you think sporting a ponytail with a shag haircut is impossible, you are wrong. A short, high ponytail adds a playful vibe to the edgy shag. Leave out your micro bangs to frame your forehead and gather half your hair in a ponytail at the back.
23. Shag With Messy Bangs
Words like cute and shag should go hand-in-hand. This perfect summer shag with cute layered bangs is styled to frame your face and give more volume to your hair. Be carefree and set your hair free!
24. Straightened Shag With Curtain Bangs
Ever wondered what would happen if you straightened your shag? Well, it looks professional and sexy. This is a stunning look for you to master while you achieve everything your heart desires.
25. Wispy Shag
IThis sexy and playful wispy shag will help you achieve the perfect, confident look without much effort. Slay each look you want, from formal to party looks, with this hairstyle.
26. Mullet Shag
This shag cut is inspired by the classic mullet. The mullet can be traced back all the way to the 6th century. Many women started sporting the mullet, which eventually turned into the mullet shag.


Trivia
Popular hairstylist Paul McGregor created the shag haircut. He styled it for actress Jane Fonda in the early 1970s for the movie 'Klute.'
27. Straight Shag
If you don't want too many layers, opt for this shag cut. The top layer of this haircut is cut a little below the crown and colored in a light ginger shade. The rest of the hair is colored a deeper shade of red. You can also see a brown tint at the bottom that adds dimension to this look.
28. The Soft Shag
If the sharp layers of the classic shag don't vibe with your style, opt for this shag with softer layers and feathered ends. It looks more natural and youthful. Add some light highlights to give your hair a nice beachy look.
29. Curly Shag
Curly hair can make shag-cut layers look effortless. These curly layers fall over one another seamlessly. The feathered bangs accentuate the hair texture by adding a nice contrast to the curls.
30. Blue Shaggy Ends
Sharp edges can make for an edgy haircut. Pair those sharp edges with a multi-layered shag cut. The blue dimension of this hair look showcases the hair texture perfectly. The sharp ends also help frame your face.
31. Pink And Purple Shag
I'm sure you've thought of coloring your hair at least once in your life. Coloring your hair can enhance the layers of your shag cut. This colorful shag is the perfect symbolism for feminine energy and playfulness.
32. Wavy Shag
A shag cut can seriously enhance your wavy hair. Do note how the ends are pointed outward to create a dynamic style. This haircut is recommended for anyone who wants to add more volume to their hair.
33. Divine Shag
Sweet and spicy notes make for a heavenly combination. Cranberry and cinnamon shades can take your locks up to a perfect ten. Though blunt bangs usually don't suit fine-textured hair, they look good when paired with a thick shag cut.
34. Modern Shag
When you're working and have a busy schedule, styling your hair becomes more of a task than a hobby. Consider getting this modern straight shag cut. This shag haircut will look great on you especially if you have thick hair.
35. Flowy Shag Haircut
This shade of blonde is a warm-toned color. This hair shade will suit fair women with a warm undertone. The thin front bangs accentuate the volume of the rest of the hair.
36. Cool-Toned Shag
This messy hairstyle and mushroom blonde color combo looks wild. Light brown hair with gray and blonde highlights makes for a gorgeous cool-toned hair look. It's the messiness of the hair that makes this shag cut look chic and young.
37. Deep Side-Swept Bangs With Shag Cut
Back in the day, the shag cut was all about sharp ends and accentuated layers. Now, it's more about style. In this shag cut, the layers are concentrated at the top and cut soft. This is the perfect haircut for anyone with thin hair.
38. Parted Bangs
Here's a modern twist to the mullet. The mullet was known for being wavy. Styling it straight made it perfect for women. You can see the crisp layers clearly this way. The mullet also used to be short at the front and long at the back. In this modern mullet, the hair is slightly longer at the sides than at the back. The parted bangs add some great dimension to the face and help in framing it.
39. Thick Shag
This thick shag is all about layers and bangs. These softly cut layers are great for accentuating your jawline. The messy, uneven bangs work to make you look younger.
40. Sideburns Shag
Sideburns were never my thing because I have always associated Elvis Presley with them. But, I have to admit, these sideburns take this shag cut to a whole new level. They add a nice elvish touch to this look!
41. Wavy Shag
Wavy hair adds volume and dimension to your tresses. But, when not styled right, it can look like a total mess. The best way to style it is in shallow shag layers and straight-cut blunt bangs.
42. Messy Curls Shag
Who doesn't want that "just rolled out of bed" messy hair look? I think a curly shag is the best way to achieve that look. The curls in this look are not perfect coiled, which adds to their perfection.
43. Emo Shag
Let's face it: we all wanted to get a cool emo haircut in our teen years. The emo shag cut is still a teen favorite. Multiple layers and a dash of brightly colored highlights are this hairstyle's winning features.
44. Hollywood Wavy Shag
Obtaining those perfect Hollywood waves may seem like a difficult task, but there are some easy ways to achieve this look. Just roll the ends around a round brush and blow dry them. This technique is much easier to do (and even looks better) on a shag haircut.
45. Fine Ends
If you have fine-textured hair, this is the best way to add volume to it. Ask your hairstylist to give you a shag cut and feather out the ends. The feathered ends will make your hair look more voluminous.
46. Flicked Out Ends
This is the perfect hairstyle if you want to look a few years younger. The layers are spread all over but more predominant at the front. The blonde highlights add a bright pop of color. But, keep in mind that you will have to style your layers every morning to make them look perfect.
47. Lob Shag
If you are an older woman who does not want too many layers, consider this lob shag. These soft layers blend in with each other seamlessly without making the brown ginger curls stick out at awkward angles.
48. Wild Child Shag
Thick brown hair with multiple layers at the side and longer layers at the back – this has to be the perfect wild child hairstyle. Thick chocolate brown hair is accentuated with multiple layers all over the head in this hair look. Notice how the layers at the back are longer. So youthful!
49. Blonde Dimensional Shag
A dimensional hair color look is a great way to add texture and volume to your locks. The layers also add definition and bounce to your tresses. This look is perfect for autumn and winter.
50. Baby Blunt Bangs
Baby bangs look great, but they are not for everyone. If you have an oval face, go for it! The messy layers add texture to the hair and help in framing your face as well. They also make your face appear slender and long.
51. Sleeker Shag
A sleeker shag is a slightly tame version of a shag hairstyle where the layers are more sleek and have a subtle wind-swept look to it instead of being downright messy. This style suits finer hair types on broader face shapes. Side-swept or curtain bangs can give broader face shapes a narrow and chic look.
52. Side-Parted Shag
Whether you have a shaggy pixie or long shaggy layers, a side-parted look is going to elevate your look and add an awe-inspiring definition to your face, especially if you have an oval, round, heart, or square face shape. Bold steak highlights and dark eye makeup are just the additional elements to pair it with for an elegant and edgy look.

Trivia
The shag hairstyle became popular after being worn by various celebrities like Joan Jett, David Bowie, David Cassidy, Rod Stewart, Mick Jagger, and Florence Henderson in the early 1970s.
Infographic: All About Shag Haircuts
A shag cut is a versatile hairstyle that can go with different looks. It is cool and easy to maintain. There are a few factors you should keep in mind when getting a shag haircut. Make sure you consult your hairstylist. We have also listed a few celebrities with shag cuts to give you the inspiration you are looking for.
Check out the infographic below to know more.



Well, folks, now that you know that apart from pixie and bob haircuts, shag hairstyles can help you rock your short hair, take your inspo from the styles mentioned above and steal the show. If you wish to let your inner child out, these hairstyles are what you should try. They will not only give you that showstopper look but will also lift your mood given the instant transformation to your hair. And you can add your own spin to let your personality shine too.
Frequently Asked Questions
Are shags out of style?
No, shag haircuts are very much in style, with celebs like Billie Eilish sporting variations of the hairstyle.
What is the difference between a shag cut and a wolf cut?
Wolf cut can be considered a type of shag cut. It choppier ends with short bangs (think Courtney Cox in Scream 3 bangs). The wolf cut has been described as resembling a shag version of the mullet.
How often should I cut my shag?
Since shags are relatively a low maintenance style, you can cut them once every two or three months. However, if you want them looking fresh, get a trim every 4-8 weeks depending on your shag length.
Does a shaggy bob have layers?
Yes, a shaggy bob does have multiple layers.
Key Takeaways
Shags are layered haircuts that look effortless and uber-chic and are also easy to maintain.
You can style your shag haircut curly, straight, or with side bangs to elevate your look.
Bring out your inner wild child with these trendy haircuts and frame your face with choppy ends, wispy tips, or feathered tails.
Check out this video for 30 stunning ideas for shag haircuts for women! Find inspiration and zero in on the perfect look for you.
The following two tabs change content below.